Bo Kaap neighborhood is so pretty that its pictures symbolize Cape Town, the Mother City. But, the pictures don't tell us that Bo-Kaap is famous for colorful houses, cobblestone streets, Bo Kaap Museum, Auwal Masjid, Cape Malay cuisine, and cooking classes. They also don't tell us about the fascinating history of Indonesian slaves brought here many centuries ago.
The picture-perfect Bo-Kaap houses caught our eye as we happened to walk by one morning. Just walking by the neighborhood we had tons of questions. So we took a walking tour to learn the story behind the beautiful Bo Kaap, a suburb of the Mother City. During the walk, we asked lots of questions. The more we asked, the more questions we had.
Do read along and you'll solve the mysteries of Bo Kaap in Cape Town, South Africa.
But first, let's start where it all began. Back in the day, even before British rulers brought labor from colonies in South East Asia, many people were brought from Indonesia by the Dutch colonists. That's where the story of Tuan Guru begins. You ask…
What's the story of Auwal Masjid and Tuan Guru?
Tuan Guru is the much-beloved man who started the first madrassah and the first mosque in South Africa called Auwal Masjid. Auwal means the first. Masjid means mosque. Auwal Masjid is the oldest mosque in South Africa.
Although his real name was Imam 'Abdullah ibn Kadi [Qadri] Abdus Salaam', he is affectionately known as Tuan Guru which translates to the great teacher or the mister teacher.
Back in Indonesia, Tuan Guru, a prince, started many Muslim religion schools aka madrassahs. But, he was exiled from Indonesia as a political prisoner to South Africa, a Dutch Colony. When he arrived in South Africa, he was sent to Robben Island for eleven years as a political prisoner. Robben Island was the destination for South Africa's political prisoners for centuries. Many famous people who did not agree with the government were locked up in under harsh conditions in Robben Island for decades at a time.
While in prison Tuan Guru wrote the entire Quran from memory. Not just once, he wrote four full copies of the Quran by hand, likely on smuggled paper. One of the priceless copies of the Quran is now on display in the Auwal Masjid in Bo-Kaap. Since the original work was done, historians have checked all of Tuan Guru's handwritten Qurans. They found less than four total errors across all four Qurans! That is an incredible feat!
After Tuan Guru was released from Robben island he lived in Bo-Kaap with his wife, Kaija van de Kaap, for the rest of his life. 1794 he started the mosque and called it Auwal Masjid. In the 1930s the mosque was renovated and the minaret and facade were added.
Matthew, our guide highly recommended that we must go to the mosque and meet a nice man named Ahmad who takes care of the mosque. Ahmad can show an original copy of the Quran handwritten by Tuan guru from memory. The precious Quran was once stolen so it's now stored in a highly secure bulletproof glass case.
Why do Bo-Kaap residents paint their house so colorful?
As everyone wondered, I asked our guide – why do the people of Bo-Kaap, Cape Town paint their houses in such bright and gorgeous colors?
Instead of answering my question, our guide turned around and asked everyone to come up with a reason for why the houses in Bo-Kaap, Cape Town are painted so colorful. We came up with all sorts of reasons much most of them were plain wild guesses –
Cape Town's tourism board pays the residents to paint their houses bright and colorful. After all, it draws in loads of tourists and diners every day.
Cape Malay Muslims were not given a choice colors they could wear, so they used house colors as a way of expression.
A hardware store in Bo-Kaap, Cape Town has a sale on a different color each day.
It is part of the Bo-Kaap neighborhood's culture and tradition to paint colorful houses.
When we visited Burano an island near Venice, we had seen the gorgeous colorful houses but never figured out why the houses were painted as such. It was great to have a guide in Bo-Kaap who explained everything.
As a tour guide in the neighborhood, Matthew gets invited for coffee by the residents all the time. He polled many of the neighbors for this question. 7 of the 10 residents said entirely different stories of why the houses are painted so bright and colorful. 4 of 10 people he's had coffee with say theirs was the first family to paint their house with color!
So Matthew told us stories and asked us to pick one story that we thought was the truth. I feel there is some truth and some fiction in each story. Can you distinguish between the factual and fictional stories?
Story 1 – To give Directions.
The houses in Bo-Kaap neighborhood of Cape Town are colored because it's the way to find someone's house. If you notice houses on entire streets don't have house numbers.
This story started in the 1970s. During apartheid South Africa, the government segregated areas so only people of one race could live in one area. The colored and blacks were moved to separate townships outside of Cape Town. In the entire city of Cape Town, this was the only area for non-whites. The Muslim people were allowed to live here because the British government did not want to damage the mosques.
The entire Bo-Kaap neighborhood of Cape Town was lined with cobblestone streets with no street name and no house numbers. So, it was near impossible to give directions.
One day a famous doctor painted his house red and it could be seen from anywhere, even from Table Mountain. Following his lead, everyone started painting their houses in bright colors. The tradition started in the 1970s and continues to date.
Story 2 – To Escape the Monochromatic Life.
In 1870 when Indonesian origin people moved to Bo-Kaap area, they had no power to choose any colors in their life. They were made to wear plain, dull white colored clothes. So when they got the power to choose colors for their house, they decided to make it as pretty as possible.
Story 3 – To Celebrate Life.
During Apartheid South Africa, photos show that all the houses were white and cream colored as the British colonists wanted.
A photo shows that houses started getting color again in 1994. The year 1994 was the end of apartheid and beginning of democracy in South Africa. The change rekindled the colors of life. People started painting houses to celebrate life. All houses in Bo-Kaap are bright happy colors, no dull or sad colors.
Story 4 – An Expression of Freedom.
Originally the houses in Bo-Kaap were leased to the south-east Asian slaves. While on lease all the houses had to be painted pain white. At some point in time, the slaves were allowed to buy the houses. The new owners painted the houses in bright beautiful colors as an expression of freedom and joy.
Who knows which of the stories are the truth or folklore or somewhere in the middle. However, centuries after slavery was discontinued and decades after apartheid ended, we wondered if the culture and desire to preserve the traditions are still intact.
Is there Gentrification in Cape Town's Bo-Kaap Neighborhood?
The distinct culture of Bo-Kaap is under attack, by the very forces considered indicators of prosperity.
The total population of Cape Town's Bo-Kaap neighborhood is 10,000 people. 70% of the residents are Muslim. But that's changing. The rising property prices is leading to gentrification in Bo-Kaap. One house on the street was sold for 4million Rand! At this price, some local Muslims are willing to sell their houses and move to more affordable neighborhoods in Cape Town.
In the same light, affluent people who can afford living here are moving in. Builders want to develop the land for modern condo living in close proximity to Cape Town's financial hubs.
To preserve the character of the Bo-Kaap neighborhood, there is an initiative to declare the area a national heritage site. Once that is successful, even if someone buys a house they will not be able to change the house and thus preserve the distinct character of the neighborhood. I think it would be similar to Tudor house preservation laws in Stratford-upon-Avon, where the interior and exterior of each house has to be maintained as such.
There is a strong sense of culture in the Bo-Kaap community. There are many protest marches and petitions to preserve the character of Bo-Kaap, Cape Town. Ours was the first 4 pm tour of Bo-Kaap neighborhood in 2 months because there had been daily marches in this area to make it a national heritage site.
This is a race against time and wealth. We hope bo-Kaap's heritage will be preserved in the light of gentrification forces.
Frequently Asked Questions about Bo-Kaap, Cape Town
We had many questions for our guide and he had lots of stories from his friendships in the Bo-Kaap community. I'm not sure which of these are facts and which are fictional stories. Either way, they are fascinating and probably have some truth to them.
How do people give driving directions in Bo-Kaap now?
Now the streets in Cape Town's Bo-Kaap neighborhood have names and house numbers. But people still don't give the address of their house. Instead, if they want a friend to come over, they say things like, go up Bald Street, turn left at Bismiellah, turn right at the blue house and I'm the third orange house on the right.
Are there rules for painting houses in Bo-Kaap?
There are few rules – you're not allowed to paint the same colors as your neighbors on the street. If you want to change the color, the owner has to invite the neighbors and discuss which color to paint the house. So, no two houses on a street are painted the same color.
How frequently are the Bo-Kaap houses painted?
Not every year. Yet they look so freshly painted.
The families pick milestones in their life and paint their house to honor an event. For example, a man painted his house blue the day after his daughter got married.
What is a Typical Bo-Kaap House Layout?
A typical house in Bo-Kaap has multiple bedrooms, one bathroom, one kitchen, one living room and garden on the roof. There is very little garden space on the ground but if you could look up, everyone has a garden on the house's roof.
When and Who built Bo-Kaap's cobblestone streets?
One of the attractions of Bo-Kaap is its cobblestone streets. Why are they so European looking? Well because they are!
Bo-Kaap's steep cobblestone streets were laid with rocks imported from Holland. The Dutch people that colonized South Africa brought cobblestones in ships from Holland. The cobblestone streets were laid-out back in the 17-18th century.
Why does Bo-Kaap still have cobblestone streets in these modern times?
To this day cobblestone streets of Bo-Kaap are the best solution to prevent flooding in Cape Town.
Bo-Kaap is located on the hills in Cape Town. When it rains, water gushes down the tar streets, fills the drains and floods Cape Town. With cobblestones on the street, the rainwater is scattered into thousands of mini-channels so the drains can handle the water flow much more seamlessly.
The city of Cape Town is now trying to keep the Dutch cobblestones preserved in Bo-Kaap as long as possible. The steep streets have cobblestone surface and the perpendicular, flat street streets have a tar surface.
Did Dutch colonists design the cobblestone streets to prevent flooding?
No! It was a lucky accident in design and a more recent discovery that it is a flood prevention measure, as well as a tourist attraction.
What is the most visited tourist attraction in Africa?
The busiest tourist attraction in the whole of Africa is the V&A waterfront of Cape Town, a shopping mall!!
The Pyramids of Giza in Egypt come in at second place. Table Mountain is at third place. Kruger National park is not even in the top 7!
I couldn't believe that the 1st place is taken by the lovely V&A waterfront of Cape Town – a shopping mall! How sad is it that a shopping mall is the busiest place in the continent that has the most amazing wildlife, magnificent pyramids, largest waterfalls, oldest humanoids, mighty rivers, pristine beaches, enormous deserts you name it. The mall is the biggest attraction!!!
Why is V&A waterfront of Cape Town the busiest attraction of Africa?
V&A waterfront of Cape Town is extremely popular because it has a high concentration of hotels, restaurants, malls, food markets, and the harbor. It is also the port to go to Robben Island.
About 100,000 people visit the V&A waterfront of Cape Town in a weekend!
What is the Street Art Scene in Bo-Kaap, Cape Town?
We found beautiful street art all over Cape Town, particularly in Bo-Kaap and around Old Biscuit Mill. Many of them painted by well-known artists and remind me of the Mission district of San Francisco.
Jason Sonny's Art in Bo-Kaap, Cape Town
Jason Sonny is a famous mural artist of South Africa. His enormous wall murals can be seen all over South Africa. One of them is right across from Auwal Masjid.
Jason exhibits paintings of endangered animals around the world to raise funds for saving endangered animals. He has a project called To The Bone for raising funds for wildlife. As our guide told us, Jason just did a three-week exhibition of his work in NYC. It turns out Jason Sonny is a personal friend of our tour guide.
High Five in Bo-Kaap, Cape Town
Most street art I've seen promotes a message of social change. This one seems to talk about bringing together the black and the white races and end of apartheid. Unfortunately, this is still a dream for many.
A popular picture idea here is to run down the hill and give the colored kid a high-five. But, it's quite high and hard to reach.
What is the Origin of the Afrikaans Language?
Afrikaans is one of South Africa's eleven official languages and no longer considered a dialect of Dutch. All the people in the Bo-Kaap neighborhood speak Afrikaans, they don't speak any eastern languages.
Most people think that the Afrikaans language comes from 1600s Dutch. In fact, the original white peoples' language took a big split when the Dutch left South Africa. The language was heavily influenced by the eastern languages of the Cape Malay people.
As history has it, white people in those days could not read or write. The first books came from the Auwal Masjid. The original written South African language thus became a blend of Dutch and eastern languages. As evidence, the Afrikaans language has words from eastern languages. Thus differentiating the Afrikaans language from the original Dutch language.
For example, banana in Dutch is banana but in Afrikaans, it's piesang, the same as it's named in Indonesia. That's because, until the Muslims brought bananas to South Africa, the locals did not know what it was. So, they naturally took the Indonesia name for it.
Likewise, the Afrikaans word for chutney is Blatjang, like the name for the exact chutney in some South East Asian countries.
In Dutch 'many' or 'lots' is 'veel'. But the word in Afrikaans is 'baie' which is the Arabic word for many or lots of something.
Needless to say, the fusion of South East Asian, European and African traditions, religion, languages, and cuisines has created the unique Cape Malay culture. The Cape Malay Cuisine represents the best of it all and is accessible for everyone to taste and cherish.
What is Cape Malay Food in Bo-Kaap, Cape Town?
Over the centuries, immigrants and the locals shared food and recipes. With time they created the now very popular Cape-Malay cuisine. The cuisine is a combination of Malaysian, Indonesian and South African cuisines but now has its well-earned spot as one of the most popular South African food. There are many restaurants, cooking classes and Airbnb experiences for the Cape Malay cuisine. Most of the food I heard about was not a vegetarian but that may be because we didn't invest time in searching.
We made a short stop at Biesmiellah, a large restaurant that serves authentic Cape Malay food to pick a few snacks but we needed recommendations to make a quick choice. Good thing our guide is a local expert.
What are some must-have Cape Malay dishes?
According to our guide, the must-try foods from Cape Malay cuisine are –
Koesisters is half the size of a donut. The dough filled with flax seed & cinnamon, lightly fried, dipped in syrup and covered in coconut shavings. It's the Cape Malay version of fried dough and sugar. We've found a version of fried dough and sugar in almost every culture. For example, Phini and Ghevar in Rajasthan, Donut in most of US, Malpua in Northern India, Beignet in New Orleans, Trdelnik in the Czech Republic, etc.
Bobotie is South Africa's national dish (if there is such a thing). It seems rather complicated to make. Here's our guide's recipe –
Mix onion, garlic, mixed masala (with several spices), curry powder, tofu (or meats) and cook in a pot.
Once it's cooked throw in dried apricots, raisins, and chutney. The mixture will be spicy and sweet.
Pour the mixture in a square pan, cover with egg and milk mixture, put bay leaves on top and bake for 14 mins.
Once the mixture is baked it makes a spice & sweet cake.
Break the cake into pieces and put it on yellow rice.
Bobotie is served with sambos and chutney.
Malva pudding looks like an Indian inspired pudding but apparently, it's different. I didn't try it because the chef said it's made mostly from eggs.
Cape Malay Samosa looks similar to the Indian samosa. Except its a puff pastry, filled with vegetables and shaped into a flat triangle.
Mango Lassi totally looks like the Indian version.
What were Nelson Mandela's Nobel Prize dinner choices?
When President Nelson Mandela was awarded the Nobel peace prize, he got to choose a dish and a wine to be served at arguably the most prestigious dinner of the year. He chose the Bobotie dish paired with the Merlot from Stellenbosch vineyards, made by Rust en Vrede (meaning Rest In Peace).
Our guide says – what's good for the Nobel prize dinner by their beloved leader, is good for everyone (except those of us that don't consume alcohol). I need to find a vegan bobotie next time.
Is it possible to get a Cape Malay cooking experience?
The lady in the purple house across from Biesmiellah does a home cooking class called Cooking with love, Cape Town. She takes the students around to the local store to buy all the ingredients. Back in her house, they cook dishes from the Cape Malay cuisine together and share the meal with her and her family.
Apparently, the BBC did a cooking lesson with her and broadcasted it. There are other cooking classes on TripAdvisor and Airbnb experiences that sound equally awesome. If you took a class, please do share your experience below.
Related Articles
Now that you know the stories behind the colorful houses and the deep traditions of the Cape Malay – are the culture and traditions of Bo-Kaap, Cape Town worth preserving? Is the fight against capitalism and economic prosperity worth it?
On Pinterest
[themify_col grid="3-1 first"]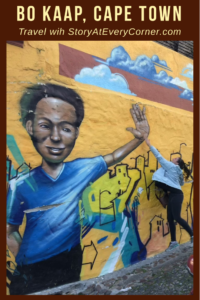 [/themify_col]
[themify_col grid="3-1″]
[/themify_col]
[themify_col grid="3-1″]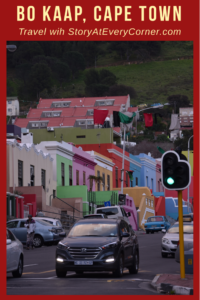 [/themify_col]