Written by SGN Scoops Staff on January 20, 2021 – 5:30 pm -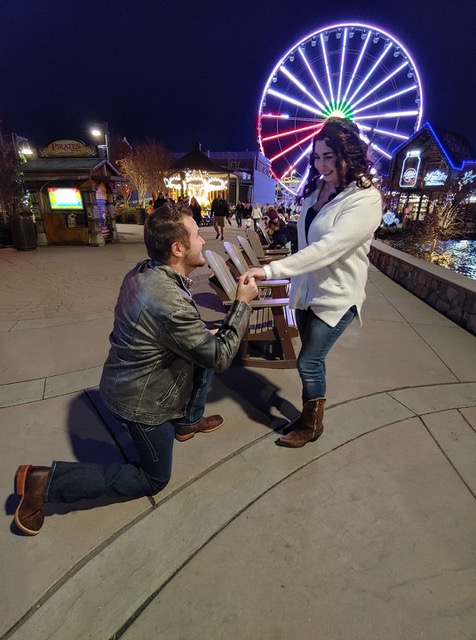 National award winning and multi-charting Christian Country Artist, Shellem Cline took a knee on Friday January 15, and asked his girlfriend Megan to be his wife. Shellem performed a special song for her in front of several family members and friends along with hundreds of strangers at the fountain in Pigeon Forge, TN located inside "The Island." The two have not set a specific wedding date as of yet, but Cline stated that "Megan says it will be in the fall of 2021!" For more information on the happy couple or to find out more about the ministry of Shellem Cline, visit his website at www.shellemcline.com.
Tags:
Christian Country News
,
SHELLEM CLINE
Posted in
announcements
|
Comments Off on CHRISTIAN COUNTRY ARTIST SHELLEM CLINE….ENGAGED
Written by SGN Scoops Staff on January 20, 2021 – 11:50 am -
Gastonia, NC –  Beloved North Carolina-based Southern Gospel trio, Heart 2 Heart has announced the reschedule of their 2021 Gaston Gospel Homecoming, which will celebrate their 23rd year in music ministry. Originally scheduled for January 29th, the event will now take place on May 14th.
In addition to Heart 2 Heart, the lineup will feature GMA Hall of Fame Inductees The Hoppers, and the Dove award winning group Jeff and Sheri Easter. The homecoming will still be held at the First Assembly of God Church, 777 S. Myrtle School Road in Gastonia, NC.
Regarding the change, Heart 2 Heart's David Kiser said, "Due to Covid related issues and concerns, and for the safety of our guests, we have made the unfortunate decision to reschedule the 2021 Gaston Gospel Homecoming event.  All tickets purchased to date will be re-issued and mailed out with the new May 14th date and info. Based on where we are right now as a state and a country, we feel this is a wise decision. We're disappointed but can't wait to see everyone on May 14.  It's going to be a wonderful event."
Heart 2 Heart is asking that their fans help get the word out. All questions and concerns should be emailed to davidk@heart2heartmin.com, or you can call 704-802-4634.
Doors will open at 6:00 pm, with a concert start time of 7:00 pm. General Admission seats are $15.00, children 10 and under are $8.00. The group is also offering premier seating which will also include early entry at 5:00 pm. Only 200 of the premier seats will be offered, and they entitle the ticket-holder to a meet and greet with the artists, as well as a time of Q & A. They are available now online or you may purchase them at the door. All concert-goers are encouraged to arrive early for best seating.
For tickets and more information visit the group's website.
If you would like to interview Heart 2 Heart contact AG Publicity at   info@agpublicity.com.
To purchase Heart 2 Heart's music go to http://heart2heartmin.com/store
Tags:
Heart 2 Heart
,
Southern Gospel Concert
Posted in
announcements
|
Comments Off on Heart 2 Heart Announces New 2021 Homecoming Date
Written by SGN Scoops Staff on January 20, 2021 – 9:03 am -
TIME ZONES
by Amy Freeman-Nichols
John 11:17
"When Jesus arrived, He found that Lazarus had already spent four days in the tomb." 
We are all familiar with the story of Lazarus and yet, somehow, we are always amazed when God doesn't show up on our timetable. When has God ever arrived on your timetable? When has he ever worked anything out in precisely the way you had it figured out? I'm pretty sure the answer is never. Yet, in the end, you will testify that he showed up right on time and made a way for you.
Here is a new concept for you to consider: we live in one time zone and God works in another. I work with a group of women in different time zones and countries. We have to be specific about what day and time we are meeting and in which time zone the meeting is taking place. We meet every Monday at 6:00 p.m. Eastern. That is 7:00 p.m. Central, 9:00 p.m. Pacific, 10:00 a.m. Tuesday in Australia and 1:00 a.m. Tuesday in Israel. God has an appointed day and time for everyone for our needs to be met – in His time zone.
Mary and Martha, and probably even Lazarus, were looking for Jesus to arrive earlier. They expected him while Lazarus still had breath in his body. They expected him when they could still see how it might be possible to heal Lazarus. After all, they had seen people healed, and they had heard miraculous testimonies. This time was different though.
Jesus didn't rush to them. Jesus wasn't there when they wrapped Lazarus in his death clothes or laid him in the tomb. There wasn't a single word from him. Have you ever been waiting for an answer and all of heaven seems to be quiet? Not a word, not a sign, not a single feeling that your prayers are even reaching heaven. Yet, we hold on to the hope that God is working on our behalf.
Mary and Martha had lost all hope. They knew the next time they saw Lazarus it would be in heaven. Then the word started to infiltrate the crowd. Jesus was coming into town. His timetable kicked in and with a single phrase, "Lazarus, come forth!" The answer they had been looking for – the one they didn't dare to believe for anymore – had arrived. Lazarus was alive; he was healed and whole.
When God shows up, when your miracle's time and date arrives, it is a complete miracle. There is no stench of death on it. There aren't any semi, half done, "you figure it out the rest of the way" portions. God has every detail worked out for your good.
So, while things may look bleak to you at the moment. Your faith might be waning, but HOLD ON! Even if it looks like nothing is happening in your time zone, it doesn't mean nothing is happening in God's.
Amy Freeman-Nichols is the author of Think On This devotional/bible study series. She is the founder of I Am The Preacher's Wife and half of the dynamic duo of Appointed2, a Christian Country evangelistic ministry. 
Tags:
Faith
Posted in
announcements
|
Comments Off on TIME ZONES
Written by SGN Scoops Staff on January 18, 2021 – 1:34 pm -
Nashville, TN – Few names are as synonymous with Gospel music as Blackwood.  For nearly nine decades, generations of Blackwood Brothers have shared the Gospel around the globe, having recorded over 200 albums and toured in 47 countries, earned GRAMMY and Dove Awards, and appeared on countless stages and events.
While honoring the long-standing tradition of this legacy, the Blackwood Brothers have decided to scale back from touring full-time, continuing to play select concerts in 2021 and beyond.
In anticipation of the upcoming changes, lead singer Jonathan Mattingly has announced that he will be joining forces with the up and coming trio, Avenue. Mattingly was first introduced to Gospel music fans with his family, the Mattingly Family, before uniting with the Blackwood Brothers in 2017.
"Jon has been a tremendous blessing to the ministry of the Blackwood Brothers and will continue to be as we move forward. We look forward to working with Kasey and Avenue, coordinating our schedules to allow both groups to utilize the great gift that Jon brings to the platform and the ministry as a whole.
Kasey Kemp shares his excitement for welcoming Jonathan into the Avenue family, "Jon and his wife Sarah have been dear friends of our family for many years, so I feel very blessed to have the opportunity to sing together. We are excited about the future and what God has for us going forward!"
To stay up-to-date on current happenings, follow the Blackwood Brothers Quartet, as well as Avenue on social media, or visit blackwoodbrothers.com and avenuemusic.net.
Tags:
Blackwood Brothers
,
Southern Gospel News
Posted in
announcements
|
Comments Off on Future of the Blackwood Brothers: Changes for Jonathan Mattingly
Written by SGN Scoops Staff on January 18, 2021 – 10:15 am -
Pastor Josh & Ashley Franks and People's Tabernacle Church, 64 Airways Blvd, Savannah, TN will host, "WINTER JUBILEE REVIVAL".
Listed are the scheduled services.
– Thursday, January 21, 7:00pm, Pastor JP Stovall
– Friday, January 22, 7:00pm, Joseph Larson, As seen on SonLife Broadcasting Network and Jimmy Swaggart Ministries.
– Sunday, January 24 – 6:00pm, Jim & Melissa Brady, former member of the Booth Brothers, in concert.
Free admission, however, a freewill love offering will be received each service. For more information, go to www.ptcsavannah.com or 731-727-8242
Tags:
Josh & Ashley Franks
Posted in
announcements
|
Comments Off on WINTER JUBILEE REVIVAL
Written by SGN Scoops Staff on January 16, 2021 – 1:27 pm -
Nashville, TN  – StowTown Records has announced the release of a brand new recording from The Beenes. Keep Looking Up marks the group's debut digital recording under the StowTown label. Co-produced by GMA Dove Award winning soloist TaRanda Greene, Brandon Beene and Josh Townsend, this release offers a variety of styles and sounds.
Brandon and Chrysta Beene are music veterans who possess rich musical talents. Their music ministry has afforded them the opportunity to travel for two decades. Adding their teenage daughter Savannah, The Beenes now minister as a family with these songs which highlight their journey of faith.
Keep Looking Up features ten songs including "I Can Do All Things," written by Chrysta Beene, as well as "It's Not Over," co-written by the team of Jeff Ferguson, Savannah McKee and Shara McKee. Brandon shares, "We started this project at the beginning of the pandemic and we wanted to record songs that would bring people hope, encouragement and joy. This album just feels good, like Sunday dinner at Mom's house after church! It feels happy."
Additional tunes on the project include a remake of the Israel Houghton song "Taste And See," as well as the Bill and Gloria Gaither classic, "Because He Lives." Producer TaRanda Greene expressed her excitement about the project, "Once again, with their beautiful family harmony, The Beenes are putting their stake in the ground and beginning a new era in their 20 year legacy. I am so honored to be a part of Brandon, Chrysta and Savannah's debut CD as a family. Their hearts are pure, their voices are engaging and their future is bright with God guiding their way. I can't wait for everyone to hear the new sound of The Beenes! This music will touch your heart and leave you wanting more. You will be blessed!"
With Keep Looking Up, The Beenes deliver rich harmonies and versatile musical stylings that will be enjoyed by audiences from all walks of life. Brandon concludes, "This project is a reminder to keep looking up, because our hope is in Christ."
Keep Looking Up is distributed exclusively by Provident/Sony and available at digital outlets worldwide.
Keep Looking Up Track Listing:
Taste And See
Right Here
Unstoppable God
It's Not Over
How Big
Thank You Lord
Fallen But Forgiven
I Can Do All Things
Because He Lives
Breathe
Tags:
Southern Gospel News
,
The Beenes
Posted in
announcements
|
Comments Off on New Digital Release From The Beenes Available Now
Written by scoopsnews on January 16, 2021 – 6:29 am -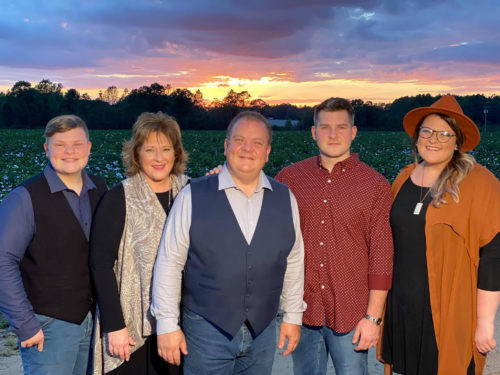 The Mark Dubbeld Family Drop New Concept Music Video "Church By The Cotton Field". 
(Nashville, TN January 15, 2020)
The Mark Dubbeld Family and Godsey Media came together to produce the groups new concept video called "Church By The Cotton Field". The video will debut exclusively via Facebook & YouTube Premiere on Saturday January 16, 2021 at 7pm EST.
YouTube Premiere
The video is a true story of a pastor who felt compelled to follow the call of God to area in southern Georgia called Scuffletown. It was an area that was wicked and needed Jesus. A church by the name of Martha Memorial was formed and to this day carry's the love of Christ to this community. Transformation took place because a pastor and some people of God prayed and shared the gospel message.
The song was written by Janene Dubbeld after learning the story and seeing what God had done through the lives of the believers in Christ. The song simply states, "I found Jesus, I found Jesus in a Church By The Cotton Field."
Mark Dubbeld, Lead singer for the family says "We trust this song and concept video encourages every believer that they can make a difference in their communities and see restoration and revival. We are grateful for our friends in Bristol, Ga joining with us to share this impactful concept video with the world."
About
The Mark Dubbeld Family is renowned for inspired originally penned songs, family harmony and a sincere desire to communicate the Gospel. Mark Dubbeld has a long history in Gospel music and stands with his wife Janene who is an accomplished writer.  As parents, Mark and Janene love the music but most especially the message.  They have raised 5 children, of which 3 are part of the family ministry, Elena, Channing, and Britton. It is their desire to give glory to God, as they have a song to sing, a word to write and a call to answer.
For More Information visit their Website www.markdubbeldfamily.com
"Like" The Mark Dubbeld Family on Facebook. Follow on Instagram, YouTube and Twitter
Song Garden Music Group
Godsey Media
Tags:
Godsey Media
,
Mark Dubbeld Family
,
Song Garden
Posted in
announcements
|
Comments Off on The Mark Dubbeld Family Drop New Concept Music Video "Church By The Cotton Field". 
Written by SGN Scoops Staff on January 15, 2021 – 3:28 pm -
Waiting in the Dark
By: Elise Ingle
"And when even was come, the ship was in the midst of the sea, and he alone on the land. And he saw them toiling in rowing; for the wind was contrary unto them: and about the fourth watch of the night he cometh unto them, walking upon the sea, and would have passed by them." Mark 6:47-48
It's not often that the Lord answers my desperate prayers the way I want Him to. I want deliverance now. I want over-the-counter healing and a quick-mart miracle. I don't want to wait another minute in my suffering. I cry to the Lord for mercy. I pray specific. I trust and believe. But when the healing doesn't come and the miracle doesn't manifest, my heart feels disregarded.
After Jesus fed five thousand men in the wilderness, He promptly sent His disciples away. Up on the mountain, Jesus prayed alone. Sometime in the evening a contrary wind began to blow and sent a roiling chop battering against the belly of the disciples' boat. Muscles straining, the seasoned fishermen beat back at the waves, shoving their oars at the angry rollers. From His vantage point on the mount, Jesus could clearly see them toiling below. But He didn't come to the rescue. Not until nearly the next morning.
The fourth watch covered the wee hours of the morning just before dawn, about 3 a.m. until 6 a.m. Our scripture gives us this small detail that poses a big question. If the storm began in the evening, why did Jesus wait so long to come to His disciples? These poor men spent hours and hours, sweating and swapping turns at the oars. In the pitch black of night they would have been begging for mercy, fainter winds, and smaller peaks against the helm. Bailing out buckets of saltwater mingled with tears, they would have fervently prayed for deliverance.
I wonder what kind of thoughts went through their minds as their strength and spirits gave out. Has God forgotten me? Have I done something wrong? Does the Lord not care if I drown? I have had similar thoughts before. I bet you have too. If you've ever been in a season of suffering when God seemed far away, you probably felt as if you might also drown in the storm. I think our boys were well past hope when they saw the pale figure of Jesus walking on the waves.
We can only speculate why Jesus waited while His disciples struggled. Perhaps the Lord was teaching them total dependence on God and not in themselves. To "trust in the Lord with all of [their] hearts and lean not to [their] own understanding". Maybe He wanted them to see that His timing is perfect, even after a long hard fight. Maybe they needed to remember they were mere mortal men and that the only strength and power they had within them came from Christ alone. I know I need these reminders. But my favorite take-away from this story is no matter how long and how hard the night, Jesus will come walking. Hang on my friends. He's coming. Even if it's in the fourth watch of the night.
Tags:
Faith
Posted in
announcements
|
Comments Off on Waiting in the Dark
Written by scoopsnews on January 15, 2021 – 9:19 am -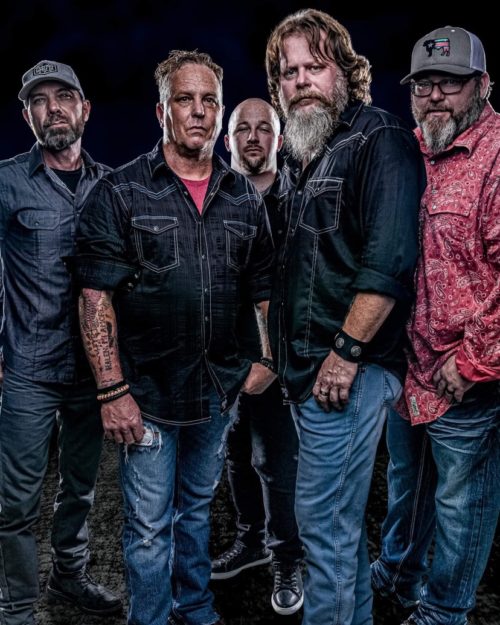 Congratulations to PARDONED for the Number 1 song, "COME ON BACK"
| | | |
| --- | --- | --- |
| 1 | Come On Back | PARDONED/Mansion |
| 2 | His Name Is Jesus | Tim Menzies/New Day Records |
| 3 | God Doesn't Care | Jackson Heights/Center Stage Music |
| 4 | Your Son | Chris Golden/24K Records |
| 5 | Garden Of My Heart | Barber Family/Independent |
| 6 | The Rest Of The Story | Ray Wolford/HMG |
| 7 | Come To Jesus Meetin' | Gerald Crabb/Independent |
| 8 | Promise Land | Sam L. Smith/Independent |
| 9 | Little Things | Melissa Evans/Chapel Valley |
| 10 | Joy | Branded/Independent |
| 11 | Joseph | Greg Sullivan/Resting Place Music |
| 12 | Jonah, Job & Moses | Carolina/Independent |
| 13 | Mountain Movin God | Purpose/Chapel Valley |
| 14 | He Will See Me Through | Don Stiles/Independent |
| 15 | Earth To God | John Rich/Independent |
| 16 | Tougher Than Nails | Bev McCann/Independent |
| 17 | Here I Go Again | Journeys/Chapel Valley |
| 18 | American Heroes | Hunter May/Independent |
| 19 | A Day | Carol Barham/M.A.C.Records |
| 20 | Rock Bottom | Kevin and Kim Abney/Indepenedent |
| 21 | Old Fashioned Christmas | Tonja Rose/Mansion |
| 22 | Church In A Chevy | Jordan Davis/Independent |
| 23 | Starboard Side | Judith Montgomery &Family/Chapel Valley |
| 24 | Holy Son Holy | Jessica Horton/M.A.C. Records |
| 25 | I Love To Tell The Story | Mary James/Independent |
| 26 | Is There A Place I Can Go | Debbie Bennett/Independent |
| 27 | I've Seen Enough | Nathan Areno/Independent |
| 28 | Cowboy Boots | Scott Brown Band/Independent |
| 29 | God Lives | Lisa Daggs/Independent |
| 30 | Born | Sunday Drive/Crossroads |
| 31 | I Just Want To Thank You | Lulu Roman/Independent |
| 32 | That's The Way It Should Be | Elizabeth Miller Clary/Independent |
| 33 | Riding Through The Storms | Roger BarkleyJr/Independent |
| 34 | Repentance Still Works | Appointed2/Independent |
| 35 | He Didn't Throw the Clay Away | Gene Reasoner/Independent |
| 36 | This Time For The Lord | Greg McDougal/Independent |
| 37 | Send It On Down The Nile | Jeff &Sheri Easter/Gaither Music |
| 38 | Singin' Momma To Sleep | Christian Davis/Independent |
| 39 | The Hour I First Believed | Derrick Loudermilk Bank/Independent |
| 40 | Middle Of A Miracle | Tony Griffith Family/Song Garden |
Tags:
Pardoned
,
SGNScoops Christian Country Top 40
Posted in
announcements
|
Comments Off on Congratulations to PARDONED and The Top 40 SGN SCOOPS Christian Country February 2021
Written by scoopsnews on January 15, 2021 – 8:44 am -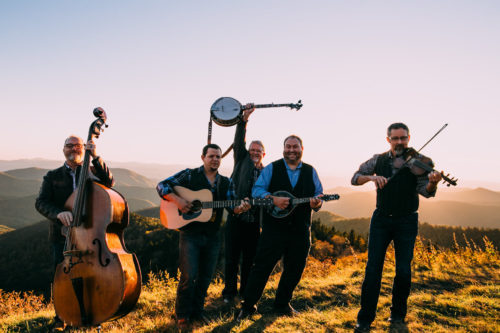 | | | |
| --- | --- | --- |
| 1 | Grit and Grace | Balsam Range/Mountain Home Music |
| 2 | Worry Never Done Nothing | East Ridge Boys/Mansion |
| 3 | Something Got A Hold Of My Soul | Eagle's Wings/Independent |
| 4 | That Home Far Away | Zoe & Cloyd/Organic Records |
| 5 | The Wilderness | Isaacs/Independent |
| 6 | Send It On Down The Nile | Jeff & Sheri Easter/Gaither Music |
| 7 | It's Not Goodbye | Bama Blu Grace/Family Music Group |
| 8 | Dust On The Bible | Junior Sisk & Ramblers Choice/Independent |
| 9 | When I Wake Up To Sleep No More | Gospel Plow Boys/Independent |
| 10 | Tell The Truth | Becky Buller & Fairfield Four/Independent |
| 11 | There Is A Place | Walking By Faith/JeffTolbert/Independent |
| 12 | It's Autumn | Tim Davis/Independent |
| 13 | Don't Tune Him Out | Whites/Independent |
| 14 | Tell The World That Jesus Saves | Chigger Hill Boys & Terri/Great Escape Records |
| 15 | I'm Gonna Wait On Jesus | Carolina Blue/Independent |
| 16 | Much More Than I Asked For | King James Boys/Independent |
| 17 | Homecoming Day | Rochesters/Independent |
| 18 | Some Days I Feel Like David | Lakeside/Independent |
| 19 | Holy Son Holy | Jessica Horton/MAC Records |
| 20 | They Won't Believe | Blue Moon Rising/Independent |
Tags:
Balsam Range
,
SGN Scoops Top 20 Bluegrass
Posted in
announcements
|
Comments Off on Congratulations to Balsam Range and The SGN SCOOPS Top 20 Bluegrass February 2021