Reader Question from Lo in OK: " Here is my dilemma, my spouse and I are looking at travel trailers. We currently own a 2009 F150  2WD Super Cab 133" STX truck. It cannot haul easily for some of the travel trailers we are looking at.   What trucks do you feel would suit to easily pull anything over a GVWR of 9500 lbs up to 11,000 lbs? "
Choosing a pickup truck for towing 9,000 lbs – 11,000 lbs
There are quite a few choices of 2019 model year half-ton trucks that will pull the weight Lo needs. It does depend on the pickup truck configuration though and ultimately a heavy-duty truck may be more suited.
Both light duty and heavy trucks are included below with the exception of 3500's/F-350's and above, as that may be a slight overkill for Lo's requirements.
Here is some of the base leg work, however, more will need to be done at the dealership.
Towing capacity numbers highlighted in peach show the truck configurations with most towing capacity.
Note that these numbers are taken from the manufacturers towing charts for conventional towing (bumper pull). Exact towing capacity will depend on the trim level of the truck and requires the correct tow package and hitch.
Other cargo and people loaded in the truck will also affect the overall gross combined weight rating (GCWR). This, in turn, will affect the towing capacity. Check out this article to find out how to calculate your towing capacity.
Light Duty or Heavy Duty
When it comes to choosing a pickup for towing, it's important to consider how often the truck will be towing. Also, take into account the conditions. Will it be all flat highway or over mountain passes. Will the truck be under strain often or rarely?
These are half-ton (1500) pickup trucks, which meet the criteria (or close). For some of the trucks, this is the absolute maximum capacity. This is fine for occasional towing.
For long trips or frequent towing at or more than 8,000 lbs, a heavy duty (2500) pickup truck is recommended.
Another factor to consider is the weight of the trucks themselves. Light-duty trucks inherently weigh less than a heavy-duty truck.
Consider the weight of the truck itself and the weight of what is being pulled. Even if the manufacturer states it can pull a certain weight.
4×4 or 4×2
4×2 pickup trucks usually have more towing capability than a 4×4. Consider whether extra grip from a 4×4 is needed for gravel roads, a slippery boat ramp or driving in adverse weather.
Light Duty Trucks For Towing
Ford F-150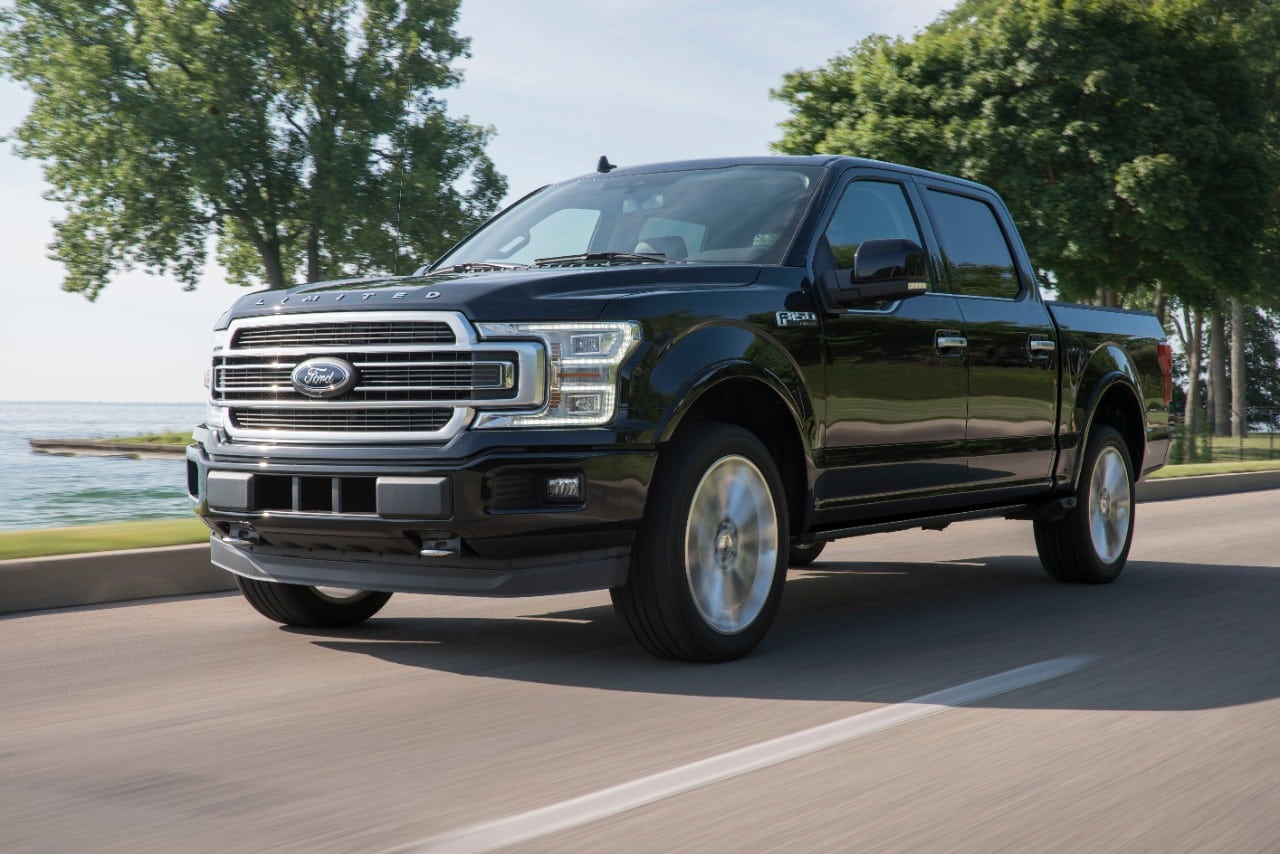 Ford F-150 3.5L EcoBoost V6 4X2 157″ WB (SuperCrew with 6.5″ box) with 3.73 axle ratio has up to 13,200 lbs of max trailering capacity for conventional towing. This will require the Max Trailer Tow Package and 20″ wheels and tires.
The same truck but in 4X4 is capable of 12,900 lbs.
As written in the towing chart below, the towing capacity will be reduced based on trim series. (Typically, higher trim levels have less towing capability).
There are several other truck configurations that would meet the 11,000 lb towing capacity, see the chart below.
RAM 1500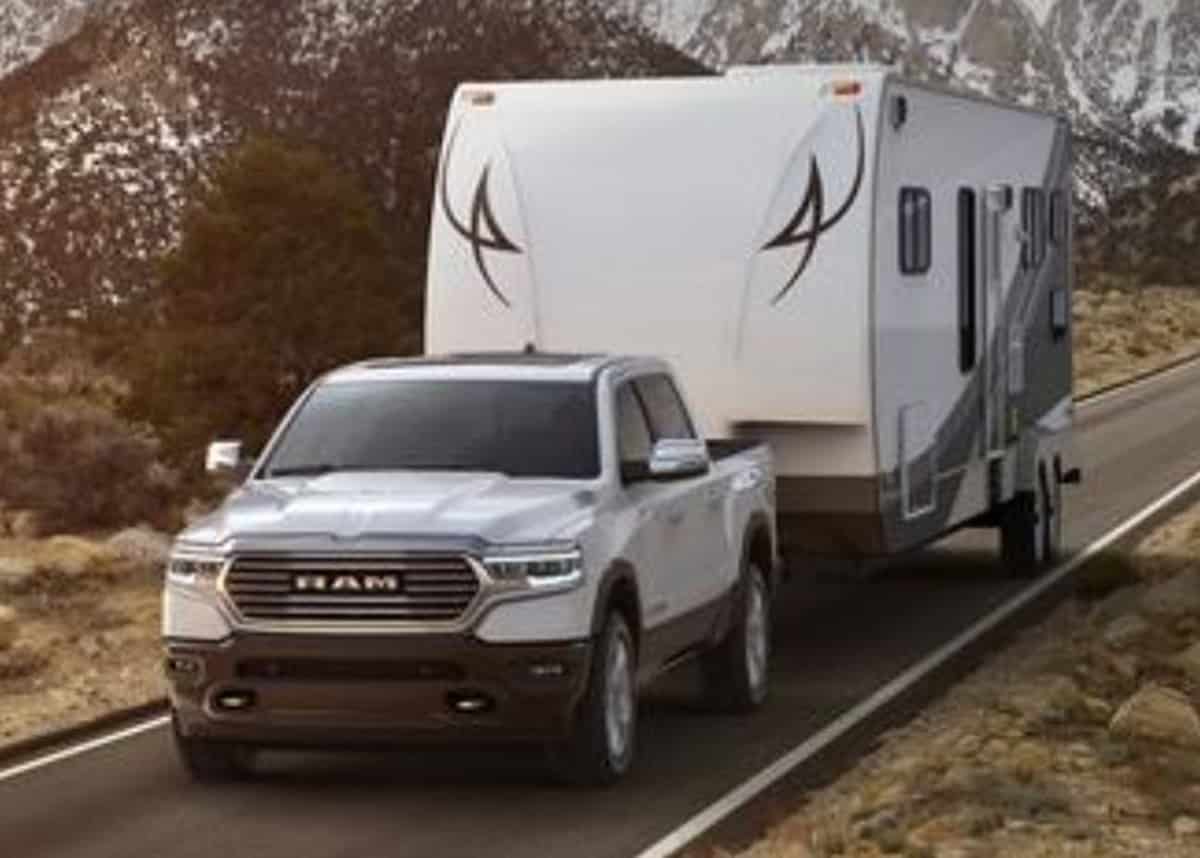 The RAM 1500 truck with the most towing capability is a Quad Cab with 5.7L HEMI eTorque, 4X2 with 6'4″ box and 3.92 axle ratio comes in at 12,750 lbs max towing.
There are a few options from RAM Trucks in the 1500 segment when choosing a pickup for towing.
A RAM 1500 Crew Cab 4X4 with 5.7L HEMI V8, 6'4″ Box and 3.92 axle ratio has a max towing capacity of 11,320 lbs.
Chevrolet Silverado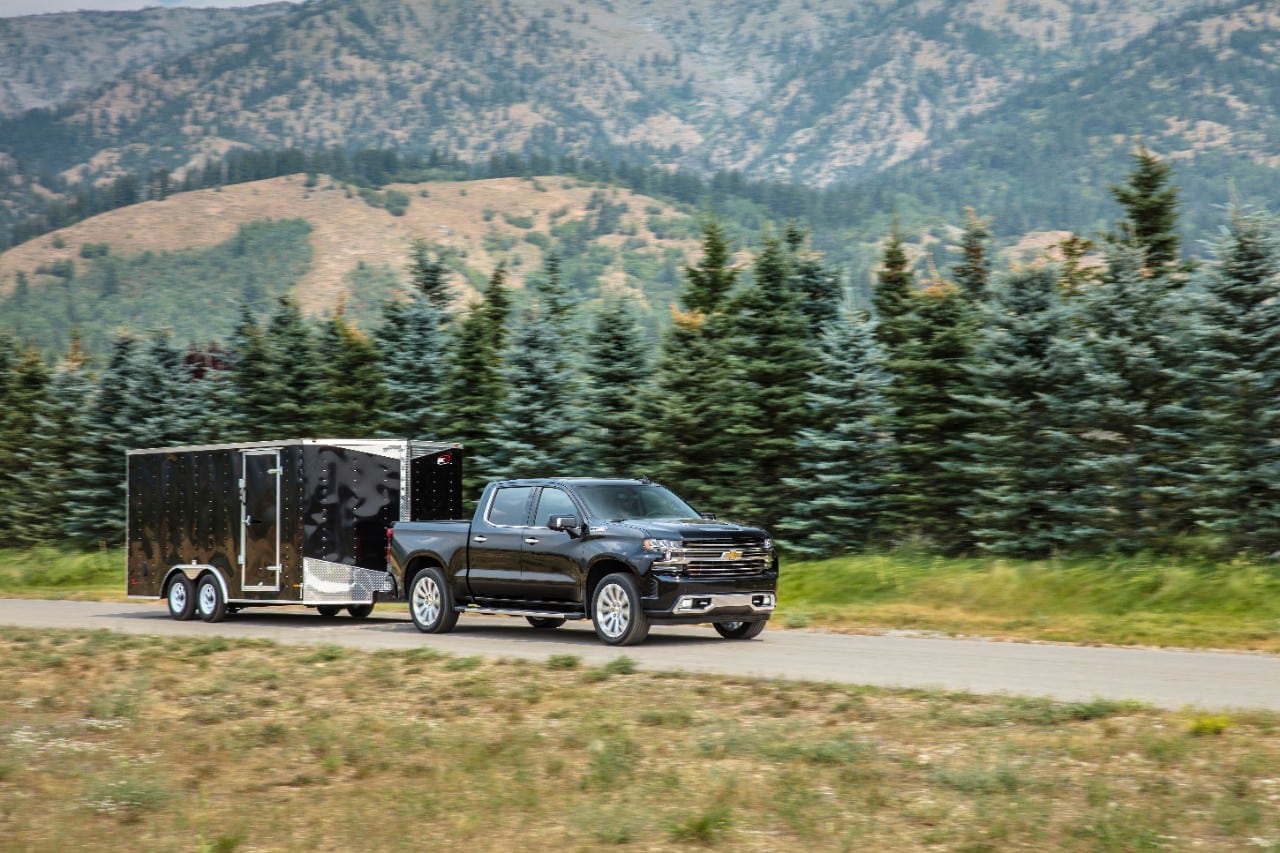 From the Chevy Silverado line-up, a 1500 with the 6.2L V8, Double Cab, 4X4 with standard box (6.58′ box) and 3.42 axle ratio. Conventional towing capacity is up to 12,200 lbs.
Having the same truck but in a Crew Cab configuration reduces towing by 200 lbs. It still has a 12,000 lbs max towing capability.
GMC Sierra 1500
For GMC Sierra 1500's, a Double Cab with standard box in 4×4 with max trailering package is rated at 11,800 lbs. This is also with the 6.2L V8 engine.
Toyota Tundra
The Tundra from Toyota don't quite meet Lo's requirement of up to 11,000 lbs.
A Toyota Tundra (with tow package) Limited with 5.7L V8 4X2 with 6'5″ box max towing is 10,100 lbs.
Nissan Titan
It's a similar story with the Nissan Titan when it comes to towing capacity, with lower capability than what our reader Lo requires.

Heavy Duty Trucks For Towing
Gas or Diesel?
Check out our previous article if you're not sure whether to choose a Gas or Diesel?
Ford F-250 Super Duty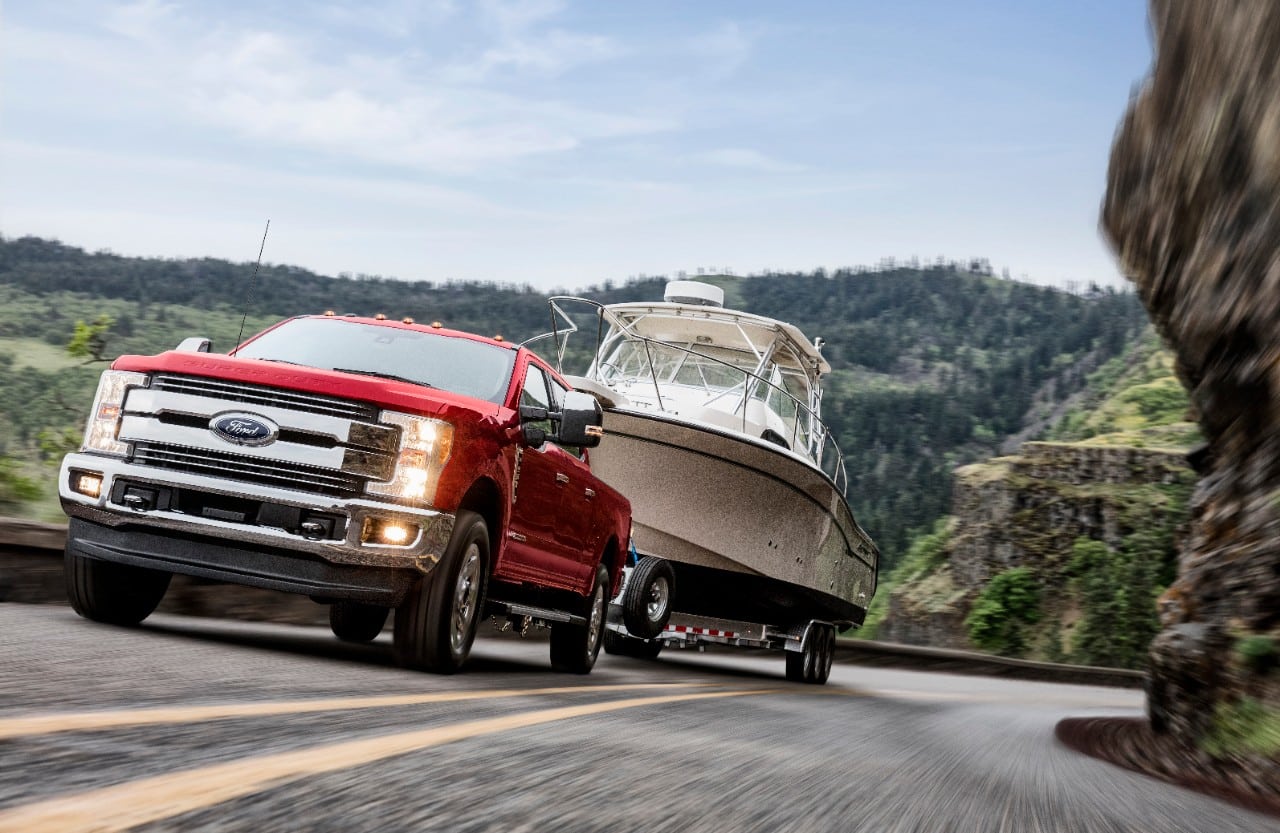 Most of the Ford F-250 Super Duty pick up trucks will be able to pull 9,000 lbs-11,000 lbs. Either the 6.2L V8 gas or the 6.7L V8 diesel. Diesel's are able to pull more than the equivalent gas engine truck.
For occasional towing a gas truck is suffice. Most of the F-250's with the 6.2L V8 gas and 4.30 axle ratio will pull between 13,000-15,000 lbs.
On the diesel side, the crew cabs with the highest GCWR, 4X2 have an 18,000 lb max tow rating. Equivalent 4X4's are at 17,500 lbs.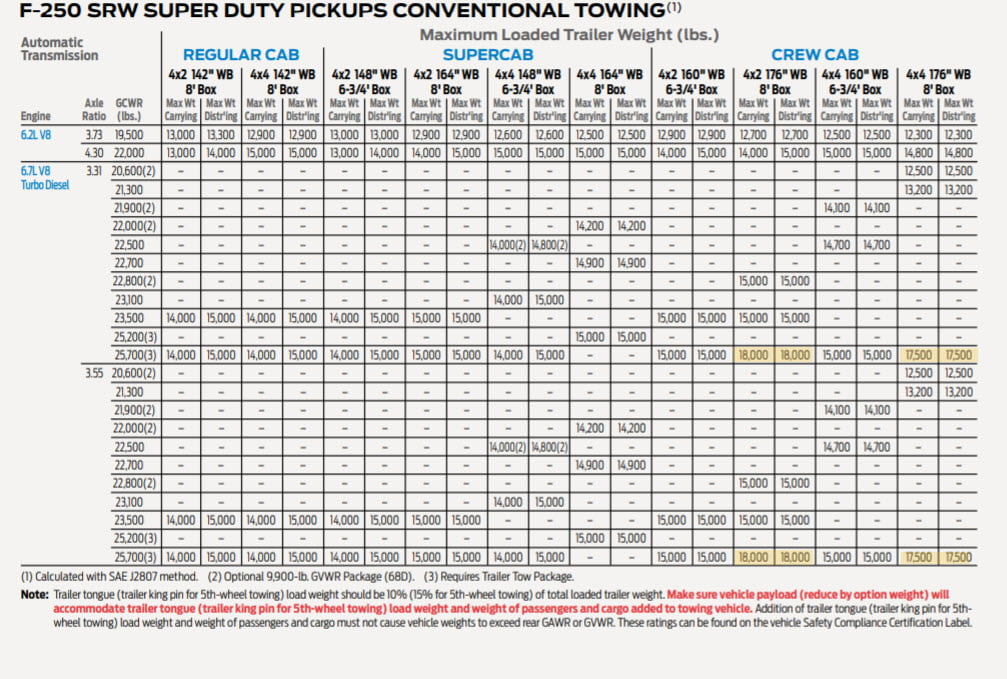 Ford F-250 Super Duty 2019 Trailer Towing Selector Chart
Ford Reveal Towing Numbers on 2020 Super Duty
RAM 2500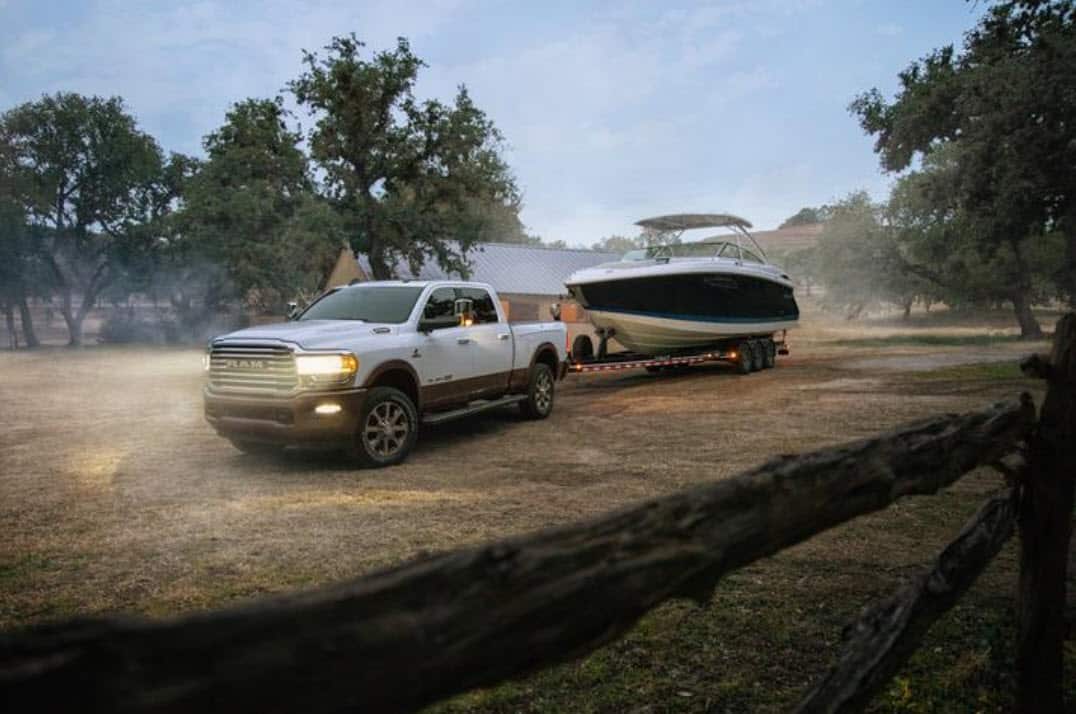 Ram trucks have a great website for choosing a pickup for towing. Using the sliders lets you see exactly how the wheelbase, engine, axle ratio and cab configurations affect the towing capacity.
A RAM 2500 4×2 Crew Cab,6.7L Cummins turbo diesel, 68RFE transmission, 3.73 axle ratio and 6'4″ box max trailer weight rating is 19,370 lbs.
All of the RAM 2500s are capable of meeting Lo's requirements for towing except the Power Wagon (max towing is around 10,000 lbs because it's more geared towards being an off-road truck).
RAM 2500 4X4 Mega Cab's in gas or diesel also meet the criteria. According to RAM's chart, the 6.4L HEMI gas engine with a 4.10 axle ratio is only 20 lbs less than what the diesel can pull which is 16,520 lbs.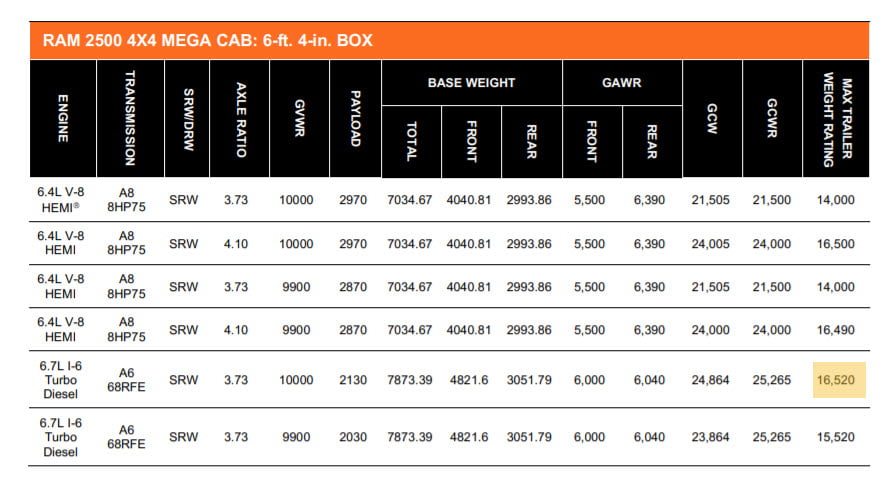 4X4 Crew Cab in the RAM 2500 with Cummins diesel and 3.73 rear axle, 6'4″ box max trailering weight rating is 19,040 lbs.
A RAM 2500 4×4 Crew Cab with the 6.4L HEMI gas engine, 4.10 rear axle and 6'4″ box max trailer weight rating is 16,910 lbs.
Chevrolet Silverado 2500HD
Chevy requires the truck to be a crew cab long box in either 4×2 or 4×4 to maximize the 14,500 lb max towing capacity with the 6.6L Duramax diesel engine.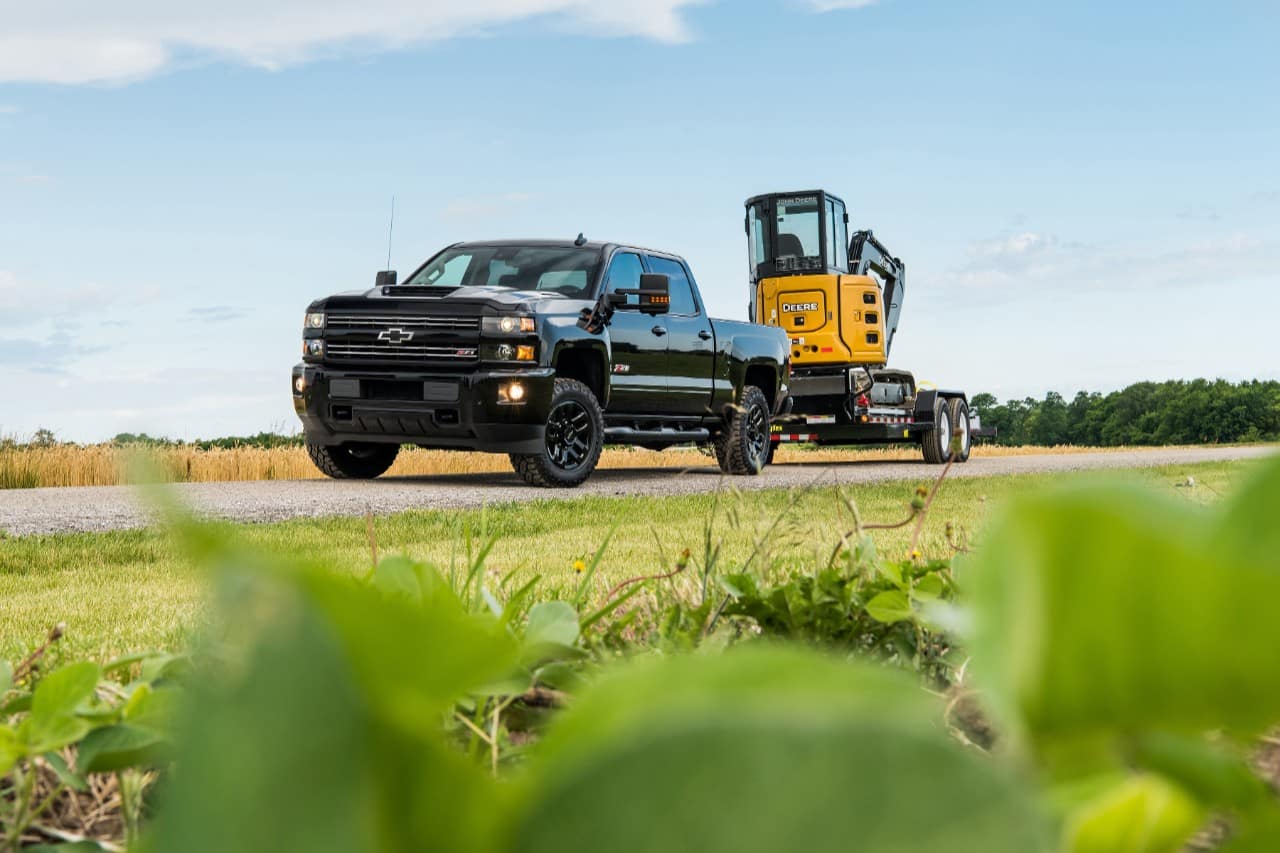 For the gas engine truck to reach 14,500 lbs of conventional towing, it has to be a regular cab long box 4×4.
GMC SierraHD
Most of the GMC Sierra 2500's are around the 13,000 lbs-14,500 lbs mark.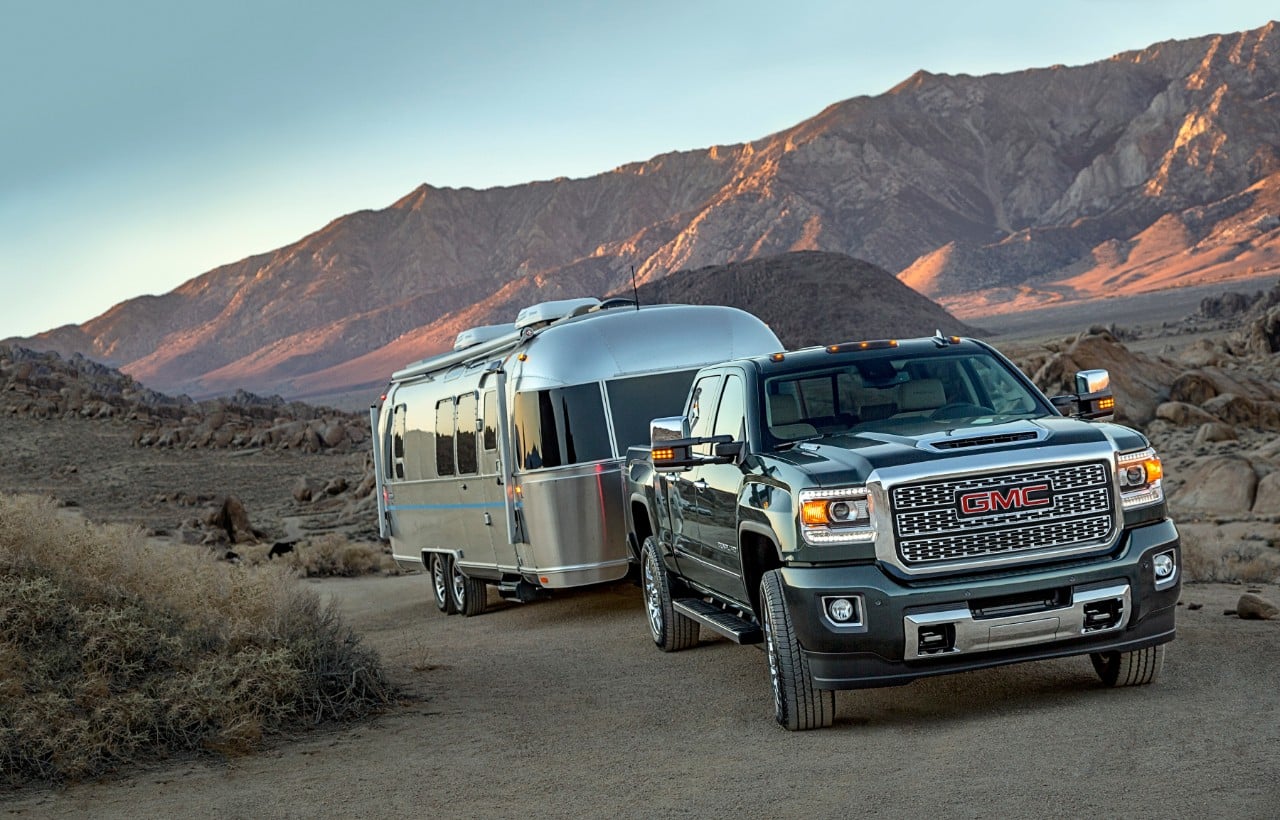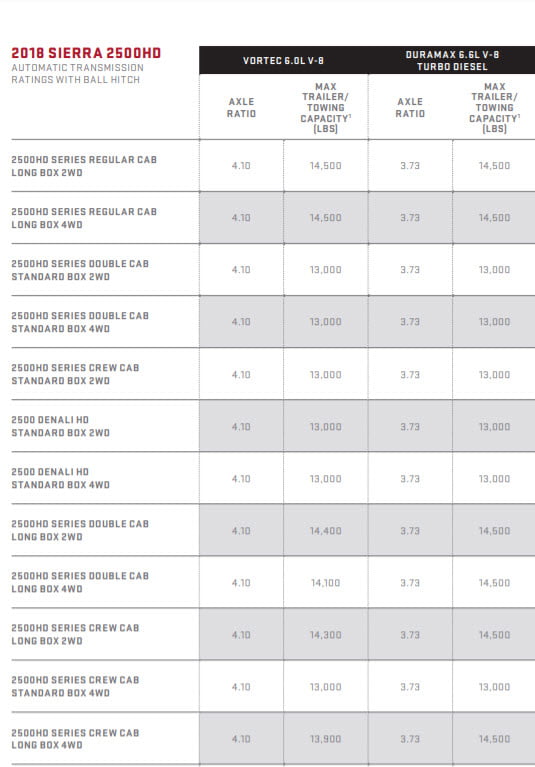 Which truck to choose?
When it comes to choosing a pickup for towing, it really comes down to your own situation when answering these questions;
How much weight do you need to pull?
How often will you be pulling that weight?
Can you justify the cost of a diesel for how often you'll be towing?
How safe do you want to be when towing?
Do you need 4×4?
Almost all brands will have a truck configuration that meets our reader Lo's requirements for towing.
A heavy-duty truck will provide more stability for her weight requirements. Then it comes down to choosing between which brand, features and of course price.