Most Popular Dating Site by State (MAP)
Feb 9, 2017 | Share

Brand Guides
Which Online Love Connection is Your State Falling for?
Love is in the air and it's apparent
online
, where an increasing number of singles find their next date virtually. Cupid's arrows hit the target in
online
dating
apps, which have seen
triple the users in recent years
. At highspeedinternet.com, we wanted to speculate about which platforms get used most often to find partners in each state, and if any patterns emerged in our collective search for the perfect match. What did our quest for
dating
data uncover?
Niche apps that focus on demographic factors like religion, gender, or lifestyle are on the rise and trending heavily in certain parts of the country.
We expected to see wide areas of
Tinder
country, where swiping right is part of the single life. And it's true that Tinder peppers our map from sea to shining sea. But the unexpected winner of our virtual lonely hearts club?
Christian Mingle
, a faith-based
dating
site
, dominates
the Bible Belt
. Unfortunately, experts have long observed that
higher divorce rates
also reign across the same sections of country, so perhaps Christians are mingling a little too much. Ahem.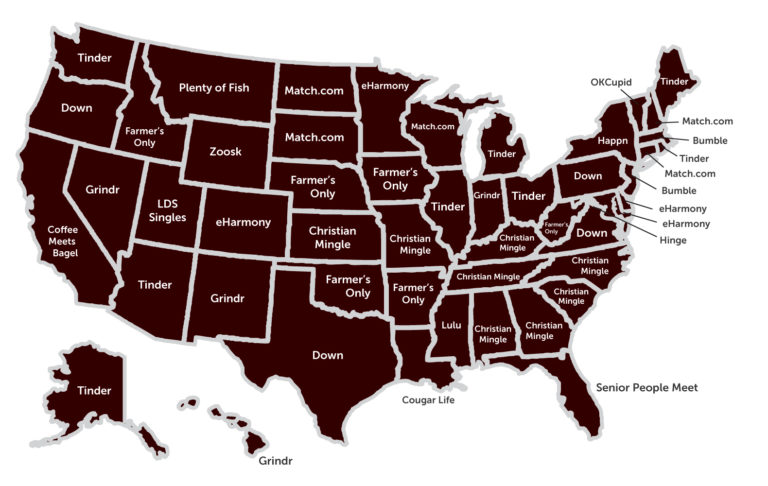 To identify the most popular dating app, we utilized Google Trends data and isolated apps and sites that had statistically significant popularity in each state.
---
Let's do a deep dive into the data, shall we? We'll determine exactly what the state of
dating
is in the United States and which apps have a little something more to say about the state that loves them.
Regional Romance
What's trending across particular parts of the country? Take a look at what each region is head over heels for.
Church Connections
The more heavily religious an area is, the more likely the favored darting app is to be affiliated with religion.
All across the Bible Belt, Christians can't resist getting together with Christian Mingle.
Mormon couples opt to find the perfect connection in Utah with LDS Singles.
As you go west, however, and the non-religious population grows, religiously-affiliated
dating
gets jilted. You won't find a single state that prefers to mingle the Christian way beyond the Rockies.
It's all About the Ladies
Lots of recent, trendy dating apps focus on women  for a reason. Most of them are popular in states with some serious girl power going on.
A Few Other Favorite Findings 
Wyoming cruises the dating scene with Zoosk, an international dating app. While Wyoming still has a fairly low immigrant population, it's seen one of the largest rates of immigration growth in the US, up 33% from 2000–2011.
D.C. is all about who you know (nudge, nudge. wink, wink), so it's no surprise their favorite app, Hinge, makes connections between Facebook friends.
Montana is a renowned fishing locale, and their obsession with Plenty of Fish is no secret.
With one of the top 5 oldest median ages in the United States, Florida's residents definitely need Senior People Meet. But the oldest median age in the U.S. by far? Maine, who is still setting romance on fire with Tinder. Keep on with your bad self, Mainers. Age is just a number.
---
Does your state's dating app obsession seem like the perfect match? Share our map and discuss. But no fighting, kids. Only love. Sweet, sweet love.
Author - HSI Staff
Kaz is a writer, blogger and social media junkie. She uses her tenacity to investigate the best of the Internets.