We are looking at the best digital pianos and keyboard pianos on the market in 2020. This is obviously a very subjective topic but we have put together a list of our top 10 picks that has something for everyone. We have an overview of each with pros, cons, and our verdict making up short digital piano reviews to help you decide.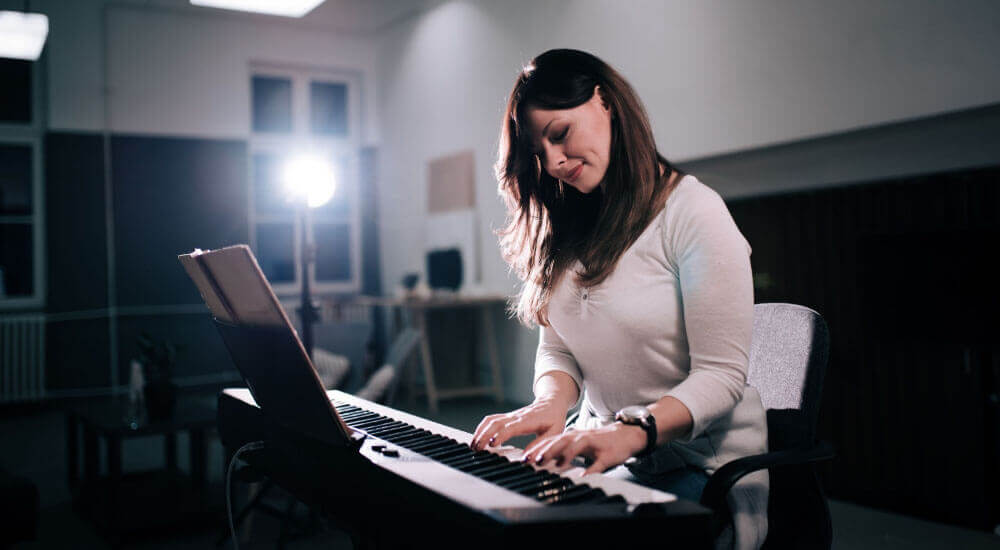 How Do We Choose Our Top 10?
There are so many options it's hard to definitively say which one is the best digital piano or the best keyboard piano. So, we try to take various factors into account.
First and foremost, we focus on the piano sound, other voices are important but for the purpose of our list, they are a secondary concern. Next, we focus on an authentic feel and keyboard action.
All of the keyboards on our list sound and feel good so it's about the subtle differences that make one better than the other.
Top 10 Best Digital Piano and Keyboard Reviews for 2020
So, this is our top 10 picks for the best digital pianos and best keyboard pianos. We haven't put any restrictions on this list so there is no price range to work within. Some of these picks may feature in other lists, like our 10 best digital pianos and keyboards for beginners.
For any instruments that appear in more than one list, keep in mind that the pros and cons may be slightly different. For example, many digital pianos on this list may be too complex for a beginner and therefore would have different cons on our best for beginners list.
Here are the best digital pianos and keyboard pianos 2020:
Best Keyboard Piano: Roland RD-2000
The Roland RD-2000 sounds incredible thanks to two onboard sound engines – SuperNATURAL and V-Piano. The piano and electric piano sounds are second to none and the weighted keys are thought to be the best of any Roland keyboard to date.
It's equally at home on stage and in the studio, this keyboard piano is ideal for professional musicians. The RD-2000 keyboard can split into 8 zones with individual sounds, you can also layer up to 8 sounds which are perfect for creating unique patches. Any voices you create can be stored in the keyboards internal memory and are easily accessed when needed.
Control is paramount with this keyboard, you can control your DAW directly from the RD-2000, accessing sounds or triggering loops and samples. You can also control various parameters of your voice, effect, or DAW in real time using 8 velocity sensitive knobs and 9 assignable sliders. All knobs and sliders are LED lit which makes for great visual feedback on a dark stage.
Very authentic feel.
Extremely versatile in live use.
Integrates well with third party software/DAWs.
Zero latency processor.
SuperNATURAL and V-Piano sound engines.

Not as suitable for beginner to intermediate players.
We have covered this keyboard in other lists and it hasn't been number one for a couple of reasons, not least of all, it's pretty expensive. For beginners or for general practice this wouldn't top our list but for a serious player without restrictions, this is our top pick.
The RD-2000 is packed with lots of amazing sounds from synths to string ensembles but the piano voices are where it shines most. Outside of how it sounds, the sheer versatility and workflow of this digital piano make it a simple pick for the top spot.
Best for Home: Yamaha YDP-184
The Yamaha YDP-184 is built around the sound Yamaha's CFX 9′ concert grand piano and it's absolutely beautiful. This is one for the purists looking for the ultimate piano experience. The experience can be enhanced by adjusting parameters like string and damper resonance with Virtual Resonance Modeling (VRM). This mimics in great detail the way string vibration reflects off the soundboard causes other strings to vibrate.
One of the best things about the YDP-184 is the expressiveness of the weighted keys. The graded hammer action keys are the best example of progression from low end to high end on our list. There are 24 voices including electric pianos and 256-note max polyphony. The MIDI record function lets you record your playing and USB connectivity makes it easy to connect to other devices.
Everything with this piano is about being authentic, even when playing with headphones the stereophonic optimizer recreates the experience of an acoustic piano. Sound is dispersed in a way that suggests it's coming from the body of the instrument. You can find a host of interactive features via Yamaha's Smart Pianist app.
Stunning CFX sound engine.
Beautiful graded hammer action keys.
Authentic piano experience.
Beautiful console.
Smart Pianist app.
It was a very close call between first and second place for this piano. Ultimately, we chose a more well-rounded instrument for the top spot but this is a stunning piano. For serious pianists, it doesn't get much better than the YDP-184.
Best Pound for Pound: Yamaha CP88
The Yamaha CP88 is a premium stage piano for performers, producers, and songwriters. Despite being incredibly powerful, the CP88 is very easy to use thanks to its intuitive design. The keyboard is light by comparison which is great for gigging but it's built to handle a few knocks too.
There are 3 gorgeous grand pianos including the Yamaha CFX, Yamaha S700, and the Bösendorfer Imperial 290. All three of these voices have been recorded with incredible detail. There are 2 upright pianos, which are the U1 and Yamaha's flagship upright piano, the SU7.
There is quite a wide range of voices available from synths to strings but most notable after the pianos are the electric pianos. Yamaha's iconic CP70 and CP80 electric grand pianos have been perfectly sampled for the CP88. Last but not least, Yamaha's VCM (Virtual Circuit Modelling) enhances sound by mimicking vintage effects and processors.
3 amazing grand pianos.
Wide choice of high-quality voices.
Simple user interface.
Virtual Circuit Modelling.
Realistic feel.

It's slightly behind the Roland RD-2000, other than that there are no clear cons.
This keyboard piano could easily be number 1 on the list. The reason it didn't is that the flagship piano voice isn't as good as the ones above it on the list.
However, it has more high-quality voices than most others. The effects are great, the interface is great, and it looks great. This is my pound for pound champ.
Best for Classical Music: Kawai MP11SE
Kawai is known for luxurious pianos and meticulous sampling/recording. The MP11SE is no exception, featuring Kawai's Shigeru SK-EX, SK-5, and Kawai EX concert grand piano sounds.
Kawai considers the MP11SE to have the most realistic keyboard action of and keyboard piano and they aren't far wrong. They have extended the pivot point on the hammer action keys to match that of the Shigeru concert grand piano.
The MP11SE doesn't have a huge selection of voices, there are some lovely electric pianos but it's really all about the grand pianos with this one. It's very easy to tweak your sound till it's just right with the Virtual Technician technology and independent sections for pianos and electric pianos on the keyboards main panel.
Very realistic hammer action keys.
Luxurious concert grand piano sounds.
Simple user interface.
MIDI controller functions.
The MP11SE is number 4 on our list because you can't have a top 10 list without a Kawai piano. Personally, I don't think it has the best sound or the best feel on our list but it's so good that opinion will be divided on this one.
If you prefer Kawai over other manufacturers then this could be your top pick. It's a straightforward, easy to use, keyboard piano with some beautifully recorded concert grand voices.
If you want versatility, this isn't the one but as a pure piano experience, especially classical playing, it deserves to be in the top half of our list.
Best Value for Money: Casio CGP-700
At the midpoint of our list, we have gone for something that is a bit more of an all-rounder, the popular Casio CGP-700. Typical of a Casio instrument, the CGP-700 offers exceptional value for money. Packed with 550 different voices and 200 rhythms, there isn't much that you won't find here.
All of these voices and rhythms can be accessed via the 5.3″ color touch panel. The touch panel is icon based so it's very quick and easy to get around. It has USB recording capability plus a 17-track sequencer which is huge for a keyboard of this type. The included wooden stand houses the 40w 6 speaker system that can be adjusted to face the player or the audience.
A huge number of voices.
The large color touch panel.
17-track sequencer.
USB recording.
Adjustable speaker system.

Voices offer more versatility than quality.
This is a very good keyboard piano, it's just not quite as good as many others on the list. As far as sound and touch are concerned, it's probably not even the 5th best on our list. However, the addition of the sequencer and other features were enough to carry it to the middle of our list.
As a complete package, it offers much more than just a straightforward keyboard piano, making it the best value for money on our list.
Best Looking: Nord Stage 3
Nord keyboards are the must-have instrument for many professional musicians. The Stage 3 is split into 3 sections, piano, synth, and organ, each of which is highly customizable. The memory for the piano and synth sections has been significantly increased to allow for much deeper sampling. This means the sound quality is now better than ever before.
The organ section emulates a vintage rotary speaker and has physical drawbars for realistic tone control. The synth section has a dedicated OLED display to easily adjust various parameters. The layer and split functions have been enhanced since the previous model with some very nice additions like optional crossfade. Nord has included some very authentic effects too, particularly the compressor and delay.
Very high-quality sounds.
Has a dedicated section for each voice group.
Drawbars for organ tone control.
Authentic digital effects.

Keyboard action isn't as good as it should be.
My issue with the Nord Stage 3 is that while it's most certainly a fantastic keyboard, I think your money would be best spent elsewhere. The sound quality will rival any stage piano and it does have some great features like the organ section drawbars. However, the keyboard action isn't as good as many instruments in the same price range.
Overall, there are instruments that sound and feel better for less money. Despite my personal preference, this is still widely considered to be one of the best electric keyboard pianos available.
Best for Jazz: Korg Grandstage 88
Korg is continually getting better at making their instruments very intuitive and easy to control. The Grandstage 88 has a 3-band EQ and 4 insert effects that can be easily adjusted while playing to precisely shape your tone in real-time. The layout is perfect with a dedicated dynamics section and a favorites section that lets you recall your most used voices quickly.
There are 6 very authentic piano voices from concert grand pianos to upright pianos. The pianos are generated by Korg's gorgeous SGX-2 acoustic piano sound engine.
The Grandstage 88 has 500 voices in total including electric pianos and organs. However, the variety is not as wide as the amount suggests with most voices being subtle variations of others.
Simple user interface.
Dedicated dynamics section.
Gorgeous piano sounds.
Very nice keyboard action.
Authentic effects.

Best suits a very specific kind of player – jazz.
If you are a jazz musician who primarily uses a piano sound I'd be inclined to suggest you come straight to the Grandstage 88. It's not the overall best piano sound on our list but in a jazz/bebop combo setting it really sounds special.
The layout is great, the effects are very authentic, and there is no big downside here. It comes down to your style and if you feel this fits for you, otherwise there are more well-rounded options.
Great Family Piano: Roland RP501R
This is another top-rated Roland piano that utilizes the exclusive SuperNATURAL piano engine. The RP501R features 300 voices as well as the acoustic piano tones, making it one of the most versatile on the list.
This piano bridges the gap between beginner and advanced with some nice tuition features like dual split. It also has some really good interactive learning material via the Roland app. The record function lets you record directly to the piano's internal memory or to a USB flash drive.
SuperNatural piano engine.
Realistic hammer action keys.
Educational features vis the app.
A huge amount of voices.
USB record function.

Better suited for classical musicians.
Other voices not as high-quality as the piano tones.
Overall, the sound and feel of the Roland RP501R digital piano are more than good enough to last well beyond beginner and intermediate playing levels.
Best Portable: Casio PX-S3000
This keyboard marks the biggest advancement in technology the Casio Privia range has seen since the original. The PX-S3000 is the worlds slimmest keyboard piano and it looks super cool. The sleek casing is finished in a glossy black befits a concert grand piano.
Unbelievably, due to its slimline design, the PX-S3000 has the most advanced hammer action keys in the entire range. Casio's Smart Scaled Hammer Action simulates a unique touch response for every individual key.
The advanced AiR piano engine delivers a very rich, expressive tone which compliments the weighted keys very well. To add to the dynamic range of the piano sound, aspects like touch sensitivity and tonal balance can be customized.
There are 700 voices which can be layered or split in various ways. You can save your created combinations using 96 registration memories and access them easily.
The PX-S3000 has USB recording capability and 200 smart styles to accompany your playing. Finally, it also has Bluetooth connectivity to stream backing tracks or songs through the piano's speakers from your smart device.
Extremely portable.
Very nice piano tone.
Incredible keyboard action for such a slim instrument.
Bluetooth and USB connectivity.
A huge amount of voices.

The quality of the piano tone isn't as good as most others on our list.
This keyboard really is incredible even though it's sitting near the bottom of our list. If you were to close your eyes and feel the keyboard action you wouldn't believe it was a keyboard of this size.
If you need something that you can transport easily and feels realistic, this is it. Of course, you sacrifice a little sound quality compared to others on our list but nothing too drastic. This is the best portable keyboard piano on our list.
Best Alternative Features: Yamaha DGX-660
The Yamaha DGX-660 is a bit of a curveball on our list because it has some features that are usually limited to workstation keyboards. Most notably is the 6-track sequencer which means you can start thinking about music production and arrangement rather than just playing. The piano sounds come from Yamaha's Pure CF sound engine, it's not as expressive as the CFX 9′ concert grand engine but it's very nice in its own right.
The Pure CF sound engine delivers some iconic sounds found on flagship models like the Motif range, it has over 150 voices and 16 drum kits. Another rare feature is that the DGX-660 is compatible with XG song files which are included in some Hal Leonard songbooks. This is part of Yamaha's Educational Suite and is a very useful tool for building up your repertoire.
Workstation features – 6-track sequencer.
Pure CF sound engine – iconic sounds.
Realistic hammer action keys.
Stand included.
Portable if required.

The piano sound is not as expressive as the CFX 9'concert grand engine.
This is a great pick for anyone who wants to compose/arrange as well as perform and practice. The 6-track sequencer is a very useful feature and is more than enough to get you started with your arrangement/production skills.
As a pure digital piano experience, it's not at the standard of the rest of the list but it's the extra onboard features that give it enough to take the number 10 spot.
Wildcard Pick: Alesis Recital Pro
This is a very simple introduction to digital keyboard pianos. It has 12 unique voices and hammer action keys. The weight of the keys is a little lighter than it should be but they do offer some resistance. The acoustic piano tone is good but not good enough to make the top 10.
It may be lacking in quality compared to our top 10 picks but it comes at a fraction of the price. So, if you just want a decent/good piano sound, weighted keys, and something that doesn't break the bank, the Alesis Recital Pro is well worth a look.
Summary
That completes our top 10 list of the best digital pianos and best keyboard pianos in 2020. These are some of the best-selling, best-looking, and best-sounding digital piano's in the world right now.
As always, I suggest you try multiple options before making any purchase. All of these pianos are very good but each player has their own preferences. Whatever one you choose, you choose you can't go wrong with any of our top 10 picks.