What Do You Say on Hanukkah? Songs, Quotes and Prayers for the Festival of Lights
Hanukkah is here once again, and although the celebration's proceedings are less complicated than a Passover seder, if you're headed to a party it's never a bad idea to brush up on what to expect.
One of the more joyous holidays on the Jewish calendar, Hanukkah commemorates the miracle God performed for the Jewish people after the destruction of the ancient Temple of Jerusalem. Aptly called the Festival of Lights, it serves as a reminder of the oil that burned for eight days when there was only enough to light the menorah for one night.
Unlike some somber Jewish holidays, such as Yom Kippur, when it's inappropriate to wish someone a "happy" holiday, on Hanukkah the happy holiday messages flow freely. For a greeting with a little more pizzazz, a person can also wish someone a Chag sameach! (the Hebrew version of "Happy holiday") or "Hanukkah Sameach," meaning "Happy Hanukkah."
Seriously concerned you'll flub the greeting and never be invited back to a Hanukkah party for as long as you live? Just wait for somebody to greet you and then repeat back what that person said.
Newsweek subscription offers >
Prayers and Blessings
Once inside the party, guests will likely be greeted with food and libations, and at some point, everyone will gather to light the menorah, a nine-pronged candelabra. The candle in the center position of the menorah is called the shammash and is always lit first, then used to light all the other candles. It's pretty easy to spot because it sits on a different level from the other eight candles, whether higher or lower.
In addition to the shammash in the middle, a candle will be placed in the spot farthest right on the menorah on Sunday, the first night of Hanukkah. Each night, two blessings are said after the candles are placed in the menorah.
The first, "Baruch atah, Adonai Eloheinu, Melech haolam, asher kid'shanu b'mitzvotav v'tsivanu l'hadlik ner shel Hanukkah," translates to "Praised are you, our God, ruler of the universe, who made us holy through your commandments and commanded us to kindle the Hanukkah lights."
Newsweek subscription offers >
The second, "Baruch atah, Adonai Eloheinu, Melech haolam, she-asah nisim la'avoteinu bayamim hahem bazman hazeh," translates to "Praised are you, our God, ruler of the universe, who performed wondrous deeds for our ancestors in those ancient days at this season."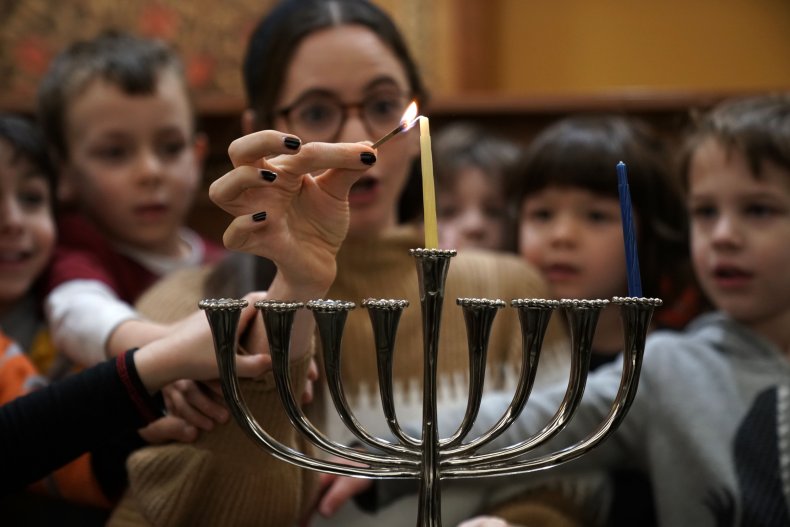 As is the case with other Jewish holidays, blessings change depending on the holiday's specific night. On the first night of Hanukkah, a third prayer is said, "Baruch atah adonai eloheinu melech ha'olam, shehecheyanu, v'kiyimanu, v'higiyanu lazman hazeh." This translates to "Praised are you, our God, ruler of the universe, who has given us life and sustained us and enabled us to reach this season."
On every subsequent night of Hanukkah, an additional candle is added to the menorah directly to the left of the previous night's candle. On the second night, there will be three candles total, including the shamash; four on the second night; and so on until the final night, when all eight candles plus the shamash burn bright.
Although candles are placed in the menorah from right to left, they're lit from left to right, the same direction that Hebrew is read.
Songs
Christmas dominates the holiday song market with hits like "Rudolph the Red-Nosed Reindeer" and "I Saw Mommy Kissing Santa Claus," but Hanukkah's got a few festive numbers of its own.
Yes, there's Adam Sandler's "Hanukkah Song," which he debuted in 1994 on Saturday Night Live. A slightly lesser-known number from the LeeVees chronicles the difficulty people have spelling the holiday, aptly titled "How Do You Spell Channukkahh?"
Woody Guthrie's "Hanukkah Dance" brings an upbeat melody to the party, and Peter, Paul and Mary's "Light One Candle" fills many homes each year.
Arguably one of the biggest hits of the Festival of Lights is "I Have a Little Dreidel." You know, the song about the one you made out of clay? When it's dry and ready, dreidel you will play.
Another song that's been covered by successful artists, including Pentatonix and Barenaked Ladies, is "Oh Hanukkah." Covering key aspects of Hanukkah, such as remembrance, the menorah, latkes and dreidels, it's everything a person could want for in an upbeat holiday tune. Be warned, though: The catchy tune and repetitive lyrics increase the possibility it will be stuck in guests' heads for the rest of the night.
Another song that Jewish people will likely recognize, if not by name but by melody, is "Maoz Tzur." For those who are invited to the party and aren't versed in the lyrics, don't sweat it because they're in Hebrew.
Looking for a modern take on Hanukkah music? Check out the Maccabeats' album A Maccabeats Hanukkah or Matisyahu's songs "Miracle" and "Happy Hanukkah."
Quotes
Whether words of wisdom are needed for a Hanukkah thank-you note or an Instagram caption, there are quotes you can use illuminate the messaging. (Get it? Illuminate, as in Festival of Lights.)
"The proper response, as Hanukkah teaches, is not to curse the darkness but to light a candle." –Rabbi Irving Greenberg
"If it weren't for Adam Sandler, Hanukkah music wouldn't get any radio play at all." –Matisyahu
"Look at how a single candle can both defy and define the darkness." –Anne Frank
"A candle is a small thing. But one candle can light another. And see how its own light increases, as a candle gives its flame to the other. You are such a light."
–Moshe Davis
"The real reason Jews don't have more Hanukkah music is that, historically, American Jewish singer-songwriters were too busy making Christmas music. 'White Christmas,' 'Rudolph the Red-Nosed Reindeer,' 'Silver Bells' and 'The Christmas Song (Chestnuts Roasting on an Open Fire)' were all written by Jews." –Matisyahu
What Do You Say on Hanukkah? Songs, Quotes and Prayers for the Festival of Lights | U.S.