Pack up the euphoniums, lay down the drumsticks, put away the trumpets. If they thought the Premier League would last for ever they were wrong. There is always something slightly mournful about the pre-kick off playing of When the Saints Going Marching in and perhaps never more so than on Sunday with the brass band hinting it could be one of the causalities of the cost-cutting that will inevitably follow relegation. The chaotically defiant, entirely unfunereal, performance that followed does not change that.
That is the sad truth when a team goes down. The players, the first‑team coaches and the directors will, by and large, be fine. Fans may weep, but for all the self-pity of a subset of modern support, most will be back next season, happy enough at a day out with family or friends, whoever the opposition. The people who suffer are those in less visible roles, the academy coaches, the analysts, the catering staff and – perhaps – the brass band. That's where the cuts fall and where they are felt.
It was a day of farewells. Liverpool said goodbye to Roberto Firmino and James Milner, neither of whose contracts have been renewed after eight years at Liverpool; Firmino's future is unclear while it seems likely Milner will begin his 22nd season as a pro at Brighton. Southampton probably said goodbye to James Ward-Prowse, given a standing ovation as he was subbed off with four minutes to go.
"He has been here for 20 years," said Rubén Sellés. "He has been the captain and he deserved that moment with the crowd to end the season that hasn't been easy."
They definitely said goodbye to Theo Walcott, who departed to warm applause, and to Sellés. He turned up, looked the part, had the enormous advantage of not being Nathan Jones, took points off Liverpool, Arsenal, Manchester United, Tottenham and Chelsea but won just twice. His lasting impression on English football is likely to be alongside Ricky Sbragia, Terry Connor and Xisco Muñoz as a guaranteed winning answer on Pointless.
And most significantly, Southampton said goodbye to the Premier League after 11 years, proof that clubs that are hailed as models for other non-super-clubs to follow are only ever a couple of bad decisions from collapse. Money doesn't guarantee success – spending £127m in the last two windows was arguably the problem, but lots of it provides a very useful safety net.
Beside the farewells, there was nothing at all to play for. Southampton were guaranteed to be bottom; Liverpool were guaranteed to be fifth. It was an open, pressure-free jolly in the spring sunshine, a game that had all the intensity of a bank holiday Sunday in a beer garden; Liverpool fans seemed more preoccupied with Everton's relegation situation than the match happening in front of them. It was a game of thousands of chances, none of them consequential.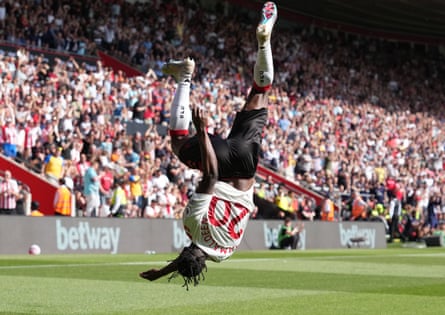 Jürgen Klopp mainly seemed happy the season was over even if he has been reinvigorated by the run off 11 games unbeaten with which Liverpool finished the season. "There were moments when we thought the season was four years long," he said. "There are times when you have to admit there were four teams who were better than us. Teams were happy to play us and I hated that. But the last 10, 11 games helped us to realise we can be challengers again."
Comical home defending gifted Liverpool two goals in the opening quarter-hour. First Roméo Lavia, having been put under a certain amount of pressure by Jan Bednarek and Alex McCarthy, rolled the ball across the box to allow Diogo Jota to clip into an empty net. Bednarek and Lyanco were then befuddled by what may have been a dummy but was probably a mis-kick from Firmino as he knocked in a second with Lyanco scrabbling around on his backside.
Ward-Prowse pulled one back then Firmino, who had bought gift boxes for the Liverpool staff as a parting gift, was just as generous to Southampton, presenting the ball to Walcott, almost unbelievably only three years younger than Milner, who fed Kamaldeen Sulemana for his first goal for the club to make it 2-2 by half‑time. "You know Southampton players want to pay back these people," Klopp said, "and we let them."
A second for Southampton's record signing came via a sumptuous finish and Adam Armstrong soon notched the fourth. But the openness and disorganisation was universal. Trent Alexander-Arnold laid on a tap-in for Cody Gakpo, before Jota surged through to level.
At the final whistle, Don't Look Back in Anger played over the PA. And that's probably reasonable enough: 11 years is a decent stint in the Premier League for a club of Southampton's stature. But there will be a lot of looking back in puzzlement at the signings made in the last two windows and, especially, at the managerial appointments.