Prince's Trust: Young refugee meets King after winning award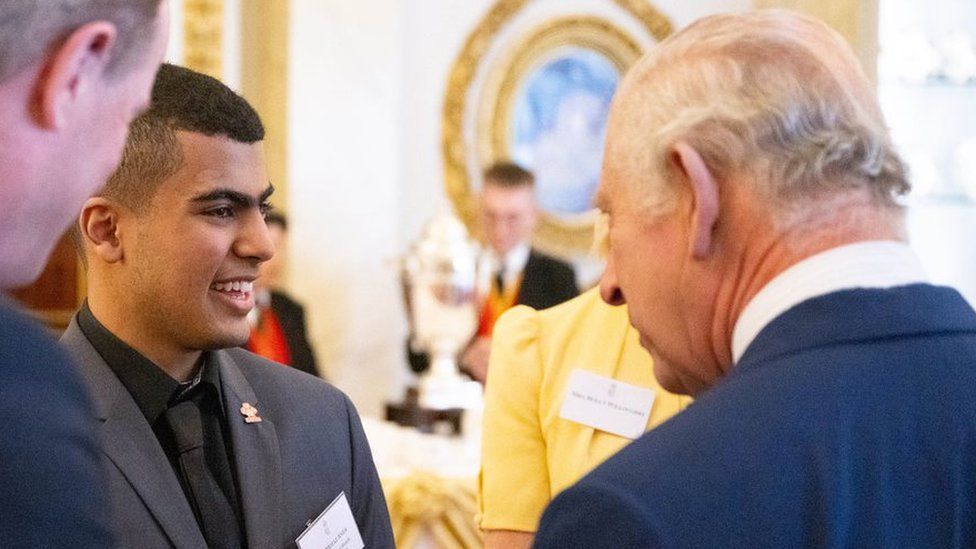 A young refugee who came to Northern Ireland after escaping war in his home country has spoken of his pride after meeting the King.
Seventeen-year-old Motaz Amer and his family arrived in Belfast after fleeing the Yemen civil war.
After settling in Northern Ireland he began a 12-week development programme with the Prince's Trust.
It allowed him to undertake work experience in his new community, a place he now considers his second home.
"Someone asked me if I wanted to join it and just give it a try, and said it may be worth my time," he told BBC News NI.
"It was more than worth my time. I done it, I loved it and I've just continued with the Trust since."
The Prince's Trust was started in almost 60 years ago by the then Prince of Wales, to help people who are unemployed or struggling at school and at risk of exclusion.
Over three months, Motaz was able to take part in hands-on work experience and give back to the community.
"It was a big mix in 12 weeks, and in the end just having a presentation and giving a speech to the audience, it was a wonderful experience," he said.
"You just develop your personality, your skills, you gets lots of work experience and at the same time you're growing as a person."
After completing the programme, Motaz was asked to become a young ambassador for the trust and share his inspirational story with other young people.
"I feel my achievements encourages and inspires other young people if they want to change their lives, or just even just give back to the community," he said.
"It's about passing on what you have learned to others and try to help them with issues and problems they've got."
Award winner
Motaz's hard work and resilience paid off when he was award the national Young Change Maker award by the Prince's Trust.
He was invited to a special reception at Buckingham Palace earlier in May to celebrate his achievement, where he met the King.
"I was so happy meeting the King," he sad.
"I got to express my thanks to him face-to-face about his support for a person who comes from a refugee background.
"He was asking me about my country and said that he loved Yemen and always wanted to go there but because of the civil war he couldn't.
"He also gave his best wishes to my family too, which was lovely."
'Share the kindness'
Other famous faces at the bash included TV presenter Holly Willoughby and actor Stanley Tucci.
"Both of them were so kind and such a big support to me. I didn't feel awkward at all," Motaz said.
A message of hope and giving back is at the top of Motaz's priority list as he continues in his new role.
"As we take, we give back and the Trust have given me their hand to me, and I'm more than happy to give my hand and help other people," he said.
"Spread the kindness, it's better when you share it."