Definition of 'hole'
Word forms:
plural
, 3rd person singular present tense
holes
,
present participle
holing
,
past tense
, past participle
holed
1.
countable noun
A hole is a hollow space in something solid, with an opening on one side.
2.
countable noun
A
hole
is an opening in something that
goes
right through it.
These tiresome creatures eat holes in the leaves.
[+ in]
...kids with holes in the knees of their jeans.
[+ in]
3. countable noun
4. countable noun
5.
countable noun
[usually adjective NOUN]
6. countable noun
7. countable noun
8.
verb
If you hole in a game of golf, you hit the ball so that it goes into the hole.
He holed from nine feet at the 18th.
[
VERB
]
Frost holed a bunker shot from 50 feet to snatch the title by one stroke.
[VERB noun]
9.
verb
[usually passive]
[mainly British]
Blocks of flats have been holed and some shells have fallen within the historic ramparts.
[be VERB-ed]
COBUILD Advanced English Dictionary. Copyright © HarperCollins Publishers
Video: pronunciation of
hole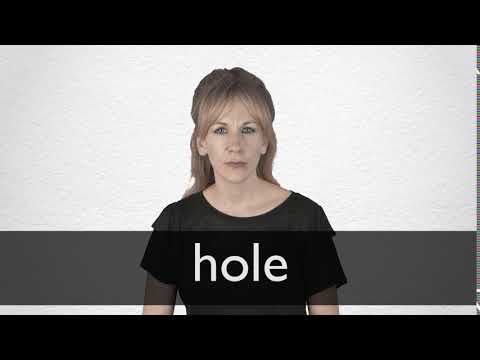 noun
verb
15.
to make a hole or holes in (something)
16.
(
when
intr, often foll by out
)
golf
to
hit
(the ball) into the
hole
Collins English Dictionary. Copyright © HarperCollins Publishers
Word origin
Old English
hol;
related to Gothic
hulundi,
German
Höhle,
Old Norse
hylr
pool, Latin
caulis
hollow stem; see
hollow
noun
verb transitive
Word forms:
holed
or
ˈholing
8.
to make a hole or holes in
9.
to put, hit, or drive into a hole
10.
to create by making a hole
to hole a tunnel through a mountain
SYNONYMY NOTE: hole is the general word for an open space in a thing and may suggest a depression in a surface or an opening from surface to surface [a hole in the ground, a hole in a sock]; hollow basically suggests an empty space within a solid body, whether or not it extends to the surface, but it may also be applied to a depressed place in a surface [a wooded hollow]; cavity, the Latin-derived equivalent of , hollow, has special application in formal and scientific usage [the thoracic cavity]; an excavation is a hollow made in or through ground by digging [the excavations at Pompeii]
Webster's New World College Dictionary, 4th Edition. Copyright © 2010 by Houghton Mifflin Harcourt. All rights reserved.
Word origin
ME < OE
hol
, orig. neut. of adj.
holh
, hollow, akin to Ger
hohl
< IE base *
kaul-, *kul-
, hollow, hollow stalk > L
caulis
, Gr
kaulos
, stalk
British English
:
hole
/
həʊl
/
NOUN
A hole is an opening or hollow space in something.
The builders cut holes into the soft stone.
American English: hole
Chinese: 洞
European Spanish: agujero
French: trou
German: Loch
Italian: buco
European Portuguese: buraco
Romanian: gaură
Latin American Spanish: agujero
Ukrainian: діра
New from Collins
Quick word challenge
Quiz Review
Question: 1
-
Score: 0 / 5
Drag the correct answer into the box.
It would be his last French   for months.
Drag the correct answer into the box.
I prepared a   of garlic, tomatoes, and cheese.
Drag the correct answer into the box.
We had only just started to   over the travel brochures.
Which version is correct?
Drag the correct answer into the box.
The door was pulled open with a  .
Your score:
a grey , green , or blue mineral consisting of aluminium silicate in triclinic crystalline form. It occurs in metamorphic rocks and is used as a refractory . Formula AL 2 SiO 5
Furlough: a military word on civvy street
Furlough has featured heavily in UK media recently. So what does it mean, and what are its origins? Read more
Happiness is...
What is happiness? Answers vary according to which religion or creed you cleave to. For others it might be the buzz after a gym session. But for most of us, linguistically speaking, it is an animal. Say again? Read more
Collins English Dictionary Apps
Download our English Dictionary apps - available for both iOS and Android. Read more
Collins Dictionaries for Schools
Our new online dictionaries for schools provide a safe and appropriate environment for children. And best of all it's ad free, so sign up now and start using at home or in the classroom. Read more
Word lists
We have almost 200 lists of words from topics as varied as types of butterflies, jackets, currencies, vegetables and knots! Amaze your friends with your new-found knowledge! Read more
Learning English: Making suggestions when travelling
Take a boat? Stay overnight somewhere? This article looks at some useful phrases you can use when discussing options about what to do when travelling. Read more
13th edition of the Collins Dictionary out now!
Updated with all the very latest new words and senses, this new 13th edition is an unparalleled resource for word lovers, word gamers, and word geeks everywhere. #homeoflivingenglish Read more
New collocations added to dictionary
Collocations are words that are often used together and are brilliant at providing natural sounding language for your speech and writing. Read more
Join the Collins community
All the latest wordy news, linguistic insights, offers and competitions every month. Read more
Unlock language with the Paul Noble method
No books. No rote memorization. No chance of failure. Your chance to have a one-to-one lesson with best-selling language expert Paul Noble, try a FREE audio sample of his brand new Mandarin Chinese course. Read more
Quick word challenge
Quiz Review
Question: 1
-
Score: 0 / 5
Drag the correct answer into the box.
She could hear the   of his heart.
Drag the correct answer into the box.
She pointed at the   and her two lambs.
Which version is correct?
Which version is correct?
Which version is correct?
Your score: