watch 01:48
The Loop (TV)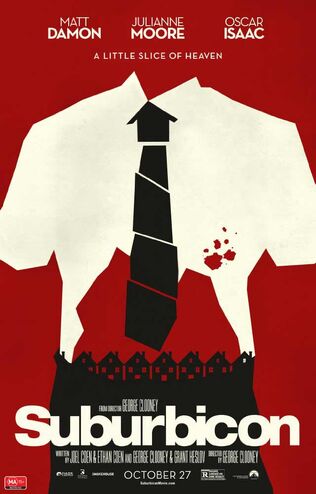 Suburbicon (2017)
Directed by George Clooney
Suburbicon is a peaceful, idyllic, suburban community with affordable homes and manicured lawns -- the perfect place to raise a family, and in the summer of 1959, the Lodge family is doing just that. But the tranquil surface masks a disturbing reality, as husband and father Gardner Lodge (Matt Damon) must navigate the town's dark underbelly of betrayal, deceit and violence. Deeply in debt to mobsters, desperate Gardner comes up with a seemingly surefire way to solve his cash strapped problems. But soon enough things start spiraling out of control when a corrupt claims investigator Bud Cooper (Oscar Isaac) continually shows up doubting events surrounding Gardner's loss. Then offspring Nicky (Noah Jupe) wonders why his father and aunt Margaret (Julianne Moore) keep saying he's mistaken about what happened that night his mom died and considers confiding in his uncle Mitch (Gary Basaraba) and neighbor Andrew (Tony Espinosa) sparking off a disturbing outcome
Josh Brolin was cast in the movie as a baseball coach but his scenes ended up being removed after a test screening. George Clooney admitted that his scenes deflated the tension from the movie and felt badly to remove Brolin from the final cut as he considered the scenes one of the funniest in the entire picture.
The community and its racial tension is closely based on the true events that occurred in the community of Levittown, PA. The news interviews that appear on TV are from the actual citizens.
George Clooney screened this film for famed television writer/producer Norman Lear, no stranger to projects tackling explosive or controversial themes like his series All in the Family (1971). After viewing the movie, Lear told Clooney "This is the angriest film I've ever seen."
Big Lebowski references: Battle Creek, the name of the military school, also references the TV show 'Branded' which started Chuck Connors. A heavy set man is seen following the protagonist in a blue Volkswagen Beetle at night. The young son, Nicky, props up a board blocking the door to his room by nailing a block to the floor, although the boy gets it correct, where the Dude had it backwards.
Community content is available under
CC-BY-SA
unless otherwise noted.