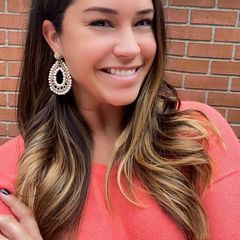 Samantha Rotunda
Zillow Premier Agent
5.0 • 11 Reviews
12 sales in the last 12 months
About me
Realtor (3 years experience)
Specialties

Buyer's agent
Listing agent
Vacant Land Sales
After growing up in West Texas, attending college in Southern Alabama, and now living and raising my children here in beautiful, sunny Florida....I can't wait to work with you to find your own piece of the Sunshine State to put your roots down and call HOME.  The home buying process should be a smooth and exciting experience and I work closely with those in the industry to ensure MY clients have to best experience possible! My clients have been k...
This map can show the most recent 100 listings and 100 sales. Review all listings and sales below.
Active listings
Active listings data currently unavailable.
Highly likely to recommend5.05.0

03/01/2021 - purpleiris0304
Bought a Single Family home in 2021 in Spring Hill, FL.

Local knowledge

Process expertise

Responsiveness

Negotiation skills

I contacted Samantha just days before Christmas looking to purchase a home after moving here from Ct. I was looking to get into a home quickly. Samantha never lost a beat!! I told her what I was looking for and she had a list of houses for me within a couple of hours. I chose which ones I liked, she set up the tours and we met the next day and started the search. Samantha is knowledgeable of the area, thorough in her searches, and she's an excellent negotiator. Samantha made the process fun as she has a great sense of humor. Any concerns I had she quickly addressed and had me at ease every time. I will recommend Samantha to anyone who I meet looking to buy or sell property! I moved into my new home the beginning of February and we are loving sunny Florida! Thank you Samantha, you are the bomb!!

Highly likely to recommend5.05.0

02/09/2021 - jessica rowe55
Sold a Mobile / Manufactured home in 2021 in Brooksville, FL.

Local knowledge

Process expertise

Responsiveness

Negotiation skills

As a young home owner, I did not know much of what to expect during the selling process. Sam has been such an amazing, supportive, and knowledgeable realtor making the process easy and stress free.

Highly likely to recommend5.05.0

08/31/2020 - onenolegrad
Sold a Single Family home in 2020 in Brooksville, FL.

Local knowledge

Process expertise

Responsiveness

Negotiation skills

I have purchased and sold several properties over the years, Sam made it a seamless and pleasant process. I will definitely use her services for future transactions and her understanding of the community where I live.

Highly likely to recommend5.05.0

07/30/2020 - brooke ashley237
Bought a Single Family home in 2020 in Brooksville, FL.

Local knowledge

Process expertise

Responsiveness

Negotiation skills

Sam is the best realtor we could have asked for. We are so grateful for all of the effort she put in for us. Sam is very knowledgeable about the Brooksville area and was always quick to respond. Sam truly went to bat for us to make sure that we got the house we wanted and we could not be happier with our experience working with her.

Highly likely to recommend5.05.0

06/21/2020 - gators19607
Bought a Single Family home in 2020 in Brooksville, FL.

Local knowledge

Process expertise

Responsiveness

Negotiation skills

Sam its one of the best, she's very knowledgeable and takes pride in what she does. She works hard for her clients and goes out of her way to get things done, and she answers her phone whenever you call and if she's busy she returns your call first chance she gets. My wife and I are overjoyed that sam was part of our journey to home ownership. We would recommend her to anyone looking for a home or property, on June 4th we closed on our new house thanks to Sam and all who worked with us . Again thanks sam for all your outstanding work ?? Debbie and Henry Rodriguez