Main content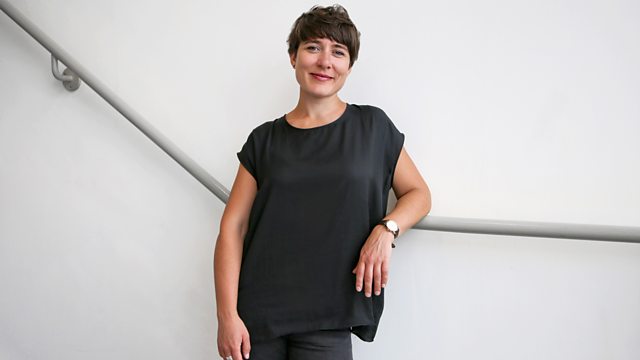 Monday - Kate's classical mix
Kate Molleson presents Radio 3's classical breakfast show, featuring listener requests.
Email 3breakfast@bbc.co.uk
Last on
Mon 13 Sep 2021 06:30
BBC Radio 3
Music Played
Augusta Holmès

Night and Love (Ludus pro Patria)

Orchestra: Deutsche Staatsphilharmonie Rheinland‐Pfalz. Conductor: Patrick Davin.

Augusta Holmes - Orchestral Works.
MARCO POLO.
004.

Galina Grigorjeva

Salve Regina

Ensemble: Theatre of Voices. Ensemble: Yxus Quartet. Conductor: Paul Hillier.

Edvard Grieg

Piano Concerto in A minor, Op 16 (2nd mvt)

Performer: Radu Lupu. Orchestra: London Symphony Orchestra. Conductor: André Previn.

Grieg: Piano Music: Lupu, LSO, Previn.
Decca.

Johann Sebastian Bach

Brandenburg Concerto No 3 in G, BWV 1048 (3rd mvt)

Performer: Wendy Carlos. Music Arranger: Wendy Carlos.

Wendy Carlos - Switched-On Boxed Set.
East Side Digital.
12.

Georg Philipp Telemann

Oboe d'amore concerto in E minor TWV.51:e2

Performer: Albrecht Mayer. Ensemble: Berlin Baroque Soloists. Director: Rainer Kussmaul.

Telemann: Concertos: Berlin Baroque Soloists/Kussmaul.
EMI.
1-3.

Antonín Dvořák

Piano Trio no.3 in F minor, Op.65 (2nd mvt)

Performer: Christian Tetzlaff. Performer: Tanja Tetzlaff. Performer: Lars Vogt.

Dvořák: Piano Trios Nos. 3 & 4.
Ondine.
2.

Clara Schumann

Romance in A minor, Op 21 No 1

Performer: Jozef de Beenhouwer.

Complete Works for Piano.
Partridge.
017.

Juan de Araujo

Ay Andar

Choir: Ex Cathedra Choir. Director: Jeffrey Skidmore.

Moon, Sun & All Things: Baroque Music from Latin America: Ex Cathedra, Skidmore.
Hyperion.

Joseph Haydn

Symphony No. 83 in G Minor, Hob. I, 83, 'The Hen': I. Allegro spiritoso

Orchestra: Il Pomo d'Oro. Conductor: Maxim Emelyanychev.

Haydn: Concertos.
Erato/Warner Classics.
111.

Gabriela Lena Frank

Danza de los Saqsampillos

Performer: Todd Kemp. Performer: Christopher Norton.

Edward Elgar

Cello Concerto in E minor, Op 85 (2nd mvt)

Performer: Alisa Weilerstein. Orchestra: Staatskapelle Berlin. Conductor: Daniel Barenboim.

Elgar, Cello Concerto; Carter; Bruch.
DECCA.
2.

Franz Schubert

Piano Sonata in B Major, D.575 (3rd mvt)

Performer: Paul Lewis.

Weber & Schubert: Sonatas.
harmonia mundi.
7.

Claude Debussy

La Cathedrale engloutie (Preludes Bk I, no. 10)

Music Arranger: Leopold Stokowski. Orchestra: Philharmonia Orchestra. Conductor: Leopold Stokowski.

Samuel Coleridge-Taylor

Clarinet Quintet in F sharp minor - iv) Finale

Performer: Anthony McGill. Ensemble: Catalyst Quartet.

Robert Mitchell

Cumulus

Performer: Robert Mitchell. Performer: Corey Mwamba.

RECORDED AT THE FRONT ROOM AS PART OF THE LONDON JAZZ FESTIVAL ON 19 NOVEMBER 20.

Steve Reich

Clapping Music

Performer: Steve Reich. Performer: Colin Currie.

Claudio Monteverdi

L' Orfeo - Sinfonia

Performer: Jordi Savall. Orchestra: Le Concert des Nations.

Alia Vox : AVSA9911.
Alia Vox.
1.

Alessandro Scarlatti

Salve Regina for soprano, alto, 2 violins and continuo

Singer: Véronique Gens. Singer: Gérard Lesne. Ensemble: Il Seminario Musicale.

Ombra Mai Fu: Gerard Lesne.
Virgin Classics.
8.

Wolfgang Amadeus Mozart

Sinfonia Concertante in E flat major K.364 (3rd mvt)

Performer: Vilde Frang. Performer: Maxim Rysanov. Ensemble: Arcangelo. Conductor: Jonathan Cohen.

Harkins Frye

Time has made a Change in Me

Performer: Lucy Simpson.

Lal Waterson

Some old salty

Singer: Lal Waterson. Singer: Marry Waterson. Singer: Norma Waterson. Singer: Jim Boyes. Singer: Barry Coope. Singer: Lester Simpson. Singer: Oliver Knight.

Aram Khachaturian

Trio in D Minor (2nd mvt)

Performer: Nemanja Radulović. Performer: Andreas Ottensamer. Performer: Laure Favre-Kahn.

Richard Strauss

Don Quixote, Op.35: Finale

Performer: Tabea Zimmermann. Performer: Jean‐Guihen Queyras. Orchestra: Cologne Gürzenich Orchestra. Conductor: François‐Xavier Roth.
Broadcast
Mon 13 Sep 2021 06:30

BBC Radio 3