December 11, 1981
It was a cold Friday night. The date was December 11, 1981.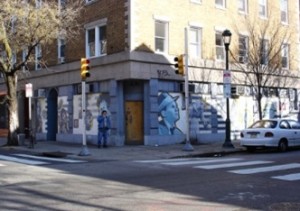 I was sitting at the bar at Dirty Frank's at 13th and Pine, drinking a Budweiser and shooting the bull with Tom Woodeshick.
Woody was the night bartender at Dirty Frank's. He was also a former Eagles running back – hard-nosed and a fan favorite. He started for the Eagles for nine seasons and scored 27 TDs.
I'd just finished another pressure-packed week at work and was starting to unwind for the weekend.
My buddy Bill Gaffney was talking into the pay phone attached to the wall near the front entrance. Bill and I worked together, and he was calling Randall Tex Cobb. Randall was throwing a party at his apartment across the river in Jersey and Bill was getting directions. We were going to drive across the bridge and join the party just as soon as we finished our beers.
Bill and Randall had been roommates.
Pete Dexter
When Bill returned to the bar, I was ready to drink up and get going, but Bill said we weren't going anywhere – just yet. Something about Pete Dexter getting beat up and Randall leaving his party to seek revenge for Dexter. It sounded like serious business.
Pete Dexter was a Daily News columnist and he and Randall were best friends. They'd been sparring partners for years – which was an odd spectacle since Dexter gave up at least 60 pounds to Randall's 6-3, 235-pound physique.
Randall was training for a fight with Muhammad Ali.
---
Dexter had written a column two days earlier, on Wednesday:
"A couple of weeks ago, a kid named Buddy Lego was found dead in Cobbs Creek. It was a Sunday afternoon. He was from the neighborhood, a good athlete, a nice kid. Stoned all the time. The kind of kid you think you could have saved."
The column wasn't well received by the dead guy's family.
The dead guy's mother called Pete Dexter at the newspaper – crying. How could he write that her son was a drug user?
Before Dexter could answer, the woman's other son jumped on the phone and demanded a retraction. The brother was the night bartender at Dougherty's Bar in the tough Grays Ferry section of the city.
So Dexter went straight to the bar to try to work things out – alone. Counting the bartender, there were four other men inside the bar. Once again, the brother demanded a retraction.
"I ain't changing nothing," Dexter said. He was sure his sources for the story told him the truth. "I'm just here to tell you that."
Never Saw the Punch Coming
Pete Dexter never saw the first punch coming. Someone's fist crunched the right side of his face and sent bits and pieces of his teeth flying out of his mouth.
He never saw the second punch coming either.
Dexter escaped without further damage and drove straight to Randall Cobb's apartment in Jersey.
---
In between beers, my buddy Bill called Randall's apartment again. This time he learned that all the guys – seven of them – had left the party to drive to Philly to seek retribution for what happened to Dexter. But Randall's girlfriend didn't know the name of the bar or its location.
We wanted to join them – to cover their backs – but had no idea where they were. So we had another beer.
---
By then, Randall and Dexter and the others had arrived at Dougherty's Bar. The same four guys were still there – and no one else.
"There will be no sucker punches now," Dexter announced.
Dexter later described what happened next:
"So this little fat guy gets up, goes outside for something, and the next thing I know the room is filled up – maybe 30 guys. They got tire irons and baseball bats.

Randall joked, "I hope this is the local softball team."

We started heading out the door. Randall and I were the last ones out. It's freezing – rain and sleet on the streets. Randall got hit with a crowbar and I ran toward the guy who did it. I wanted to bite that fat fucker's face. And then the lights went out.
Pete Dexter was severely injured:
broken pelvis
cracked femur
nerve damage to his hands
concussion
bleeding on the brain
fractured spine in two places
90 stitches in his scalp
He survived, but the incident changed his life.
He quit the Daily News and started writing articles for Playboy and Sports Illustrated. And he started writing novels – God's Pocket (1983), Deadwood (1986), Paris Trout (1988), Brotherly Love (1991), The Paperboy (1995), Train (2003), and Spooner (2009).
Deadwood was made into an HBO series.
---
Randall Cobb's broken arm cancelled his fight with Muhammad Ali. But promoter Don King set up a title match with Larry Holmes in the Astrodome – provided Randall's arm healed properly.
Randall rehabbed his broken arm at the Holiday Spa I managed in Center City – and his arm healed in a few months.
He fought a tune-up fight the following April against Jeff Shelburg at Resorts Casino in Atlantic City. Bill Gaffney and I were sitting ringside as Randall picked up a TKO victory.
November 26, 1982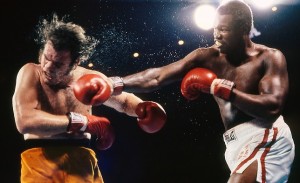 Randall fought Larry Holmes in the Astrodome on November 26 – and Holmes destroyed Randall in a match that went the full 15 rounds.
Howard Cosell was broadcasting the fight for ABC-TV. Before the start of the 13th round, Cosell said this on the air:
"This is as brutal a mismatch as I think I've ever seen."
Cosell was so disgusted that he quit broadcasting prize fights.
When Randall was told about Howard Cosell's statements, he replied with:
"This is my greatest accomplishment. Hey, if it gets him to stop broadcasting NFL games, I'll go play football for a week or two." – Randall Cobb.
Randall Put Me Over the Hump
Randall "Tex" Cobb was the kind of guy you really liked – or else you couldn't stand him. For instance, my buddy Bill Gaffney married one of my aerobics girls in 1985 – but the bride refused to invite Randall to the wedding because she couldn't stand him.
Randall crashed the wedding reception halfway through when he drove into the parking lot in a limo with a small entourage. When the bride wasn't looking, the groom and I went outside to share some champagne with Randall and his party.
But Randall Cobb will forever hold a special place in my life.
While he was rehabbing his broken arm, my company was running a national sales contest with a Grand Prize of a Porsche 944. As the contest entered the last day, I was running neck and neck with a gym in Tennessee.
An hour before closing time, Randall walked in with his girlfriend Priscilla and Priscilla's brother. They entered Bill's office and sat around his desk. Randall then purchased three memberships and paid for them in full.
Those three memberships won the contest for me – plus the Porsche 944. I haven't seen Randall in thirty years, but I'm forever grateful to him for his generosity. He didn't have to do that – but he did.
Barry Bowe is the author of:
Soon-to-be-published Caribbean Queen