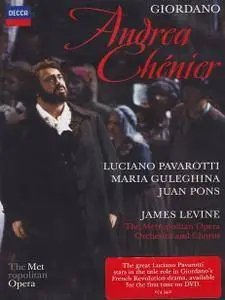 James Levine, The Metropolitan Opera Orchestra, Luciano Pavarotti, Maria Guleghina - Giordano: Andrea Chénier (2011/1997)
NTSC 4:3 (720x480) | Italiano (LinearPCM, 2 ch) | (DTS, 6 ch) | 7.90 Gb (DVD9) | 123 min
Classical | DECCA | Sub: English, Francais, Deutsch, Italiano, Espanol, Chinese
In continuing the great tradition of Decca's magnificent Met Opera DVDs, Giordano's Andrea Chénier is captured here in excellent quality, showcasing Luciano Pavarotti, the premiere opera star of his day in one his most memorable performances, alongside Maria Guleghina and Juan Pons, with the Metropolitan Opera Orchestra and Chorus, conducted by James Levine. One of the great verismo operatic dramas, Andrea Chénier is notable for the title role's two great solo arias, 'Un di all'azzurro spazio' (also known as 'L'improvviso') and 'Come un bel di di maggio', as well as the overwhelming final duet, 'Vicino a te'. Truly a legendary and unique performance from the great tenor.