Product Search: in
Plastic PVC Pipe Crusher Grinder Machine
View large picture
Description

Video

Business Terms

Equipment Service
Description:
The Pipe and Profile Granulator /Crusher of the PNPC series are available in rotor widths of up to 1400mm and diameters ranging from 560 to 700 mm.The completely welded heavy steel cutting chamber is angled and fitted with an extended hopper to allow easy feeding of parts.The standard V-cut creates a high quality regrind with a very low percentage of fines in the output material. Other standard features include an hydraulically opened hopper for outboard bearings reducing the risk of contamination.
Conventional granulators/crusher have substantial problems handling long pipes and profiles. To feed large and bulky parts in most cases cavities or platforms are needed. Therefore Wanrooe developed the PNPC model. Thanks to the almost level feeding hopper, long pieces can be fed easily. While the machine is operating there is no risk of blocking, in case of congestion no more material will be accepted by the machine until the grinding chamber is empty and the machine will accept material again, and work continues.
Advantages:
Knives are adjusted outside of the machine
Specially developed deflector wedge
Wide choice of rotors
Well thought out housing design
Strong Welded Steel construction
Oversized outboard bearings
Application areas:
Plastic Pipe Crusher Grinder is specially designed for crushing all kinds of pipe,profile, sheet,tube,rubber, tubular construction or hollow container. The crushing material includes PVC, PP, PE, PET, Sponge, etc.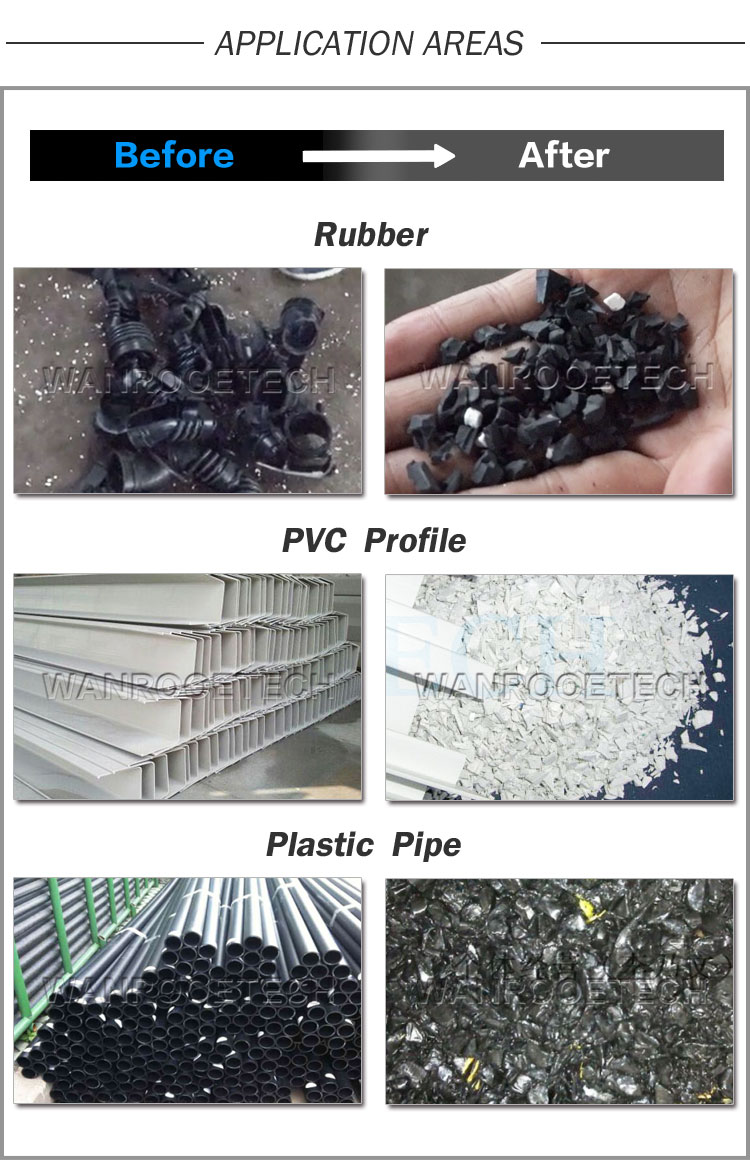 Parameters:
Model
PNPC160
PNPC200
PNPC210
PNPC300
PNPC320
PNPC380
PNPC400
PNPC630
Rotational knife diameter mm
160
200
210
300
320
380
400
630
Rotational knife quantity
8
3
3
3
3 pcs /2 groups
3 pcs /4 groups
5
9 pcs/2 groups
Rotational knife speed (r/min)
500
870
500
640
650
650
500
480
Fixed knife quantity
2
2
2
3
2
6 pcs /2 groups
2
4 pcs /2 groups
Screen plate aperture (mm)
φ 8,φ 10, φ 12,φ 14,etc, can be tailor made
Smash capacity (kg/h)
100-200
50-110
80-120
50-250
250-350
300-500
350-450
700-850
Power (kw)
5.5
4
4
18.5
22
27.5
15
44
Feeding mouth dim (mm)
350 × 110
240 × 350
250 × 230
360 × 500
400 × 600
450 × 800
375 × 320
820 × 610
Machine weight (kg)
450
300
320
800
1400
1800
1200
4200
Appearance size (mm)
1220X500 × 1200
1000 × 590 × 1090
800 × 600 × 1400
1550 × 1300 × 1850
1613 × 1150 × 1910
1800 × 1460 × 1880
2500 × 1200 × 2000
2754 × 2000 × 2850
Product Type: Plastic PVC Pipe Crusher Grinder Machine
Place of origin:China
Price Terms:EXW,FOB, CIF
Payment Terms:L/C,or T/T
Package:Wood Box, Wood pallet, tailor-made
Delivery Time:15-30Working days
Brand Name:WANROOETECH
Delivery Times
30-90 working days since receiving advance payment. If you cannot wait for this suggested delivery time, please contact us freely, we will make any arrangements we can to meet your requirements.
Packing
Wood Pallet, fumigation-free wooden cases if necessary. All the key parts of the equipment will be painted with anti-rust oil before shipment and packing.
Technical documents
WANROOETECH will offer you all necessary documents, e.g. general layout plan, electrical diagram and user manual after the contract is executed.
Arrangement for inspection, installation and testing work
After informed machines ready for inspection, customer can send engineers to WANROOETECH; Customer also can consign WANROOETECH to finish inspection work.
When the machines are delivered to customer's factory, please arrange preparation work before engineers arrive if require.
WANROOETECH will send technicians to the factory after preparation work is completed;
Technicians will be responsible for guide on-site installation and testing machines involved.
Meanwhile technicians will give free training lessons to labors in customer's factory.
The customer just needs to bear expenses generated for this work, e.g. airplane tickets (round-way), residency, meals and allowance of USD50 per day for each technician.
Quantity and quality guarantee
A: Quantity/Quality Discrepancy to destination port during transportation:
In case of quality/quantity discrepancy to destination port in transportation, customer should file claim within 30 days after the arrival of the goods at port of destination.
B: Guarantee period and after-sales services:
12 month since installation finish and machine normal working. During this guarantee period, WANROOETECH will provide spare parts without any charge in case of quality discrepancy caused by us. If the malfunctions are caused by your incorrect operations, WANROOETECH will provide spare parts at cost.
C: Long-term service:
WANROOETECH will charge the buyer cost of spare parts beyond guarantee time and provide long-term technical guide.