This article or section has been nominated for a cleanup
Needs intro expansion
You can help Lostpedia by cleaning it up.
Real World article
(written from a Production point of view)

Naveen Andrews portrayed Sayid Jarrah.
Background and Personal Life
Naveen William Sidney Andrews was born in Balham, South-West London, to a fairly conservative family. Ethnically, he is of Indian descent, not Iraqi. He was raised in Wandsworth with his two younger brothers. His father, a businessman, and mother, a psychologist, encouraged him to follow an academic route. At the age of sixteen, whilst at Emanuel School, he fell in love with his mathematics teacher, Geraldine Feakins with whom he had a son, Jaisal, born in 1992. For this, Andrews had a strained relationship with his father.
Andrews, during his early film career, became an alcoholic and a drug user, struggling with a two-year addiction to heroin. However, Andrews stated in a 2008 interview with Jonathan Ross on BBC1 that he had been clean for four years.
Andrews dated actress Barbara Hershey, who is twenty-one years his senior, and they lived together in Los Angeles. The couple separated briefly in 2005 and, during that time, Andrews had a son, Naveen Joshua, with another woman, Elena Eustache. Andrews and Hershey later reconciled. They have since seperated, after 12 years together.
Career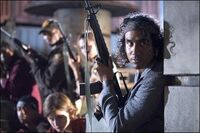 Andrews as Abby in Planet Terror.
Despite protests from his parents to follow an academic route, Naveen followed his early interest in acting, and auditioned at London's Guildhall School of Music and Drama, where he was accepted among such notables as Ewan McGregor and David Thewlis. His talent and training soon earned him his first role in Hanif Kureshi's film, London Kills Me, and later the leading role in the BBC drama The Buddha of Suburbia and then going on to make a film version of the Kama Sutra. Before joining the cast of Lost, Andrews was best known for his highly acclaimed portrayal of the Sikh, Kip, in The English Patient. Just before season three, Naveen filmed the Robert Rodriguez film Planet Terror, which also starred Jeff Fahey. Planet Terror was released as a double feature, along with Death Proof, which starred Zoe Bell. More recently, he starred in The Brave One alongside Jodie Foster.
On Lost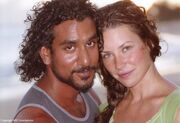 In 2004, Andrews was cast as Sayid Jarrah on Lost, though he first thought that the initial premise was "limited at best and dreadful at worst." However, the character quickly became a fan favorite.
Andrews is one of the more outspoken members of the cast in regards to the show itself. He has not been afraid to criticize the show, especially in regards to Season 3, stating his belief that without an end date, the producers had to stretch out the story because they didn't know how many episodes they would have, due to the culture of program production in the United States. He believes that this reduced the quality during that season. An end date has since been set for May 2010 under an agreement between the producers and the studio executives, most likely putting Andrews' criticisms (and others') at ease.
Filmography
| Title | Medium | Character | Year(s) |
| --- | --- | --- | --- |
| Sinbad | Television series | Lord Akbari | 2012 |
| This Side of the Looking Glass | Movie | Abed | 2010 |
| Animals | Movie | Vic | 2008 |
| The Brave One | Movie | David Kirmani | 2007 |
| Grindhouse:Planet Terror | Movie | Abby | 2007 |
| Lost | Television series | Sayid Jarrah | 2004-2010 |
| Bride and Prejudice | Movie | Balraj | 2004 |
| Rollerball | Movie | Sanjay | 2002 |
| Mighty Joe Young | Movie | Pindi | 1998 |
| The English Patient | Movie | Kip | 1996 |
| Kama Sutra: A Tale of Love | Movie | Raj Singh | 1996 |
| The Buddha of Suburbia | Television miniseries | Karim Amir | 1993 |
| "Once Upon a Time in Wonderland" | Television Series | Jafar | 2013-2014 |
Awards
The Golden Globe for Best Supporting Actor in a Television Drama Series category, for Lost, in 2006.
The Primetime Emmy for Supporting Actor in a Drama Series category, for Lost, in 2005. (Nominated)[1]
Media appearances
Talk show
Andrews has appeared as a talk show guest in the following:
October 12, 2005 - The Ellen DeGeneres Show (S3 E28)
October 12, 2005 - The View (S9 E24)
October 19, 2005 - The Tony Danza Show (S2 E28)
February 15, 2006 - The Tony Danza Show (S2 E103)
April 10, 2006 - The View (S9 E139)
June 2, 2006 - The Tony Danza Show (S2 E170)
March 30, 2007 - The Tyra Banks Show (S2 E113)
February 1, 2008 - Friday Night with Jonathan Ross (S14 E4)
June 19, 2008 - TMZ on TV (S1 E244)
Trivia
Naveen means "new" in Sanskrit.
Naveen appears in the Planet Terror segment of the double-feature film Grindhouse, along side Jeff Fahey, who plays Frank Lapidus.
He is a smoker, as seen in the DVD special features.
It was the actor's idea to have his character, Sayid, start a relationship with Shannon, whom he called "Miss America" (he said he came up with it "to shock Middle America"). (Lost: On Location (Season 2))
Andrews was voted onto People Magazine's World's Most Beautiful People list, 2006.
Naveen got his start in a few roles all penned by Hanif Kureishi, including the UK mini-series The Buddha of Suburbia.
Naveen is a talented guitarist and can be seen guesting with the band Camp Freddy. [2]
Has a British accent but can change it for acting roles
References
External links
Fan pages
The following websites are dedicated to Andrews:
Miscellaneous
Community content is available under
CC BY-NC-ND
unless otherwise noted.