Missouri tries to build on upset of K-State with a game against Memphis in St. Louis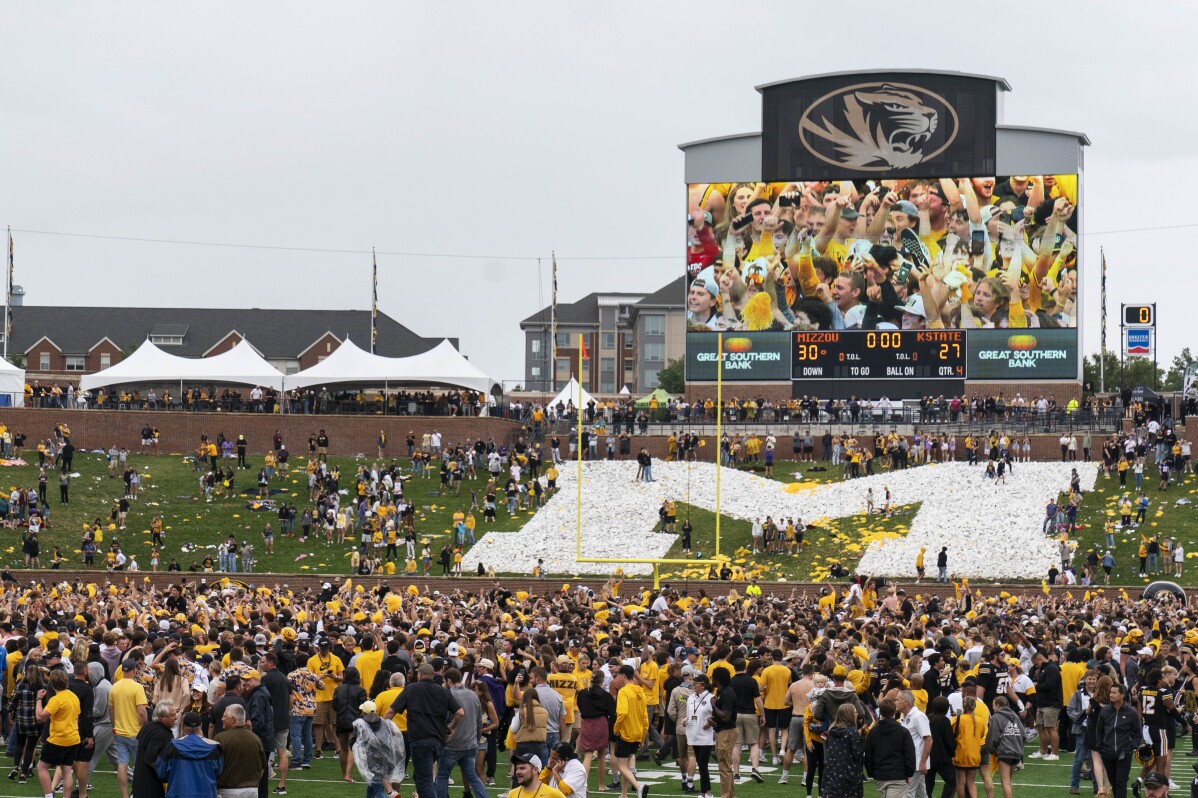 1 of 4 |
Fans rush the field after Missouri defeated Kansas State 30-27 in an NCAA college football game Saturday, Sept. 16, 2023, in Columbia, Mo. (AP Photo/L.G. Patterson)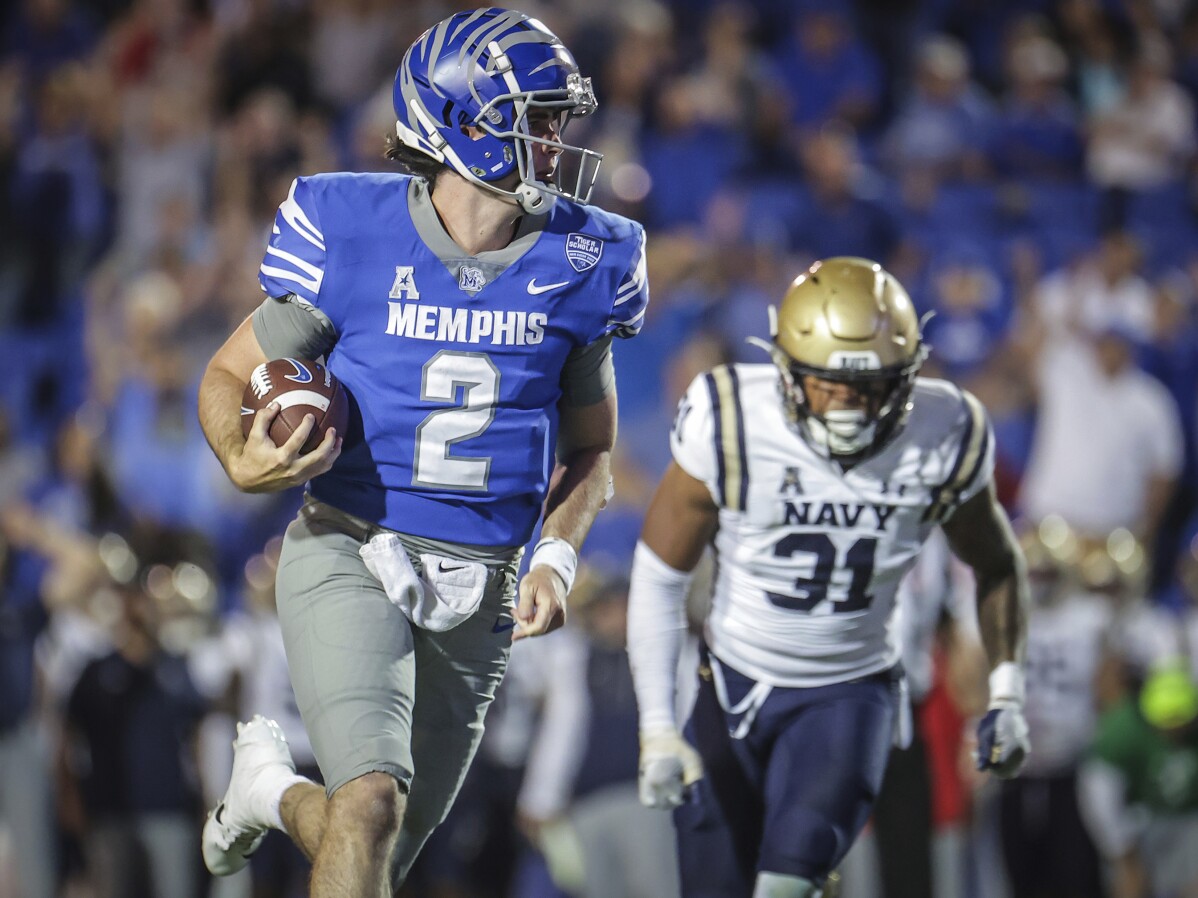 2 of 4 |
Memphis quarterback Seth Henigan (2) runs into the end zone for a touchdown against Navy during an NCAA college football game Thursday, Sept. 14, 2023, in Memphis, Tenn. (Patrick Lantrip/Daily Memphian via AP)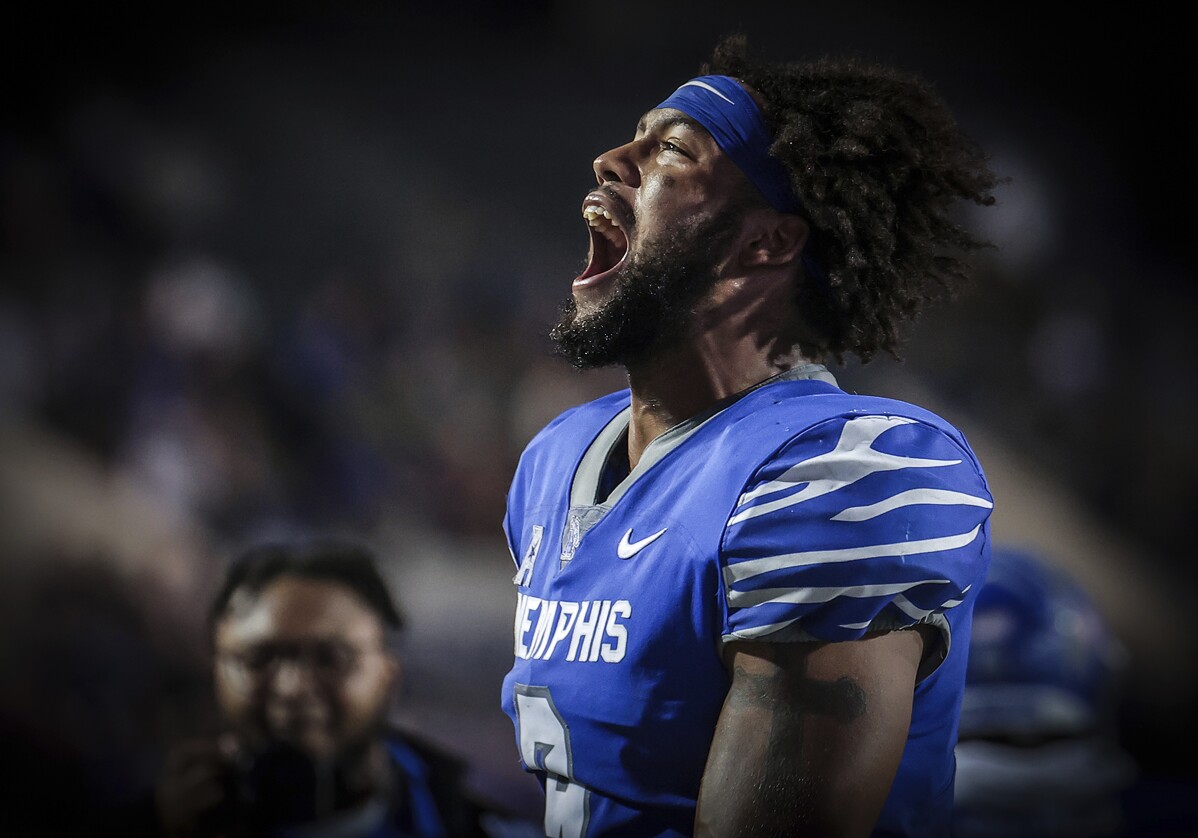 3 of 4 |
Memphis linebacker Geoffrey Cantin-Arku celebrates a turnover by Navy during an NCAA college football game Thursday, Sept. 14, 2023, in Memphis, Tenn. (Patrick Lantrip/Daily Memphian via AP)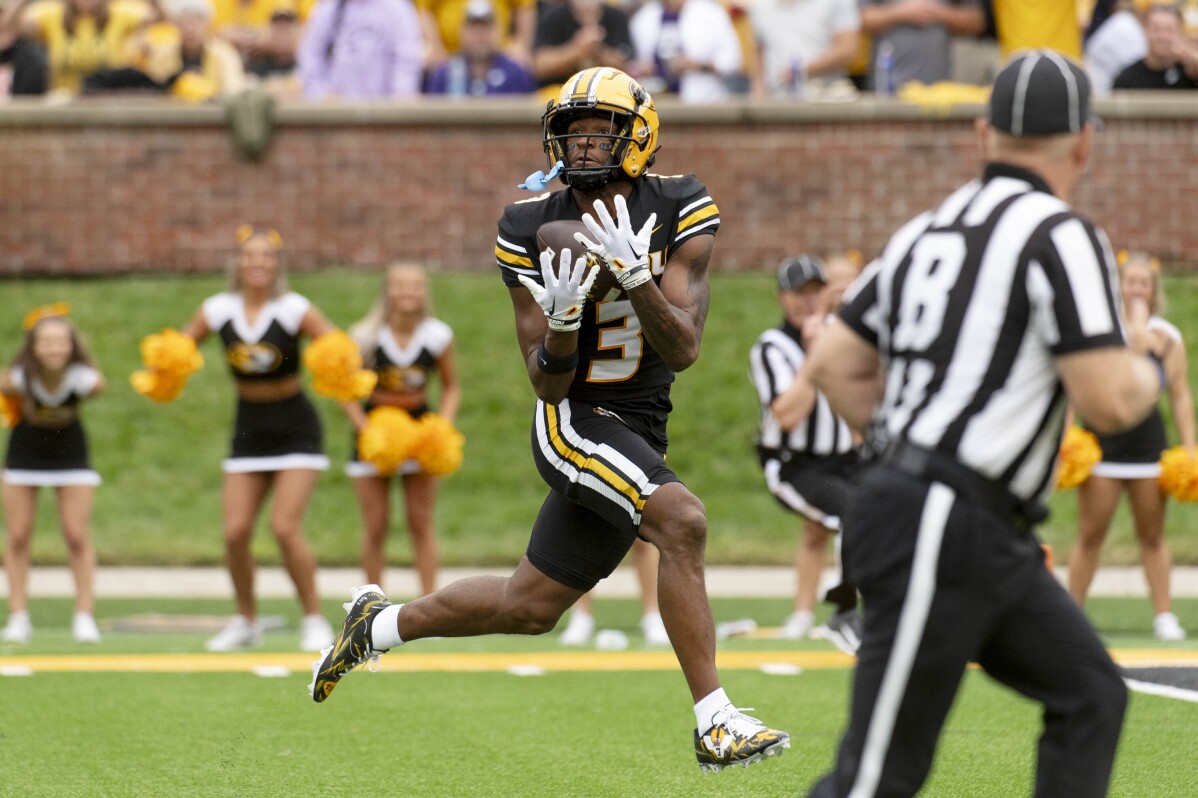 4 of 4 |
Missouri wide receiver Luther Burden III catches a touchdown pass during the first quarter of an NCAA college football game against Kansas State, Saturday, Sept. 16, 2023, in Columbia, Mo. (AP Photo/L.G. Patterson)
Missouri tries to build on upset of K-State with a game against Memphis in St. Louis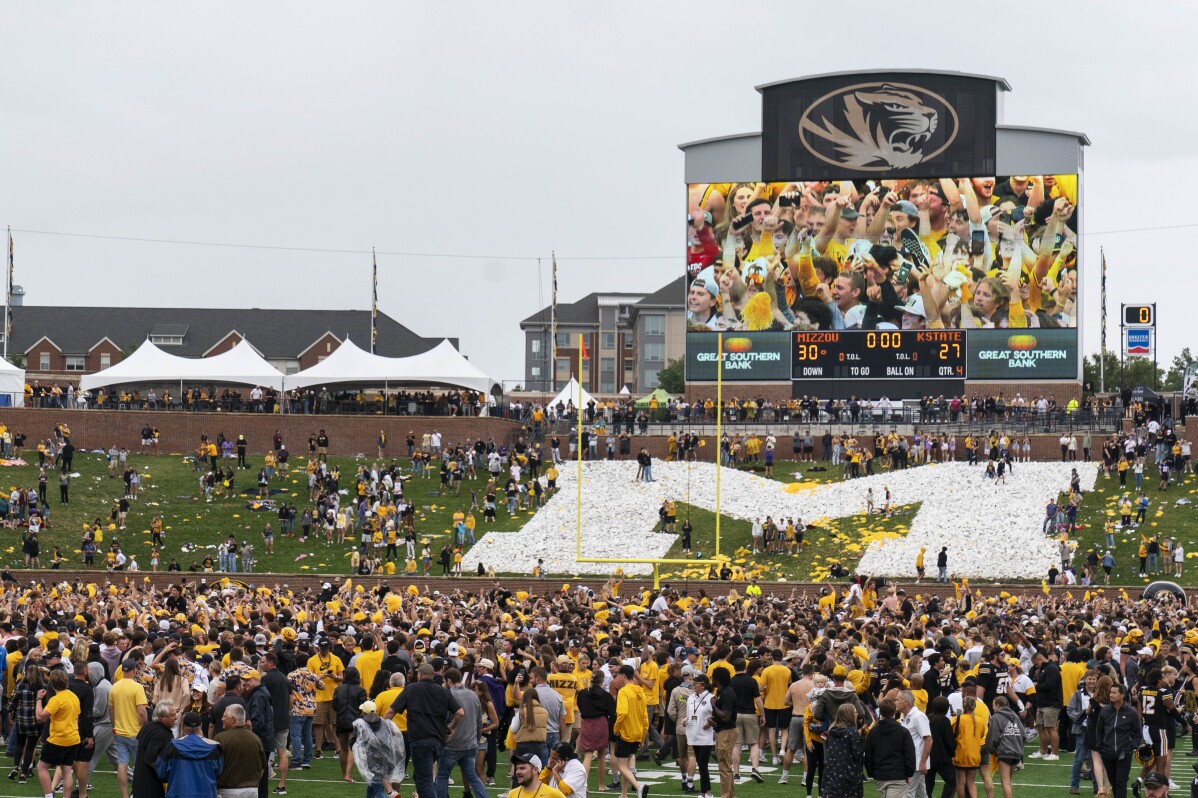 1 of 4 |
Fans rush the field after Missouri defeated Kansas State 30-27 in an NCAA college football game Saturday, Sept. 16, 2023, in Columbia, Mo. (AP Photo/L.G. Patterson)
1 of 4
Fans rush the field after Missouri defeated Kansas State 30-27 in an NCAA college football game Saturday, Sept. 16, 2023, in Columbia, Mo. (AP Photo/L.G. Patterson)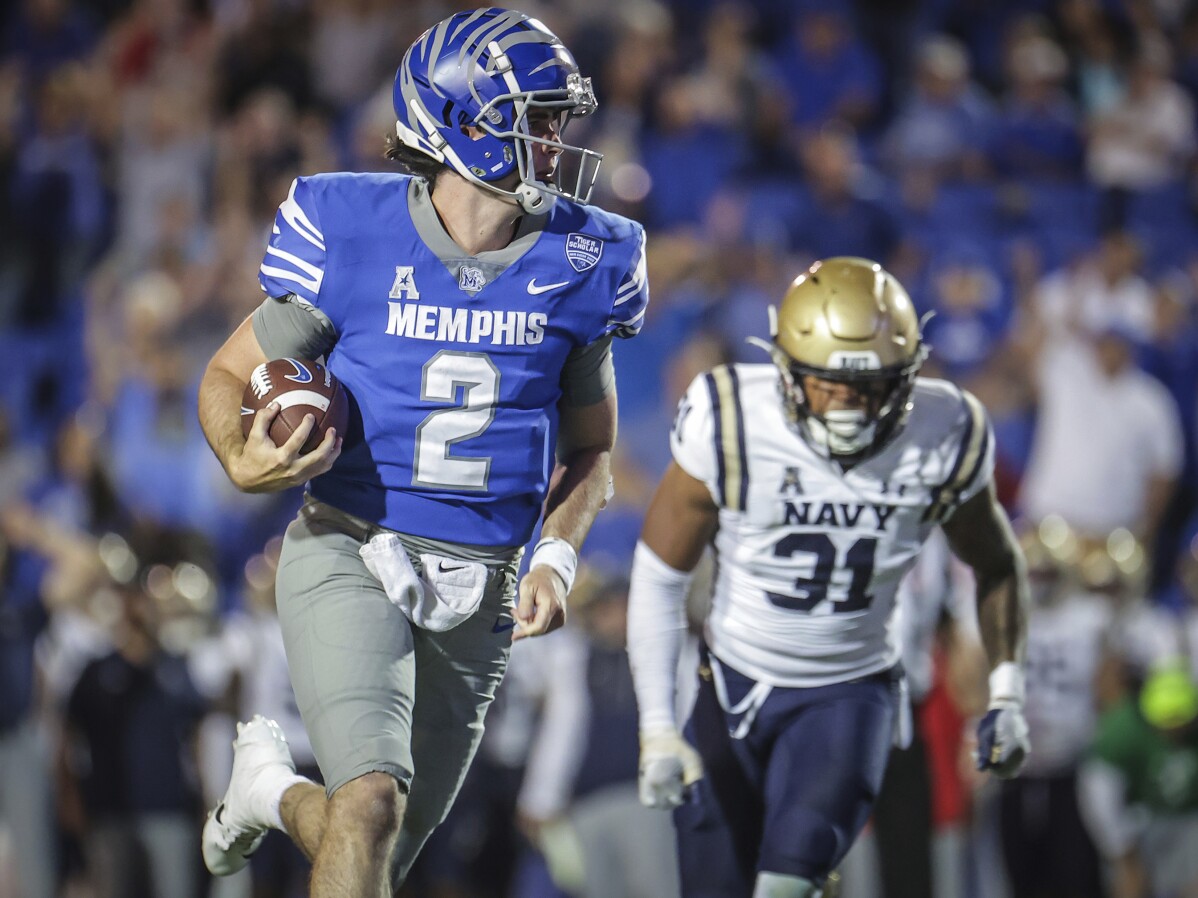 2 of 4 |
Memphis quarterback Seth Henigan (2) runs into the end zone for a touchdown against Navy during an NCAA college football game Thursday, Sept. 14, 2023, in Memphis, Tenn. (Patrick Lantrip/Daily Memphian via AP)
2 of 4
Memphis quarterback Seth Henigan (2) runs into the end zone for a touchdown against Navy during an NCAA college football game Thursday, Sept. 14, 2023, in Memphis, Tenn. (Patrick Lantrip/Daily Memphian via AP)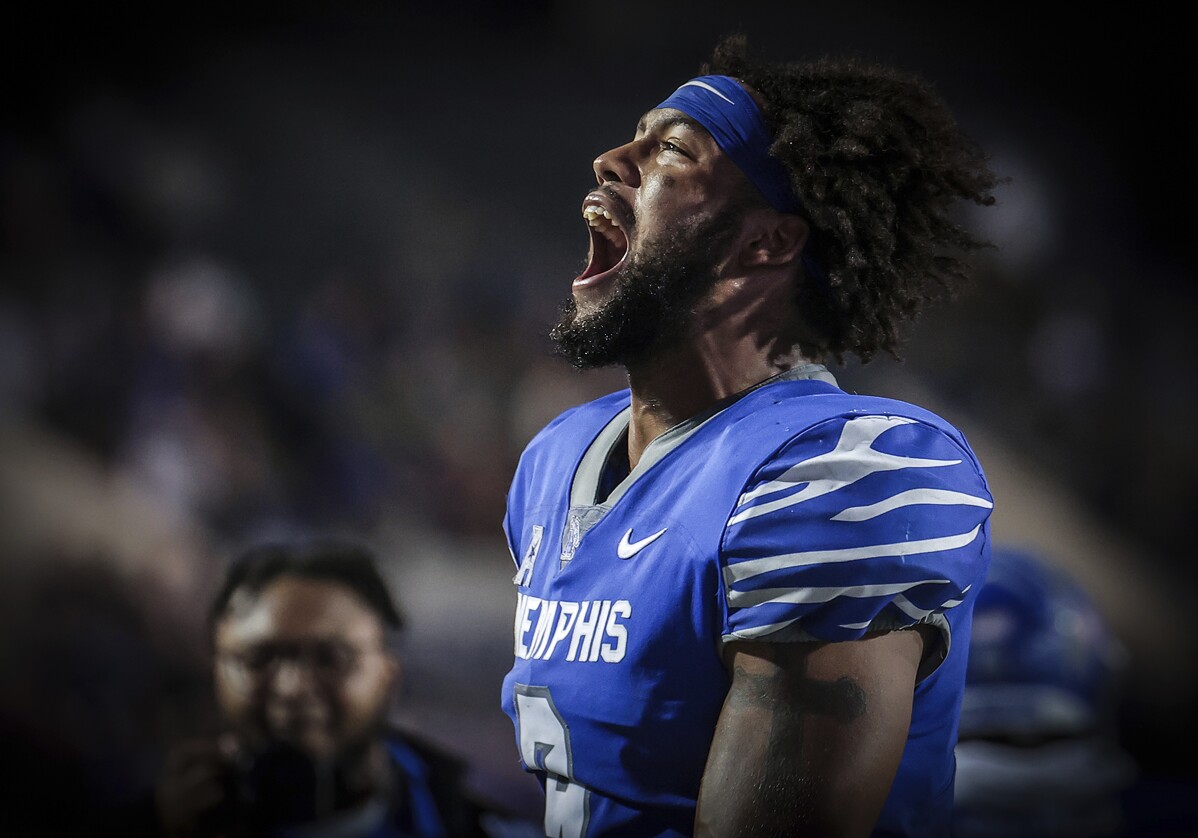 3 of 4 |
Memphis linebacker Geoffrey Cantin-Arku celebrates a turnover by Navy during an NCAA college football game Thursday, Sept. 14, 2023, in Memphis, Tenn. (Patrick Lantrip/Daily Memphian via AP)
3 of 4
Memphis linebacker Geoffrey Cantin-Arku celebrates a turnover by Navy during an NCAA college football game Thursday, Sept. 14, 2023, in Memphis, Tenn. (Patrick Lantrip/Daily Memphian via AP)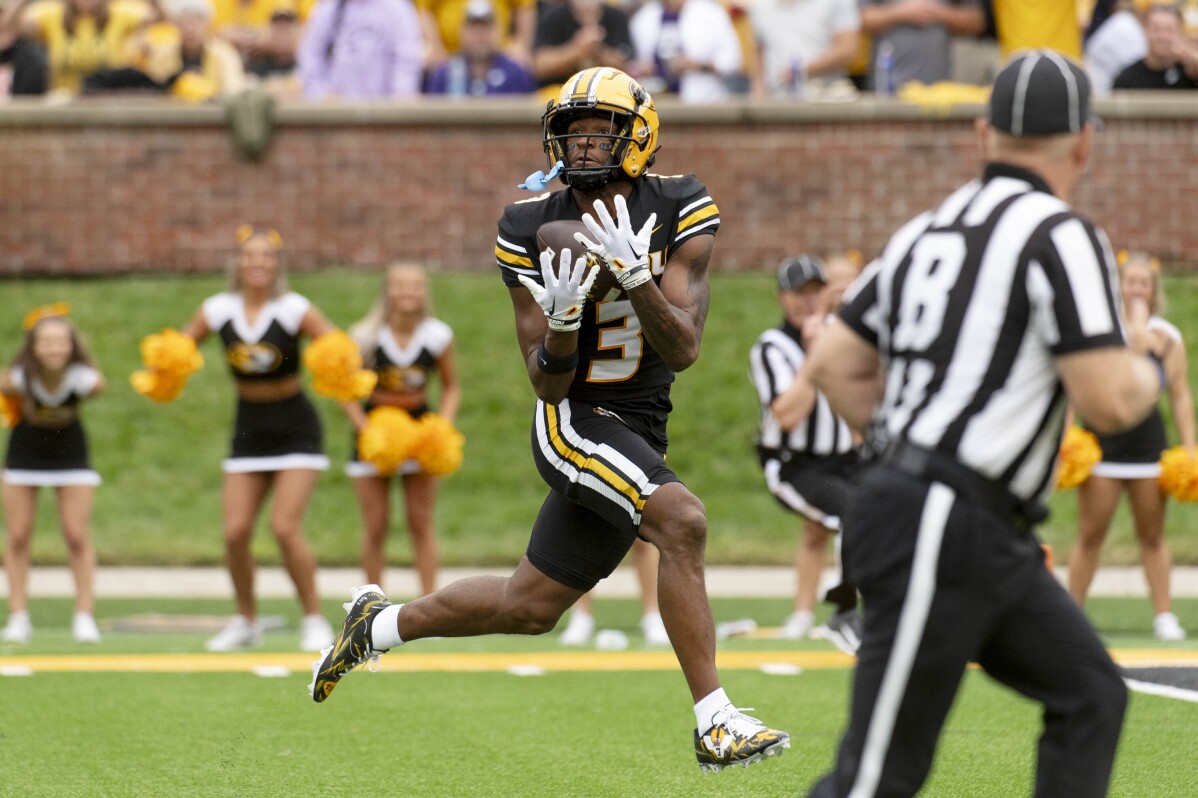 4 of 4 |
Missouri wide receiver Luther Burden III catches a touchdown pass during the first quarter of an NCAA college football game against Kansas State, Saturday, Sept. 16, 2023, in Columbia, Mo. (AP Photo/L.G. Patterson)
4 of 4
Missouri wide receiver Luther Burden III catches a touchdown pass during the first quarter of an NCAA college football game against Kansas State, Saturday, Sept. 16, 2023, in Columbia, Mo. (AP Photo/L.G. Patterson)
Memphis (3-0) vs Missouri (3-0) at St. Louis, Saturday, 7:30 p.m. ET (ESPNU)
Line: Missouri by 7, according to FanDuel Sportsbook.
Series record: Missouri leads 3-1.
WHAT'S AT STAKE?
Memphis won its first three games a couple of years ago and proceeded to lose three straight. Ryan Silverfield's bunch will try to avoid a similar fate beginning with its game against Missouri, which will be played at The Dome at America's Center, the former home of the St. Louis Rams. Missouri is coming off a last-second win over Kansas State on a 61-yard field goal by Harrison Mevis, and will be trying to start 4-0 for the first time in a decade.
KEY MATCHUP
Memphis RB Blake Watson against the Missouri run defense. Watson ran 10 times for 169 yards and a score while catching six passes for another 68 yards in last week's 28-24 win over Navy. The transfer from Old Dominion will face a Missouri run defense that surrendered 138 yards in last week's 30-27 win over Kansas State.
PLAYERS TO WATCH
Memphis: WR Tauskie Dove played the past three seasons for Missouri, starting 19 games with 86 catches for 1,164 yards and three touchdowns. He has four catches for 124 yards and a touchdown this season.
Missouri: QB Brady Cook had the best game of his career against the Wildcats, throwing for 356 yards and two touchdowns despite mildly spraining his knee late in the first half. How well he can move around will be important Saturday night.
FACTS & FIGURES
The only win by Memphis in the series was a 19-16 victory in 1996. ... Memphis has forced at least one turnover in 18 of its past 21 games. That includes 26 interceptions and 15 fumble recoveries over that stretch. ... Junior QB Sam Henigan is fifth in Memphis history in attempts (839), completions (521), yards passing (6,893) and touchdown passes (47). The 20-year-old is the youngest third-year starter in the FBS this season. ... Missouri beat Kansas State last week in a game that featured five lead changes. ... Cook has thrown 281 consecutive passes without an interception, breaking Chase Daniel's school record of 254. ... Missouri is 17-2 over its last 19 games when leading at halftime. ... Missouri WR Luther Burden III had seven catches for 114 yards and two TDs against the Wildcats last week. he had 117 yards receiving the previous week against Middle Tennessee State. His back-to-back 100-yard games are the first against FBS opponents since the Tigers' Emmanuel Hall in 2017.
___
AP college football: https://apnews.com/hub/college-football and https://apnews.com/hub/ap-top-25-college-football-poll