Liberia's Joe Nagbe eyeing African history
By Piers EdwardsBBC Sport
Last updated on .From the section Football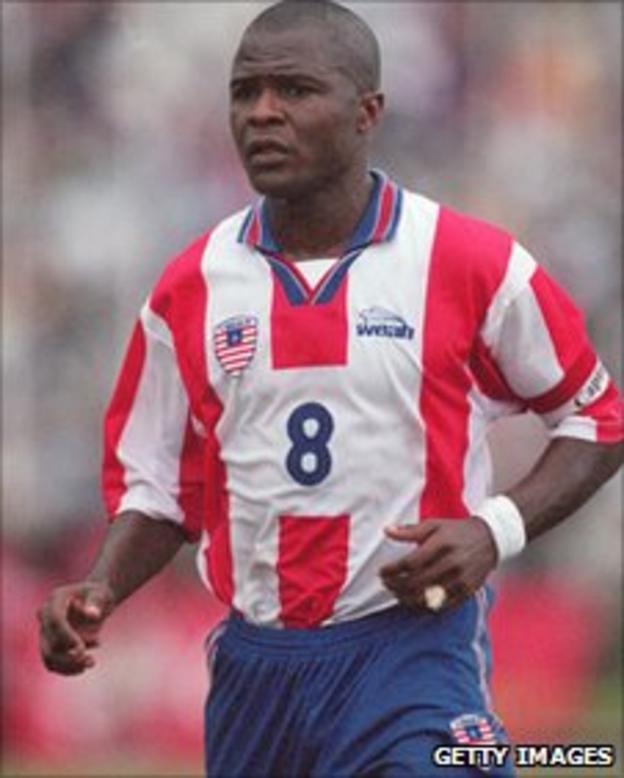 If you don't have a club, have played just half an hour of league football in four years and are aged 43, the chances of playing international football hover just above the zero mark.
Unless you happen to be Liberian defender Joe Nagbe that is.
For a man who retired from the Lone Star nine years ago made the most unexpected of comebacks in 2012 Africa Cup of Nations qualifying on 5 June.
The fact that Liberia kept a clean sheet in a 1-0 win over Group A leaders Cape Verde was the cherry on the icing on the cake.
The win revitalised the West Africans' qualifying chances, with the Liberians now trailing the Cape Verdeans by three points with two games to play.
Even though they are bottom of the group, Nagbe believes the Lone Star can qualify for next year's Nations Cup in Equatorial Guinea and Gabon.
And should both Liberia and Nagbe make it, he would become the oldest player to ever contest the finals - beating the previous record held by Tunisia's Ali Boumnijel.
The goalkeeper was aged 39 years and 10 months when he played in the 2006 tournament in Egypt.
"If that happened, it would be a great history for me," Nagbe, who has played club football in the top leagues of France and Greece, told BBC Sport.
"It's something I am going to work on - as I would be so happy if I could qualify my country for the Nations Cup at my age."
"And I would be so happy to be the oldest player to ever play there."
Incredibly, a man who made his international debut over a quarter of a century ago - in 1985 - is still playing at the highest level on the African continent today.
This is despite the fact that Nagbe originally retired from international football in July 2001, the month when the Liberians reached their highest-ever Fifa ranking (66th).
It was also the month when the Lone Star's hopes of qualifying for a maiden World Cup finals were unforgettably dashed.
Liberian eyeing African history
Featuring the greatest side in Liberia's history, George Weah, Kelvin Sebwe, Oliver Makor and Zizi Roberts joined Nagbe in coming within a point of qualifying for the 2002 finals in Asia.
Top of the group with just two games to play, a 2-1 defeat at home to Ghana handed the initiative to eventual finalists Nigeria.
Even though Liberia were set to play only their second Nations Cup in history the following January, the World Cup disappointment heavily affected Nagbe.
"That was the time I decided to retire," Nagbe explained. "From that time, things have been going so badly with the national team."
After the 2002 Nations Cup, where the Lone Star failed to win a match, Liberia's fortunes plummeted as a generation of players, including Weah, retired.
Today, a country that hasn't qualified for a Nations Cup since the 2002 finals is ranked amongst the lowest in Africa, which is why Nagbe, who supposedly quit football when leaving an Indonesian side in 2007, has managed to return to the team.
The last time he played club football was for a Liberian side when they were short of players two years ago, meaning the then coach was forced to step in.
He followed a similar path for his international return, impressing upon Liberia coach Roberto Landi that he still has something to offer a side that lacked defensive organisation in Nagbe's opinion.
"He told me to prove myself in training and after I did, he told me to work on my fitness," says a man who was Liberia's trainer before being appointed assistant coach.
"After the Cape Verde, Roberto was very happy and told me he wished I was much younger!"
Nagbe celebrated the win with another member of the coaching staff, Kelvin Sebwe, and the former midfielder, now 39, is the latest 'golden oldie' who could return.
"Kelvin, Joe, (James) Debbah and (Oliver) Makor can make the team stable for now," says Liberian great George Weah, the only African to ever win Fifa's World Player of the Year award.
"What will be lost if they don't qualify us (for the Nations Cup)? Nothing - so it's time to take a risk."
The return of forward Debbah, also 43, and midfielder Makor, 37, could be a realistic prospect, Nagbe believes.
There is also the distant chance that Joe Nagbe could one day take to the pitch with his son Darlington, a highly-rated 20-year-old who made his Major League Soccer debut in the United States for Portland Timbers earlier this year.