The Best War Movies on Netflix
Some of these titles are action-packed, and some bring on the tears.
War is hell -- but war movies can be pretty damn entertaining. Some of the military films below make you reflect, some make you cry, and others will just plop you right in the middle of the action. But they have one thing in common: They're all available to stream on Netflix. So strap in, soldier, and get bingeing.
Netflix
Beasts of No Nation (2015)
True Detective Season 1 director Cary Fukunaga's wartime drama is not a movie you put on in the background. Adapted from Uzodinma Iweala's novel of the same name, this visceral character study tracks a preadolescent Agu (Abraham Attah) after he's recruited to be a child soldier in an African civil war (its specifics are left purposely ambiguous). Lorded over by a gruff commander (Idris Elba), the movie is loud, tender, and violent -- a coming-of-age story in which the characters may not live to come of age.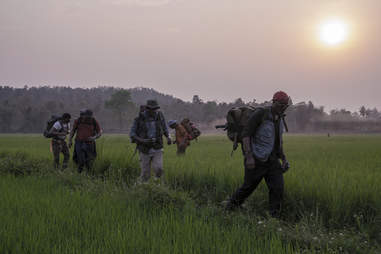 David Lee/Netflix
Da 5 Bloods (2020)
Exploding with historical references, directorial flourishes, and flashes of combat action, Spike Lee's winningly spry war epic Da 5 Bloods is a movie that embraces the inherent messiness of its subject matter. At first, the story sounds simple enough: four elderly Black veterans, each with their own personal trials and tribulations, return to Vietnam to recover the remains of their beloved squad leader Norman (Chadwick Boseman) and search for a shipment of gold they buried in the jungle decades ago. But Lee, pushing the movie in sharply funny and emotionally fraught directions depending on the demands of the scenes, refuses to approach the Treasure of the Sierra Madre-like set-up in a straight-forward manner. Instead, the movie pings between the MAGA-hat speckled present and the bullet-ridden past, using his older actors in the flashbacks as their younger selves to underline the inherent strangeness of time's passage. While some of the detours might test your patience, particularly once the men discover the gold and start arguing over what to do with it, the powerful ending, which becomes a moving showcase for the great Delroy Lindo, makes this a long journey worth embarking on.
Paramount Vantage
Defiance (2008)
Though most war films are inspired by historical events -- positioning itself at a certain point in time or focusing on a specific battle -- the smaller stories based on real individuals can feel all the more dramatic. Frequent war film director Edward Zwick's Defiance brings to life the Bielski brothers, a group of Belarusian Jews who led thousands of Jewish refugees through the German-occupied Naliboki Forest to safety from Nazi persecution. Like most World War II survival stories, the film is extremely grave in its brutal depiction of living off the land in a war zone, though their unwavering determination will leave you breathless.
Netflix
First They Killed My Father (2017)
Angelina Jolie is a full-on humanitarian filmmaker these days. Not her first foray in directing a war movie, First They Killed My Father is maybe the most intense; it's based off a memoir of the same name written by Loung Ung, a friend of Jolie's who lived through the Khmer Rouge's brutal rule of Cambodia from 1975 until her escape from the country in 1980. It's a sad, empathetic story of the atrocities following the Cambodian Civil War that hardly gets enough attention in the West.
Entertainment Studios Motion Pictures
Hostiles (2017)
This Western may as well be your dad's favorite movie, even if he has yet to see it. The year is 1892 and an Army captain (Christian Bale) is assigned to return a former Native American enemy (Wes Studi) back to his people. From Black Mass director Scott Cooper, the movie has a bit of The Searchers blood pumping through its brooding veins; during his mission, the captain encounters a woman (Gone Girl's Rosamund Pike) who lost her entire family to a vicious Indian attack, who lights up the existing friction between the white man and the Native American. Bleak and germane, Hostiles is no Dances With Wolves.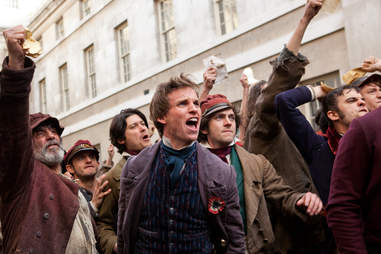 Universal Pictures
Les Misérables (2012)
Tom Hooper's adaptation of Les Misérables is a glorious spectacle in bringing stage to screen -- one that's earnestly flooded with emotion. Set against the anti-monarchist June Rebellion of 1832, the epic follows the redemption story of Jean Valjean (Hugh Jackman) who was imprisoned for stealing bread and, once freed, volunteers to look after the daughter of a factory worker (Anne Hathaway) as he continues to run from the ruthless officer Javert (Russell Crowe) after breaking parole. Even those who roll their eyes at musical, particularly sung-through ones, will be impressed by this explosive period piece and each member of its scene-stealing ensemble. It's a blockbuster through and through.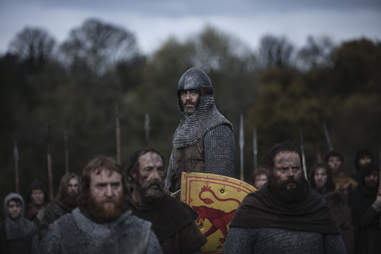 David Eustace/Netflix
Outlaw King (2018)
Chris Pine portrays Robert the Bruce, a famous Scottish rebel in this gritty period piece. Robert -- who showed up as a character in another gritty period piece about a Scottish rebel, Braveheart -- does as most rebels do and defies the King of England, igniting a battle over the ultimate fate of Scottish FREEEEEEEEEEDOOOOOOOMMMMMM. The movie sparked a bit of buzz when it premiered at Toronto Film Festival, mostly because it features full-frontal nudity from Pine (don't get too excited, it's brief), but also because critics found it so boring that Netflix decided to cut 20 minutes from the film before its release. The result meanders less, and it's by no means an action-packed saga, but if you're into medieval history and a gritty Pine, you may as well charge towards the Scottish highlands when there's nothing else to watch.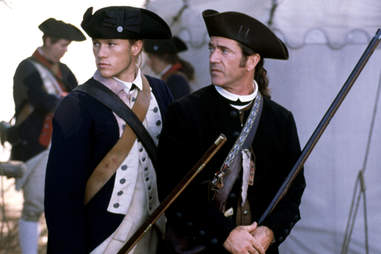 Sony Pictures Releasing
The Patriot (2000)
God bless America! Roland Emmerich's Revolutionary War film may not be the most historically accurate, but he manages to turn the moment that's taught in every history classroom year after year into a blockbuster that's melodramatic and red-blooded. The film stars Mel Gibson as a colonist who joins the war after his son (Heath Ledger) ends up caught in the fighting. If you're looking for Hollywood's grandest take on the dawn of the country, this is it.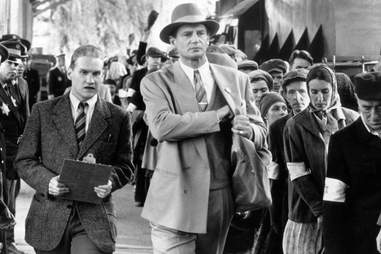 Universal Pictures
Schindler's List (1993)
A passion project for Steven Spielberg, who shot it back-to-back with another masterpiece, Jurassic Park, Schindler's List tells the story of Oskar Schindler, a German businessman who reportedly saved over 1,200 Jews during the Holocaust. Frank, honest, and stark in its depiction of Nazi violence, the three-hour historical drama is a haunting reminder of the world's past, every frame a relic, every lost voice channeled through Itzhak Perlman's mourning violin.
Village Roadshow Pictures/Le Vision Pictures
Shadow (2019)
In Shadow, the visually stunning action epic from Hero and House of Flying Daggers wuxia master Zhang Yimou, parasols are more than helpful sun-blockers: They can be turned into deadly weapons, shooting boomerang-like blades of steel at oncoming attackers and transforming into protective sleds for traveling through the slick streets. These devices are one of many imaginative leaps made in telling this Shakespearean saga of palace intrigue, vengeance, and secret doppelgangers set in China's Three Kingdoms period. This is a martial arts epic where the dense plotting is as tricky as the often balletic fight scenes. If the battles in Game of Thrones left you frustrated, Shadow provides a thrilling alternative.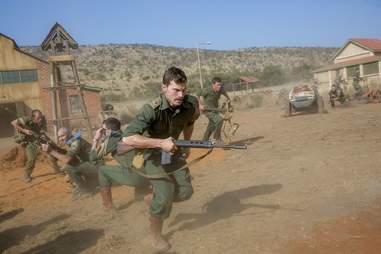 Netflix
The Siege of Jadotville (2016)
Do not look to this Netflix original movie for a compelling examination of the Irish military's 1961 efforts to hold strong against an incursion from the recently seceded State of Katanga. The Congolese war conflict is well-documented in historical documents. Do look to The Siege of Jadotville for visceral action cut from the classic man-on-a-mission cloth. Fifty Shades of Grey and The Fall star Jamie Dornan is a regular Gary Cooper as the leader of this unprepared crew, and his work in the heat of battle makes this movie part throwback, part direct-to-DVD-style spectacle.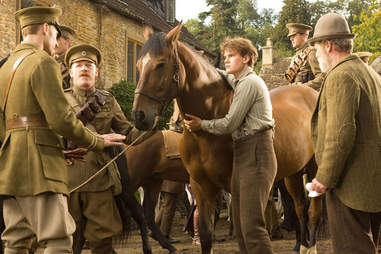 Walt Disney Motion Pictures
War Horse (2011)
An emotional tale of a boy… and, you guessed it, his horse. This Spielberg-directed drama is adapted from the popular play and novel of the same name by Michael Morpurgo, chronicling the journey of a young man and his thoroughbred's experiences in war once his lifelong companion is sold off to the British army at the onset of WWI. The period piece garnered six deserving Oscar nominations, including Best Picture, as the Saving Private Ryan filmmaker highlights his experience for telling war stories, culminating into an epic in the purest sense. 
Netflix
War Machine (2017)
Not every war film has to be a depressing tale. War Machine, for one, is a satirical look at power-hungry personalities in the military and politics. In the Netflix original, Brad Pitt stars as overly proud general Glen McMahon tasked with "cleaning up" the situation in Afghanistan -- despite working with a team of uninterested, exhausted soldiers and politicians who just want to get the hell out of there. As unfunny the endless war in Afghanistan is, coming from the producers of The Big Short, War Machine does a snarky job of illustrating the ridiculousness of the eight-year-long war.
Need help finding something to watch? Sign up here for our weekly Streamail newsletter to get streaming recommendations delivered straight to your inbox.