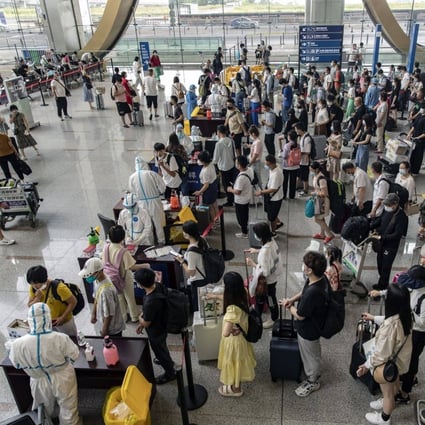 Travellers queue for Covid tests on arrival at Changshui International Airport in Kunming, China. Foreign students enrolled in Chinese universities have been locked out of the country for 2½ years because of Beijing's strict pandemic measures. Photo: Bloomberg
Covid-19: foreign students hit by years-long absence are raring to return to Chinese universities
First batch of European students locked out of on-campus studies fought long campaign, including appeals to embassies and the media, to return to China
A student in India awaits confirmation from university before he can apply for visa to rejoin friends and resume studies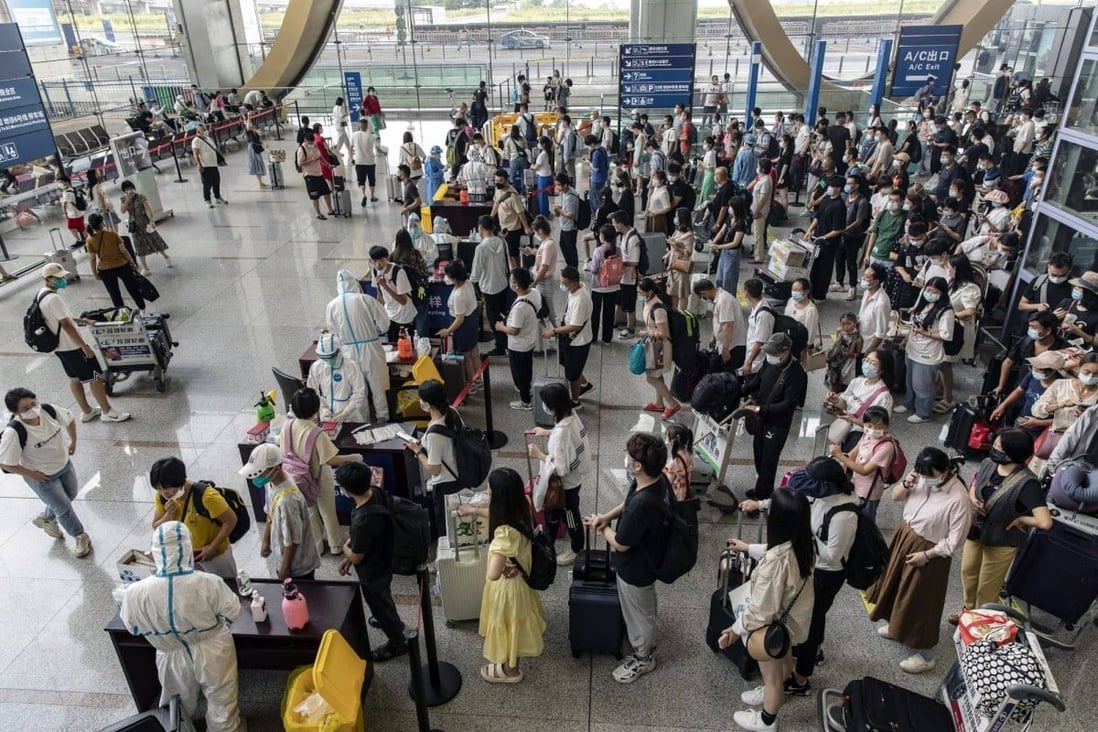 Travellers queue for Covid tests on arrival at Changshui International Airport in Kunming, China. Foreign students enrolled in Chinese universities have been locked out of the country for 2½ years because of Beijing's strict pandemic measures. Photo: Bloomberg
On August 4, when Deborah Bret was told by a worker at the Chinese embassy in Paris that French students would be allowed to return to study in China soon, she felt the 2½-year actions she and her friends had taken had finally paid off.
"I was like, 'OMG we did it!' I felt like we finally achieved something," said the French student who has been away from her Chinese campus, adding they felt their efforts had not been in vain.
The foreign students had been barred from returning to their universities in mainland China by Beijing's Covid-19 pandemic controls. Since then, they have had to carry on with online classes several time zones away and have had their grants stopped.
European students who were locked out of their studies in China formed several groups and tried every channel possible to get back on campus. They published appeals in media outlets such as Le Monde, Libération, Le Figaro and the South China Morning Post, raised the issue with the Chinese and French embassies, and even provided an assessment from psychiatrists.
"I don't know which action made the difference [or] if our effort to return fostered the process [at all]," Bret said.
A dim ray of hope appeared in June, when universities began to ask them to fill in forms regarding their willingness to return, and amid signs of Beijing slightly easing entry rules.
Tough border restrictions have been in place in China since the Covid-19 pandemic erupted in early 2020. All foreigners were barred from entry, even if they held valid visas, except for urgent "humanitarian reasons" such as in cases of bereavement and to visit critically ill relatives.
In June this year, foreign nationals were finally allowed to visit Chinese immediate family members or a foreigner with permanent residence in the mainland. And the threshold for a Chinese employment visa to "resume operation and production" in the mainland for foreigners and their families was lowered significantly.
After the latest policy change on Thursday, the first batch of French students, including seven of Deborah's friends, could wait no more, setting off from Paris the following day. They will transfer via Hong Kong, and finally return to their mainland university campuses after quarantining for the required period.
In India, Sai Vedavyas is anxiously waiting at home in Andhra Pradesh for his university confirmation. The institution in Henan province has not yet issued his certificate, and without it he cannot apply for a student visa.
"China is like my second home. If I get [a] visa soon, I'll be very happy to return to college," he said.
Having endured 2½ "depressed and heartbroken" years trying to study at home on his own, he said he missed his Chinese friends at university.
"I love China, and my friends were in contact," Vedavyas said.
"China cannot develop in isolation from the world, and the world also needs China for its development," Li told a virtual session of the World Economic Forum.
Bret said she chose to study in China in 2019 because she wanted to be in an international environment and to encounter a new culture. She believed China would be a world leader in science in the decades to come.
But after spending so much study time outside the country, she has also created strong bonds with fellow European students in China.
"Our only goal was to help every student return to China and resume their classes," she said. "We want to represent a new wave of Europeans who are curious about Chinese culture and want to build strong friendships with citizens."