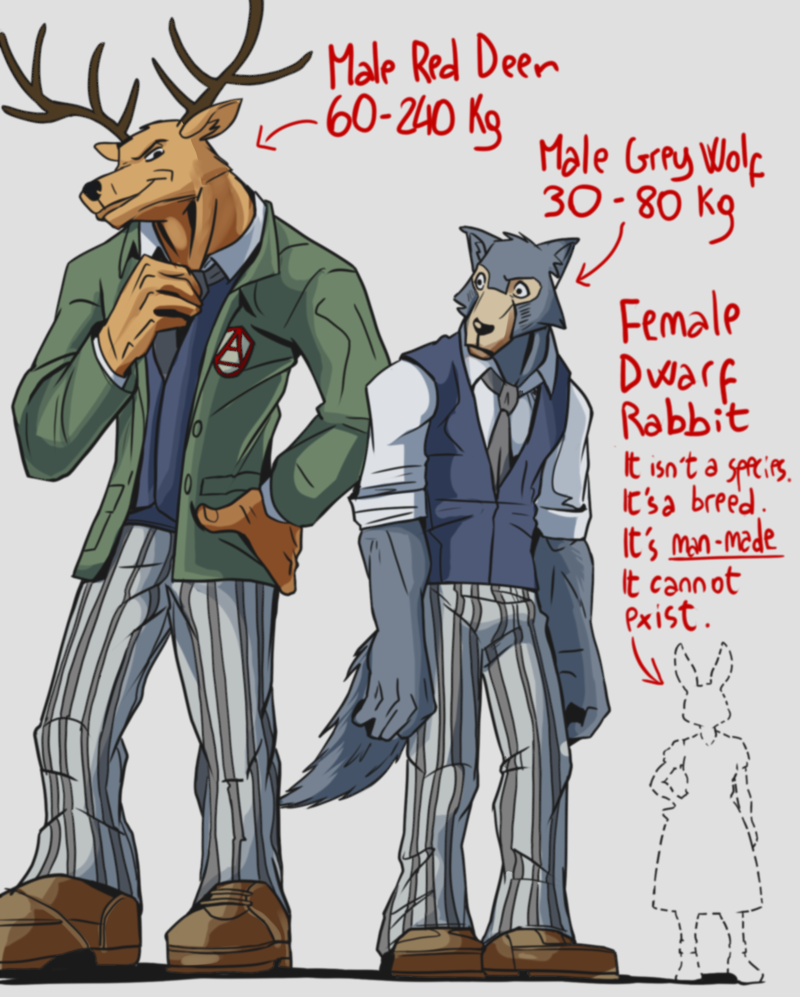 Twilight meets Zootopia, meets Dexter, and they have a nasty threesome with shojo manga clichés up their asses.

It amuses me hearing only praises about a show that made everything in its power to lose my suspension of disbelief and be frankly creeped out by the behavior of its characters.


The Metaphor
Because, yeah, if Zootopia was a clumsy allegory about racism in Western society, this is a gritty and mortifying allegory about sexism, classism, and bigotry in Japanese society.
In real life, your gender and family wealth pretty much dictates your destiny and reputation in society. Especially in Japan, but it's still something that we can relate to in the Western world.
In this story that role is decided directly by your species, and with a good reason, because homicidal and cannibalistic pulsions in carnivores are a real thing, not a product of prejudice and emargination.

The predatory instincts of carnivores are a blatant metaphor for rape.
The only positive side about this interpretation is the effort to make us empathize with the abuser because the tendency to ostracize a deviant doesn't help him or her to cope with this pulsion healthily and become a working member of society.
But the very negative side is describing these pulsions as hardwired in a carnivore's nature, while in reality abusers are mostly a product of upbringing, while people with actual brain conditions, even the ones that can make you more aggressive or unable to understand social boundaries, are mostly victims, not abusers.

But yeah, Japan. They live in an Island in the middle of the Pacific and they had been armpits-deep in the feudal system 'till 150 years ago. We should be tolerant of their perception of gender roles or self-determination. Right?

I mean, western cartoons get roasted here if they only dare to depict an unbalanced relationship between two flawed characters, that at least are of the same gender, like Rose Quartz and Pearl from Steven Universe.


The Queerbaiting
But Japs, he. Don't be so harsh of them. They gave us RikuxSora, IkkixShun, and much more yaoi fuel. They're so progressive.
Who cares if they keep depicting women like crutches for men.

And who cares if the queerbaiting material is always noncon?

Like Louis, the red stag that keeps using his superior position over Legosi the grey wolf, for invading his personal space.
Touching his tail, putting the hands in his mouth.
Pretty sure that grabbing an anthro's tail is not much different from touching his butt, but it's still something we can't relate to.
But we all have mouths. And we know that only doctors and beloved ones can put their hands inside without making us feel awkward or even in danger.
It's not cute. It's creepy.

But yeah, that's everything we can have of homoromantic in mainstream television: friggin' abuse. Let's settle with that.


The worldbuilding
Maybe I should stop thinking about the allegories and focus on the first layer of the narrative of the show: What if anthros were real and they had to live together in the same society? What would be the crazy outcomes?

Like, they were real but they had all the same body type but differently scaled? Like the author had no actual interest in zoology and never seen any animal except as illustrations of books of fables?
I mean, it could have taken an hour of browsing through naturalistic documentaries on Youtube to realize that carnivores are pretty tame when satiated and rabbits and deers don't want to kill themselves by putting their pawns in the mouths of wolves.
Also, to realize that herbivores aren't helpless lumps of meat waiting to be hunted by superior carnivores.

Carnivores in real life fail 90% of their hunts, and that's because herbivores have ways to defend themselves. Hooves, horns, velocity, mass, alertness.
While in this show wolves are the only big guys, plus a bunch of other carnivores. Where are bison and elephants?
Do you know why rabbits have such big ears? To look cute and funny? No. To sense and locate possible threats. Because they want to stay alive.
And yeah, Haru, you've been done dirty.


Haru the Bunny
I wasn't convinced to get past the first half of the first episode of Beastars until I heard about Haru and her character being about slut-shaming.
Holy cow, I thought, if the show wants us to empathize with the party girl of the school there must be something good!
Well, yes, and not.

While she is the party girl and she is sympathetic, her justification is hilarious. The same fact that she needs a justification for that is hilarious.

You know that sex feels good, right?

But no, Haru has sex not for pleasure but for being treated as not-impaired by her schoolmates, at least during the sexual intercourse.
Because she is very little and weak even for a herbivore's standards. She is a dwarf rabbit.

I don't know why the author wanted her to be a man-made breed domestic rabbits while being a generic rabbit could have been more than enough in that janky worldbuilding to be considered very small and weak.
Because it's exactly like a chihuahua had that complex. Both are man-made breeds of domestic species that couldn't last more than an hour in the wilderness.

But only one can be sexualized.

And then thrown with Legosi is a fetishization-of-chastity subplot.

Legosi and Haru are a Twilight couple. They have no chemistry, no interest in commons, and have nothing to talk about when they date.
There's nothing that Haru and Legosi share.
Except for this unsatisfied sexual tension that exists just because all of sudden they're both too romantic to have sex.

Also staring at each other for interminable minutes while their internal soliloquies proceed, without any one of them feeling creeped out by the other's silence.


How to not adapt a manga
Yeah, the soliloquies.
The characters spend more time and words talking in their heads than talking to each other.


It's slow and tedious and a lazy adaptation of the source material: because even if a page of the manga is filled with a soliloquy, we can still assume that's the unravelment from the author of a complex thought that happened in the blink of an eye.
While spoken words require time to be spelled out, time that passes with characters just staring at each other with their giant dead eyes.

Uh, yeah, the animation technique. Fake 2D that makes every character look like an inflatable doll and will look tragically surpassed in a few years.
At least the manga has that charming ugliness, typical of shojos, that helps us to perceive the story in a brighter light, even comedic in some moments, while this technique sucks the soul out of these designs, making them look even more miserable and hopeless.


Everything sucks.
This story wants to look edgy and mature. This society is a mess, everyone is nasty, everyone is destined to fear for their life or to torture themselves for being a natural cannibal, and people can live together only because adult carnivores can practice cannibalism during the night in the black market, while criminal organizations periodically kidnap herbivores for celebrating their need for meat proteins in gorefests.

Police don't do a thing about that because… it's an anime!

We all know that in anime adults don't exist, or are untrustworthy or are dead.
Society is corrupted, everything sucks and you have no power.

Until your metaphor for rape instincts becomes a friggin' superpower that helps you destroy a mafia made by lions.
With just a little (a lot) of help by your wise mentor (the last adult figure allowed in anime) and a fucklot of crazy anime physics that let you do weird shit like teleporting on the trajectory of a punch.

So you can end up with your canine teeth sunken in the lion boss throat, although lions are three times a wolf in nature, and save your helpless princess.

Goodbye Haru characterization. At episode 2 you were an interesting character, now you're so flat that you aren't even traumatized by being kidnapped, threatened, undressed, and almost raped and devoured.

So, with your new superpower and your maiden at your arm, you can walk over the corpses of the boss' henchmen and go spend the rest of the night chilling under the moonlight.
With no repercussions apparently.

So society is corrupted and everything sucks, and the best we can do is waiting for unlocking our berserk status and murder our way through justice.
How mature. How thought-provoking.


In the end, is Beastars good?
Well, yes, it can be. If you consider manga clichès something familiar and welcoming instead of just distracting, it can be. It's a good entry-level for normies, the designs are not cartoonish but not too feral either, just shojo boys wearing tight fursuits, the story is not too simplistic not too complex either.

It's a kind of a good compromise for a mainstream manga focused on the existence of anthros.
Definitely not my cup of tea. I'm for more coherent and funny stories. But I know that they will never get to the great public.
Beastars at least it's an appetizer.
Category Artwork (Digital) / Anime
Species Wolf
Gender Male
Size 800 x 997px