Corazon Aquino (1933-2009) was the first female president of the Phillipines, and is known for leading the People Power Revolution in 1986 which restored democracy to the country. She was named TIME's Woman of the Year in 1986.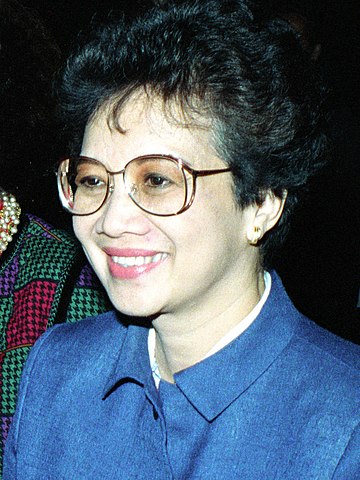 Cory Aquino did not aspire to be a politician. In 1955, after graduating from Mount St. Vincent College in New York City, she married Benigno Aquino (nicknamed "Ninoy"), a young politician. She supported her husband's career as he was elected senator, raising 5 children at home.
Ninoy Aquino became a popular, outspoken opponent of Ferdinand Marcos, the dictator who held the presidency from 1965. In 1972, Ninoy was imprisoned for eight long years, and then exiled to the United States. Ninoy was finally allowed to return to his homeland in 1983, only to be assassinated the moment he arrived.
Ninoy's imprisonment, exile, and assassination outraged the people and spurred Ferdinand's opposition. The economic problems of the country deteriorated even further, and the government went further into debt.
After her husband's assassination, Cory took his place as the leader of the opposition. In 1985, Ferdinand suddenly announced an election to legitimize his hold on the country. Cory was reluctant to run at first, but changed her mind after being presented with one million signatures urging her to run for president.
During Cory's run for president, Ferdinand Marcos derided her with sexist statements, saying she was "just a woman" whose place was in the bedroom.
Cory just answered: "May the better woman win in this election."
He also attacked her inexperience in politics. Cory responded by admitting she had "no experience in cheating, lying to the public, stealing government money, and killing political opponents."
After the elections were held in February 1986, Marcos was declared the winner. There were numerous reports of election fraud, and the outcome was condemned by Catholic Bishops' Conference of the Philippines and the United States Senate. Ronald Reagan called the the fraud reports "disturbing" in an official statement.
Cory immediately called for peaceful civil disobedience protests, and for organized strikes and mass boycotts of the media and businesses owned by Marcos. Filipinos were enthusiastic in their support. These popular, peaceful demonstrations came to be known as the People Power Revolution. Though Marcos ordered troops against the thousands of protesters (including whole families and nuns and priests), not a shot was fired and the troops withdrew and many defected.
By the end of February, Ferdinand Marcos withdrew from power, fleeing to Hawaii, and Cory Aquino became the President of the Philippines.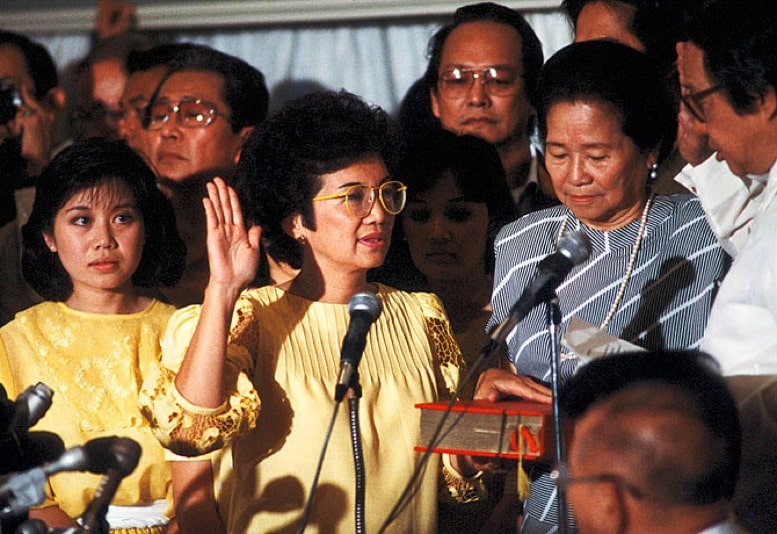 Cory's ascension to the office of president signaled a new era for Filipinos. During the first few months of her presidency, the Philippines experienced radical changes and reforms. Cory immediately created a Constitutional Commission in charge of drafting a new constitution, and created the Presidential Commission on Good Government which went after Marcos's ill-gotten wealth.
The new Corazon Aquino Administration gave strong emphasis and concern for civil liberties and human rights, and peace talks with communist insurgents and Muslim secessionists. Cory also focused on bringing back economic health and confidence. The Aquino administration succeeded in paying off $4 billion of the country's outstanding debts.
Cory was also a lifelong member of the Council of Women World Leaders, an international organization of former and current female heads of state and government that helps to mobilize women world leaders to take action on issues critical to the leadership, empowerment and development of women.
In 1992, President Aquino strongly declined the requests for her to seek reelection. She wanted to set an example to both citizens and politicians, in contrast to Ferdinand Marcos, that the presidency is not a lifetime position. She still remained active in the public eye, however, often voicing her views and opinions on the pressing political issues.
Cory Aquino passed away in 2009 of cancer. Her death elicited a worldwide reaction, and thousands attended her wake and funeral. Filipino Catholics called on the Church to have Aquino canonized and declared as a saint.
Hillary Clinton said that Aquino was "admired by the world for her extraordinary courage" in leading the fight against dictatorship. Pope Benedict XVI applauded her "courageous commitment to the freedom of the Filipino people, her firm rejection of violence and intolerance"
Cory was an amazing woman who had a huge impact on the freedom and welfare of millions of people. She accomplished so much in her life and was beloved by many people.
Next, read about Queen Anna of Denmark, Theater Pioneer & Patron of the Arts, or Vigdis Finnbogadóttir: The World's First Female President.
Keri Lynn Engel is an autodidact and women's history buff who founded Amazing Women in History in 2011.