Courtney Thorne Smith is a popular American actress. She is well known for playing Georgia Thomas in Ally McBeal, Cheryl in According to Jim, Lyndsey McElroy in Two and a Half Men, and Alison Parker in Melrose Place. As her acting skills are exceptional, it didn't come as a surprise when she quickly became viewers' favorite. Courtney is a woman with fascinating good looks, and while this has ensured she is always in demand for acting gigs, the actress has proved her mettle as a talented and experienced performer.
The beauty is not just an actress; Courtney is also an author as well as a spokesperson for popular cleric brand, Almay. She has made her mark in the comedy genre, and her hilarious on-screen personality has earned her success and admiration from viewers around the globe.
Courtney Thorne Smith Bio (Age)
Courtney Thorne Smith was born on November 8, 1967, in San Francisco, to a father, Walter who worked as a computer market researcher, and a mother, Lora Thorne, who worked as a therapist. Her parents got divorced when she was only 7 years old, and she lived with both of them at different stages while growing up. Courtney is the younger of two girls. Her older sister, Jennifer works as an advertising executive.
She got her early education at Menlo-Atherton High School, before joining Tamalpais High School, where she graduated in 1985. While in high school, she began dabbling into acting, performing at the Ensemble Theatre Company. Courtney decided to pursue acting professionally in the 1980s, and her TV debut was in the series Fast Times, followed by The Thanksgiving Promise. A year later, she scored a small role in Growing Pains.
In 1986, Courtney broke into the big screen with a miniature role in the feature film Lucas, alongside Charlie Sheen, Corey Haim, and Winona Ryder. She also featured in a number of other movies including Welcome to 18, Summer School, Revenge of the Nerds II: Nerds in Paradise, and Sorority Wars. In the beginning, she was typecast to play sexy sirens because of her voluptuous figure and attractiveness, until she began to deliberately seek out more diverse and mature roles.
Her career breakthrough came when she began starring in Melrose Place. When the show ended, she went on to feature in Ally McBeal until she was written out in 2000. Her next TV role was on According to Jim, which she played from 2001 – 2009, when she signed to play Lyndsey McElroy in Two and a Half Men. Her latest movie credits include Site Unseen: An Emma Fielding Mystery.
Courtney also has other talents besides acting. She wrote a novel titled Outside In, which was published by Broadway Books, New York in 2007. She also has her own line of cosmetics, while also serving as the face of Almay Cosmetics' "Skin Stays Clean" makeup line. Courtney also serves as the spokeswoman for the weight-loss program, Atkins Diet.
Movie and television appearances have allowed Courtney Thorne Smith to earn a decent amount of money. Her other interests and activities have also helped her secure the money bag. She is estimated to be worth $8 million at present.
See Also: 5 Lesser Known Facts About The Danish Actress – Connie Nielsen
Her Husband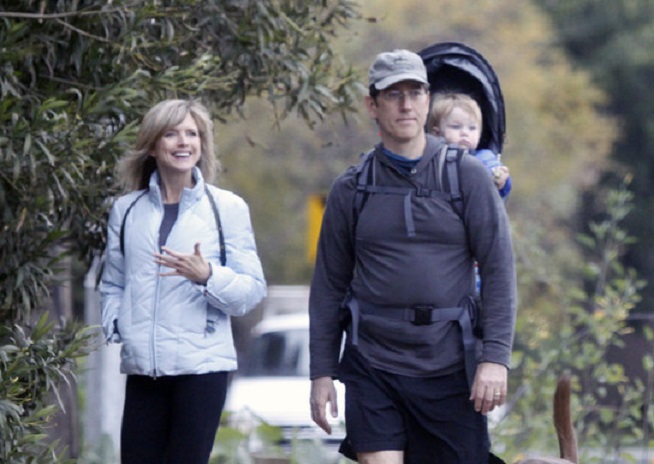 The gorgeous actress has had a very active relationship life. She dated Andrew Shue, her Melrose Place co-star in the 1990s, but the relationship didn't last very long. She began dating Andrew Conrad, a geneticist, whom she married on June 2, 2000, but things turned sour and they got divorced seven months later.
Luckily for Courtney Thorne Smith, there was still plenty of love ahead. she began dating the accomplished writer and author Roger Fishman, and the two tied the knot on January 2, 2007. Roger is also the president of Zizo Group, a marketing firm. The lovely couple has a child together, a boy named Jacob Emerson Fishman, born in 2008. Courtney was 40 years old when she had the baby. Courtney and Rogers' romance doesn't seem to be slowing down anytime soon.
Body Measurements
For a woman in her 50s, Courtney Thorne Smith is still very stunning and attractive. Her blonde hair frames her face perfectly, and she has a slender figure. Courtney's measurements are 34-23-34 inches. The actress is 5 feet 6 inches tall, and she weighs only 54 kg.