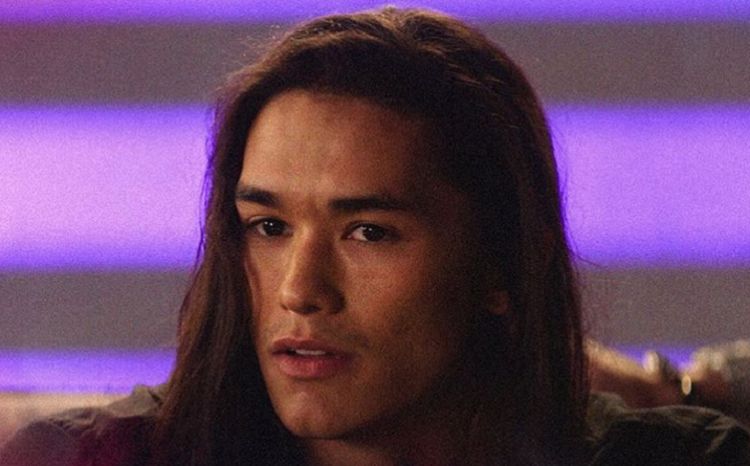 Booboo Stewart is a name most of will remember (for reasons other than the obvious) from films such as The Twilight Saga, X-Men: Days of Future Past, Descendants, and Descendants 2. 2019 is due to be the young actor's most successful to date thanks to the release of Descendants 3, which will see him reprise the popular character of Jay. It may be the final film in the Descendants franchise, but we doubt it'll be the last we'll see of Stewart. Keep reading to find out more about the talented actor.
1. His father is a stuntman
Booboo Stewart (or to give him his full name, Nils Allen Stewart Jr) was born in Beverly Hills in 1994. Stewart had an early introduction to the world of entertainment thanks to his father, Nils Allen Stewart, a professional stuntman and stunt coordinator. Stewart Sr's career also seems to have influenced his son's choice of hobbies: in his downtown, Stewart loves to indulge his passion for martial arts, something he's been studying since the age of three and has won several awards for (including the Junior Martial Arts World Championship in 2002 and 2003).
2. He's an animal lover
Seeing as one of his biggest roles to date was as a werewolf, you'd expect Stewart to have an affinity for our four-legged friends, and you'd be right. Stewart is a huge animal lover and has even used his star power to help get them a better deal. In 2011, Stewart appeared in a PETA ad campaign to urge people to adopt needy pets from animal shelters rather than buying them from breeders. "If you guys are interested in getting any kind of animal, definitely go and adopt," the actor said. "Pet stores just sell their animals."
3. He's a spokesperson for MDA
In 2010, Stewart took on the role of Celebrity Ambassador to the Muscular Dystrophy Association. As part of his duties, Stewart has appeared in various public service announcements and special appeals to help spread the word about the foundation's vital mission. "We're very grateful that Booboo is lending his time and talents to help in the battle against muscular dystrophy," said Gerald C. Weinberg, MDA president & CEO. "As Seth Clearwater in The Twilight Saga: Eclipse, Booboo is already bringing his fans and new volunteers to MDA. We're truly blessed to have such an articulate and caring role model as a champion for our programs."
4. He originally tried out for Prince Ben
In Descendants, Mitchell Hope plays the part of the charming Prince Ben to perfection. Stewart, meanwhile, did an equally great job of portraying the complex character of Jay, Jafar's son. However, as Screen Rant reports, things could have turned out very differently indeed. During the first round of auditions, Stewart actually read for the part of Prince Ben. However, producers decided to cast a non-dancer in the role instead, hoping to show more of the vulnerable, awkward side of the character. Fortunately, they were impressed enough with Stewart's talents not to discount him completely, and he was asked back to re-audition for Jay. The rest is cinematic history.
5. He was a member of the GATE program
These days, we know him as a talented actor, but in his teenage years, Stewart was an equally talented student. Actually, make that VERY talented. The young Stewart was a member of GATE, an educational program specifically for gifted students. The program aims to take high achieving students and nurture their talents through opportunities, student advocacy, and specially designed programs and practices. Given what he's gone on to achieve, it's clearly doing a great job.
6. He was a member of a music group
We may know him best as an actor, but before he got his big break, Stewart's career was headed in a very different direction altogether. Always a big music fan, Stewart formed the musical group T-Squad in 2006 and performed with them for the next 2 years. The group saw unremarkable success and after failing to set the charts on fire, dissolved in 2008. With choruses like "I'm boo boo from the t squad comin' straight at ya I put it down so the groove is mad fat ya Boom goes the kick t-t the high hat yeah Here comes the hook You know it's gonna catch ya", it was probably a good day for music when Stewart decided his future lay in acting, rather than rapping.
7. He's dating Megan Trainer
It's official, Stewart is off the market. The actor has been dating girlfriend Megan Trainer for a while now, and if their social media posts are anything to go by, it's serious- they even share an Instagram account, which these days, is basically the equivalent of being married with kids.
8. His first big film role was in Twilight
After scoring roles in a couple of minor, direct-to-video releases, Stewart got his first big break in 2010 when he was cast in the third installment of the Twilight franchise as the werewolf Seth Clearwater. Despite having been around film sets in the past, nothing quite prepared Stewart for the enormity of the Twilight production- although thankfully, he took it as something to learn from, rather than be intimated by. "Obviously, I've been on sets before, but nothing as big as 'Twilight," he's said. "You forget sometimes that you're on set of one of the biggest movies ever- so when you just sit back and think about it it's just so incredible. It's such a great learning experience."
9. He's an environmentalist
As well as having a passion for pets, Stewart is an active supporter of environmental causes. Over the past few years, he's been heavily involved in the activities of Four Green Steps, a web-based environmental organization based in Montreal, Canada that aims to inform and inspire on such topics as green living, sustainable products, and corporate responsibility.
10. His Net Worth is $4 Million
Want to know how much a career in film will get you these days? If you're Booboo Stewart, an estimated $4 million.