Asamoah Gyan: The hip life and magic numbers of a Ghana legend
By Ian WilliamsBBC Sport Africa
Last updated on .From the section Sport Africa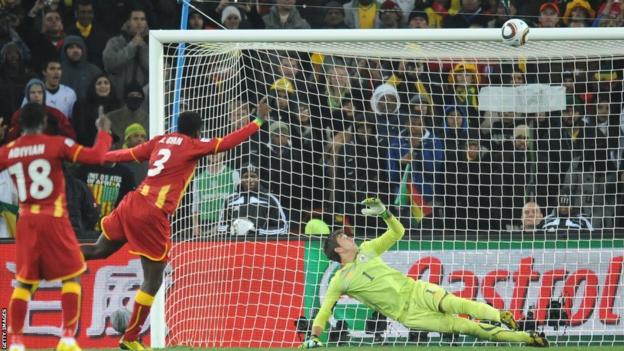 Crazy haircuts, World Cup tears, music awards and a bagful of goals - there can be no doubt that Asamoah Gyan is one of African football's most colourful characters.
The 37-year-old striker played at three World Cups and seven Africa Cup of Nations (Afcons), captaining the Black Stars on many occasions, but somehow always ended up as the nearly man.
BBC Sport Africa looks at some of the numbers and events that defined his career on and off the pitch.
1. Ghana's number one for goals
Gyan is Ghana's all-time leading goalscorer, netting 51 times in 109 games. Only Andre Ayew has played more times for the Black Stars.
His international debut in a World Cup qualifier against Somalia in November 2003 was a sign of things to come as he scored five minutes after coming on as a 77th-minute substitute. Three days shy of his 18th birthday, that strike made him Ghana's youngest ever scorer.
Former international team-mate John Paintsil can still recall his first encounter with a young Gyan when both were playing for Ghanaian side Liberty Professionals.
"One day, the youth side was beating the seniors. There was this striker who was so fast on the ball, very skilful, dribbled left and right, very good in the air and battling with our defenders.
"I went for the tackle, Gyan does some skills, he twists me and I find the ball back of the net again. I said 'Wow, I believe this boy will become one of the best strikers Ghana's ever produced'. It came to pass."
Gyan also scored eight Afcon goals for his country, losing two finals in 2010 and 2015. His record of 31 appearances spread across seven tournaments leaves him joint-second on the all-time list, again behind compatriot Ayew (34), while Egypt's Ahmed Hassan is the only person to have played at eight Afcons.
Painstil told BBC Sport Africa, "Gyan is one of the best strikers that Africa and Ghana has produced."
2. World Cup success...and that penalty
Gyan is also Africa's all-time leading scorer at World Cups, with six goals spread across three tournaments (2006, 2010 and 2014).
Having helped his nation qualify for a maiden World Cup, he scored just 68 seconds into Ghana second group game against the Czech Republic at the 2006 tournament in Germany. The Black Stars went on to make the second round before losing to Brazil.
But the 2010 BBC African Footballer of the Year is perhaps best known for a sliding doors moment at the following World Cup in South Africa, the first held on African soil.
Having scored two penalties to help Ghana narrowly qualify from a group containing Germany, Australia and Serbia, he then struck a 93rd-minute winner in the last 16 against the USA, setting up a quarter-final against Uruguay.
What happened next has become part of World Cup folklore.
With the game tied at 1-1 heading into the final minute of extra-time, Uruguay striker Luis Suarez was sent off for handling the ball on the goalline, clearly denying Ghana a winning goal.
But with the world watching on, this time Gyan couldn't convert, seeing his penalty clip the bar and go over.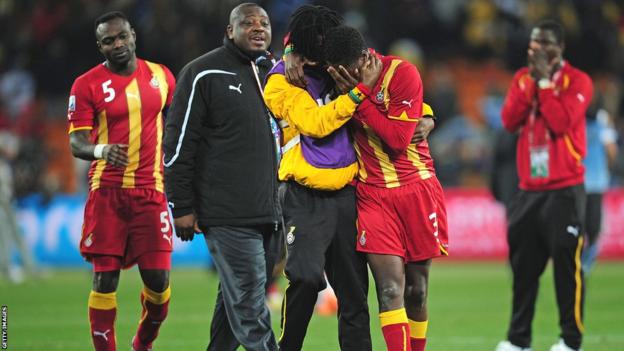 He showed courage to step up and score from the spot just minutes later, but Ghana lost the shootout 4-2.
"We all had to go to Gyan's [hotel] room," Paintsil revealed.
"We did all we could but he was crying throughout the night. I will tell you, Gyan still feels that pain."
The forward recovered to captain his country at the 2014 World Cup in Brazil, scoring two more goals against Portugal and Germany, but there was no fairytale redemption story as the Black Stars finished bottom of their group.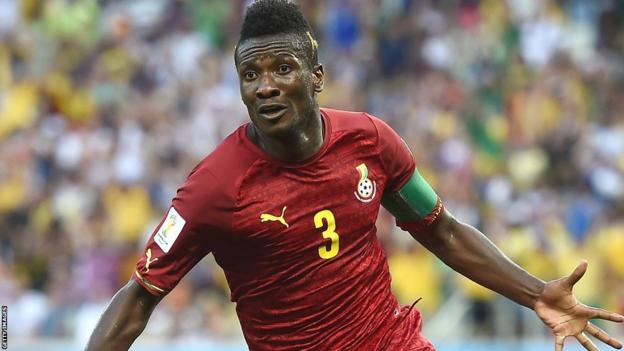 3. Three is the magic number
Gyan baffled World Cup commentators by wearing the number three shirt.
That choice, which he carried throughout his career, was inspired by his brother and his Christian faith.
Baffour Gyan played 25 times for the national team and, like his younger sibling, was a striker. When Asamoah became part of the Ghana set-up, Baffour suggested the number because it represented the Holy Trinity - the Father, the Son and the Holy Spirit.
"It is like DNA. Both brothers were very energetic and fighters," said Paintsil, who describes the number three as Gyan's "symbol".
"The number three leaves with him everywhere he goes."
4. Hair-raising controversy
Indeed, Gyan certainly carried the number with him once he had it shaved and dyed into the side of his head, a style he adopted after his 2010 World Cup heartbreak.
Having sported various different looks over the years, his mohawk landed him in hot water in 2016 after a loan move to Al Ahli in the United Arab Emirates (UAE), one of more than 40 players sent a warning letter about "unethical hair".
Gyan agreed to trim his locks to avoid causing offence, but brought the mohawk back for the 2017 Afcon. The number three on the side of his head also made a reappearance in Gabon but Ghana still lost the third-place play-off 1-0 to Burkina Faso.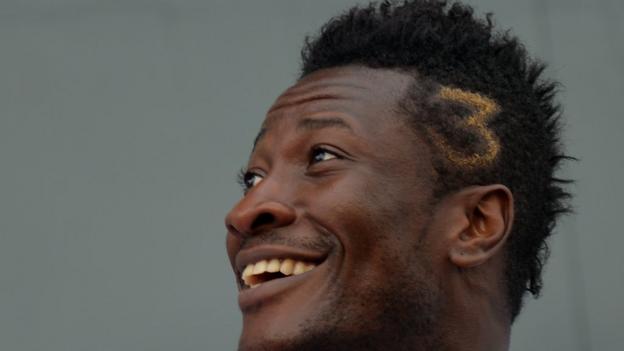 5. Baby Jet scores a hit
What some football fans across the world might not know is that Gyan also had a successful music career.
Using the stage name Baby Jet, he recorded three albums with hiplife musician Castro (hiplife being a famous musical style synonymous with Ghana).
The single African Girls was released in August 2010 and won the best hiplife single of the year at the Ghana Music Awards, although Paintsil has his own favourite, Do the Dance.
"It was one of the songs that travelled all over the world, not only Africa, not only Ghana.
"A lot of Ghanaians danced to it, sometimes the dressing room would dance to it."
Gyan and Castro, a fellow Ghanaian, met in Italy in 2005 when Gyan was spotted in the crowd at a show and invited on stage. They became friends before Castro disappeared while jet skiing on holiday. Gyan was even forced to deny being involved in his friend's ritual sacrifice.
Paintsil believes Baby Jet's music "impacted a lot of people's lives" and even more success could have followed.
"It's great to see one person having so much talent. I believe that even if you give him movie scripts, Baby Jet can perform very well. He's blessed.
"These things come to people who have a good, clean heart and he's one of them."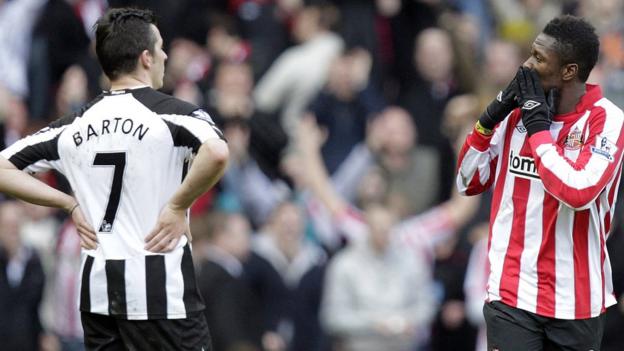 6. Sunderland cult hero
Gyan played for 11 clubs in eight countries during his career, with spells in Italy, France, Turkey, China and India.
Perhaps his most high-profile move came in August 2010 when he joined Premier League Sunderland after his exploits at the World Cup in South Africa.
Then aged 24, he arrived on Wearside for what was then a club record $20 million, scoring on his Premier League debut as a sub before then also finding the net on his full debut.
His outgoing personality, part-time career as a rap superstar and celebration dance moves won over fans but his cult status was secured when he scored a 94th-minute equaliser against rivals Newcastle United.
He scored 11 goals in 37 appearances for the Black Cats with many supporters disappointed that he only spent one season at the Stadium of Light before heading to the UAE on a loan move that "baffled" then manager Steve Bruce.
Paintsil understands why his former national team skipper inspires adoration, both abroad and at home in Ghana.
"Gyan is a great character. He has a sense of humour. We had so much fun.
"He is very unique and nobody can predict him. He's always happy.
"He is doing so much for the nation and people. He has given hope and also freedom to the youngsters. I'm so proud of him."
Baby Jet might now be too old to play football but he has certainly led a hip life up to this point.