Antonio Conte: Was Tottenham manager 'spot on' or is it 'P45 time'? Pundit and fan views
Last updated on .From the section Tottenham
Was it always destined to come to this?
The Italian boss called his players "selfish" and criticised the club's hierarchy, sparking widespread debate. But what will it end up meaning for Spurs?
We asked our Tottenham fan writer for his view and also sifted through hundreds of messages sent to BBC Sport by supporters reacting to Conte's outburst.
Micah Richards and Chris Sutton also had their say on BBC Radio 5 Live's Monday Night Club.
Richards and Sutton disagree on Conte outburst
Richards believed Conte was "being absolutely honest" and did not say "anything wrong", while Sutton took the opposite view.
"Sometimes you need those home truths," said former Manchester City defender Richards.
"Tottenham have had enough quality to do better than they have been, so I have no problem with that interview from a player's point of view.
"Of course, it's not going to be good for the morale, but it's honest. The players, for their ability, have not been playing well enough.
"It's an interview where he's been honest. It's not terrible leadership. He's at the end of saying what he's had to say to the players, so he's saying it out loud."
Former Blackburn striker Sutton said the Italian's outburst "was purely about self-preservation and Conte isn't bothered about who he takes down".
"Conte's been there for however long and the club have gone backwards," he added. "The most remarkable thing about the interview was that he absolved himself of any blame and things he could affect. He could've affected things at the weekend against Southampton and didn't.
"This is a guy that clearly wants out. It's terrible leadership. Players within that dressing room will be thinking the manager doesn't have our back.
"It's a really important end to the season for Tottenham and there may be a lot of players within that dressing room who down tools for him now. Why would you want to play for this guy now?"
Richards, however, also cited Conte having to deal with the death of friends Gian Piero Ventrone, who was the Spurs fitness coach, Gianluca Vialli and Sinisa Mihajlovic, as well as having gallbladder surgery in February.
He added: "If you look at the whole thing, what he's had to deal with in terms of injuries, the whole Harry Kane situation about whether he is going to sign a new contract or move on, your best midfielder [Rodrigo Bentancur] getting injured, Dejan Kulusevski getting injured, then the people passing around you who are good friends.
"It is going to have an effect on what you are going to say in a press conference. At the end of the day, he is a human being," said Richards.
"That news conference for me was all his emotions coming out after that game. Maybe he is at the end of his tether.
"I understand his frustration of him being a great manager and not being able to deliver what he wants to do at Spurs. I think it's a mix of everything."
'Conte covering his own shortcomings'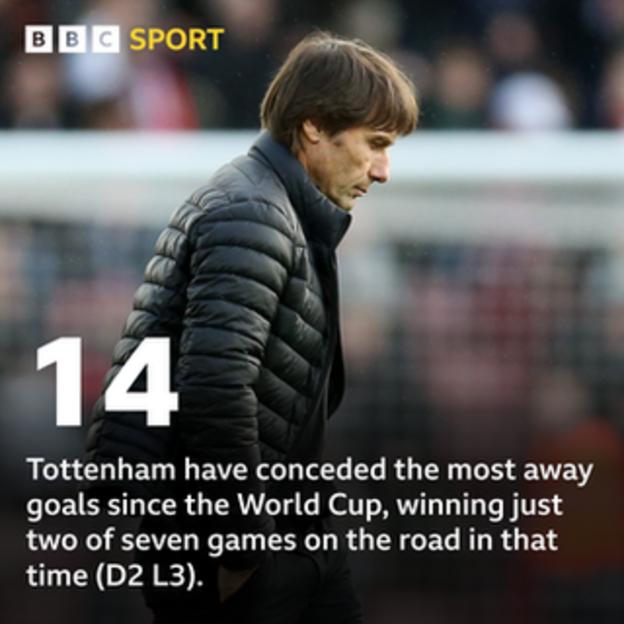 John Wenham, Lilywhite Rose and BBC Sport Spurs fan writer
While watching Conte's rant, it seemed he had been holding a lot back and could no longer do so. I felt he was covering his own shortcomings. Some of the points he raised are valid and appreciated by sections of the support - but, ultimately, Spurs have gone backwards this season. They play a style of football that is turgid and boring and I cannot think of a player he has improved.
If these players are as he describes, why keep picking them without rest or rotation?
He is an elite manager - his CV sets that out - but surely he knew what he was signing up for working under ENIC? Despite being the ninth-richest club in world football, Spurs do not operate in a way akin to Chelsea.
They have tried two 'win-now' managers in Conte and Jose Mourinho, yet they were 90 minutes away from winning the biggest trophy in club football under a project manager in Mauricio Pochettino. While the ownership remains as is, a boss in Pochettino's vein appears the more suitable option.
Conte's behaviour can also be viewed as selfish. He has attempted to protect his own reputation while throwing the players under the bus. Yes, many of them need replacing, but it is he who insists upon a style without a creative player in the squad, and a rigid formation with three at the back.
While it could be seen as a last roll of the dice to get the players motivated for the final 10 games of the season, reports are emerging that many of them want Conte gone as he crossed the line with this latest outburst. He was always going to go at the end of the season anyway, but it now feels it could be far sooner.
Is Conte 'spot on' or 'toxic now'?

Junior: Thank goodness, Levy has been called out! We could change managers every 18 months for the next 10 years and the outcome will be same. It requires a total overhaul of the football club from the first team down. A plan would help!
Emiliano: I think Conte's comments are spot on. This club will never change until the current owners go. To them, we are a business trying to rake in as much money as possible and happen to have a football team. The stadium was not for the team but for all the other events. It's not Conte who should go but the owners - and most of the squad, who are rubbish.
David: Conte is absolutely correct and the problem at Spurs lies at the top. Unfortunately, the truth hurts. Spurs do not have a club ethic. That is because Levy isn't interested in such a thing.
Stef: Conte needs to point the finger at himself as well. The players are obviously better than the results - losing to Sheffield United, Wolves, and drawing against Southampton. He is the one who is supposed to bring the best out of them. Instead, he's starting to sound like Mourinho, talking about past achievements and blaming everyone else.
Lee: If I was employing Conte, it would be P45 time straight after those comments. He's toxic now.
Gareth: After Conte's post-match rant, I believe that Levy has no choice but to sack him. Conte is being paid a considerable amount of money to be Spurs manager, and to publicly undermine those paying your salary is poor form. Conte knew the situation at Spurs and our problems in achieving success, which he was meant to remedy.
Mark: Conte is a disgrace - does he think his tactics are blameless? How can the players respond to him after he criticised them? And what gives Conte the right to criticise the club? What an arrogant man. He's truly overrated and he's panicking because he's got no answer.