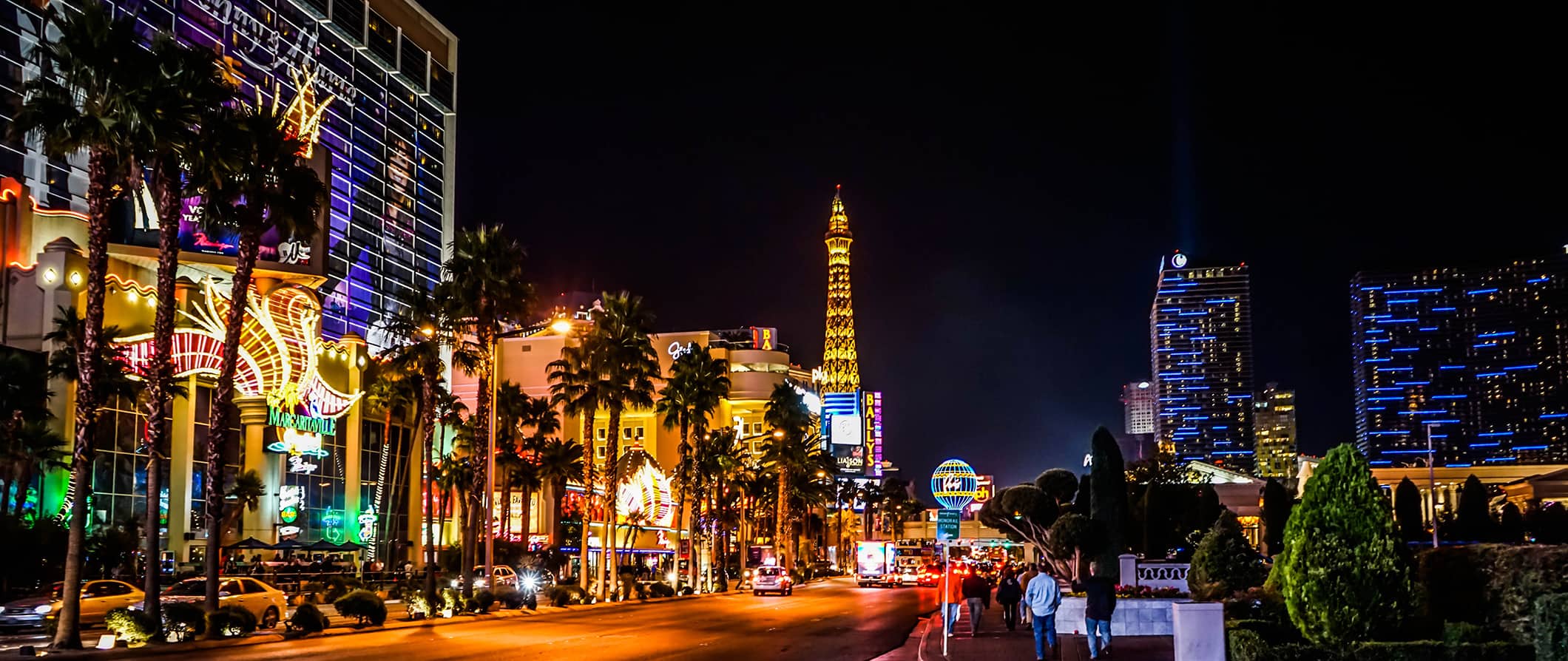 Nestled in the Nevada desert is Las Vegas. Hotels, casinos, nightclubs, and restaurants all vie for space among the neon and glitz in this city of sin. A lot of people don't like Vegas – the party, the glitz, the expensive resorts, the fancy see and be seen atmosphere.
But there's more to visiting Vegas than just the Strip. I love Vegas! I am constantly blown away by the amazing mix of restaurants, concerts, shows, events, nearby hiking, downtown area, and history.
And, despite all the wealth here, it's pretty easy to pick up freebies in Vegas. Free drinks, meals, show tickets, and reduced accommodation can all be easily had!
This travel guide to Vegas can help you navigate the city on a budget and show you there's more to Vegas than the Strip. Don't under estimate this city!
Click Here for City Guides

Las Vegas
Top 5 Things to See and Do in Las Vegas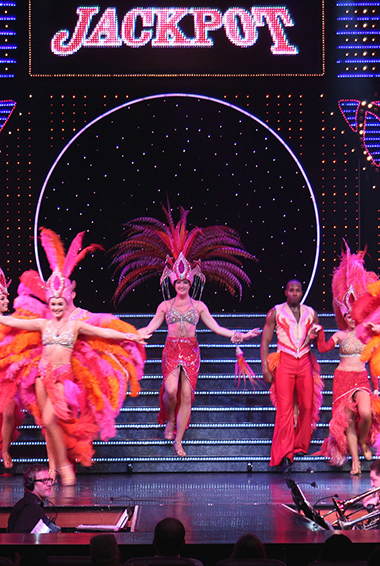 1. Take in a show
Vegas does entertainment better than anywhere else and you'll find some of the best acts in the world here. It's often a good idea to book tickets with your accommodation as it can work out cheaper. Tix 4 Tonight can find tickets for shows that night for 50% off.
2. Experience Fremont Street
The glitz, the lights, and the high prices of the Strip are all a far-off land compared to downtown Vegas. Here you'll find sketchy bars, sad casinos, cheap drinks, and more of a New Orleans Bourbon Street vibe. It's a great area for entertainment, people-watching, and cheap drinks.
3. Splurge on a meal
Las Vegas has some of the best food in the world. With all that money flowing in, it is easy to see why. A trip here isn't complete without at least one fine dining experience. My favorite restaurants are Yellowfish (Bellagio), Sirio (Aria), American fish (Aria), Lemongrass (Aria) The Peppermill, Firefly, Aureole (Mandalay Bay), and Otto (Palazzo).
4. Head to Hoover Dam & Lake Mead
South of the city, you'll find Hoover Dam. The dam is a massive curved wall, towering 726 feet above bedrock and holding back over 9 trillion gallons of water in Lake Mead, the country's largest reservoir. The dam is free to see but the visitor center costs $10 and the 1-hour tour costs an additional $30.
5. Visit the Neon Museum
This outdoor lot is loaded with the huge signs that once beckoned you into casinos like the Silver Slipper, Stardust, and El Cortez. The museum recently expanded and now features more signs, a park, and guided tours of their collection. Make reservations in advance.
Other Things to See and Do in Las Vegas
1. Take a trip to the Grand Canyon
You can combine a trip to the Grand Canyon with an outing to Hoover Dam if you take one of the many coach tours for around $85. Try to factor in an entire day for your tour, though, as the canyon isn't that close to the city. Since they are over 250 miles away, a tour of the Canyon and Hoover Dam can easily take up to 14 hours. While I think the Grand Canyon deserves its own trip, if this is the closest you can get to it, a rushed visit is better than no visit.
2. Explore Shark Reef
As one of the most prestigious sea-life centers in the world, Shark Reef Aquarium is a must-see. Shark Reef tunnel, which is designed to look like a sunken ancient shipwreck, allows you to come face to face with all kinds of sharks, sawfish, giant rays, endangered green sea turtles, and rare golden crocodiles. Tickets cost $25, and it is located in Mandalay Bay Resort. It's open daily from 10am-10pm.
3. See Vegas from Stratosphere
Offering the best views of Vegas, Stratosphere is the tallest free-standing observation tower in the US. If you're feeling brave, then consider having a go on one of the extreme rides at the top. The aptly named X-Scream propels you headfirst 27ft over the edge of the tower and leaves you hanging over 850 ft in the air. Admission to the tower plus one ride costs $29, and prices go up from there.
4. Hike Red Rock Canyon
If the bright lights of Vegas get too much for you, then head out to Red Rock Canyon for a day's hiking. A road rings the canyon, and each trailhead has a parking lot where you can leave your car to go hike before driving to the next trailhead. At 2.5 miles (4 kilometers) long, the Calico Tanks trail is the most popular in the area. You'll pass a natural water tank on the way, which leads up to a summit offering a great view of Las Vegas. Make sure to come early in the morning before it gets too hot, and bring a lot of water. The entrance costs $15 per vehicle (or $5 if you're a pedestrian), and the scenic loop is open from 6am to at least 5pm. The visitor center is open daily from 8am-4:30pm.
5. Check out the Mob Museum

Las Vegas started with the mafia. Bugsy Segel built the Flamingo and, since then, the mob has controlled Vegas (see the movie "Casino"). With the rise of the mega-resorts, they have had less influence, however. Still, the mob and Vegas are tied together, and a wonderful and very detailed museum has opened to discuss the history of the two. Fun fact: my family used to be involved with the mob out in Vegas. It's open daily from 9am-9pm, and admission costs $27 (if you buy online, tickets are $25).
6. See the Mirage Volcano
Set to its own soundtrack, the volcano erupts finely choreographed fireballs and smoke 100ft into the air from the waters below, turning the waterfall to molten lava. The volcano show happens at 7pm and 8pm and, on Saturdays, there's also a 9pm show.
7. Visit the Venetian
While gondola rides are super cheesy, overpriced, and touristy (just like in Venice!), the architecture and construction of this casino are magnificent and one of the best on the Vegas Strip. If anything, just walk through here. Simply put – it's pretty and makes for a good stroll.
8. Watch the Bellagio Fountain Show
Soaring as high as 460 ft, The Bellagio has a fountain show that performs a magnificent light and water display set to music. I think it overhyped (probably due to Ocean's 11), and while I wouldn't make my night revolve around it as some people do, it's worth seeing if you are nearby. Check the Bellagio website for showtimes.
9. Hang out in Boulder City
Along the way to the Hoover Dam, this suburb can give you a taste of local life in the area. Milo's is the hot restaurant in this town. There's also a main street and some shopping you can do, but not much more than that. But despite the lack of "things to do," strolling around this quiet little community is a nice contrast to the crowds of Vegas.
10. Go golfing
There are many golf courses in Vegas, including Shadow Creek, one of the best in the world. If you aren't a member of any local clubs, many of the casinos can arrange day passes. You can find tee times for as little as $20!
11. Get artistic at First Friday
On the first Friday of every month, the downtown area fills up with exhibits and displays from local artists during First Friday. It's free and a great way to get a sense of the local art scene as well as mix with locals. Be sure also to check out Arts District 18B, the arts center of Las Vegas, which is home to cool bars, shops, galleries, and more.
14. Visit the Pinball Hall of Fame
If you've got nostalgia for the vintage-style pinball machines of your childhood arcade days, visiting the Pinball Hall of Fame (near the Strip) is a must-do. There are over 150 classic games here! Just make sure you bring lots of quarters.
15. Come for the Life is Beautiful Festival
Life is Beautiful is a huge music and arts festival that takes place every September in downtown Las Vegas. You'll get all the big name musicians, but there's also lots of unique entertainment – Bill Nye and Rosario Dawson are just two of the festival's past guests. Plus the whole downtown core gets transformed into an open-air art gallery as street artists make the city their canvas. Even if you're visiting after the festival is over, you'll still get to appreciate these artworks.
Las Vegas Travel Costs
Hostel prices – During peak season, a bed in a four-six bed room will cost from about $30. For a room with eight beds or more, expect to pay around $25. During the off-season, a bed in a room with eight beds or more will cost from about $23 each night, while smaller rooms will cost about $20.
A basic private room for two with an ensuite bathroom costs from $75 per night during peak season. Prices are about $50 in the off-season.
Budget hotel prices – You can find tons of cheap budget hotel options in Vegas near the Strip or downtown. Nightly rates for a budget two-star hotel room start at about $50 in peak season. In the off-season, budget rooms start from $40.
There are lots of Airbnb options in Vegas, but not many are located near the Strip. Plus, there are so many high-end hotels offering low prices, you don't really need to consider Airbnb. A shared room (like a bed in a dorm) averages about $38 per night, while a private room is about $72 per night. A full apartment averages about $159 per night.
Food – You can find some cheap eats in Vegas, especially at hotels and casinos where there are buffets between $10-25. Towards the middle of the Strip near Ballys, there are a number of cheap chain restaurants like Chipotle, McDonald's, and Subway where you can find cheap eats. Slices of pizza go for about $4, and you can find burgers even at casinos for $10.
Vegas has lots of mid-range dining options, especially around downtown and Fremont Street. You can dine out for $20 per main course, including meat and pasta dishes. A beer will cost about $6 (but if you want to really save money, grab a beer from a corner store for less than $5 — you can drink on the street here).
Vegas has some of the best high-end dining restaurants in the world, and you really should splurge on at least one good meal. You can get a prixe-fix three-course meal between $59-300 (or more) in this city! But you can also get really delicious meals with two courses at about $50. A glass of wine is another $9 or more.
If you cook your own food, expect to pay $50 per week for groceries that will include pasta, vegetables, chicken, and other essential foods.
Backpacking Las Vegas Suggested Budgets
If you're backpacking Vegas, expect to spend about $90 per day. This budget will cover a hostel dorm, using public transportation, cheap food, and about one attraction per day. If you come during the off-season, you can reduce your budget by about 15%.
A mid-range budget of about $165 per day will cover staying in a budget hotel, eating out for all of your meals, a few attractions per day, and public transit.
On a luxury budget of about $380 or more per day, you can get a four-star hotel on the Strip, any meal you want, drinks, lots of attractions (like shows or tours), and a few Uber rides.
You can use the chart below to get some idea of how much you need to budget daily, depending on your travel style. Keep in mind these are daily averages – some days you'll spend more, some days you'll spend less (you might spend less every day). We just want to give you a general idea of how to make your budget. Prices are in USD.
Accommodation
Food
Transportation
Attractions
Average Daily Cost
Backpacker
$25
$25
$10
$30
$90
Mid-Range
$50
$45
$10
$60
$165
Luxury
$150
$100
$30
$100
$380
Las Vegas Travel Guide: Money Saving Tips
You can do Las Vegas on you're very mindful of your budget. You can go through money really, really quickly if you aren't careful (I mean, two drinks at the bar could cost you $40). Here are some ways to stay on a budget in Vegas:
Skip the weekend – Most people visit Las Vegas on a Friday or Saturday and stay for the weekend, which means this is the most expensive time to visit. By visiting the city during the week, you can avail of the significantly reduced room rates and restaurant prices.
Gamble responsibly – It's Vegas, of course, you'll want to risk a few dollars in a casino, but don't go wild. Only gamble what you can comfortably afford to lose, because chances are, the house will win.
Get comps – If you're gambling, the casino will often reimburse some of your losses in the form of meals, discounted show tickets, and rooms. Make sure to ask about these!
Use coupons – Coupons are almost a currency in Las Vegas; casinos will give you a book of them when you sign up for a (free) players card, and you'll find 2-for-1 offers on meals in restaurants on the Strip.
Don't pay cabs with a credit card – Taxis charge a $3 service charge when you pay with a credit card. Avoid the charge by paying cash.
Eat at the buffet – Vegas as some of the best food in the world. With all the money flowing in, it should be no surprise, but if you really want to save money on food, stick to the all-you-can-eat buffets. They will cost you about $20 a day.
Eat cheap at 5-star restaurants – Prime-time seating at the Strip's five-star restaurants is between 8 and 10pm, but these hot spots like to be full all the time, so most have both happy hour and pre-show menus to kick off their evenings between 4pm and 7pm.
Go to Reverse Happy Hour – Most Vegas restaurants stop serving food by 10:30pm, but there are so many performers finishing up about that time that the Strip has a tradition of the post-10pm (or 11pm, depending on the place) "reverse happy hour," with food and drinks starting as low as $3.
Do brunch – A boozy brunch is a Sin City staple. And in Vegas, the best ones come with unlimited food and drinks on the weekends. (I order my mimosas bottomless and tell them to "hold the juice.")
Drink at the casino before hitting the club – To cut down on expensive drinks at the clubs, drink on the casino floor. The drinks are free as long as you're playing one of the games. Sit down at a penny slot machine, play slow, and drink fast. You can have 10 drinks for the price of one at the club! Just make sure you tip the waitress.
Get discount tickets to shows – My favorite part about living near the Strip is getting to see so many shows. Tix4Tonight has booths at Fashion Show Mall, Circus Circus, Town Square, Four Queens downtown, and various other locations around town. There you can find tickets for shows that night for 50 percent off. The booths open at 10am and accept both major credit cards and cash. Get there early! The location in front of the giant Coke bottle and M&M store is notorious for having the longest line, so try to avoid it.
Grab a Vegas2Go – It's a coupon and listings book for shows and some food specials. They're in kiosks all over the Strip, or you can ask the concierge at your hotel. Also, check Vegas.com daily. It offers rotating deals on various shows.
Get the Las Vegas Pass – This pass allows you to see a large number of attractions (and includes a free hop-off, hop-on tour as well as transportation on The Deuce). A two-day pass is $259, a three-day pass is $359, and a five-day pass is $499. Some of the things you can enjoy with this pass are a free tour of the Hoover Dam, free entrance to the Divas Las Vegas show, and free entry to the Eiffel Tower experience.
Save money on rideshares – Uber and Lyft (my preferred company) are way cheaper than taxis and are the best way to get around a city if you don't want to take a bus or pay for a taxi. The shared/pool option (where you share a ride with other people) offers even better savings. You can save money off your first rides with the following codes: Lyft (MATTHEW999 to save $10) and Uber (jlx6v to save $15).
Take a free walking tour – Nomad Walking Tours and Big Boy Tours offer daily free walking tours around the Strip and downtown. They're a great way to get oriented and see the major sights without breaking the bank. Just be sure to tip your guides!
Where To Stay in Las Vegas
Vegas only has three hostels. Most people who come here want to live like a rockstar for a few days. But if you want to stay in a hostel, here are my recommended places to stay in Vegas:
How to Get Around Las Vegas
Monorail – Most of the Strip is connected via tunnels and walkways, but when it's too hot, the monorail is a good option for getting around. The monorail stops at seven different points on the Vegas Strip, including several different major hotels. A one-way ride is $5, while a day pass is $13. A week pass starts from $23.
Bus – The bus system in Vegas is known as The Deuce, and the Regional Transportation Committee runs it. It's one of the best ways to get between downtown and the Strip, with the two main routes are The Deuce on the Strip and the SDX.
A two-hour bus pass is $6, while a 24-hour pass is $8. A three-day pass is $20.
Taxis – Taxis start at $3.50 here, with normal tariff being $2.76 per additional mile. Waiting time is $32.40 per hour.
Ride-Sharing – Uber and Lyft are way cheaper than taxis and are the best way to get around a city if you don't want to take a bus or pay for a taxi. The shared/pool option (where you share a ride with other people) offers even better savings. You can save money off your first rides with the following codes: Lyft (MATTHEW999 to save $10) and Uber (jlx6v to save $15).
When to Go to Las Vegas
Vegas is very busy all year-round, especially during the winter months when the rest of North America comes seeking Nevada's hot, desert temperatures. Spring and fall tempeartures are pleasant, with highs averaging between 69-82°F (20-28°C). Summer is a scorcher, with temperatures up to 105°F (40°C).
It's especially busy in Las Vegas during the week between Christmas and New Years, and also at the end of January when all the conventions are in town. March in Vegas can be total chaos when Spring Break hits, so if you want lower prices and fewer crowds, definitely do not come during these times.
How to Stay Safe in Las Vegas
Las Vegas is a safe place to visit. Violent attacks are rare, but like all big cities, practice caution wherever you go. Vegas does have some gang violence, but if you stick to Fremont Street or the Strip, you likely won't come in contact with it. Don't walk alone at night in unlit places, and keep your valuables secure at all times.
You should always watch people pour your drinks, and be wary of buying things from street vendors. This is especially true for event tickets.
Worried about travel scams? Read about these 14 major travel scams to avoid. There aren't many here in the states though.
Always trust your gut instinct. If a taxi driver seems shady, stop the cab and get out. If your hotel is seedier than you thought, get out of there. Make copies of your personal documents, including your passport and ID. Forward your itinerary along to loved ones so they'll know where you are.
If you don't do it at home, don't do it when you're in Las Vegas. Follow that rule and you'll be fine.
The most important piece of advice I can offer is to purchase good travel insurance. Travel insurance will protect you against illness, injury, theft, and cancellations. It's comprehensive protection in case anything goes wrong. I never go on a trip without it as I've had to use it many times in the past. You can use the widget below to find the policy right for you:
Las Vegas Travel Guide: The Best Booking Resources
Below are my favorite companies to use when I travel around Las Vegas. They are included here because they consistently turn up the best deals, offer world-class customer service and great value, and overall, are better than their competitors.
Las Vegas Gear and Packing Guide
If you're heading on the road and need some gear suggestions, here are my tips for the best travel backpack and for what to pack!
The Best Backpack for Travelers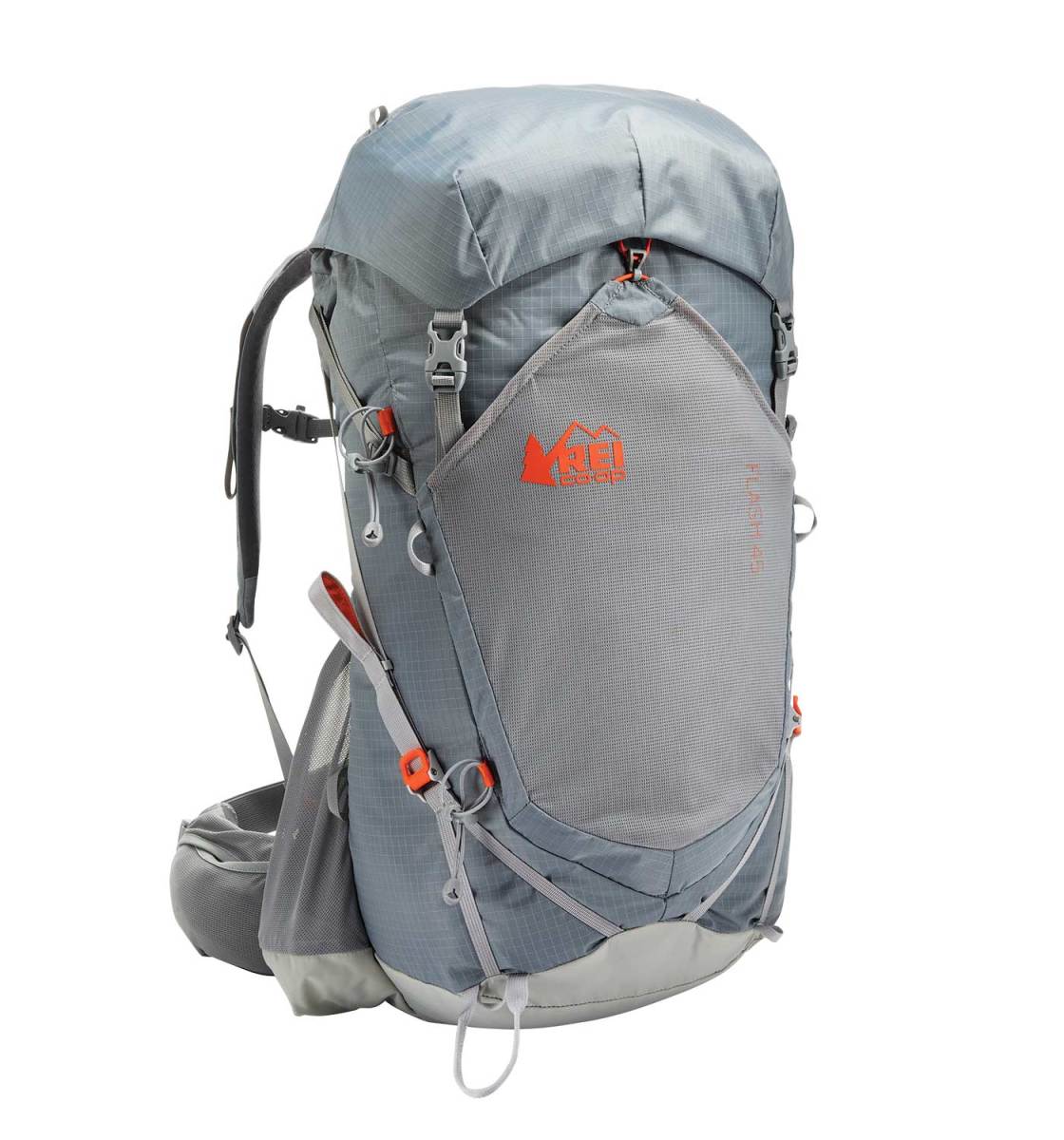 What's the best backpack for traveling long-term? I recommend the
REI Flash 45 Pack
. It's light and comfy, front loading, and fits perfectly in an airplane's overhead
bin
.
Size:
45-47L
Straps:
Thick and cushy with compression technology that pulls the pack's load up and inwards so it doesn't feel as heavy.
Features:
Removable top lid, large pocket at the front, hydration compatible, contoured hip belt
If you want something different, refer to my article on how to choose the best travel backpack for tips on picking a pack and other backpack suggestions.
What to Pack for Your Trip
Clothes
1 pair of jeans (heavy and not easily dried, but I like them; a good alternative is khaki pants)
1 pair of shorts
1 bathing suit
5 T-shirts
1 long-sleeved T-shirt
1 pair of flip-flops
1 pair of sneakers
6 pairs of socks (I always end up losing half)
5 pairs of boxer shorts (I'm not a briefs guy!)
1 toothbrush
1 tube of toothpaste
1 razor
1 package of dental floss
1 small bottle of shampoo
1 small bottle of shower gel
1 towel
Deodorant
Small Medical Kit (safety is important!!!)
Miscellaneous
Female Travel Packing List
I'm not a woman, so I don't know what a woman wears, but Kristin Addis, our solo female travel guru, wrote this list as an addition to the basics above:
Clothing
1 swimsuit
1 sarong
1 pair of stretchy jeans (they wash and dry easily)
1 pair of leggings (if it's cold, they can go under your jeans, otherwise with a dress or shirt)
2-3 long-sleeve tops
2-3 T-shirts
3-4 spaghetti tops
1 light cardigan
Toiletries
1 dry shampoo spray & talc powder (keeps long hair grease-free in between washes)
1 hairbrush
Makeup you use
Hair bands & hair clips
Feminine hygiene products (you can opt to buy there too, but I prefer not to count on it, and most people have their preferred products)
For more on packing, check out these posts:
Las Vegas Travel Guide: Suggested Reading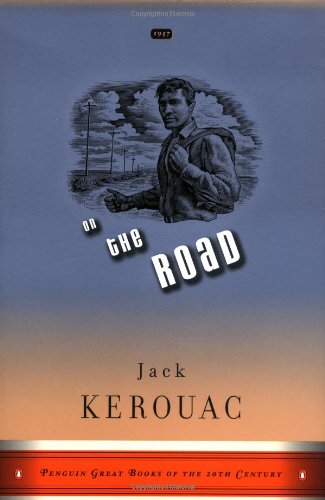 On the Road, by Jack Kerouac
Written in 1957, Jack Kerouac's Beat Generation classic is a classic travel novel. Kerouac's character's (who he modeled after himself) frustration, desire to see the world, and adventures resonate with all of us who need a little relief from modern life. The story follows his character, Sal, as he leaves Boston and heads west, riding the rails, making friends, and partying the night away. He finds thrills, adventure, love, sex, drugs, poverty, and excitement while moving from a weak character into someone whose life experience brings confidence. It's a true American classic.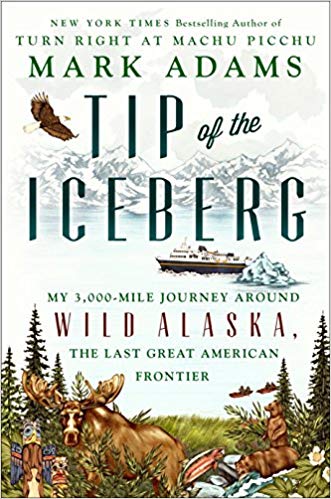 Tip of the Iceberg, by Mark Adams
1899, Edward H. Harriman (a rich railroad magnate) converted a steamship into a luxury cruise for some of America's best scientists and writers and embarked on a summer voyage around Alaska. Now, author Mark Adams retraces that expedition, traveling over 3,000 miles along the coast of the state. Mark is one of my favorite writers, and this book is very reminiscent of Turn Right at Machu Picchu. Mark brings insight into the people, history, and culture of the state in a way he did with his other book.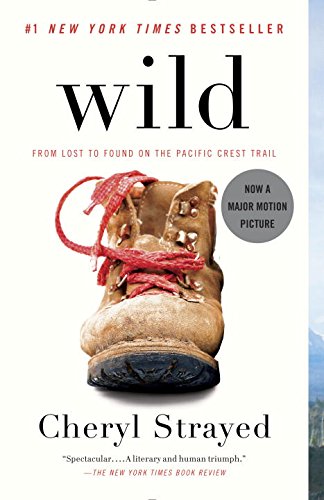 Wild, by Cheryl Strayed
Forgetting the hype of the book (and the subsequent movie), I really did like this book. Cheryl Strayed's book is about her journey along the Pacific Crest Trail when she was 26. She sets off in hopes of finding herself and coming to grips with the death of her mother, break-up of her marriage, and drug use. She's looking for a fresh start. Along the way, she encounters kindness, happy fellow hikers, and a deep sense of belong. Filled with wonderful prose, I found this book deeply moving. It's easy to see why the book became such a hit.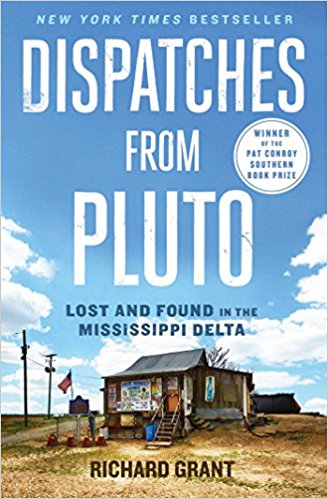 Dispatches from Pluto: Lost and Found in the Mississippi Delta, by Richard Grant
As a big fan of the state of Mississippi, I was really keen to read this book. The state is an often-overlooked tourist destination with eccentric but wonderful people; beautiful parks, rivers, and swamps; stunning architecture; and a complex and rich history for history buffs like myself. In this book, English writer Richard Grant and his girlfriend move to rural Pluto, Mississippi, to live a better life, escape the big city, lower their cost of living, and try something new. They learn to hunt, garden, fend off wild animals, handle snakes, and befriend interesting characters along the way.



The Not-Quite States of America, by Doug Mack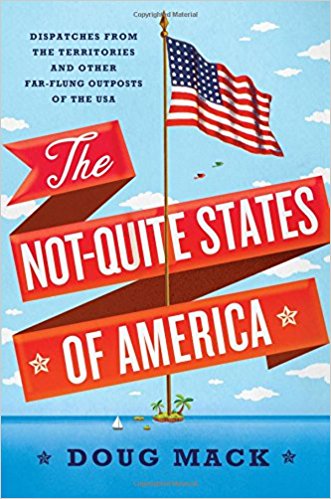 The United States of America is more than just 50 states. There's also the non-states of American Samoa, Guam, the Northern Mariana Islands, Puerto Rico, and the US Virgin Islands. In this funny, detailed, fact-rich book, Doug Mack explores these territories largely forgotten by the rest of the country, which play a more important role in our country than we realize. I had the pleasure of listening to Doug talk about his book in NYC, and he's a wealth of knowledge — just like his book! This one of those travel books that expands your mind about the place you don't really know.


Blue Highways: A Journey into America, by William Least Heat-Moon

This is a deep dive into America's unknown tiny towns scattered across the country map, like New Hope (Tennessee), Remote (Oregon), Why (Arizona), and Whynot (Mississippi). Yes, those are real town names! Heat-Moon's book is considered a masterpiece in American travel writing, and you'll love his adventures and the incredible people he encounters as he reveals the "real" American experience.
Las Vegas Travel Guide: Related Articles
Want more info? Check out all the articles I've written on United States travel and continue planning your trip: