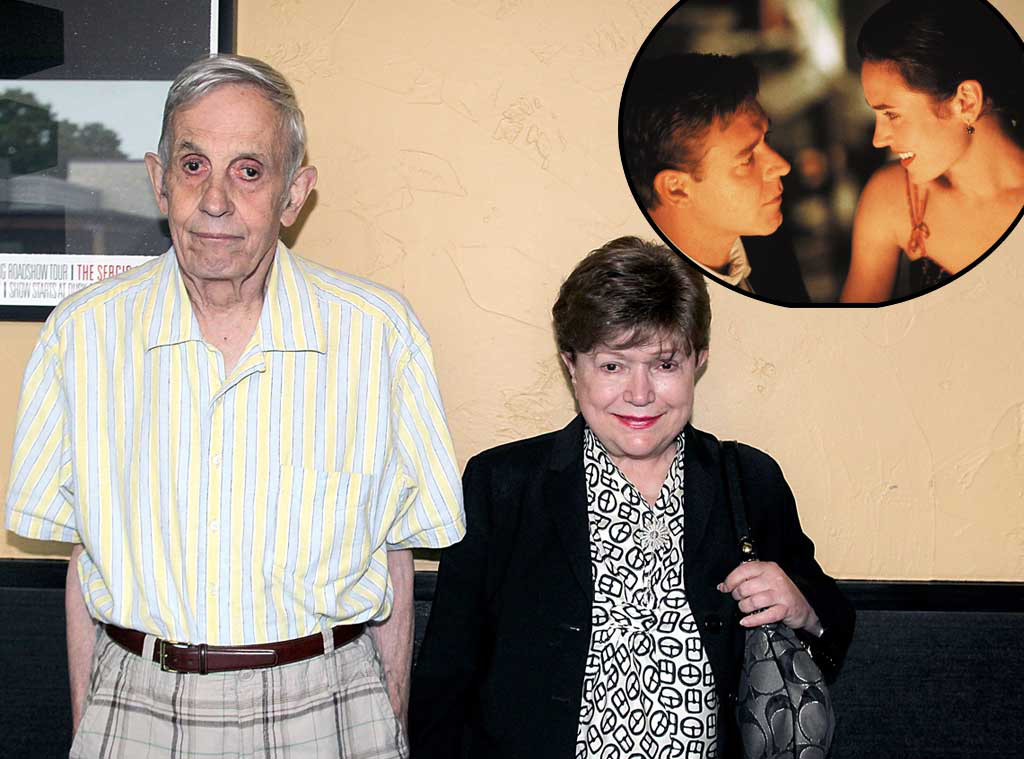 Getty Images; Universal Pictures
John Nash, a Nobel Prize-winning mathematician whose life story inspired the movie A Beautiful Mind, and his wife Alicia Nash were killed in a taxi cab crash on Saturday in New Jersey.
They were mourned online by Russell Crowe, who played the man in Ron Howard's 2001 film, which won four Oscars and earned the actor a nomination for his leading role.
"Stunned...my heart goes out to John & Alicia & family," Crowe said on Twitter on Sunday. "An amazing partnership. Beautiful minds, beautiful hearts."
John, born, John Forbes Nash Jr., was 86 and his wife was 82. The two were riding in a taxi cab near the New Jersey Turnpike when their driver lost control of the Ford Crown Victoria while trying to pass a Chrysler. Both cars crashed a guard rail and the Nashes were ejected, NJ.com reported. A police officer told the outlet that "it doesn't appear that they were wearing seatbelts."
The taxi driver was cut out of the wreckage and was hospitalized with non-life-threatening injuries, while a passenger in the Chrysler was treated for neck pain, the officer told NJ.com.
John won the Nobel Prize for Economics in 1994 for his work in game theory and worked as a senior research mathematician at Princeton University.
A Beautiful Mind also depicted his battle with paranoid schizophrenia. His wife, who Jennifer Connelly played in A Beautiful Mind, was his caretaker.
"This is a great loss," the actress said in a statement. "John and Alicia Nash were an inspiration and I have deep admiration for all that they accomplished in their lives. My thoughts are with their family."
Howard also paid tribute to the couple.
The two wed in 1957 and divorced in 1963. They remarried in 2001. Their son, also named John, was born in 1959 and is now 56. The Nobel Prize laureate is also survived by a 61-year-old son, also named John, from a previous relationship.
—Additional reporting by Lindsay Good