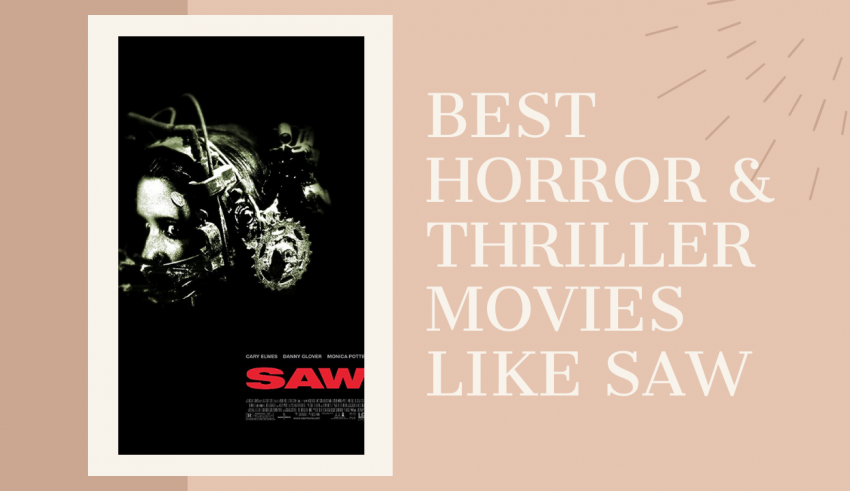 There are two groups of people: one who can not bear the gruesome picture of the Saw series, and the other that enjoys both the horror and the philosophy portrayed in these series. As people say, the saw isn't pure torture, but lots of things to worry about.
Several other films in this genre have similar themes to the Saw movie, and they are distinguished either by the number of scares and blood in them or by the suspense element that makes us try to find out who the bad guy is. If you are loving the recipe that Saw presents successfully, then these films below will be next on your watch list.
For franchise lovers, here is the list of movies like Saw which are our recommendations. Observe them at your own risk. Many of such movies like Saw can be watched on Netflix or Amazon Prime or Hulu.
Here Is The List Of Best Movies Like Saw:
The Last House on the Left: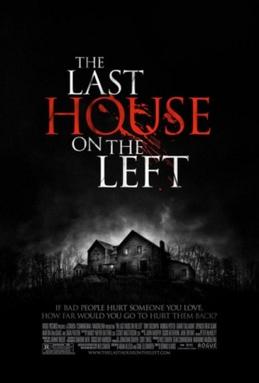 Available on Netflix | Amazon Prime
Emma (Monica Potter), John Collingwood (Tony Goldwyn) are on holiday with their daughter Mari (Sara Paxton). The family spends their holidays at their lake house, much to the delight of Mari who's a swimmer. A teenager as Mari is, she and her friend Paige go into town to have some fun.
There they encounter Justin, a teenage boy, whom Paige thinks is cool. He welcomes them to smoke and drink with him, without any bad thoughts. It turns out that Justin 's father Krug is a fugitive with two more accomplices from the police at large. When Mari learns of this, Krug refuses to let them go. Paige is shot and killed by them after an argument and leaves Mari to die of her wounds. 
Mari being a swimming champion manages to get her parents back home. Meanwhile, the gang of four ends up in the same house as Mari 's family because of a hurricane. When Mari 's parents find out what happened to their daughter, they kill the four of them in the most horrific manner they can.
---
Eden Lake: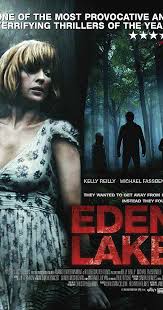 Available on Amazon Prime
After watching this movie you might never ride with your partner alone. Steve (Michael Fassbender) and her girlfriend Jenny (Kelly Reilly) explore a small lake in the English countryside expecting to spend some quiet time alone.
Jenny is fed up with teaching kids in the nursery class, and Steve is fed up with living in the hectic region. But as with a typical slasher movie, the journey to paradise quickly becomes their worst nightmare. They are interrupted by some delinquent teens while sunbathing on the beach and let out several lewd remarks Steve reacts aggressively on.
The kids infest the diet of the couple with worms at night, throw their clothes out, and take their car keys. The mischievous pranks turn into widespread torture when Steve threatens to expose them to police. Steve is trapped and tied with barbed wire by madmen.
Jenny lives on loose for how long? Can she stay safe from children in her own territory, and at the same time save her love? Or is she going to die a horrific death?
---
A Nightmare on Elm Street: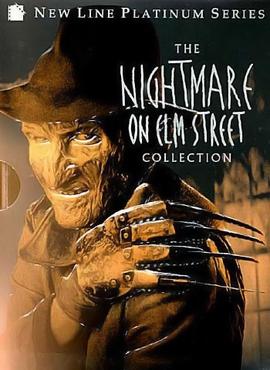 Available on Netflix | Amazon Prime
How if your dreams come of the person who wants to kill you? And if you had to escape sleep at all costs, as well as protecting yourself from a knife-wielding psychopath? Keep up, and stay alive in this movie's slogan. Meet Freddie Krueger, a child molester at the school where he was a janitor, who used to rape young children.
When the parents of the children learned about this he was burned alive in his home. But Freddie is back and this time he's not going to let either of them go. Anyone grown up with these kids doesn't even know who he is and why he kills each one.
A classic combination of horror and slash elements, this film has different spine-chilling scenes and a doppelganger with a hideous face by Edward Scissorhands. Be conscious, and wake up, because you will die if you sleep.
---
Friday the 13th:

Available on Netflix | Amazon Prime
In Western civilization Friday the 13th is considered to be a very unfortunate date. Watching this film, you are compelled to think that the theory is properly put. A party of friends out for a relaxing weekend on such a tragic evening are about to have the same revelation.
Legend has it that at Camp Crystal Lake, about three decades ago, a woman went berserk and murdered a bunch of campers who were responsible for her son Jason Voorhees' murder. Trent (Travis Van Winkle) and his friends have arrived to stay in the cabin of his parents near Crystal Lake on present-day 2009.
That Jason has returned from the dead at the same time is either a bad timing or their rotten luck. The ruthless killer with the hockey mask begins one by one to impaling and mutilate the happy campers. Will the town dwellers survive on their trail in the wilderness with an unstoppable killing machine? Marcus Nispel's resurrection of a classic, and a light to the sore eyes.
---
I Spit on Your Grave: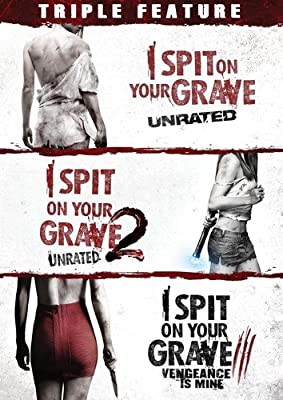 Available on Netflix | Amazon Prime
The best story of vengeance I've ever seen. Not just the first film but any installment of the series. Jennifer Hills (Sarah Butler), a New York City novelist, has rented a cabin in the woods to write her bestseller among beautiful meadows and much-needed peace.\
Sadly you don't have to think about wildlife in a forest alone. Every once in a while you have to deal with humans too. Jennifer's three-goon encounter ends in her disrespecting one of them. They plan to teach her a lesson, and catch her; attack, and rape her repeatedly.
She jumps into a river after the ordeal, and the perpetrators go away thinking of her death. Yet she turns out to be alive and to haunt her violists. She not only kills each one of them one by one but also attacks them in ways that would be hard to conceive but for the craziest of us.
---
Wild Tales:
Available on Amazon Prime
Six legends, a whole lot different. If you like complicated plotlines, that's your sort. Otherwise, utter nonsense. Wild Tales is a movie that goes above the ordinary and reveals how people handle themselves in unusual circumstances. People have a person in the everyday life that they give to.
But when life pushes them back into a corner, then the true personality comes out. The six stories tell us about those mortal sides of a human soul. A guy is flying a plane full of men who in his life have hated him, straight into the ground. Moving crappy taunt spirals through the desert into a fight to the death for two egotistic pilots.
A woman sees the man responsible for the death of her father walking into her restaurant and decides to kill him. Unconventional questions and unorthodox responses. Another film is intended to play games in the mind much like the Jigsaw Killer but not a traditional slasher movie like Saw. There are many websites like Saw movies where you can read the horror tales of different people. 
---
The Texas Chainsaw Massacre:
Available on Netflix | Amazon Prime
When passing through Texas on the way to a concert by Lynyrd Skynyrd (quite crazy for people about to die) and with a trunk full of pot, Erin (Jessica Beil) and her four friends have the time of their lives. A long trip with friends across the mountains, with nothing to worry about.
How does one ask for more? Clearly pretty much. Along the road, the party picks up a hitchhiker, after mumbling some cryptic phrases, who shoots herself in the head. As they get to the police department to investigate the incident, odd events started to happen.
Erin 's boyfriend unexpectedly dies, and as they look for him they end up face to face with Leatherface, a disfigured chainsaw-wielding beast. Thomas Hewitt aka Leatherface and his kin are a few freaks who view assassination as a competition.
Once Erin and his buddies have run from the family's house, an old-fashioned Texas-style chase continues in the aftermath of Leatherface with the chainsaw ringing, bones breaking, and hearts spluttering.
---
The Hills Runs Red: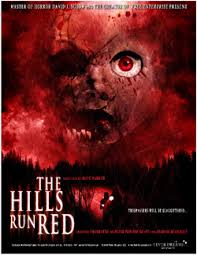 Available on Amazon Prime
You shouldn't go out and look for trouble, as you find it sometimes. Tyler (Tad Hilgenbrink) is a young filmmaker who needs to see his name resound in the halls of time. His girlfriend Serena (Janet Montgomery) is a simple college girl who is confused between her boyfriend and her cared-for friend Lalo.
Tyler becomes obsessed with a Horror film named 'The Hills Run Red' and its protagonist Babyface, who murders everyone with the same knife he used to cut his face, oblivious of what is happening around him. Bent on discovering the actual actor who played Babyface, Tyler seeks out Alexa (Sophie Monk), the daughter of the director, and pleads with her to take him to the location where the film was made.
Nonetheless, Tyler and Serena don't realize that the film is not a work of fiction, and Babyface is absolutely genuine. What's more, Alexa takes them to their death rather than their imaginative destination. Everyone is killed by the masked killer leaving only Serena for purposes of 'breeding;' making more Babyfaces. A bone-chilling story of suspense and unsettling scenes.
---
The Hills Have Eyes: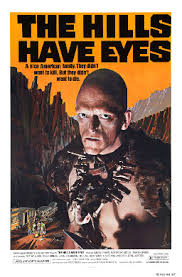 Available on  Amazon Prime
Mountains are the dream-spots for us to ride. We are picturesque, sumptuous, and full of lovely trees and shrubbery. However, those hills are desolate and full of secrets. Welcome to the desert of New Mexico, where taking a shortcut will lead to a gruesome death.
Bob Carter and his family travel to San Diego, California from Cleveland, Ohio when an innocent error ends up being their last mistake. They quickly realize that they're not alone in the desolate hills, after taking the short hilly route.
A few aliens (well more like creepy eyed weirdos) named Pluto, Dragon, and Ruby are murdering family members one by one in shockingly gruesome ways. Can they survive or will they win on the Hills?
---
Hostel: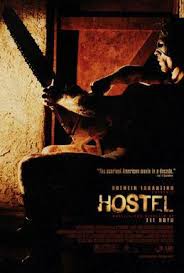 Available on Netflix | Amazon Prime
Backpacking hostels are a delicacy in Slovakia and the European countries surrounding it. Often known for catching young and innocent visitors in a honeytrap of attractive and seemingly desperate girls in this series. If you think about it, hopeless too.
Our characters Paxton and Josh are in the midst of the romantic storm. Instead of providing cute partners who can make their holidays memorable, the boys are being drugged and taken to the true Hostel; the pain hostel. They are being sold off to the highest bidder there.
The wealthiest of the affluent are permitted to go to whatever extent to recover their morbid and forbidden fantasies. People are being roasted, stitched, smoldered, sliced, boiled, baked and what not. In fact, you might be surprised at the way in this series people are slowly and painfully murdered. Saw fans get ready to have their minds blown. Strictly non-family, NC-17, and kind of insane.
---
Untraceable:
Available on Amazon Prime
Need to know the extremities that come with the popularity of social media and the Internet? Untraceable shows us the horrific consequences as the plot involves a teenage killer whose fascination with attracting fans drives him to kill his victims in a series of ways that he streams live on the internet.
As you know, Saw features self-contained traps that have slowly become more imaginative; similarly, Untraceable makes its traps go along with the idea of assassination as the killer tries to play around high on his trail with cops.
The kills can get pretty terrifying, and the chase means a boring moment never comes. There are many apps like Saw movie where people can read about horror incidents or stories. 
---
Scream: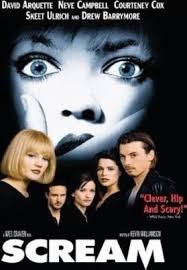 Available on Netflix | Amazon Prime
Yeah, it's a slasher movie, which makes it very different from the more slow-moving Saw series, but there's also the fact that Scream series still have a "whodunnit" plot, something that always included Saw, Saw II, Saw IV, and Jigsaw.
When you don't know who's behind all the violence, it makes it scarier, and any Scream film manages to pull it off with a tried-and-tested recipe. For those who don't know, the plot centers around a girl called Sydney, who tries to wreak havoc as an enigmatic "Ghostface" murderer is key to a series of killings around her neighborhood.
Related: Movies Like Scream
---
You're Next: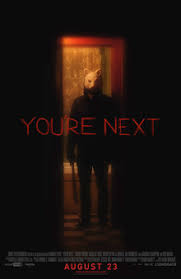 Available on Netflix | Amazon Prime
A family reunion (along with one of the leaders' girlfriend) goes bloody as a number of masked killers start harassing and murdering everyone by locking them in a manor house. You 're next in the small cast setting is like Saw, when we see a variety of individuals thrusting together in a cramped space.
What it does, however, is drive the protagonist to absurd lengths, distinct from other horror movies. Seriously, you have never seen such a good main character when she kills the villains in odd (and sometimes funny) ways, with the audience becoming puzzled by the end as to whether it is the bad guys in trouble or the main character.
Also Check Movies Like Your're Next
---
Exam: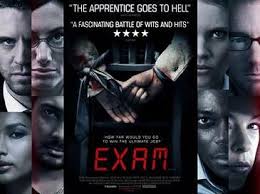 Available on Amazon Prime
Technically, this film isn't quite a film of horror; but it has a very startling similarity to a film from Saw. In Saw II, we saw how a group of people had to work together in order to find an antidote, and the Exam has a group of people trying to sort out the solution to a question and get away with a grand prize.
The story is told in real-time, out of sight, like an hour and a half spirals, with the main characters losing their pride to expose the truth. The cast 's performance is phenomenal, and the movie has you thinking all the way through. This offers exactly the same twist in the finale as the one we had in Saw, bringing the cherry on top of a good thriller.
---
Would You Rather: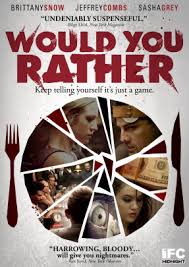 Available on Netflix | Amazon Prime
In the guise of a generous reward, several guests are welcomed to a party by an enigmatic benefactor, only to find out the mad man plans to make them play a crazy game of "Would you Rather," with only one guest allowed to survive.
It's like a simplified version of Saw, as the game only preserves the one setting, and the guests die one by one before only two are left in the climax. There's not much more than watching the torturous ways people die in the film, but there's a sense of anticipation in trying to find out who'd be the one to survive.
---
Wrong turn: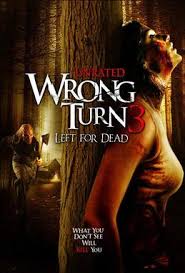 Available on Amazon Prime
'Don't go smoothly into that thicket of bushes, because one wrong turn will cost you your life.' A story of horror and slasher thrillers, Wrong Turn is literally of three cannibals who have made it their life's mission to destroy any human that sets foot in their territory.
A bunch of college students take a wrong turn on the road in a rugged West Virginia woodland and wind up trapped in the middle of nearly limitless forests and three crazy freaks. Sawtooth, Three-finger, and One Eye live in the same forest; three disfigured hillbillies who love shooting people for fun and then eating them.
No one will survive, for no one will let go of the cruel claw of death. If you are this genre lover, and you enjoyed Saw, this movie would certainly whet your appetite. There are many shopping sites like Saw movies where you can find artifacts or gifts to frighten your friends. 
---
Conclusion:
Saw set a very high bar for movies released in the similar genre. There have been many classic horror movies that are released and have entertained the audience. We do hope our recommendations will serve you pick the right movie of this genre.