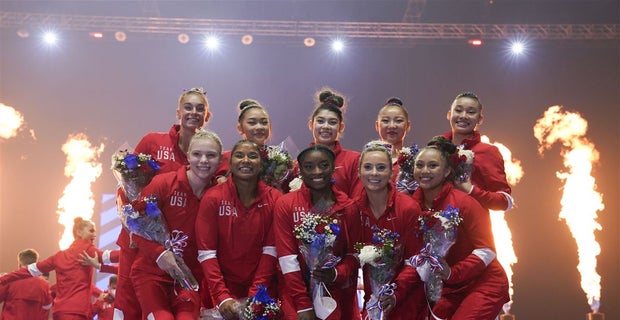 The Red Rocks are Tokyo bound, all three members of the Utah gymnastics program punched their ticket to the 2020 Olympics last night.
Incoming freshman Grace McCallum earned a spot on the four member team, superstar MyKayla Skinner will compete as an individual and incoming freshman Kara Eaker is an alternate for the team.
McCallum and Skinner will join Simone Biles, Suni Lee, Jordan Chiles, Jade Carey as the competing gymnasts, while Eaker will join Kayla DiCello, Emma Malabuyo and Leanne Wong as alternates.
Memories that will last forever. ??

Congratulations to the women who have earned a spot on @TeamUSA for the Tokyo Olympic Games!

???? Simone Biles
???? Jordan Chiles
???? Suni Lee
???? Grace McCallum

???? Jade Carey
???? MyKayla Skinner pic.twitter.com/lTtbsNPQxf

— USA Gymnastics (@USAGym) June 28, 2021
While this is the first time McCallum and Eaker will represent the United States at the Olympics, hearing Skinner's name called when the team was announced was a moment of great joy for her as well as all of her supporters.
Skinner worked her way back from not only an Achilles injury but also pneumonia after catching COVID-19 to an individual spot on the team.
Yes. You. Did.

Congrats, @mykaylaskinner!!

?? @NBCOlympics@UtahGymnastics | #BackThePac

pic.twitter.com/4nRjJtaAkr

— Pac-12 Network (@Pac12Network) June 28, 2021
Once she reaches Tokyo, Skinner will compete in the all around category. If she was to place in the top 36 out of all the competitors and be one of the top two finishers for the US she would be able to compete in the individual competition. If she is not able to achieve this, all is not lost, Skinner would still be able to medal on vault, which has been her strongest event during all of the competition season.
With all three girls selected to either compete or be alternates for Team USA, the University of Utah is the most represented school for the Olympic team. Lee is committed to Auburn, while Chiles and Malabuyo are UCLA commits. DiCello and Wong are slated to join Florida once the Olympics are over and Carey will be competing for Oregon State.
That just happened...

ALL 3?? RED ROCKS ARE GOING TO TOKYO! pic.twitter.com/yg4MrUt7yy

— Utah Gymnastics (@UtahGymnastics) June 28, 2021
Overall McCallum and Skinner become the seventh and eighth Red Rocks to make an Olympic team. The most recent was Nansy Damianova who competed for the Canadian team during the 2008 games.
Grace McCallum and MyKayla Skinner are @UtahGymnastics' seventh and eighth Olympians after Cheryl Weatherstone (GB, 1984), Missy Marlowe (USA, 1988), Crystal Gilmore (Can, 2000), Gael Mackie (Canada, 2004), Daria Bijak (Germany, 2008) & Nansy Damianova (Can, 2008). #NCAAgym

— College Gym News (@collegegymnews_) June 28, 2021
After two days of competition McCallum led the way of the trio, finishing in fourth with a total score of 112.564. Skinner was right behind with an All Around score of 112.264 which earned her fifth place. Eaker came in seventh with a total score of 111.097.
The team is now less than a month away from competition, and when they get to Tokyo the schedule is as follows:
July 25 – Women's Qualification
July 27 – Women's team final
July 29 – Women's all-around final
Aug. 1 – Women's vault & uneven bars final
Aug. 2 – Women's floor exercise final
Aug. 3 – Women's balance beam final
No matter the outcome of the games, one thing is for certain, the Red Rocks are in a fantastic place headed towards the future.
THE BEST RECRUITER IN THE NCAA. THE BEST HEAD COACH IN THE NCAA. AND ILL SAY IT AGAIN. WATCH OUT FOR THIS TEAM ???????? https://t.co/xSHHhmHjFw

— Sydney Soloski (@Sydney_soloski) June 28, 2021