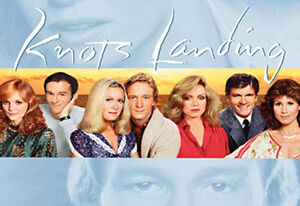 The following is a list of episodes from Knots Landing in order by season.
Season 1[]
Season opens with Gary and Valene Ewing's move to Knots Landing, California from Dallas Texas. The pilot sees the introduction of series regulars: Karen Fairgate, Sid Fairgate, Laura Avery, Richard Avery, Ginger Ward and Kenny Ward. The series finale ends on a tragic two-parter centering around Gary's battle with alcoholism. Guest stars include: Karen Allen, Patrick Duffy, Larry Hagman, Charlene Tilton, Julie Harris, Claudette Nevins, Priscilla Pointer, Les Lannom, and Claudia Lonow as Diana Fairgate.
Season 2[]
Season 2 of Knots Landing opened up with a two-parter (Hitchhike (Parts 1 & 2)) and introudced new series regular Abby Cunningham and her children Olivia Cunningham and Brian Cunningham. The season ended with a dramatic cliffhanger in the finale of the season. Guest stars include: Ruth Cox, Conchata Ferrell, Ron Lombard, Brian Dennehy, Mary Crosby, and Louise Vallance.
Season 3[]
Season 4[]
Season 5[]
Season 6[]
Season 7[]
Season 8[]
Season 9[]
Season 10[]
Season 11[]
Season 12[]
Season 13[]
Season 14[]
Specials[]