Nenu Shailaja U
01 Jan, 2016
2 hrs 15 mins
Listen to this Album
Awards Won:
1 Filmfare Award -
Telugu
See More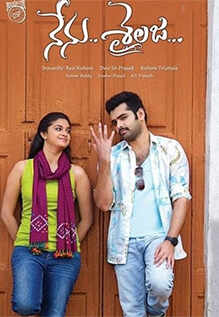 Synopsis
The film doesn't offer anything new, but it comes across as a culmination of some very well shot sequences, commendable performances and real world simplicity. So you might as well give it a try!
Read More
Cast & Crew
Nenu.. Sailaja... Movie Review
Critic's Rating: 3.5/5
Synopsis: Sailaja (Keerthy Suresh) and Hari (Ram) are destined to fall in love. But Sailaja doesn't know how to express and that leads to trouble.

Movie Review: If one lists out milestones in Ram's career, Nenu.. Sailaja… will definitely make it into an important spot because this film saw him give his career best in terms of the nuanced performance which is very unlike Ram, at least from what we have seen in the recent few years. He's a complete commercial hero – lover boy with a charming quick wit and an ability to pack a punch – and yet, manages to bring out simplicity with maximum effect.

While the actor has admittedly worked hard on bringing that side of him, the credit would majorly go to director Kishore Tirumala who not only visualized him in this character but also managed to draw the best from him. The 'energy' that is so often tagged to Ram seems to have been channeled into a better direction and well, it works wonders.

Nenu.. Sailaja… is a slice of life love story with many coincidences that are possible only in the world of movies. It seems Hari (Ram) and Sailaja (Keerthy Suresh) are destined to end up together because after separating in childhood, they meet again under strange circumstances and grow fond of each other. Everything is going smoothly until Sailaja says this: 'I love you, but I am not in love with you'.

This film, however, isn't just a love story and has layers, one of them being the relationships between Sailaja and her father Srinu (Sathyaraj) which seems strained at the outset but has an underlying emotion. And it is here that the director kind of falters because he is trying to tell you so many things. He wants to take you into Hari's life and then wants to explain why Sailaja has a change of mind suddenly and why there's a strain with her father. While each story is interesting on its own, the second half sees a slow in pace because of too much complication.

But that apart, there are two ways to tell a story. One, begin the story at a point and at an important juncture, just go to a flashback. And that formula has been literally used to death! And the other form of storytelling is starting the tale from where it actually began and giving the audiences a chance to guess when the truth will come out. This film falls in the latter category since the viewers expected the childhood friends to fall in love anyway. And it is interesting for moviegoers to experience their excitement as they know what we already knew. Complicated it might sound! But well, the director takes you down that lane with ease. He sprinkles casual humour, uses some riveting background score and makes use of amazing locales to enhance what he has.

While Keerthy Suresh seems out of place in some sequences, you see her easily flowing into the emotional category with extreme ease. Her confrontation with her Sathyaraj (why he is called a seasoned actor is evident from this film and especially this scene) who plays her father is a highlight.

Nenu.. Sailaja… doesn't really offer anything new. But it comes across as a culmination of some very well shot sequences, commendable performances and real world simplicity. We don't really see much of such subtly told stories on celluloid today, so you might as well give it a try!

Next Movie Review