Rainbow Jelly UA
25 May, 2018
2 hrs 1 mins
Listen to this Album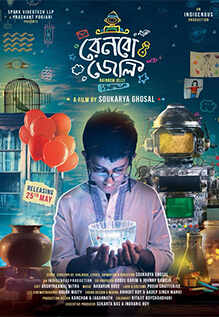 Synopsis
When hope colours a child's routine
Cast & Crew
Rainbow Jelly Movie Review
Critic's Rating: 3.5/5
Story: A special child Ghoton (Mahabrata Basu) lives a sad life with his ever-scowling uncle Gondaria (Kaushik Sen). Ridding him of his daily chores and fuelling his dreams, poripishi (Sreelekha Mitra) comes to his rescue all of a sudden. Will this association fulfil the wishes he harbours?

Review: A peek into a young boy's world has always fascinated filmmakers, authors and poets alike. Be it the award-winning short film, Red Balloon, by Albert Lamorisse or forever favourite Pather Panchali by Satyajit Ray, the popular classics David Copperfield, Great Expectations and Oliver Twist by Charles Dickens or the Portrait of a Boy by Stephen Vincent Benét or closer home, Rabindranath Tagore's heart-wrenching short story Chhuti and his poem Birpurush — all have explored boyhood with brilliance. The list is endless and the emotions revolving around the central characters infinite. What binds these characters across eras, geographies and creative mediums is that they live in a parallel world. They take refuge in their headspace, which lessens their sorrows, ignites their imagination and dares them to dream.

Inspired or not, Soukarya Ghosal's Rainbow Jelly paints a similar picture with the protagonist Ghoton, played by child artiste Mahabrata Basu. The film makes you remember the incredible childhood that each one of you has lived in your daydreams. It brings you the myriad flavours of hope and magic. Touted as the first-ever food fantasy film in Bengali cinema, it tickles your adult mind with childhood nostalgia and allows flights of fancy to take you on a joyride. Rainbow Jelly manages to bring the best of both the worlds — a realistic portrayal or a leaf out of the fairy tales. It depicts the drudgery Ghoton goes through doing household chores – a time most children spend in school or enjoy playing. The wicked uncle Gondaria (Kaushik Sen) tortures him at the slightest pretext. From this routine life to a happy ending, it's a fairy-tale journey replete with a fairy aunt called Poripishi (Sreelekha Mitra) in tow. That Poripishi is based on Leela Majumdar's popular character Podipishi adds more layers to the narrative.

The film wants to hail the heritage of Bengali children's literature like the Sandesh periodicals, but it achieves more than it had set out to do. For the choice of subject — childhood fantasy — is itself universal in appeal. And it balances the local with the global at many levels. So, while it depicts the Bengali's love for all kinds of palatable food through Gondaria, it also talks about Ghoton's father's taste theory — a worldwide research topic. It stresses on keeping the faith alive, especially when Ghoton writes about his daily occurrences to his late parents. It also plays out the importance of science when Poripishi explains why wishing upon a flying aeroplane is as effective now as it was wishing upon a shooting star earlier. It paints a childhood that was possible before the new millennium — true para friends, real conversations on terraces, drawing books and para cricket as sources of entertainment. It also brings into the picture the advent of robots, killing human relations. Unintentionally portrayed or not, that Gondaria cared about nothing and no one except for the secret contained in the robot's password is symbolic enough.

Yes, the film does have too many ingredients but it blends all of them so smoothly that the concoction is delicious to taste — rich in content, deft in storytelling and vivid in execution. There is some good animation work to take the story forward through a child's rose-coloured glasses. The simple, childlike humour doesn't make you burst out laughing but leaves a mischievous smile on your face. It also uses the young playback singers beautifully — rawness intact in their voices and without drowning the sound out with accompanying music.

The actors are the strongest links to the story that bring alive the narration on screen. Mahabrata is brilliant. For a special child to play a special child on screen may be difficult, but he aces it in the very first scene. His impish grins, effortless crying and natural dialogue delivery deserve praise. Kaushik infuses a subtle comicality into the wicked character with a lisp in his speech. He's a greedy uncle whom Ghoton lures with food and Kaushik plays out each emotion associated with the seven tastes — sweet, salty, sour, spicy, pungent, astringent and bitter — with a fluidity he is known for. Sreelekha is on-point expressive and radiates a certain aunt-like warmth and a fairy-like enigma. Ghoton's crush Poppins (Anumegha Banerjee) is sweet as candy.

This one's a delightful watch, even for the adults.

Next Movie Review