Summary of the court decisions so far:

1) Maine 1984. Against the 'Caliphate': The court heard that Crowley transferred the copyrights of his writings (in his last Will) to the O.T.O., and concerned itself with the question whether the 'Caliphate' could be the legal successor to the O.T.O.. The court concluded that the 'Caliphate' could not be a legal successor, because there never was an O.T.O. which existed as a body, in other words as a legal entity: "There is no evidence that the OTO was ever incorporated during the lifetime of either Crowley or Germer." Therefore the 'Caliphate' can only be regarded as a re-establishment of an order which had called itself the O.T.O.. There is no legal succession, because, as mentioned above, there never was an O.T.O. with, "legal status to own property,"nor a body of that name which could have possessed rights and assets. Therefore the 'Caliphate' did not acquire such rights and assets as a successor of an O.T.O. body.[331]

2) California 1985. In favour of the 'Caliphate': The court in California came to the opposite conclusion, finding that the 'Caliphate' was a legal successor; therefore the name, trademarks and copyrights could be taken over. In fact, this decision is basically wrong regarding the copyrights: Crowley died bankrupt; if the copyrights belonged to the bankrupt's estate, then they belonged to neither Crowley nor the O.T.O.. The moment someone is made bankrupt under English law, the official receiver alone benefits from the bankrupt's rights. One of the subsequent "Findings of Fact," (p. 5, paragraph 15) states "Plaintiff McMurtry is the acting OHO of OTO in the United States." The O.H.O. being an international office, the phrase "acting OHO of OTO in the United States" would effectively limit McMurtry's jurisdiction to the United States. Arguments against the international character of this designation failed on appeal.

James Graeb, a lawyer by profession and also a controversial protagonist in the history of the 'Caliphate', stated of the court decisions in the two Circuits: "Different circuits, different facts, different parties. There is no binding decision."[332] Since there is no mutual jurisdiction between the First and Ninth Circuits, the court of last appeal would have to be the U.S. Supreme Court itself; though perhaps, unsurprisingly, this august body has made hardly any statements that could be relevant to this case.

On 19th July, 1985, William Heidrick wrote to John Symonds, saying: "Please note [...] that our organization has been adjudged to own the unassigned copyrights of Aleister Crowley [...] we need to proceed to regularize our relationship with each other."

On 9th September, 1985, Heidrick wrote to Kenneth Grant, saying: "you should seek the advice of a legal counsel... we are not the only ones who can use [the Ninth Circuit Court's copyright decision] [...]. The appeal [...] is almost entirely limited to the US Supreme Court [which had made no Copyright decisions in this case] [...]. I have to try to reach an agreement with you about the various matters related to O.T.O. property [...]. Without resting on your claim [O.H.O.], Mr. Symonds would have no defense against a legal action by us. […]. On to proposals: [...] What I would most like to see is an annulment of the Germer expulsion letter that professed to kick you out of the O.T.O. [with the proviso that he submitted to the 'Caliph'. Heidrick's use of the word 'professed' leaves little doubt that he himself thought Germer's expulsion of Grant worthless]. Unfortunately, many letters and a court decision affirm that Germer became the O.H.O. [...]. Xth Degrees could not be kicked out [...]. I don't think we would be willing to recognize that your alternate O.T.O. was the direct continuation of the O.T.O. of Crowley [...]. All we want out of Symonds is his signature on a document accepting our claim being the O.T.O.".

On 10th September, 1985, Heidrick wrote to Symonds, saying: "[Gerald] Yorke understood that you had finished entirely your duties as literary executor [...]. Germer then had reason to believe that your duties in the estate had ended, including in regard to the Copyrights [...]. Regarding Mr. Grant and the copyrights, IXth Degree, expulsion, and Karl Germer's actual status as Head of O.T.O. (O.H.O.). This is not relevant to the central issue of the rights and properties vested in this Ordo Templi Orientis." Heidrick went on to argue that Metzger could not have been an O.H.O. from the start, since he had never sought to defend copyrights legally.

On 4th July, 1987, Motta lost in the North California Court of Appeals, which filed a 'Memorandum' affirming the 1985 decision, holding "that ample secular evidence supports the district court's findings that plaintiff OTO is, and SOTO is not, the continuation of the original OTO, and its finings that McMurtry is, and Motta is not, the OHO." So, "the case is effectively settled unless further appeal is made to the U.S. Su­preme Court," since the U.S. Supreme Court, "declined to hear" Motta's appeal.[333]



When McMurtry started the 'Caliphate', there were only two full IX°s to support him and neither received their degrees directly from Crowley. Indeed, these (Helen Parsons-Smith and Phyllis Seckler) first had to ask for recognition of membership in McMurtry's new O.T.O..

McMurtry's friend, James Graeb, commented: "In Crowley's time the IX° was 'synthetic' as it says in the 'Blue Equinox'. What that means is that any, that's right any 'full' IX° could establish an entire OTO, since the 'full' powers of the IX° include the ability to initiate into all grades and degrees of OTO, without external charter.[334] Khalifa [i.e. Caliph] Grady L. McMurtry knew that (that was his power — that and his Khalifa papers), and he therefore took the precaution to call all of his IX° that he made 'provisional' IX°, rather than full IX°, with the proviso that they would become full IX° upon Grady's death (hence their ability to select a new Caliph — they were after Grady's death now each 'full' IX° that is full 'successors' — get it?). Well, the new Caliph had to deal with this problem and so he eliminated most of the 'full' IX° from Crowley or Grady's time by having them swear loyalty under a ritual guise. Only a few didn't do that, and those few are still trouble to HB [Breeze] today. All the IX° created by HB are not 'full' in the old sense, and the distinction is not recognized as valid, in fact, there is not­hing written by Crowley to indicate that there is a distinction between full IX° anyway."[335] In remi­niscing about his wartime exploits McMurtry wrote, "The IXth Degree promotions are in the nature of Battle Field Promotions." These 'promotions' were not necessarily a part of the magical training regarding the IX°'s sexual secret, but much more for purely political reasons:[336] creating Provisional Ninths helped to establish an inner core of IX° members to show the public — and especially the courts — that the 'Caliphate' was more than just McMurtry.

The Provisional Ninths were James Graeb, Lon DuQuette, Andrea Lacedonia, Lola DeWolfe (a.k.a. Kaye D. Lewis), James Eshelman,[337] James Wasserman,[338] Sharon Morton,[339] Michael and Michelle Ripple.[340] Kristopher D*, also a provisional IX° since 1978, left the 'Caliphate' on 23rd February, 1981.[341]

McMurtry died on 12th July, 1985, without having heard about the court's decision of 10th July. In Motta's camp this occurrence was interpreted as meaning that he "was struck down by the Secret Chiefs for his foolish presumption."[342] Within the 'Caliphate' itself, McMurtry was promptly included in their 'Litany of Saints' in the Gnostic Mass.[343]

James T. Graeb was the only local 'Caliphate' upper degree member whom McMurtry could trust with legal matters.[344] McMurtry's Last Will and Testament, dated 26th June, 1985, reads in part:

 "FOURTH: I give the following property to the following groups and people:

"1. To the Ordo Templi Orientis (herein called 'Order'), located in Emeryville, California, I give my entire library, containing both academic and metaphysical books, all my paintings, all those items which directly or indirectly involve or concern the Order and/or ist members or Aleister Crowley, my silver ring with the hawk on it, and the metal box kept under my bed in the bedroom of my cur­rent residence; [...]

"3. I leave the rest and residue of my estate to James Graeb so that he may fairly dispose of it among those friends of mine, including James Graeb, who may be interested in any position of it. [...]

"EIGHTH: It is my desire that the Order's Supreme Council elect the successor Caliph for the Ordo Templi Orientis."

Eventually, section 4.3 of McMurtry's Last Will and Testament was considered, by Graeb and Helen Parsons-Smith, to have the effect that Graeb was a temporary X° heading the Provisional Ninths in the election process. It is noteworthy that McMurtry's Last Will does not make use of the expression "O.H.O. of the O.T.O." McMurtry did not claim to be a full or de jure O.H.O. but rather a de facto O.H.O.. He did not believe being a 'Caliph' automatically made him O.H.O., but rather an 'emergency acting O.H.O.'. The court (in 1985) knew full well that O.H.O. was an international office when it specified that McMurtry was O.H.O. "for the United States."

Several of the electing provisional IX°s had been explicitly forbidden to become active in the election of a 'Caliph': On 6 August, 1977, McMurtry had issued a 'Note of Nullification' to "announce, destroy, nullify, set aside, dispose of, and cast into oblivion any and all documents, dispositions, dispensations and/or other articles of authorization to elect a Successor to me as Caliph signed by me before this date." McMurtry specifically named Seckler, Smith, K.G.D*** and Lon Milo DuQuette.[345] This 'Nullification' was never afterwards nullified. Seckler and Smith, although the only 'fully activated' IX°s, were considered 'outsiders' and would not be 'officially recognized' until the 1980s (as mentioned before, they had to ask for recognition of membership in the 'Caliphate' which definitely makes this organisation a new O.T.O. version) and then brought back into the fold for the court case against Motta in 1985.



We know that we are not in a position to elect an O.H.O.

The 1917 Reuss 'Constitution' mandates that the O.H.O. appoint his or her successor and makes specific provisions for members of an appointed, but otherwise vaguely-defined 'Cabinet', to administer the affairs of the O.T.O.[346] until a successor takes possession of the office. But has nothing to say about a failure to appoint by an outgoing O.H.O.. Crowley did make such a provision in his 1913 'Constitution' for his own branch of the O.T.O. called 'Mysteria Mystica Maxima', which specified that the office of national chief executive of the British unincorporated association appoint his or her successor, but added that "In default of such appointment the Executive shall appoint a successor."[347] In the absence of any parallel provision for the international order, it appears to have been understood that those individuals who held the O.H.O.'s delegated executive authority should decide the question amongst themselves.[348]

Special Ninth Degree 'Caliphate' Election Held September 20–21, 1985.

The election took place in a Holiday Inn conference room, in Concord. Present were: Seckler, Smith,[349] Lon Milo DuQuette, Michael and Michelle Ripple, Wasserman, Heidrick, Graeb, Morton, Andrea Lacedonia Bacuzzi, DeWolfe. Candidates were Heidrick, Eshelman and William Breeze. Waiting in another room: Anthony Ianotti, Eshelman, Breeze. Also present: McMurtry's ashes (in an urn). Most of the participants were Provisio­nal IX°s until the moment McMurtry died. In fact, most had only reached the IV°, no 'full Temple' initiations having ever taken place into the VI° before 1985. Although they had blamed Karl Germer for not having waited a year and a day (according to misunderstood excerpts taken out of context by Gerald Yorke and Israel Regardie from 'The Constitution of the Order of the Thelemites') before 'ruling' over the leftovers of Crowley's O.T.O., they elected their new 'Caliph' just two months after McMurtry's death. This was William Breeze who was to turn the 'Caliphate' into 'O.T.O. Inc.' or 'O.T.O. International'.[350]

William Gary Breeze (born 12th August, 1955,) had studied music in New England and became a computer designer, founding his own firm in the early 1980s. On 20th June, 1981, he became McMurtry's "personal envoy [...] International Coordinator [...] opening diplomatic relations with such branches of O.T.O. as exist abroad," acting "as the Caliph's perso­nal representative [...] for the Dominion of Canada."[351] He took his Minerval in August, 1978, in Canada; I° on 5th April, 1979; II° on 1st November, 1980; III° on 8th July, 1981; Fourth & Perfect Illuminatus on 19th January, 1985. He jumped to full Ninth upon his election, on 21st September, 1985. In 1985 he co-founded 'Mystic Fire Video', which he left (in 1993), to concentrate solely on O.T.O. concerns.



Ultimately, the blueprint for claiming O.T.O. headship was established by Crowley, a self-proclaimed (in 1921) O.H.O.. McMurtry followed suit (around 1978) as did Grant (in 1955). Breeze did exactly the same thing as Metzger in Switzerland: both were 'elected' by their own group. Metzger's elevation (in 1963) to O.H.O. (elected by five people) was no different to that of Breeze (elected in 1985 by eleven members).[352] The main distinction between these O.T.O. variations-on-a-theme is that the Swiss O.T.O. had been active since the 1940s, while the 'Caliphate' was a new invention and the Typhonian O.T.O. re-structured its system completely.[353]

From that day to this the 'Caliphate' has tried to position itself as the O.T.O.. Breeze, with only 'experimental' experience in leading lodges, would soon rise to calling himself "Director of Rights and Permissions."[354]



The 'Caliphate' bought all possibly existing copyrights (so far as subsisting) from the Official Receiver (i.e. the English Crown) in 1991, for £3,000. In a letter dated 21st August, 1995, the Official Receiver confirmed that the assignment of 28th March, 1991, was intended to cover all the works of Crowley, including his illustrations and designs. An English court confirmed (in 2000) that this O.T.O. (i.e. the 'Caliphate') had bought all copyrights (so far as subsisting).[355] This decision and the acquisition of the copyrights has nothing to do with the question of whether the 'Caliphate' is the legitimate O.T.O. successor, or whether any O.T.O. body existed at all in a legal sense.[356] Anybody with his dog Rex could actually have bought the copyrights (so far as subsisting): the acquisition was the crucial part of the business. But this is the basis of the prevailing 'Caliphate' orthodoxy: according the court in L.A. they are the successors of the O.T.O., and therefore they are the legal owners of the Crowley copyrights. Even if any other legal authority should come to a different conclusion from the court in L.A, they are in any case copyright owners, because they acquired the copyrights from the Official Receiver in England. However, it is highly doubtful if it would suffice the 'Caliphate' to wave a photocopy of an English court's judgment under the nose of anyone they think is trying to infringe on their self-assumed 'rights'. As long as an alleged copyright infringer does not sign an unrestricted commitment to liability for damages, according to the legal opinion of the District Court in Berlin,[357] the 'Caliphate' is forced to fully disclose their acquisition of the Crowley copyrights in each and every case.

In 2000, Breeze threatened to sue Phyllis Seckler over A.·. A.·. matters. On 22nd June, 2000, she countered with a vitriolic letter containing accusations that he was "acting with religious intolerance and suppression." Eventually Breeze signed an affidavit (dated 12th July, 2000) that he would not "contest in a court of law the use of the name or lamen of the August Fraternity A.·. A.·.." However, during his (1985) election as 'Caliph', Breeze made the statement that "I really don't feel that a Caliph, with extreme exceptions, is necessarily true to his oath."



In England, on 31st January, 2003, the 'Caliphate' applied (under the Trade Marks Act of 1994) for registration of a series of four trade marks which, for administrative purposes, were split into two sets of two trade marks apiece.[358] On 26th January, 2004, Starfire Publishing Limited[359] filed a notice of opposition to the application, arguing that "O.T.O." (etc.) ought to be a generic term. On 06th August, 2007, the Hearing Officer stated he had "no intention of making a finding on the legitimacy or otherwise of the parties in this case. It is clear that there are a number of groups who follow the beliefs of Thelema or Thelemic Law that use the title Ordo Templi Orientis […]. The marks in suit therefore do not, and cannot, act as a trade mark denoting the goods or services of a single entity." On 03rd October, 2007, Breeze gave notice of appeal. On 06th June, 2008, the Appeal Officer ruled that the 'Caliphate's' registrations of the name and the lamen could proceed normally in the U.K., so overturning the previous decision in favour of Starfire Publishing. The decision being made on technical points of law and not evidence, nor was it a ruling on the validity of historical legitimacy.[360] This finding draws a distinction between the 'Caliphate' and the "society that called itself Ordo Templi Orientis in the early 20th Century." The body earlier known as Typhonian O.T.O. then assumed the name Typhonian Order — not far away from being called Oriental Typhonian Order.



Brazil before 1985

Euclydes Lacerda de Almeida was one of Motta's earliest disciples (from 1961) but when there was a coup in Brazil in 1964, during which the military established a dictatorship in the country, Motta was a cadet at the Military Academy in Rio de Janeiro — and all occult activity had to cease. Lacerda only managed to get back in touch with Motta in 1969, and the two eventually set up a small O.T.O. group called the 'Sociedade Novo Aeon' — founded in 1974, and legally incorporated as an association on 5th September, 1975. Lacerda was raised to the office of X° of the O.T.O. in Brazil, on 03rd November, 1974, but shortly afterwards Motta suspended him from the O.T.O. for five years. During Lacerda's brief reign as X°, Motta had started another O.T.O. group called F.A.A.O.T.O. ('Fundação A.·. A.·. e O.T.O.') together with Oséas Saturnino de Almeida, at São Paulo, in 1975.[361] On 19th May 1978, Kenneth Grant of the English Typhonian O.T.O. chartered Lacerda with the VII° of that group and, on 03rd July, 1989, furnished him with a Typhonian IX° (which was actually a confirmation of the IX° Lacerda had received from Motta on 25th March, 1974).[362] In 1979, the F.A.A.O.T.O. died with Saturnino de Almeida, and eventually Motta founded yet another group, called the 'Nuit Lodge of the O.T.O.' Motta's 'Sociedade Ordo Templi Orientis no Brasil' was a legally incorporated association, and also registered the O.T.O. lamen as a trade-mark in Brazil in 1976.[363]

Brazil after 1985

As a Brazilian citizen, Motta's visa renewal was denied and, in September 1985, he had to move back to Brazil from the U.S.. On the night of 26th — 27th August, 1987, Motta died of "myocardial infarction and pulmonary oedema"[364] before he could begin a planned journey to Europe.[365] He was buried at Petropolis, which is in hilly country near Rio de Janeiro. His bones were inter­red in an ossuary beneath a Roman Catholic chapel in the cemetery there.[366] His Last Will and Te­stament (dated 15th October, 1984), named William Robert Barden, Claudia Canuto de Menezes and Daniel Ben Stone (an attorney who had paid for all of Motta's lawsuits) as his heirs, with responsibility for continuing his version of the O.T.O. and to unanimously elect his successor or 'Follower'. He also declared that Martin Starr was never to be trusted again.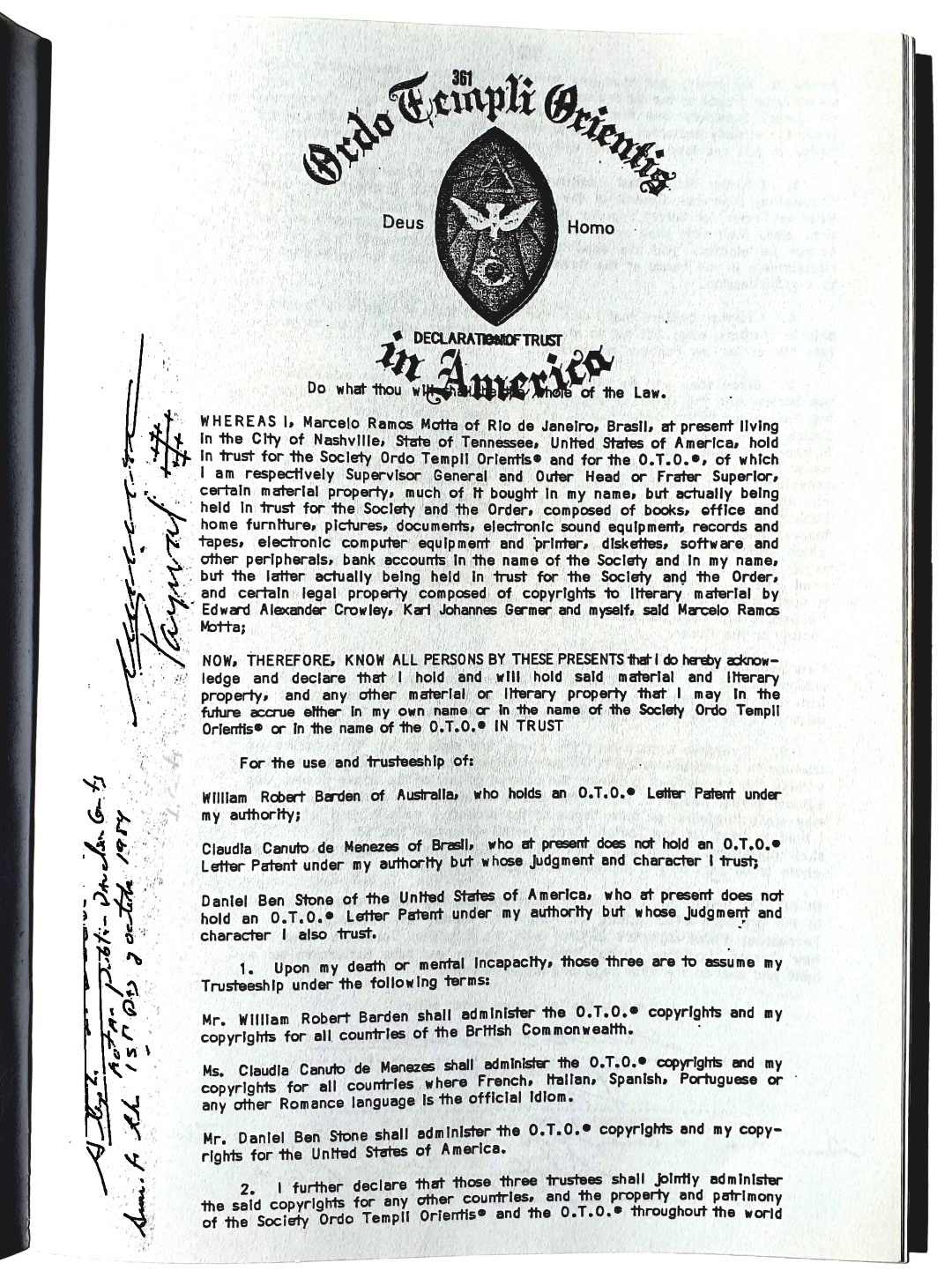 Motta's death caused a number of schisms. On 21st December, 1987, de Menezes parted company from both Barden and Stone.[367] Another former follower of Motta, one David L. Bersson (room-mate of Menezes), unilaterally proclaimed himself to be the "Frater Superior of the Entire World"[368] of the S.O.T.O. and 8°=3 "the Highest Grade Adept on Earth." Bersson had signed his first 'Oath and Task' in Motta's A.·. A.·. on 14th January, 1974, and his first S.O.T.O. 'Letter Patent' on 12th September, 1977. In 1981, he was personally trained by Richard William Gernon Jr. (1949–1989)[369] and earlier (in 1977) by J.D. Gunther (now Breeze's A.·. A.·. superior), although expelled by Motta[370] on 25th November, 1978).

Bersson expelled Barden,[371] Stone, and also William Heidrick![372] Stone was accused of having dug up Motta's corpse and eventually with having cremated it.[373] On the other hand, Stone had kept hold of Motta's archive without consulting Canuto or Barden, and left a handwritten note (dated 17th September, 1978) in Motta's empty house, which was found a day later by a surprised and infuriated Barden. Barden, in turn, expelled Stone (on 28th February, 1988) for his refusal to furnish details of Motta's bank accounts. Bardon then established the 'Foundation Parzival XI°' in Australia for raising funds to produce publications by and for those associated with both the S.O.T.O. and the A.·. A.·..[374] This annoyed the local 'Caliphate' membership no end and they immediately sought to persecute Barden with the help of an attorney — but nothing came of it. It is said that Barden died in early 2004.

Meanwhile, an American Motta disciple called Ray Eales (b. 1953, in Texas) was concentrating his efforts on Motta's A.·. A.·. (now active as H.O.O.R. group in the U.S.).[375]

It is remarkable just how many of the leading figures in the 'Caliphate' rescension of the O.T.O. were once pupils of Motta. Even today, Motta's original X° appointee Euclydes Lacerda[376] is viewed as the "Senior Brother in the A.·. A.·." by many 'Caliphate' adherents. Lacerda became a 0° of the 'Caliphate' on 17th December, 1995. But after 11th September, 1996, Lacerda severed his links with every O.T.O. group (including the Typhonian O.T.O.), since he considered the O.T.O. per se to be redundant. He is now the leader of his own 'Thelemic Knight Templar Order,' which uses Motta's rituals.[377] Euclydes died on 24th June 2010. Today, there is no longer any Brazilian Typhonian O.T.O..



Probably as a result of the court cases against Walter Englert and the publication of Ed Sanders's book 'The Family', in 1972, a virulent campaign against the "bastardised monastery of Appenzell" began in the German-speaking tabloid press, led by journalist and author Horst Knaut. It is hardly surprising that the tabloid press' flushing the Stein community out of its previous obscurity had a huge effect on both the management and residents of the Gasthof Rose. Regular guests stayed away whilst new and unfamiliar ones turned up purely out of prurient curiosity, these making what were remembered as "unflattering remarks." In the evenings, people would creep up to the buildings at the Gasthof and peer in through the windows and doors to see what the inhabitants might be up to inside. In Stein, the villagers still remember how one day a young local farm-hand, rather the worse for drink, had mounted a genuine cavalry charge against the Abbey of Thelema, armed with a pitchfork. As a result of all this unwanted attention, Metzger and his girlfriend Anita Borgert sued Knaut for libel; the court even went so far as to conduct a "search of the accused, Knaut's, dwelling and workplace."






Hermann Joseph Metzger + Anita Borgert (Ordo Templi Orientis) versus Horst Knaut (Journalist) [From: 'SATAN — Jünger, Jäger und Justiz']



The journalist was found guilty, but only in the matter of one sentence in an article dated 20th February, 1975, which spoke of a "holy sex-Mass [...] which was merely a prelude to blasphemous sex-orgies and Black Masses which took place later." Metzger and Borgert lost on seven out of eight counts, but Knaut still had to pay the combined legal costs, as well as compensation. As a result of this, and the completion of some extravagant renovations at the Abbey of Thelema, Annemarie Aeschbach's savings were running short. The public works — printing and publishing, a film club, a mail-order business, and the hotel-cum-health resort — had already been discontinued. Interviewed in local church and parish magazines, the Abbey's inmates distanced themselves from "that most deranged of insane names — Crowley." They were at great pains to emphasise that they no longer acknowledged him in their letters to the editors of directories and reference works. As the Abbey had unwisely ignored some bye-laws relating to land useage, the local Federal Council made compulsory purchases of parts of the property (in 1978 and 1979). Very few seminars or lectures were being held by then, and by 1980 they had ceased altogether; this was when Frau Borgert left Stein. The Restaurant Rose and other buildings in the grounds were leased out during the following year to, the World Wildlife Fund. After 1981, an 'East Swiss Agricultural Centre,' with a yearly turnover of 200,000 Swiss francs, and a cultural programme very much like the Abbey's original public events, were inaugurated by the WWF. Then, the 'Tages-Anzeiger' newspaper in Zuerich reported (on 22nd September, 1989) that the proprietress of the Gasthof Rose (still Fraeulein Aeschbach) had cancelled the World Wildlife Fund's lease, as she wished to "take over the property for her own use." Once more there were sufficient members available, able to bear the costs of the former Restaurant Rose.

Metzger died on 14th July, 1990, of a pulmonary embolism "after lengthy sufferings and great misfortunes." He left a power vacuum out of which emerged two concurring camps within the Swiss O.T.O.. One was led by Markus Kumer, who made an unsuccessful bid to open the group to the public again with a "Society for Humanitarian Research" (doubtless adapting it to the prevailing 'New Age' zeitgeist). The opposing group was led by a teacher called Olaf Raederer; both Raederer and Kumer were then resident in Austria. But Annemarie Aeschbach, who had supported the Swiss O.T.O. financially since the early 1950s, rose to the occasion and assumed leadership for the time being, since Metzger had named his successor neither verbally nor in his Will.[378] She transferred (with two removal lorries) all her household furniture and goods from Zuerich to Stein. The printing presses were dismantled and the "Aeschbach-Stiftung" was founded on 21st November, 1995.

In 1999, Breeze sent a letter for Fraeulein Aeschbach to sign, which acknowledged him as O.H.O.. Of course, Fraeulein Aeschbach had no intention of signing such a document and a month or so later she rewrote the letter, removing all mentions of the O.H.O., but agreeing not to pursue any copyright claims:

"The Psychosophische Gesellschaft is a registered association in accordance with SZGB, Art. 60ff. It was founded by Hermann Jos. Metzger in 1945.

"From the Bylaws § 2/ II Purpose:

"As a second purpose, the Psychosophische Gesellschaft, in accordance with the object of an upholding association, has taken on the talk to facilitate and maintain:

"a) The existence of the Ordo Illuminati, the World Federation of Illuminati.

"b) The tradition of the Gnostic Catholic Church

"c) Research Groups, Research Projects about initiatory currents which are related to the traditions named under a) and b) as, e.g., the 'Ordo Templi Orientis', the 'Rosicrucians', etc.

"Since 1954 we have published — on behalf of Karl Joh. Germer — works by Aleister Crowley in German under the Copyright 'Genossenschaft Psychosophia' and 'Verlag Psychosophische Gesellschaft', actually in the succession of 'Thelema' publishing house, Leipzig, Martha Kuentzel etc.

The OTO registered in California[379] led by Grady McMurtry, today led by William Breeze had published works by Aleister Crowley in beautiful and original presentation during the last years. They have thus proven that they are both willing and able to deliver the literary work by Aleister Crowley in a worthy fashion.

"In order the simplify the handling of the copyrights, in order to leave them centrally in one hand, and being convinced that the OTO will fulfil its task diligently, we non-contentiously abandon any demand for the copyrights with respect to the works by Aleister Crowley on behalf of the OTO California[380] currently led by William Breeze."

Fraeulein Aeschbach duly signed the revised version on 08th April, 1999. She died in April 2008.

The Gnostic Catholic Church's Crowleyan Masses are performed, without a break, as usual, on alternate Sundays. The museum and library remain active, as do Order operations. The finances have been merged with those of the Aeschbach-Stiftung,[381] which is overseen by the cantonal authorities and run by a Foundation Committee, headed by Ernst Graf and Adalbert Schmid: The latter looks after the library[382] and the estate business. Besides being the new president of the Psychosophische Gesellschaft, Graf is also its vice-president. A financial cushion results from the sale of the Haus Schedlern, where Fraeulein Aeschbach used to live; this also overcame any financial hurdles that might have thwarted the Society's successful continuation. New members were also taken on.