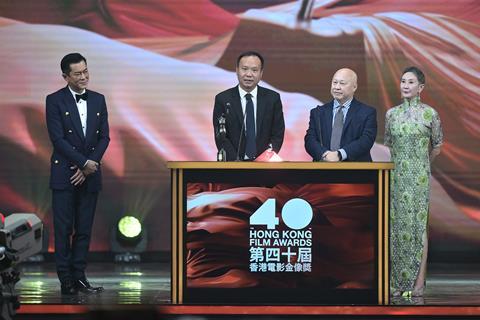 Action thriller Raging Fire has won best film and best director for the late Benny Chan at the 40th Hong Kong Film Awards (HKFA). Other big winners were biopic Anita and noir thriller Limbo.
The event took place last night (July 17) as the HKFA's first in-person ceremony since 2019 and was well attended by stars and leading film industry figures.
Scroll down for full list of winners
Raging Fire, in which Donnie Yen plays a cop who clashes with a former protege, marked the final film of veteran director Chan, who died of cancer in August 2020 during post-production. The film also picked up best editing and action choreography to bring its total haul to four awards. Yen was among the four winners named in the choreography category and was also a producer on the feature.
Raging Fire proved a commercial hit in both Hong Kong and China when it was released in August 2021, presented by Emperor Film Production, Tencent Pictures Culture Media and Sil-Metropole Organisation.
This year's awards were more evenly distributed, with no one film dominating the event. Anita, a biopic of Canto-pop legend Anita Mui directed by Longman Leung, received the highest number of prizes with five wins. Louise Wong was named best newcomer for playing the title role and Malaysia-born Fish Liew took best supporting actress for playing her sister, Ann.
The film, mostly set in the 80s and 90s, was also recognised for recreating the old Hong Kong, winning best costume and make-up design, best visual effects and best sound design. It was the highest grossing local film in Hong Kong last year, taking $7.8m at the box office.
Soi Cheang's crime noir Limbo went into the ceremony at the head of the pack with 14 nominations and came away with four awards. Mainland Chinese actress Cya Liu won best actress for her role as a homeless girl hunted by a serial killer. The other three awards were best cinematography, best art director and best screenplay. The film premiered in Berlinale Special in 2021.
Patrick Tse won best actor for his performance as a retired contract killer in black comedy Time. The 85-year-old is the oldest best actor recipient in HKFA's history and has an acting career that dates back to 1952's The Stormy Night.
The youngest winner was 17-year-old Fung Ho Yeung who took best supporting actor for playing teenage Paralympian So Wa Wai in Zero To Hero, while actor-turned-director Chan Kin Long was named best new director for Hand Rolled Cigarette, which includes a cash prize of HK$100,000 ($12,700).
Iconic comedian, writer and director Michael Hui was presented with a lifetime achievement award. He earned the best actor award at the very first edition of the HKFA in 1982 for Security Unlimited. He is also known for Games Gamblers and The Private Eyes in the 1970s. More recently, he had a starring role in Taiwanese director Chung Mong-Hong's road movie, Godspeed.
Veteran editor Tony Chow received a professional achievement award. Chow, known as Golden Scissors, is a multiple best editing award-winner at HKFA and the Golden Horse Awards. He is also an all-rounder filmmaker, having served as executive producer, distributor and post-production professional among other roles.
This year's ceremony started with the award presentation of the 39th edition, which was called off as the Covid-19 spread at the beginning of the pandemic in 2020. The results were only announced online by HKFA chairman Derek Yee. The biggest winner of that year was Derek Tsang's Better Days, which won eight awards and went on to be shortlisted for the Oscars. Last year's HKFA was cancelled due to the pandemic.
40th Hong Kong Film Awards winners
Best Film: Raging Fire / Pros. Benny Chan, Donnie Yen
Best Director: Benny Chan, Raging Fire
Best Screenplay: Au Kin Yee, Shum Kwan Sin, Limbo
Best Actor: Patrick Tse, Time
Best Actress: Cya Liu, Limbo
Best Supporting Actor: Fung Ho Yeung, Zero To Hero
Best Supporting Actress: Fish Liew, Anita
Best New Performer: Louise Wong, Anita
Best Cinematography: Cheng Siu Keung, Limbo
Best Editing: Curran Pang, Raging Fire
Best Art Direction: Kenneth Mak, Renee Wong, Limbo
Best Costume & Makeup Design: Dora Ng, Karen Yip, Anita
Best Action Choreography: Donnie Yen, Ku Huen Chiu, Tanigaki Kenji, Li Chung Chi, Raging Fire
Best Original Film Score: Ryuichi Sakamoto, Love After Love
Best Original Film Song: One Second Champion / Composer: Endy Chow, Chiu Sin Hang @ToNick
Best Sound Design: Tu Duu-Chih, Wu Shu-Yao, Anita
Best Visual Effects: Yee Kwok Leung, Garrett K Lam, Raymond Leung, Candy Hung, Anita
Best New Director: Chan Kin Long, Hand Rolled Cigarette
Best Asian Chinese-Language Film: American Girl