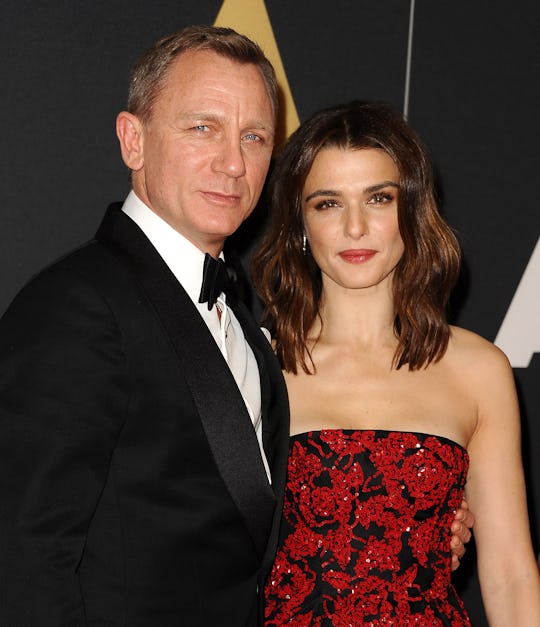 Jason LaVeris/FilmMagic/Getty Images
Everything You Need To Know About Daniel Craig's Wife & Kids
The Glass Onion actor is a fiercely private about his family life.
Daniel Craig is one of those actors whose own name can sometimes feel bigger than his roles. As the man who embodied James Bond and played Detective Benoit Blanc in The Glass Onion: A Knives Out Mystery, he is instantly recognizable as himself more than anything. Which could explain why Craig has been so careful to keep his life with his wife and children private. Especially since he is married to a powerhouse performer in her own right. Here's what else you need to know about the actor's loving family.
Daniel Craig first met his wife, Rachel Weisz, in the '90s.
Craig, 54, was an up and coming actor when he first met Rachel Weisz in the '90s. The two were cast in Les Grandes Horizontales at the National Theatre Studio in London, but Craig was married to his former wife Fiona Loudon at the time. Nearly 20 years later, the two were cast as a married couple in the movie Dream House in 2010, and this time around they were both unattached. As Dream House producer Ehren Kruger told MTV News at the time, "There is method acting and I guess there is matrimonial method acting. They were playing the roles as professional, and it went from there."
In 2011, Craig and Weisz married in a private ceremony where there were reportedly just four people in attendance, according to British GQ. Two friends, and perhaps most importantly, their children. "We got away with it," Craig told the magazine. "We did it privately. And I've got a lot of people to thank for that."
Craig's oldest daughter Ella is a model.
Craig welcomed his oldest child, daughter Ella, with now-ex-wife Fiona Loudon in 1992. The pair divorced two years later in 1994, but continued to co-parent Ella. Today, Ella Loudon is a model and actress in her own right who has joined her father on the red carpet more than once, most recently for the British premieres of Glass Onion and No Time To Die.
He is stepdad to Weisz's son Henry.
When Weisz and Craig married in 2011, he became a stepdad to her then-5-year-old son Henry, who she co-parents with her ex, Darren Aronofky. Being Henry's mother has been a transformative experience for Weisz, one she wasn't sure she would repeat. "When I had my son, I thought I'd have maybe two or three more," she told The Daily Mirror at the time. "But the preciousness of a new life and family means so much more now I'm more mature and older. My son was a miracle and it was an incredible experience."
Craig and Weisz welcomed their first baby together in 2018.
In 2018, Weisz confirmed that she and Craig were expecting a baby together. "I'll be showing soon," the actress said at the time, adding, "Daniel and I are so happy." They welcomed a baby girl, and the intensely private couple have yet to share their baby girl's name. But one thing we do know; Weisz thinks their daughter looks just like her father. "She does look very like him," she told Stephen Colbert at the time. "She really does."
Ella might have accidentally revealed her sister's name.
Back in 2020, Ella took to her Instagram Story to share a lovely gingerbread house made for her family. And accidentally revealed her baby sister's name. As The Sun reported, the gingerbread house featured the names Daniel, Rachel, Henry, and Ella along with an extra name, Grace. Could this be little Grace Weisz-Craig? Her parents are not saying.
He's not leaving his kids any money.
As much as Craig loves his children, he has no plans to leave them an inheritance. Or at least he didn't back in 2021, when he said he found it "distasteful" to pass money along to his kids. "I don't want to leave great sums to the next generation. I think inheritance is quite distasteful," Craig told Candis Magazine at the time. "My philosophy is get rid of it or give it away before you go."
Daniel Craig is a man who carries his baby.
Piers Morgan made news in 2018 when he mocked Craig for being seen in a paparazzi photo wearing his daughter in a baby carrier on his chest, and the actor did not dignify his complaint with a response. Because he's not just intensely private about his family, he also takes care of them. As a real dad is meant to do.