Tours
New York Amusement Parks
A great way to spend a day with the family, New York amusement parks are sure to thrill and entertain you. Enjoy roller coasters, Ferris wheels, carnival games, cotton candy and more when you visit theme parks in New York. This is your guide to every amusement park in New York.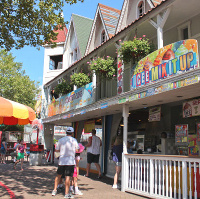 Adventureland
Serving New York for Over 50 Years
Since 1962 this family amusement park has been delighting Long Island residents with its thrilling coasters, fun games and great atmosphere. Along with their thrill rides that are appropriate for adults and older kids, there are many rides for younger visitors as well. The Kiddie Carousel, Caterpillar and train are great fun for small children.
A restaurant is in the park along with many concession stands and stations where you can buy food, snacks and drinks. Take a break from the exciting rides out in the sun, and stop by the arcade for a game of Guitar Hero or to win a prize from the crane game. Admission to the park is free, but tickets or a pay-one-price bracelet are required for each ride.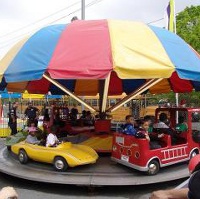 Adventurer's Family Entertainment Center
A Fun Day Out for the Family
This family amusement park has lots of fun rides and games for people of all ages to enjoy. This park has many typical carnival rides such as Tilt-A-Whirl, The Scrambler, bumper cars and a large fun slide. Alongside these rides are some less common attractions such as The Flipper where riders are turned at all angles, and the Cyclone Racer, the park's newest ride.
Several rides for young children are available including a mini-coaster and merry-go-round. Win a prize at one of the carnival throwing games - how's your aim? Spend a whole day there! Food and drinks can be purchased at the concession stands so you don't even have to leave for lunch.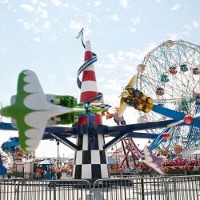 Luna Park
Coney Island's Newest Attraction
The newest amusement park to be built on Coney Island, a place famed for its rides and entertainments, Luna Park is a state-of-the-art park with a huge range of rides. Rides come in all levels of thrill and speed so no matter what you like, there will be something there for you. Luna Park is also home to the famed Cyclone roller coaster, a New York City Landmark that has been eliciting screams from riders since 1927.
Entertainers and performers delight visitors every weekend on Luna Park's Dreamland Stage. See magic tricks, acrobatic feats and hilarious comedians bring smiles to all onlookers. Stop at one of the restaurants or concession stands for a bit of refreshment before getting in line for your next coaster.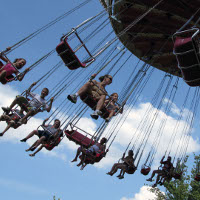 Rye Playland
One of the Best Amusement Parks in NY!
Rye Playland has made a name for itself as one of the premier amusement parks in New York. For nearly 85 years Playland has brought thrills and entertainment to families in the area. If you are visiting with small children, head for the Kiddyland section of the park where all the rides are young child friendly. For something more thrilling, coasters such as the Dragon Coaster, Super Flight or Starship 2000 will be sure to make you scream.
Concerts and other events are scheduled regularly throughout the season, so even when you want a rest from speeding through the air on a ride, you can still find something to entertain you. Playland is open May through September.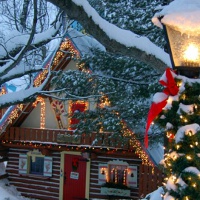 Santa's Workshop
Amusement Park from a Fairy Tale
This charming village and amusement park is located in "North Pole, New York" and is built in the style of a storybook village. Specifically geared toward young children, most of the attractions and rides have a *maximum* height limit of 48 inches. Kids will love riding the Christmas Tree Ride and the Candy Cane Express or jumping around in the Yuletide Bounce House.
One of the first theme parks in the United States, Santa's Workshop has been in operation for over 60 years. Storybook characters roam the park and kids will love meeting them and watching the shows they put on. Despite its seasonal theme, this amusement park is open year round.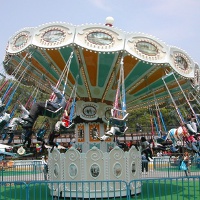 Victorian Gardens
Fun for Small Kids and Tweens!
This small New York amusement park is located within Central Park mere minutes away from the rest of the city. Now you don't have to travel far to find rides, carnival games and cotton candy. Bring your kids for an afternoon of fun riding the park rides or winning prizes at the challenging games.
Regular entertainment in this amusement park includes balloon twisters, magicians, face painters, jugglers and clowns. Your kids will love visiting Victorian Gardens. Open from the end of May through the beginning of September, Victorian Gardens turns into an ice-skating rink during the winter.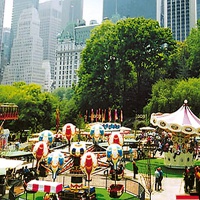 Victorian Gardens at Wollman Rink
Fun in the Heart of the City
Bring your family to Victorian Gardens for a day of fun and entertainment. Located in beautiful Central Park near 6th Avenue, this small amusement park has delighted children for nearly 10 years. Despite its small size, Victorian Gardens manages to have fourteen exciting rides for kids of all ages.
You don't need to travel outside the city to have a day of fun with kids. Regular entertainment such as clowns, jugglers, magicians, musicians and actors appear to delight children and adults. Carnival candy and snacks are available at the concession stand to complete the amusement park experience. This New York amusement park is open from Memorial Day to Labor Day.