BET's Rip The Runway 2008+Etta James Says Beyonce Aint Ready For HER Jelly
​
Feb 22 | by Natasha
​ ​ ​ ​

BET's
Rip the Runway 2008
went down last night at Hammerstein Ballroom.  I really hope
Diddy
made an announcement that he's snatching
Cassie
off record making and giving her an exclusive modeling contract for Sean Jean.  It would really be helpful to my ears and nerves.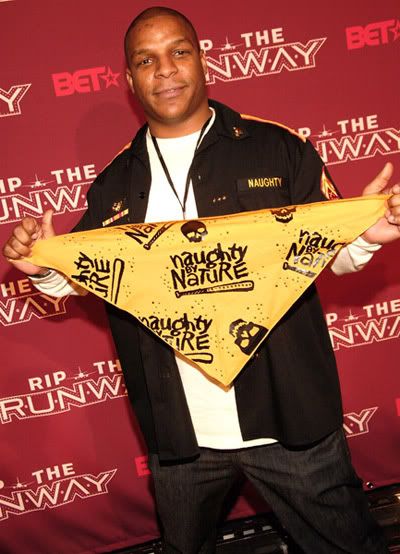 You trying to make a comeback
Vinny
?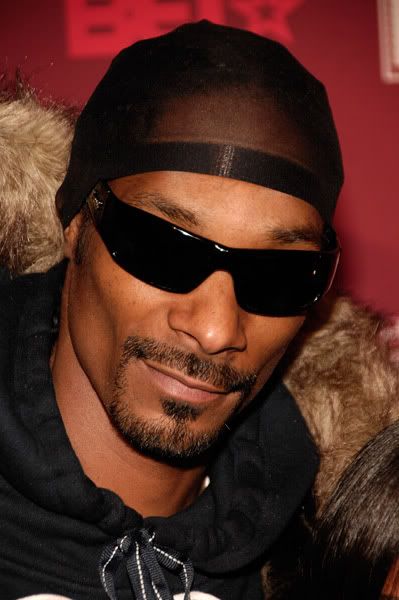 Snoop
and his wife
Shante
hit the red carpet.
Our favorite "I'm selling my draws with my natural scent for $25" video chick
Rita G
was there.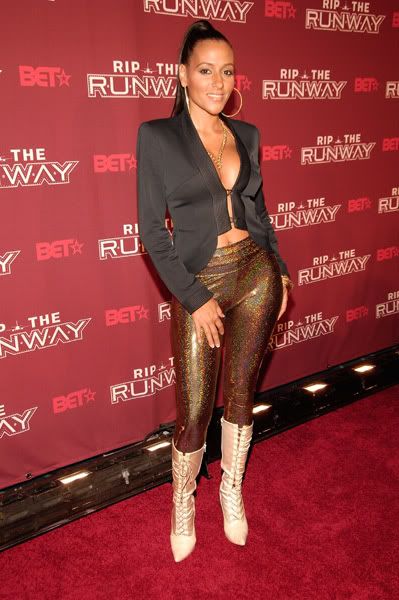 And WTF is really going on here?  I know video chicks only get paid so much per piece of clothing they're not wearing per video, but damn.  Didn't
Kanye
hook you up enough to buy you 1 complete outfit so you don't need to piece together 4 different ones?  I'm just sayin'.  Chick is seriously looking like a backup drummer for Gem and The Holograms.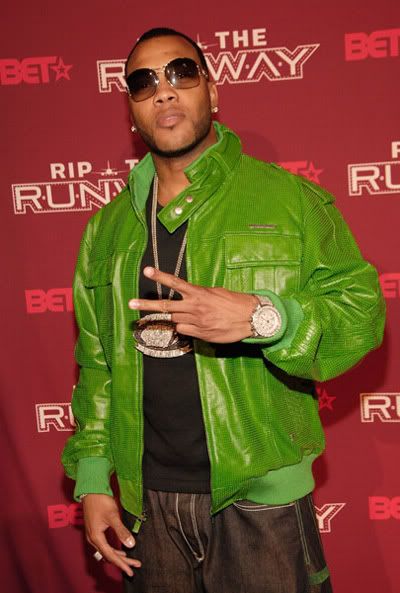 Flo Rida
 was there.
YBF hip hop chick
Teyana Taylor
was there to perform.
So dudes are bringing their puppies on red carpets now?  That's so not gangsta Terrance.  You would think he and
Rocsi
would be trying their damndest to  lower their wack factor.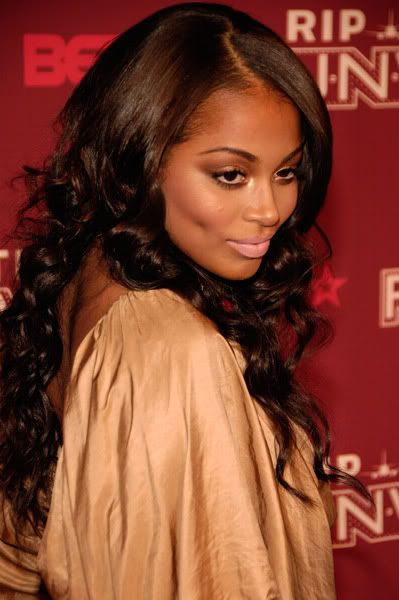 Lauren London
looked fabulous as usual.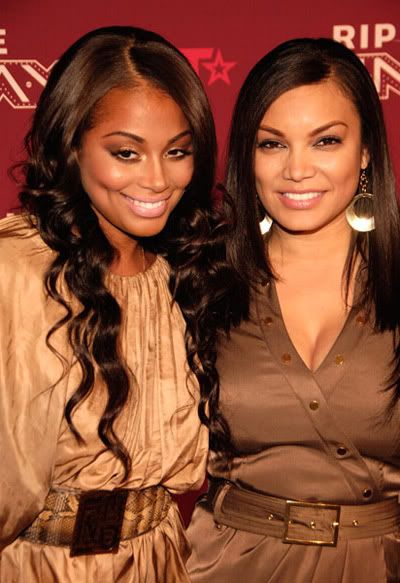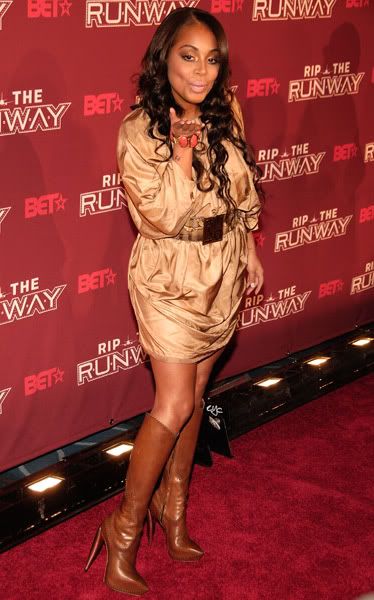 Loves this whole Sean Jean Women's look she's rocking.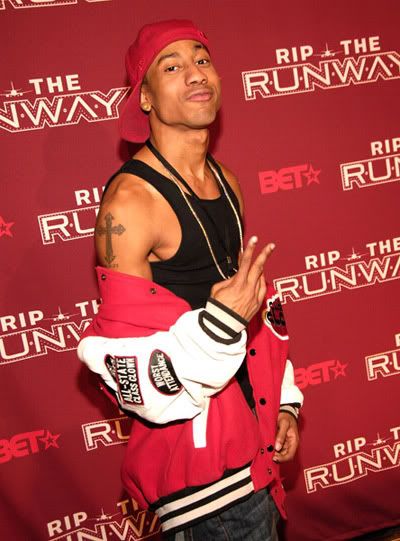 So "
Brandon T
." is it?  This is not a photoshoot or a video boo.  Plus,
Nick Cannon
already has the skinny bird-chest with a dab of arm muscle always in a wife beater look on lock.  Sorry.
Debra Lee
was there looking out of place as usual.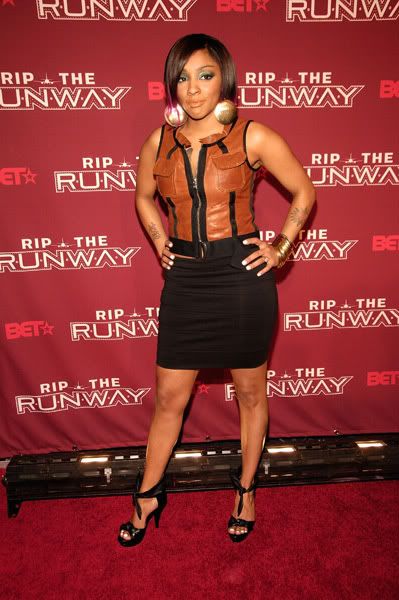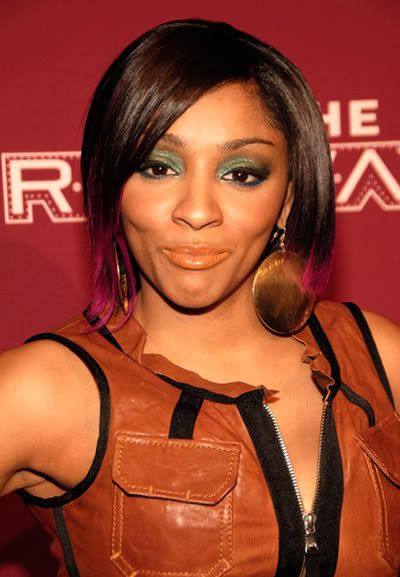 Cheri Dennis
is killing me with this continuous Rainbow Brite look.  Me likey the Lamb shoes though.
John Legend's
new artist
Estelle
was there. So was
Pharrell
and
N.E.R.D
.:
Trey Songz
and
Juelz Santana
made an appearance. Please stop it
T-Pain
: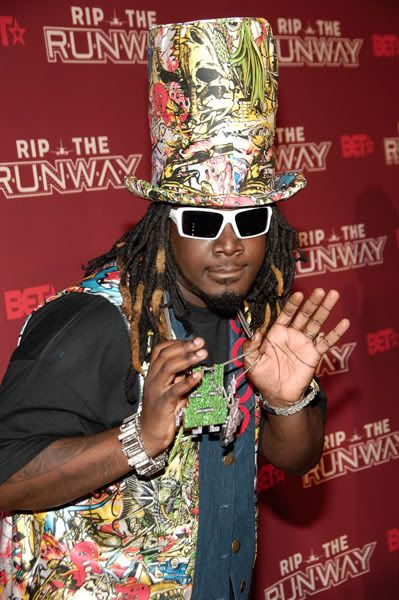 You look foolish.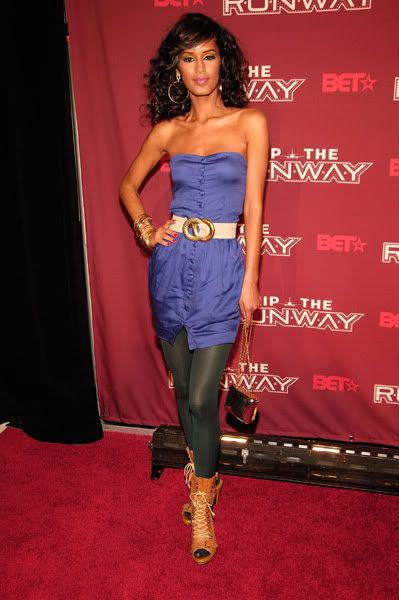 Jaslene's
another one who's a victim of piecing together outfits.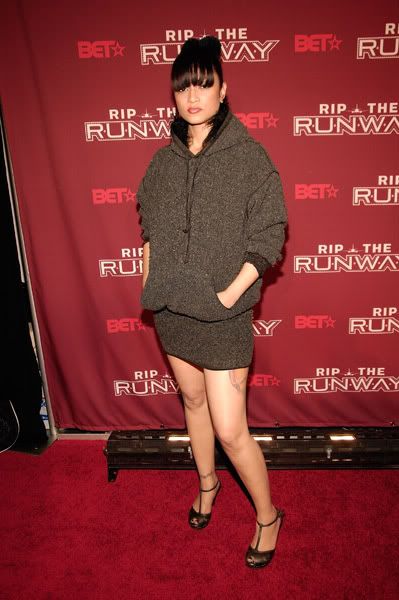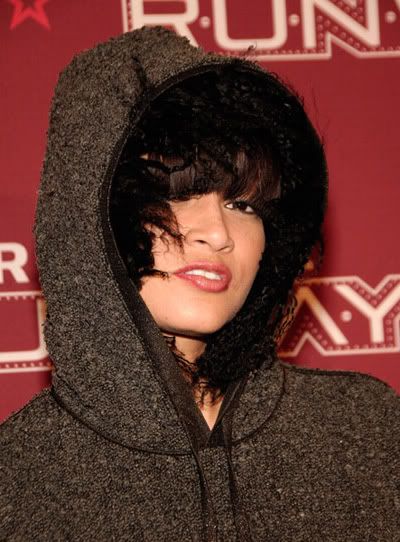 Where have youuu been
Charli Baltimore
?  I do find it extra interesting she came out of hiding to hit the BET runway.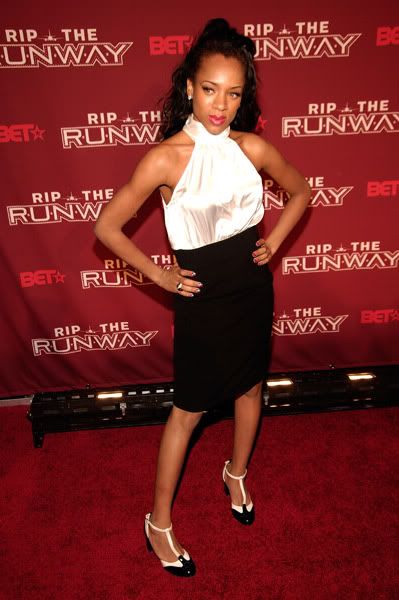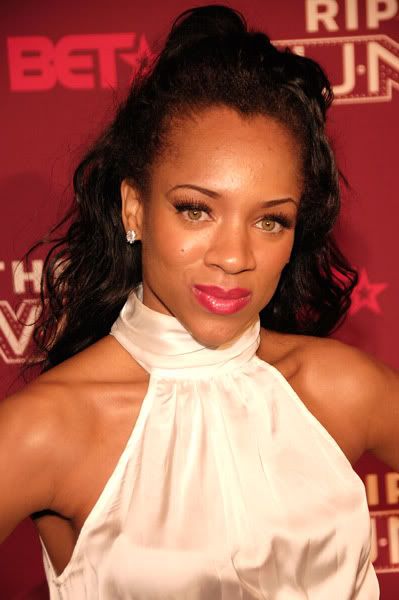 Lil Mama
is still playing around in somebody's makeup bag.  And that ish needs to be stopped.  ASAP.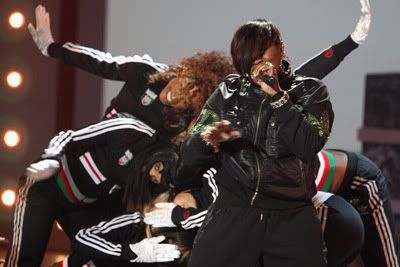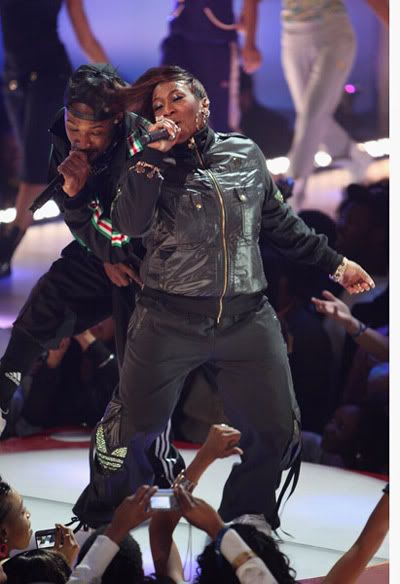 Missy
performed during the show.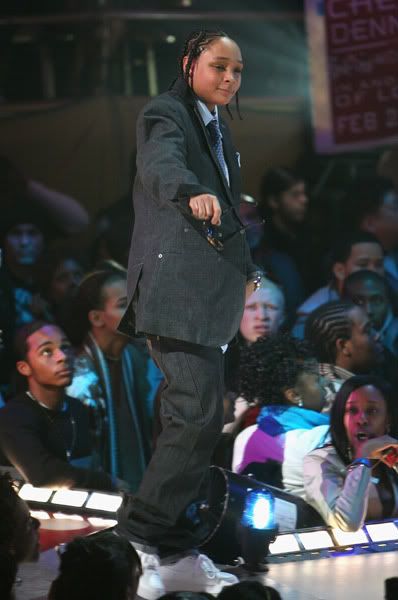 Snoop
from
The Wire
modeled for Sean John.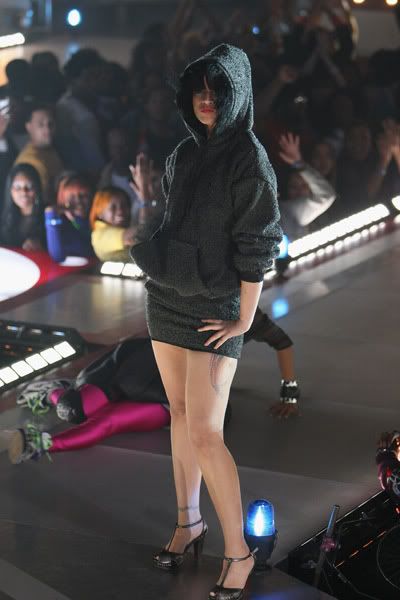 Charli hit the runway too.
N.E.R.D. performed.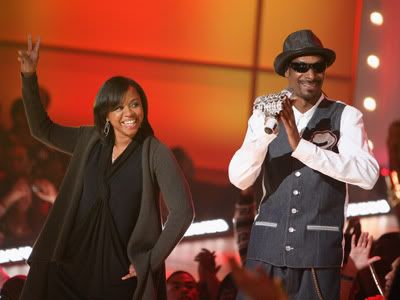 And I really hope
Shante
wasn't debuting anything from her
Boss
Lady
or CoCoCheri line or whatever.  That ish she conveniently advertises on
Fatherhood
looks nothing short of extra homemade.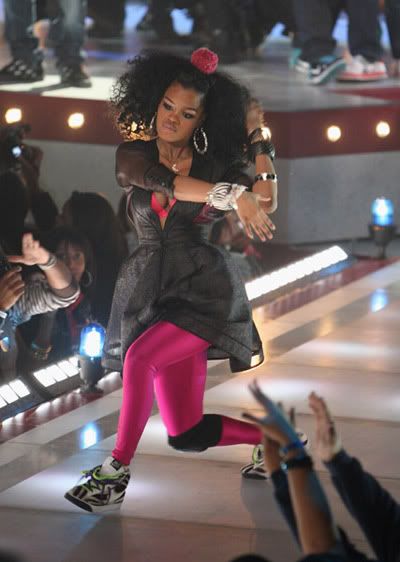 Teyana performed. And Lauren and
Nelly
hosted: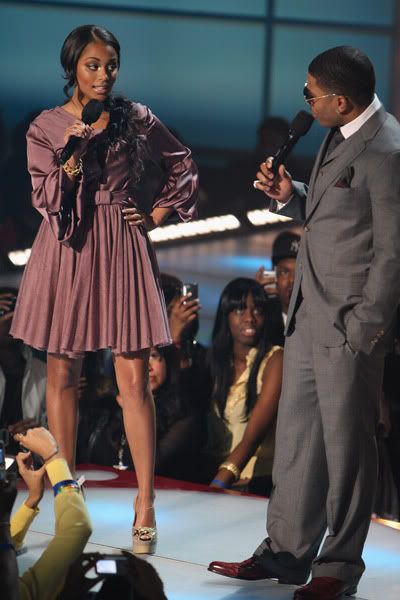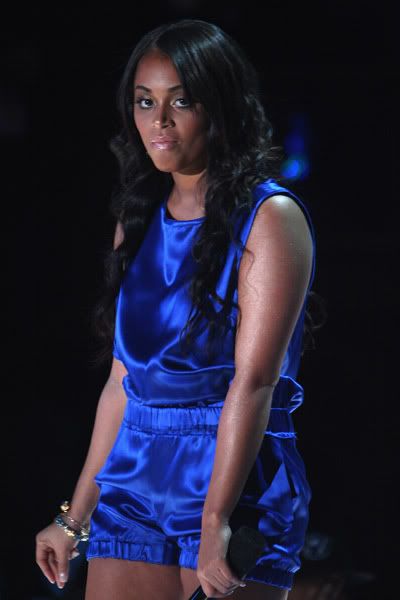 Photogs: Wargo/G. Gershoff 
Fab.  The show will air on BET March 4th at 9p est.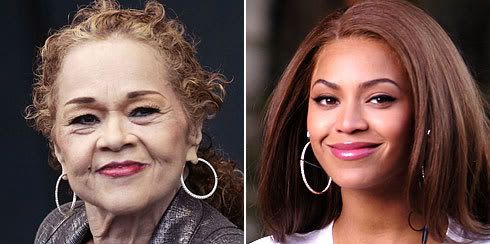 And in other news,
Etta James says Beyonce has some things to work on
before B plays her in her life story.
It's a privilege and an honor to have somebody like that girl. I don't think she looks like me, but that's all right. They can fix that up...I wasn't as bourgie as she is, she's bourgeois. She knows how to be a lady, she's like a model. I wasn't like that... I smoked in the bathroom in school, I was kinda arrogant, so those are some of the things I would want to tell her.
She also says she wonders if Beyonce will be able to do a song the way she could....and she'll teach her a few things.  Gotta love her.
​ ​
​ ​ ​