9 Hallmark Christmas Movie Sets You Can Visit In Real Life
These magical small town settings from your favorite holiday flicks really do exist!
Cozying up with a blanket, sipping a delicious cup of hot cocoa (or Christmas-themed wine) and watching a feel-good Hallmark Christmas movie sounds like the ideal way to unwind. As a matter of fact, it sounds like the perfect day in our book. Often, the films are set in quaint, small towns decked out for the holiday season and filled with all kinds of quirky personalities you can only find in a tight-knit community.
Happily, the Hallmark Channel is starting their countdown to Christmas on October 22. Some may say that's a bit early, but we're all in! If you're that fan who has a running list of favorite Hallmark movies, imagine experiencing that small-town movie magic in real life. It turns out, you can! The majority of Hallmark movies are filmed in Canada (didn't see that one coming) and typically set in larger cities near Vancouver. Some filming locations have even gone so far to cross the pond. For example, Christmas in Vienna really was filmed in Austria. But a few of the filming locations for your favorite holiday flicks are charming, small towns located in the United States too.
So, time to start planning an epic holiday road trip! You can also do some arm-chair traveling with Hallmark's "Countdown to Christmas" treasury, which includes behind-the-scenes tidbits, holiday recipes, and more. If you're looking for even more behind-the-scenes small town magic, check out the real-life filming location of the Netflix hit Sweet Magnolias.
1 A Christmas Tree Grows in Colorado (2020)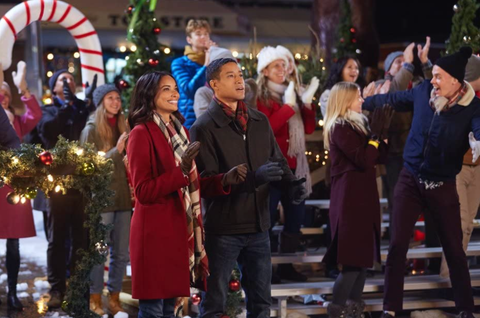 Hallmark Channel
The Setting: Hope, British Columbia, Canada
In a mountain town called Brooklyn, Colorado, Erin Chambers is tasked with planning the town's Christmas festival. As the director of community development at the mayor's office, she wants to help promote holiday tourism following the town's economic downturn after two factories close. In search for the perfect Christmas tree for the town's tree lighting ceremony, she finds the perfect spruce and in the process falls in love with local firefighter, Kevin Snyder.
2 Christmas Wishes and Holiday Kisses (2019)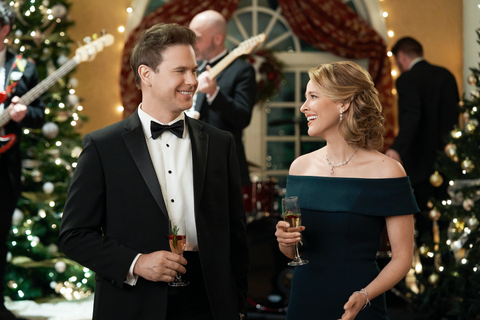 ©2019 Crown Media United States LLC/Photographer: Josh Stringer
The Setting: Monroe and Marietta, Georgia
This film sees an interior designer take on the ambitious project of redecorating the grand Sinclair Estate—home to the handsome CEO of Sinclair Enterprises—in time the Christmas Eve gala that could make or break the company. It was filmed in the Georgia towns of Monroe and Marietta, the later of which was transformed into a Christmas wonderland for the shoot. Marietta does host a Christmas tree lighting on its square every year, with musical performances and a visit from Santa. Monroe also hosts an annual Christmas Parade.
3 Christmas in Conway (2013)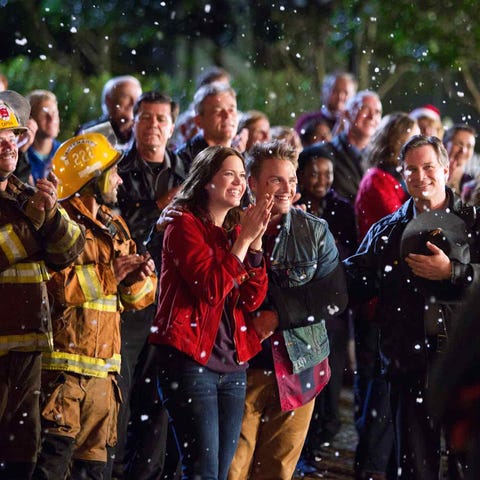 Copyright 2013 Crown Media United States, LLC/Photographer: Erik Heinila
4 Moonlight & Mistletoe (2008)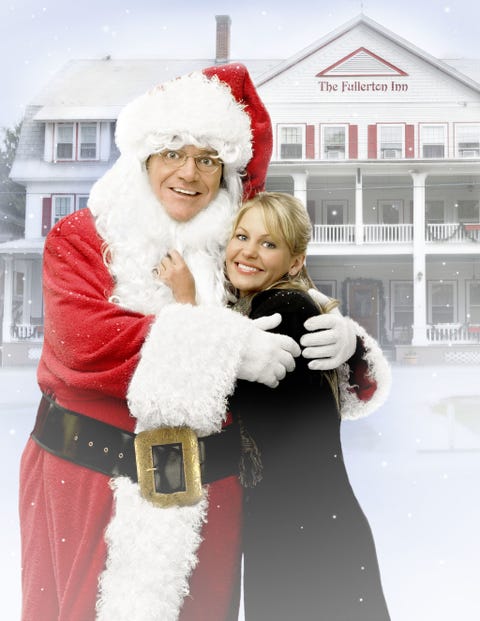 E.J. Camp
The Setting: Chester, Vermont

In this fan favorite, Tom Arnold and Candace Cameron Bure (aka the queen of Hallmark Christmas movies) play a father and daughter fighting to save their Christmas village, called Santaville. It's fitting that a story this charming would take place in the small New England community of Chester, Vermont (population 3,000), known for its historic "stone village." The local Fullerton Inn was featured in the film, as was the front of Hugging Bear Inn, which served as "Santa's house."
5 A Christmas Wish (2011)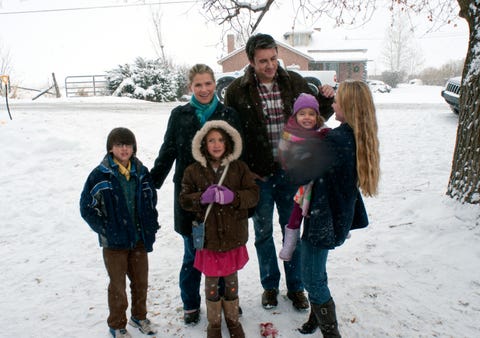 © Crown Media United States, LLC
The Setting: Mapleton, Utah
Kristy Swanson (perhaps best known for portraying Buffy the Vampire Slayer in the 1992 cult classic) stars as Martha Evans, a mother of three whose husband abandons the family during the holidays. Martha and her kids start over in a small town, which in real life is actually Mapleton, Utah, a mountain town located eight miles south of Provo. The snow seen in the movie is apparently real—Deseret News reported that it snowed throughout the three-week shoot. The diner owned by Les (played by Edward Herrmann of Gilmore Girls), where Martha scores a job, used to be Mapleton's Model A Cafe, but the roadside eatery has since closed.
6 Christmas In Homestead (2016)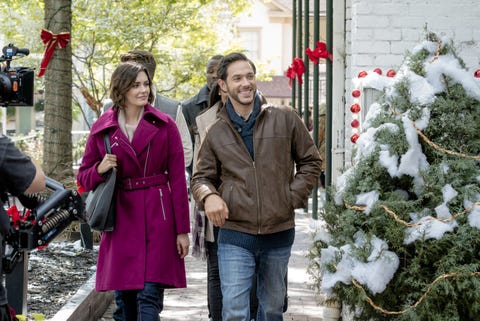 Curtis Bonds Baker
The Setting: Dahlonega, Georgia
Although supposedly set in the "Christmas-obsessed town of Homestead, Iowa," this holiday rom-com was actually filmed in Dahlonega, Georgia (population 6,437). The movie follows a famous actress, who goes on location to shoot a holiday movie in the small town and winds up falling in love. In real life, Dahlonega is actually pretty Christmas-obsessed. The town hosts a month-long celebration with daily activities including a lighting ceremony, an old-fashioned Christmas parade, visits with Santa, a Christmas Market on Candy Cane Lane, and more. Interestingly, Homestead, Iowa (population 148), is a real place, too—and the actual hometown of actor Ashton Kutcher.
7 Christmas Cookies (2016)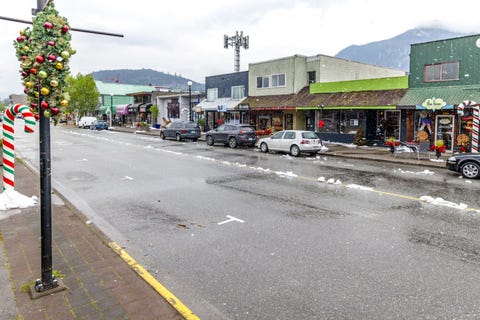 Bettina Strauss
The Setting: Squamish, British Columbia, Canada
When the leading lady in this cute holiday flick attempts to shut down a cookie factory in a small town, she inadvertently falls in love with the factory owner—and the town itself. It's easy to see why. Some of the scenes are set in the sweet little Canadian town of Squamish. Nestled in the mountains near Shannon Falls, the stunning city is an ideal place to shoot a Hallmark movie; the Christmas-themed installment of the Murder, She Baked murder-mystery series, called A Plum Pudding Mystery, was also shot in downtown Squamish.
8 Christmas Land (2015)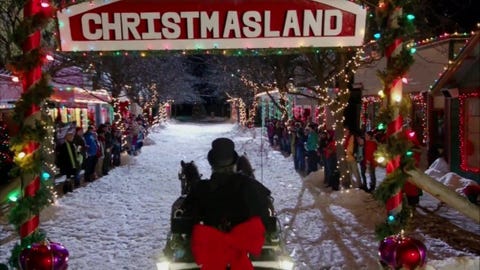 Hallmark
The Setting: Pioneer Village, Lagoon Park, Farmington, Utah
The heir to a Christmas tree farm called Christmas Land decides she'll sell it—until the town and one handsome lawyer cause her to have a change of heart. For the Christmas Land scenes, Hallmark decorated the Main Street of Pioneer Village, a reconstructed old Western town located in Farmington, Utah's Lagoon Park. The cast and crew also filmed in nearby Riverton and Salt Lake City.
9 Debbie Macomber's Mrs. Miracle (2009)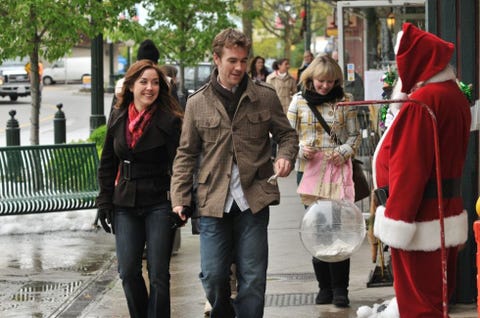 Curtis Bonds Baker
The Setting: Fort Langley, British Columbia, Canada
In a festive twist on Mary Poppins, James Van Der Beek (of Dawson's Creek fame) hires Doris Roberts as a nanny for his rambunctious kids—and she ends up playing matchmaker for him, too. IMDb lists the small village of Fort Langley, B.C., (population 3,400) as a film location for at least a portion of Debbie Macomber's Mrs. Miracle. Fort Langley is a National Historic Site, former trading post, and "The Birthplace of British Columbia." The American town of Red Wing, Minnesota (population 16,526) was reportedly also used for overview shots.
This content is created and maintained by a third party, and imported onto this page to help users provide their email addresses. You may be able to find more information about this and similar content at piano.io