There are disturbing elements in Martin McDonagh's precisely calibrated hit The Banshees of Inisherin. But along with all the nihilism, the unfortunate donkey and the splashes of gore, the performance given by Barry Keoghan is right up there for its unsettling impact. The Irish actor's vulnerable and abused islander Dominic Kearney gives the film moments of warmth and much of its emotional punch.
So, even though the 30-year-old's inclusion in the Oscar lineup for best supporting actor was unexpected last week – especially alongside big names such as Judd Hirsch and his Banshees co-star Brendan Gleeson – it was not a surprise for those who love the film.
Among Keoghan's many new fans is Gary Lineker, who was quick to applaud the nomination on social media, while McDonagh, who wrote the part for the actor, already regards him as "one of the best actors of his generation in the world today, let alone in Ireland".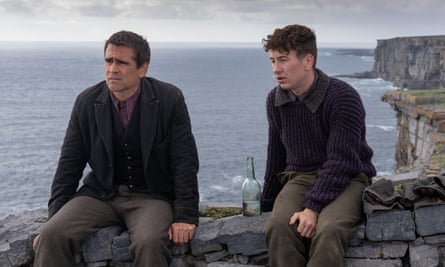 At first glance, Keoghan's background will make him an unlikely guest at the world's glitziest showbiz ceremony this March. His is, after all, a sad personal story. He and his brother, Eric, were born in the disadvantaged Summerhill area of Dublin and, by his own doleful reckoning, their young mother soon fell victim to a big influx of drugs in the area. "It was a new thing and people didn't know the effects," he has said. "The drugs hit the area and it affected all the families, and she was one of them that got caught."
Her sons were taken into care and passed through 13 foster homes. For a period, they also lived with their maternal grandmother, Patricia, and were with her when they learned of their mother's death.
Keoghan left school at 16 with scant qualifications but a love of impersonations and film. And this is where his path to fame becomes clearer. Like many screen talents before him, he had extraordinary drive, fuelled no doubt by the adverse circumstances of his childhood. Weighing the loss of his mother, he has remembered deciding: "What more can I lose? The only way is forward."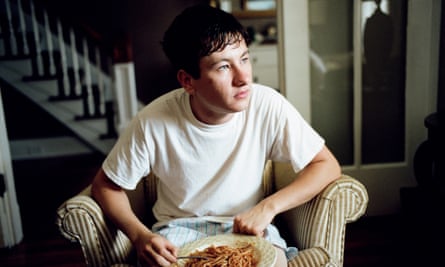 A small notice in a shop window, inviting hopeful actors to join a new film project, provided the first seed of ambition. Keoghan plagued the film's director with audition requests and eventually, three years later, he got a part. A television career in Ireland followed, as well as a role in the 2018 heist film American Animals.
"Our story was set in a college in the States and so we were looking only at American actors for the role of Spencer, a sensitive artist," recalled producer Katherine Butler. "Barry's agent had sent over an audition tape he'd made at home in Ireland, and it was probably the worst-quality phone footage I have ever seen. It was dark and seemed to have been filmed in his nan's bedroom. Yet there was something about the performance that meant we kept going back to it. He was just right."
Butler could see Keoghan's enjoyment of working on set and the spark of his emotional connection to his role: "It's just magic. It's about his eyes and the way he drills into the soul of his characters. It has been great watching his career in the last few years, and he'll be around a long time, I'm sure."
Keoghan also caught the eye of two influential directors, Christopher Nolan and Yorgos Lanthimos, who also set him on his path at this time. He won significant roles in the respective film-makers' Dunkirk and The Killing of a Sacred Deer, becoming the go-to man when a cast requires an outsider who can communicate a subtle range of feelings.
And Keoghan obviously understands what he can offer on the quirky edge of the cinematic register. He confidently agitated for a role in 2022's The Batman by sending over a showreel, this time not filmed at home, in which he cast himself as the Riddler, one of the superhero's key adversaries. Instead, it was to secure him the part of the Joker, a character who appears only briefly in this instalment of the DC comics saga. And yet, as Keoghan has joyfully pointed out, on a list he found rating seven of the best screen Jokers, he was the fourth. "Lads, with four minutes of screen time, not bad eh!?" he quipped.
The actor also showed clear screen presence in a second superhero outing. Director Chloé Zhao, an Oscar winner in 2021 for Nomadland, cast him as Druig, a mind-controlling alien, in her Marvel movie Eternals. She has described him as a "wild wolf", adding: "He can't be tamed and you wouldn't want to."
It is these two fantasy roles that now get Keoghan recognised on the street. But for the quality-boxset-consuming classes, it is more likely to be his role as Pavel, a nuclear contamination "liquidator", in the acclaimed drama series Chernobyl.
On screen, there is a mix of menace and mirth in Keoghan's range, a kind of lazy threat that is supported by his prowess in the boxing ring. In recent years, he has gone back to the sport he loved as a youth for pure relaxation. "It's the only time I feel really present," he said in a New York Times interview. "You can do meditation – which I don't – but people go on about feeling in the moment, and for me, that's when I'm boxing."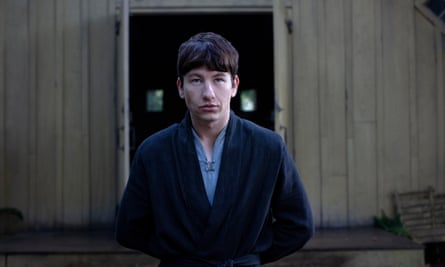 But with the thrill of his Bafta and Oscar nominations, the softer side of Keoghan has been on display. A big part of this has been public banter with his Banshees co-star Colin Farrell. The two shared accommodation during the shoot, and Farrell has teased Keoghan about his untidiness – "the place was like raccoons had been in there" – and his penchant for raiding cereal boxes. "Tell you what, I never thought I'd hear Colin Farrell go: 'Did you eat my Crunchy Nut last night?'" joked the younger actor in a recent magazine interview.
News of his Oscar nod was met with an equally endearing call out to his baby son on Instagram. "Daddy loves you ❤️." Last summer, Keoghan and his partner, Scottish orthodontist Alyson Sandro, became parents to a boy named Brando, after Keoghan's favourite star. Since becoming a family, the actor says he has been learning to balance work with domestic life, and his friend Dwayne Johnson, AKA the Rock, has been an inspiration. "I've seen the Rock do it," he told GQ magazine last year. "You've got to separate that. You've got work mode and family time."
It is an internal conflict in a maturing actor that also poses an interesting question about his future on the big screen. If film directors begin to offer Keoghan the chance to charm in a leading role, his star voltage could be even more powerful.
More first-time Oscar nominees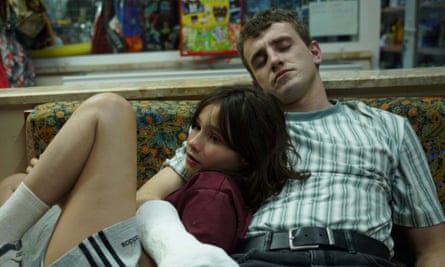 The acting Oscars at the 95th Academy Awards ceremony on 12 March have a good chance of going to first-time nominees, whether relative youngsters, like Ireland's Paul Mescal, 26, who made his name internationally this year as a troubled father in Charlotte Wells's acclaimed Aftersun, or veterans, like British actor Bill Nighy, 73, who has dodged the full glare of the Los Angeles spotlight until now.
Nighy is nominated for portraying a dying man in Living, screenwriter Kazuo Ishiguro's Oscar-nominated retelling of Akira Kurosawa's Japanese 1952 classic, Ikiru. Experienced Irish star Brendan Gleeson, 67, also receives his first Oscar nod in the supporting actor category for a grim tour de force in The Banshees of Inisherin.
Among surprise contenders is Britain's Andrea Riseborough, 41. A much wider cinema audience has seen her disporting herself as Matilda's garish mother in Tim Minchin's Roald Dahl musical, but she is nominated as best actress for a searing lead performance in the indie film To Leslie. "It's sort of surreal," Riseborough has commented, amid reports the Academy is reviewing "procedures" after questions were raised over a last-minute, celebrity-backed campaign for the actress.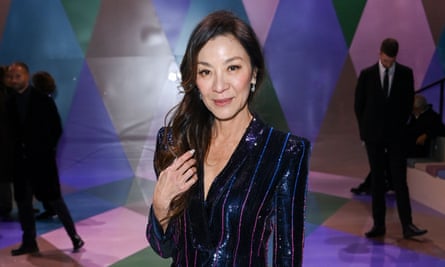 Austin Butler, 31, the former child star who shines as Elvis in Baz Luhrmann's biopic, is in the younger group of newbies, while Jamie Lee Curtis, 64, daughter of Hollywood giants Janet Leigh and Tony Curtis, makes a triumphant return in the supporting actress line-up for the heavily nominated Everything Everywhere All at Once, playing a tax official with a sideline in kickboxing. Her co-star in the multiverse adventure, Michelle Yeoh, 60, has also played a long game and is nominated as leading actress, where she goes up against Cate Blanchett, who already has two Oscars.
The best actor category is all first-timers, and Nighy and Mescal are in competition with Ireland's Colin Farrell, for The Banshees of Inisherin and Brendan Fraser, who posed hefty opposition in The Whale.