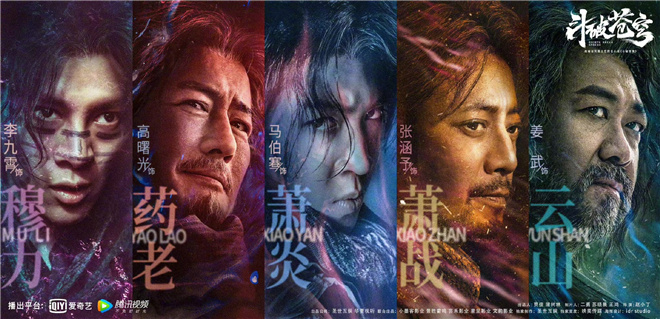 1905 film news On September 22, the movie "Fights Break Sphere" released the cast posters, and several major star actors were exposed one by one. The film brought together Ma Boqian, Li Jiuxiao, Zhang Hanyu, Jiang Wu, Gao Shuguang, Hu Jing, Huang Wen, Jiang Zhuojun, Xia Ruoyan, Jin Yangyang, Xu Kelong.
The movie "Fights Break the Sphere" is adapted from the online novel of the same name by Tiancan Tudou, which has been highly anticipated since the announcement of the film and television. In the newly released poster, the protagonists appear in the style of the film, either heroic or calm.
Ma Boqian took the lead in the film for the first time, playing the hero Xiao Yan. Ma Boqian said frankly that Xiao Yan's role is multifaceted, courageous and strong without losing tenderness. How to perform such a role well is a new challenge for him.

Zhang Hanyu played Xiao Zhan, Xiao Yan's father, in "Breaking the Sphere". Zhang Hanyu's own aura, starring in Xiao Zhan gives people a handy feeling. And Jiang Wu's domineering and exquisite performance style, do not have a sense of domination. Hu Jing subverted the gentle and graceful image of ancient costumes in previous film and television works.
It is reported that the film is in intensive post-production, so stay tuned for more excitement.