Plan your dream road trip through Spain with this epic Spanish road trip itinerary! I'll show you how to spend a perfect 3 weeks in Spain travelling from Barcelona to Seville, plus everything you need to know about renting a car to self drive in Spain.
I was part-way through planning a six-week Eurotrip with my partner when I became fixated on visiting Spain.
Spain had never really factored into my travel plans. But as soon as I realised just how much variety the country has to offer – from majestic mountain villages and enthralling cities to a postcard-perfect coastline – not to mention the sheer number of historical and UNESCO sites held within its borders – I decided we should spend a whole three weeks in Spain.
Wanting to pack as much into our short stay as possible, we thought renting a car for a Spanish road trip would be the best way to see the main sights plus a few smaller towns.
We were right – the action-packed Spain itinerary we devised saw us criss-cross the country from north to south, taking in most of the country's top attractions.
Spain is one of the top places for a self drive holiday in Europe. Both rental cars and petrol are relatively affordable. Travelling in shoulder season (November), we were often the only car on the road. For the most part, parking is cheap, even in hot spots like San Sebastian.
Best of all, having our own transport opened up a lot of opportunities to visit smaller towns and squeeze more into each day than our slow travel style would normally permit. Our trip was certainly fast-paced, but it was worth it to get a good overview of Spain in a short period.
This tried-and-tested itinerary for a three week self drive road trip across Spain includes my top recommended activities for key cities, ideas for where to break the journey, some handy Spain driving tips, and much more.
---
Please note: This post contains affiliate links, meaning I may earn a commission if you make a purchase by clicking a link (at no extra cost to you). Learn more.
---
Where to hire a car in Spain
Hiring a car in Spain is an efficient and affordable way to see a large part of the country in a short period of time. Since a lot of visitors drive in Spain, the market for rental cars is competitive, meaning you can usually get a pretty good deal.
We planned our Spain road trip from Barcelona, so we decided to rent our car on our last day in the city. I recommend collecting your car from Barcelona-Sants train station because it's easy to get to using public transport, and easy to leave from to get to the highway.
There are two main things to consider when choosing a hire car: transmission type, and size of the vehicle. Manual cars are much more ubiquitous in Spain so it can be harder to find an automatic car to rent. In addition, you should prioritise hiring a small car that will be easier to park on the street and can better navigate narrow village roads (these were our two biggest qualms about driving in Spain!).
Discover Cars lets you easily browse and compare different rentals cars from a variety of international and local agents. It lets you choose the exact features you want, and offers a full range of price and date options so you can find the best value for money. Visit Discover Cars and plug in your dates to see what's available.
At the end of the itinerary, I've included a few driving tips for Spain.
About this Spain itinerary
Looking back over our itinerary makes my head spin a little! We drove almost every day and covered a lot of ground, but by splitting the long drives up into smaller journeys, we still got to visit some interesting local towns.
Spanish highways are incredibly easy to drive on and the scenery is invariably stunning no matter where in the country you are. Because of this, driving never really feels like a drag – it's all part of the experience.
We started our road trip in Spain from Barcelona and finished up in Seville. From there, we continued on to Tarifa by bus and caught the ferry to Tangier, Morocco. You can adapt this itinerary to create a loop, but I recommend paying the one-way car rental fee so you don't have to backtrack. If your Spain trip ends there and you're not continuing on to Morocco, you can fly straight out of Seville.
There are endless options and itinerary combinations for seeing Spain by car. I'm not saying mine is the best road trip in Spain – but I can tell you that it's tried and tested. Of course there are some things missing (you can't possibly see all of Spain in 3 weeks), but after I did this road trip, I felt like I'd seen the main highlights.
If I had my time again, I would extend our stay in Madrid by a few days.
A good way to save time is by taking advantage of the Spain day trips and tours mentioned in this itinerary. If you think there's too much packed in, you can easily take out a few places and stay in certain locations for longer (Madrid and Granada would both be ideal places to extend your time).
How much time do you need to drive across Spain?
A Spain road trip can be as long or as short as you want it to be. As you'll see from the map, we covered most of the country (apart from the north-west) in 21 days touring Spain by car.
Remember you don't want to rush driving across Spain too much. Three weeks is the absolute minimum amount of time you need for a Spain road trip like this one – unless you're prepared to seriously cut down on the number of places you visit.
This 3-week self drive Spain itinerary is fast-paced, but if it's a once-in-a-lifetime trip to Spain that you're planning, you probably won't mind hustling to see as much of this beautiful country as humanly possible.
If you have less time in Spain, you can do a shorter itinerary that focuses on the North of Spain (Basque Country) or the South of Spain (Andalusia).
---
Spanish road trip route overview & drive times
Let's start with a basic overview of our Spain road trip itinerary and the 17 cities, towns and villages we visited in Spain in 3 weeks.
Remember you don't have to follow this itinerary exactly – you can use it as a Spanish road trip planner to pick and choose the destinations that most appeal to you.
Days 1-3: Barcelona
Day 4: Barcelona to Sos del Rey Católico via Zaragoza (400km; 4.5 hours of driving)
Day 5: Sos del Rey Católico to Bilbao via Pamplona and San Sebastián (217km; 2 hours of driving)
Day 6: Bilbao
Day 7: Bilbao to Madrid via Segovia (400km; 4 hours of driving)
Day 8: Madrid
Day 9: Madrid to Toledo (72km; 1 hour of driving)
Day 10: Toledo to Valencia via La Mancha (270km; 4 hours of driving)
Day 11: Valencia
Day 12: Valencia to Cartagena (270km; 3 hours of driving)
Day 13: Cartagena to Lanjarón (330km; 3.5 hours of driving)
Day 14: White Villages and the Sierra Nevada
Day 15: Lanjarón to Granada (46km; 45 minutes of driving)
Day 16: Granada to Córdoba (200km; 2.5 hours of driving)
Day 17: Córdoba
Day 18: Córdoba to Seville (145km; 1.75 hours of driving)
Days 19-20: Seville
Day 21: Depart Seville – or Seville to Tangier via Tarifa
This Spain itinerary covers a whopping 2,450km (1,523 miles). Remember that not all the driving is back-to-back, there are some rest days in between!
Spanish road trip map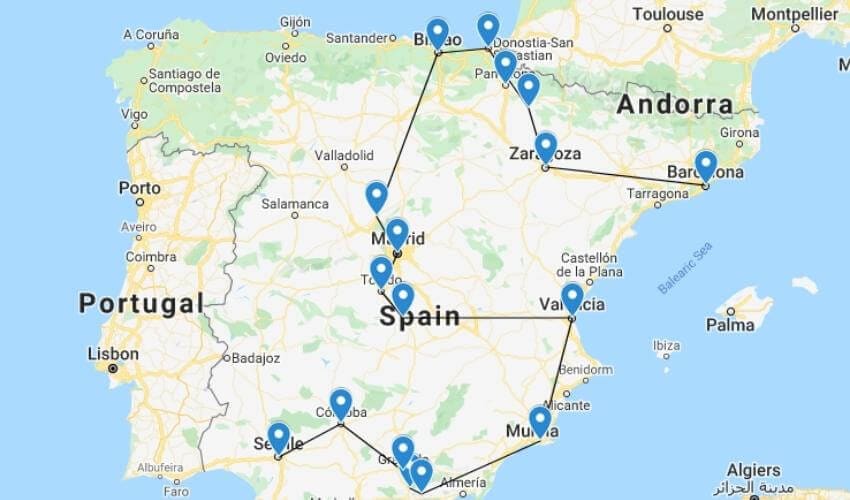 ---
Detailed self drive Spain itinerary
This section includes a detailed day-by-day breakdown of our 3 weeks in Spain, including the best things to do in each city, where to stay, and where to break up longer drives.
Barcelona
Vivacious Barcelona is the perfect place to start your Spain road trip itinerary. Capital of the autonomous Catalonia region and the second-largest city behind Madrid, Barcelona is quintessentially Spanish and offers a perfect introduction to many of the things that make Spain so great – incredible architecture, beautiful beaches, and fabulous cuisine.
On top of that, Barcelona is logistically the best place to start a trip through Spain. It's home to an international airport, a train station with services from most other countries in the region (we arrived by night train from Geneva), and a ferry terminal.
I recommend spending at least 3 days in Barcelona to get a good feel for the city and see the main highlights. The city has a great public transport system, so you don't need a car here – in fact, it would be a major burden.
I highly recommend picking your car up on the day you leave Barcelona. Most rental companies have offices at Barcelona-Sants, the city's main train station. This is a good place to start as the traffic isn't too hectic and you can easily get to the highway.
Where to stay in Barcelona
Barcelona is huge – where you stay can make or break your trip. Take some time to familiarise yourself with Barcelona's inner-city neighbourhoods so you can make an informed decision.
Here are a few recommendations for where to stay in Barcelona – car or no car.
Things to do in Barcelona
In all honesty, planning a Barcelona itinerary can be a bit overwhelming. There's just so much to see and do. I'm only recommending a few select activities and restaurants that we really enjoyed – know that there is a lot more out there!
Start by pounding the pavement on Sandeman's free city walking tour. This will help you get your bearings while introducing you to some of Barcelona's must-sees, including the Gothic Quarter and Barcelona Cathedral.
La Sagrada Familia, the grand cathedral designed by Gaudi, is the symbol of Barcelona. You should prioritise visiting on your first or second morning. Skip-the-queue tickets are essential – or else you risk spending hours waiting in line. Pre-buy your skip-the-line tickets for the Sagrada Familia online.
Gaudi's other works in Barcelona, including the iconic Park Güell Monumental Zone (buy fast-track tickets here) and Casa Batlló are absolutely worth a visit as well. Even if you're not that interested in architecture, these buildings all capture the spirit of Barcelona and tell a fascinating story of Spanish and Catalonian history. The experience is even richer if you're accompanied by a guide who can illuminate the symbology.
Ride an e-bike around the gorgeous Gothic Quarter to explore one of Barcelona's most charming neighbourhoods. For a break from the hubbub, head for the hills and spend an afternoon wandering around the cactus gardens at Montjuïc. Take the cable car over La Barceloneta beach for fantastic views, and visit the beach itself if the weather is right.
Don't skimp on the food, either! Barcelona is packed with incredible restaurants. We especially loved eating Spanish 'hamburguesas' at Hamburguesería Bacoa and pigging out on homemade churros at Bar Churrería Layetana. If you're a foodie, this market to table tour of Mercado de La Boqueria, Barcelona's biggest produce market, is a must-do.
Take advantage of the free entry to Museu Picasso every Friday night – it's busy, but it's a wonderful experience. And for something truly memorable, try to see a gig at the Palau de la Música Catalana (we watched an unforgettable performance by the late, great Sharon Jones). If there's nothing on, I highly recommend booking in for a short guided tour – it's truly one of the most majestic buildings I've ever been in (aside from Sagrada Familia!).
Recommended day trips from Barcelona
If you decide to extend your stay in Barcelona, there are lots of fantastic day trip opportunities within a few hours' drive of the city.
No car? This 12-day journey around Spain by train, starting from Barcelona, takes in some of the country's best cities and beaches.
---
Zaragoza
It's time to hit the road! After collecting your car in Barcelona, start heading due west towards the Bay of Biscay. The drive to Zaragoza takes 3 hours. If you want to make it in time for lunch, try to leave the city as early as possible (by 8am at the latest). That way you'll also beat most of the traffic.
Zaragoza lies smack-bang in the middle of northern Spain. Capital of the autonomous Aragon region, it's one of the country's most underrated cities and an ideal place to break for lunch and a short walk.
On reaching Zaragoza, we stopped at a small tavern in the shadow of the Aljafería Palace and ate a bowl of fideos negros (black noodles simmered in fish stock). There are plenty of restaurants and gastrobars around the river, close to the historic centre. However, it might be tricky to find a car park, so I recommend heading to the city's western fringe like we did.
---
Sos del Rey Católico
When I picture an archetypal Spanish town, the Sos is what comes to mind. This little village on the frontier of the Pyrenees is located another 1.5 hours' drive north of Zaragoza, so I recommend leaving after lunch no later than 1pm to maximise your time in Sos.
Ferdinand II of Aragón, husband of Isabel I of Castilla and one-half of the most influential royal couple in Spanish history, was born here in Sos. The little town is loaded with history and packed with charm.
The town is petite and easily navigated during an evening or early morning stroll; admire the flower boxes, pop in and out of charcuterie shops, and listen to the church bells toll.
We stayed a night at the Parador de Sos del Rey, which sits on a low rise overlooking the Sos' ancient cobbled streets (you might recognise it from the 2017 film The Trip to Spain) and had a very memorable meal at the Parador's Cinco Villas-themed restaurant.
Where to stay in Sos del Rey: Hotels with parking
Parador de Sos del Rey Catolico. It's honestly worth the splurge to stay at this Parador. Set in a historic Aragonese mansion that overhangs Sos's winding streets, it's one of the most romantic hotels I've ever had the pleasure of spending a night in. Rooms are plush as, and the set dinner at the on-site restaurant is a must-try (I've never eaten so much food in my life). Parking on the grounds is free and easy.
El Peiron. For a budget-friendly alternative, this hotel has a similar 17th century ambiance. Cozy rooms feature large beds and exposed stone walls. The location on Sos's main street, close to some of the village's best tapas bars, will make you feel like you're part of the city (unlike the Parador, which makes you feel like absolute royalty). Free street parking is available near the hotel.
---
Pamplona
On your next full day of driving, break the 2-hour journey to the Bay of Biscay by stopping off in Pamplona for lunch. This will be your first taste of Basque Country tapas! Pamplona is the perfect place to practice the art of ordering ahead of your arrival in San Sebastián.
Outside of the famous San Fermin (Running of the Bulls) cultural festival, which takes place in Pamplona every July, the streets are surprisingly peaceful and sparse. Bakeries and boutiques run the length of the main pedestrian drag and are well worth a browse.
---
San Sebastián
Most people head straight for San Sebastián's pintxos bars, but don't forget to take a stroll along the waterfront promenade, too. After a day's drive, this is exactly what you need to stretch your legs and re-fuel.
We spent a few early evening hours in San Sebastián, and while I didn't really fall head over heels for the town like I've known other people to do, it's a worthwhile stopover on the way to Bilbao. If food is in your wheelhouse, you can easily switch your itinerary and stay in San Sebastián instead of Bilbao.
---
Bilbao
Bilbao and San Sebastián are only an hour's drive apart, so you can plausibly stay in one city and visit the other as a day trip. If I had my time again, I would probably stay in San Sebastián instead.
The futuristic Guggenheim Museum is Bilbao's main attraction, but I found the rest of the city a little bland. One full day is ample time to see the museum and explore Bilbao's riverfront.
In 24 hours, you can discover the city by bicycle and tour a few of the key Game of Thrones filming locations around Bilbao. An in-depth Basque County gastronomy tour is worth considering if you're particularly interested in food and wine (let's face it, if you're planning a trip around Spain, you probably are!).
Where to stay in Bilbao: Hotels with parking
Hesperia Bilbao. These trendy self-contained apartments are a 10-minute walk from the city centre (just across the river from the Guggenheim) and feature everything you need for a comfortable stay in Bilbao. There's even a Japanese restaurant and a rooftop terrace bar – because both those things are basically travel essentials nowadays. Secure parking can't be reserved but is available at an extra charge.
Ercilla Hotel. For something with a touch more old-world charm, this boutique hotel offers pretty rooms with herringbone floors and chequerboard tiles. The restaurant serves traditional Basque food, and there's a panoramic bar here as well. Park on-site for 20 Euros (reservations essential).
Parador de Limpias. If you don't mind staying outside the city, this Parador is a 50-minute drive from Bilbao. The former summer residence of King Alfonso, the setting amongst private gardens and a protected woodland is just divine. Free parking is plentiful.
---
Segovia
After a short but sweet introduction to Basque Country, it's time to leave the coast and start driving inland towards Madrid.
Segovia is 100km shy of Spain's capital city. Coming from Bilbao, you'll naturally pass through it – so there's no reason not to stop off and check out two of Central Spain's most impressive historical sights.
Aqueduct versus alcazar – when an urban landscape is a battle between the most important Roman civil engineering work in Spain and a Moorish palace so beautiful that it's instantly recognisable from pop-culture, you know you're in for a treat.
Segovia is a complete contrast to Madrid. Park your car on the hill leading up to the aqueduct and ease your way into the capital by wandering around this charming town for a few hours first.
Climb the concealed staircase to the right of Segovia's UNESCO-listed aqueduct for a different perspective on this feat of engineering. Visit The Alcazar, apparently Walt Disney's architectural inspiration when creating Cinderella's castle.
Between 10.30am and 4.30pm you can join a 60-minute guided tour of Segovia Cathedral, another of the city's landmarks. This particular tour also allows you to climb the 500-year-old bell tower for a panoramic view of Segovia.
And as a reward for all that walking, treat yourself to a Pasteleria Limon y Menta, Segovia's signature pastry. It's lemony, it's minty, and it's wrapped in caramelised marzipan. Yum!
If you opt to drive straight into Madrid, you can always visit Segovia on a day trip.
---
Madrid
Our first experience of Madrid was the nightmarish drive through the city at peak hour. Don't make the same mistake we did – try to arrive in Madrid before nightfall!
Where to stay in Madrid: Hotels with parking
Only YOU Hotel Atocha. The design of this jaw-droppingly beautiful hotel draws on the 19th-century building its housed inside. Deluxe rooms face onto an inner courtyard and are bright and airy as a result while still feeling private. There's a cafe, bakery and lounge, and breakfast is served on the 7th floor with city views. The Prado Museum is only 900m away, making this a great choice for museum and culture lovers. Parking on-site is guaranteed and costs extra.
Hostal Patria Madrid. Coming in at under $100 a night, this hotel is excellent value for money in Madrid. Rooms are basic but comfortable with Scandi-style furnishings, and the location on a popular cafe strip is perfect for hungry travellers. Parking (reservation required) costs a very reasonable 17 Euros.
Parador de Alcala de Henares. If you want to avoid driving into Madrid (smart choice!), this Parador is 45 minutes outside of Madrid. The 16th-century convent building reminds me of a Silk Road Caravanserai. There's an outdoor pool, and parking on the grounds costs a little bit extra.
Things to do in Madrid
An easy walk or cycling tour through the city is the best way to see central Madrid. Make sure you explore the gorgeous Real Jardín Botánico, wander through the bookstalls that line Cuesta del Moyano, and top it off with sunset at the Temple of Debod, an ancient Egyptian temple that was dismantled, shipped to Spain, and reassembled in all its glory on a hill in the city centre. A live flamenco performance is the perfect way to end your first day in Spain's capital.
For a dose of history and culture, visit Madrid's four most iconic landmarks: The Plaza de Toros de Las Ventas, the Royal Palace, the Plaza Major, and of course the Prado Museum.
Here are my top tips for exploring historic Madrid:
Find more great things to see and do in Madrid here.
Recommended day trips from Madrid
---
Toledo
Leaving Madrid, start your journey to Southern Spain's enchanting Andalusia region. Over the next 12 days, you'll be driving from Madrid to Granada and Cordoba via some of the loveliest small towns and historical villages in the country.
The first of these, Toledo, is just an hour outside Madrid. After the chaos of the capital, it's a salve. Toledo's mix of old-world charm, literary heritage and multicultural influences makes it one of my favourite places in all of Spain. I highly recommend staying for at least one night.
Toledo is the first place where you can see, hear and smell the Middle Eastern/North African influence that becomes more and more pronounced the further south you travel. We had a wonderful introduction to Syrian and Turkish food in Toledo, which became our go-to cuisine for the remainder of our trip.
Where to stay in Toledo: Hotels with parking
Hotel Santa Isabel. A great budget choice at under $40 per night, this charming guesthouse is right in the heart of Toledo. Private balconies overlooking the town rooftops and a central courtyard are terribly quaint. Rooms are a bit boxy, but nicely finished and clean. Reserve parking in advance for 12 Euros per night.
Parador de Toledo. This is another great candidate for a little splurge. Set 4km from the centre of Toledo in a low-set historic building, rooms here are a bit more outdated than at other Paradors, but the outdoor pool and panoramic terrace are lovely. Parking is free.
Toledo is the spiritual home of Don Quixote, Spain's literary legend. A great way to see the old town is by walking the Don Quixote Trail. Alternatively, let a Toledo local show you around on a private walking tour.
Fall in love with Syrian food at Posada El Cristo de la Luz, then down a sampler box of marzipan from Santo Tome (the signature sweets of Toledo).
For more Toledo inspiration, see this list of the top 10 things to do in Toledo.
---
Consuegra, La Mancha
I'm a huge fan of Miguel de Cervantes' Don Quixote, but even if you've never read the book, a quick detour through Spain's iconic La Mancha landscape, with its towering windmills and patchwork fields, is an absolute delight.
Leaving Toledo and driving east, aim to arrive in the small town of Consuegra in the early morning before the tour buses pull in at around 10am.
Stop at one of the provincial bakeries for a quick bite. You can then drive all the way to the top of the hill and explore the windmills on foot.
---
Valencia
Spain's third-largest city, Valencia has all the charm of Barcelona and all the amenities of Madrid with a laid back, beach-town feel. This is the Orange Blossom Coast, and the streets of Valencia are lined with citrus trees (which you must pick and sample – luckily our Airbnb came with a juicer!).
Valencia is also the traditional home of paella and Spain's signature beverage, horchata. While we weren't all that impressed with the City of Arts and Sciences, we loved cycling through the elongated Cabecera Park that runs through the heart of the city. (Perhaps we should have opted for the rooftop wine and tapas tour instead!) If you're an outdoorsy type, you'll adore Valencia.
Driving in Valencia is relatively easy compared to Barcelona or Madrid, so you can stay in the city centre without having to worry too much about traffic or navigating the roads.
Where to stay in Valencia: Hotels with parking
HQ Rooms Apartments San Vincente. Spacious and featuring all the mod-cons, this self-containted apartment sleeps up to 8 people and comes with a large private balcony. It's 1.5km from the centre of the city, and there are bicycles available to rent for a small fee. Parking costs an extra 15 Euros.
Palacio de Rojas. 350m from Valencia's Central Market, it doesn't get much more inner-city than this. The canary yellow facade, the indoor-outdoor living spaces, the high ceilings and the heavy doors… This must be one of the most beautiful hotels in all of Spain. Seriously. Palacial apartments sleep up to 9 people and all feature a full kitchenette. Underground parking is available for an additional 15 Euros.
Things to do in Valencia
You'll probably be quite content hiring a bicycle and exploring Valencia at your own pace. If you want a deeper look, try joining a private walking tour with a local.
For a hands-on activity, I highly recommend taking a paella cooking class and learning just why Valencia is the birthplace of Spain's most famous dish. Head to the Plaça de Santa Caterina to try a glass or horchata (or two) at one of the open-air cafes. Horchateria Santa Catalina is my personal favourite.
---
Cartagena
Three hours' drive down the coast from Valencia, Cartagena is another of Spain's most underrated cities. We rolled into the sleepy historic centre in the early afternoon and were greeted by a medieval festival, the annual Mercado Medieval (how's that for timing!).
Catagena's Roman amphitheater is one of the best-preserved in all of Europe, and exploring the state-of-the-art museum was honestly one of the most enjoyable 'historical' experiences I had in Spain. It's fascinating to see how the city has been built-up around the ruins.
Cartagena is small so you only need a day or two at the most. Start by getting your bearings with a walk around the inner city. The food scene here is great, so I also recommend doing a gourmet tapas tour.
Where to stay in Cartagena: Hotels with parking
NH Cartagena. Elegant rooms with a view of Cartagena port are the stand-out feature of this efficient hotel. It's only 200m from the Roman Theatre but in a quiet corner of town, so you can still get a good night's sleep. Reserve paid on-site parking at the time of booking.
---
The Sierra Nevada: Lanjarón and the White Villages
Leaving Cartagena behind, you'll next be driving the coast of Spain (at least a portion of it) and dipping inland to visit one of Spain's most beautiful natural landscapes, the Sierra Nevada.
Once you hit the mountainous Las Alpujarras region, you'll realise what a blessing your hire car truly is. Navigating the windy, steep, narrow roads around the white villages was nail-biting at times, but I can't imagine trying to get around any other way.
Base yourself in Lanjarón, the area's most populous village and home to a number of quirky accommodations, including the healing retreat/yurt we stayed in.
Once a hippie mecca and still famed for its spring water and olives, Lanjarón is a gateway to the smaller villages of Pampaneira, Bubio and Capileira. If you can brave the altitude, add Trevélez (Spain's highest settlement) to your driving itinerary.
Some of the villages take a good few hours to get between, especially in inclement weather, so I recommend setting aside at least two days to explore the area, more if you intend on hiking between the villages.
Where to stay in Sierra Nevada: Hotels with parking
Hotel Alcadima (Lanjarón). Homely suites at this quaint little hotel are excellent value for money. Indoor and outdoor pools, plus a kids' play area, make it a great choice for families. The restaurant specialises in roast lamb with cinnamon. Need I say more? Parking costs an extra 10 Euros.
Enchanting Yurt (Lanjarón). One of the coolest Airbnbs we've ever stayed at, this whimsical yurt is set in an olive grove at the foot of the mountains. It's absolutely magical, and the Israeli hosts are very kind and welcoming. Free parking is plentiful.
Parador de Nerja (Nerja). Another town, another Parador! This one is a bit different because it's set inside a modern building on a cliff top overlooking the ocean. An elevator ferries guests down to the nearby beach (how cool!). Private parking is available for an additional charge. Note that it's a 60-minute drive to Lanjarón.
---
Granada
Granada boats a quixotic mix of Spanish and Moorish cultures. The Alhambra is an architectural triumph – if it's not on your itinerary, you're doing Spain wrong!
You need to buy tickets to the Alhambra and Generalife Palace and Gardens a day or two ahead of your visit (or a week in advance if you're travelling in summer). The easiest way to do that is by booking online through Get Your Guide.
On the day of your visit, make sure you leave early to account for the time it takes to access the complex (which includes a long, beautiful walk through the forest if you're using public transport).
Where to stay: Granada hotels with parking
Eurostars Catedral. The exception location 70m from Granada Cathedral is only topped by the traditional coffered wooden ceilings inside some of the suites. Rooms are otherwise modern and luxurious with more subtle nods to the building's history sprinkled throughout. Parking costs an extra 22 Euros per day.
Anacapri. This 18th-century house turned boutique hotel wears its heart (and its history) on its sleeve. The inner courtyard is outstanding, and rooms are very comfortable. It's even closer to the cathedral and just 20 minutes' walk from the Alhambra, right next to the start of the pathway. No reservation is required for the off-site parking (an extra 20 Euros per day).
Alhambra Palace. Just shy of the city walls to Granada's iconic UNESCO attraction, this hillside hotel has spectacular views, Moorish-inspired decor, and of course, quick access to the Alhambra. Secure parking is off-site and costs 22 Euros.
Things to do in Granada
After the once-in-a-lifetime experience of The Alhambra, everything else pales in comparison! However, Granada has a lot more to offer, which is why I suggest staying an extra night (or even longer, if you can).
Discover the city's most charming neighbourhoods, Albaicín and Sacromonte, on foot with a walking tour. Watch a traditional flamenco performance inside Albaycin, and treat yourself to an authentic Arabian hammam bath.
There is a secret sunset spot in the hills above Granada where you can watch the warm light bathe the entire Alhambra complex before someone flicks the switch and it lights up like a beacon on the hill. Don't miss it!
---
Córdoba
From The Alhambra to Códoba's Mezquita, a fascinating mosque-cum-church that is home to a set of much-photographed candy cane archways. Córdoba is an archetypal Andalusian city (my favourite in the region) and has many other offerings, including a pleasant waterfront and some incredible vegetarian restaurants.
Every year, Córdoba hosts the Patio Festival, which showcases the amazing indoor gardens that are a traditional part of every home here. Make sure you peek inside a few doorways as you're wandering the town's lanes. This is also a good place to catch a Flamenco/equestrian show – our pick is the Royal Stables of Córdoba.
Where to stay: Córdoba hotels with parking
Hotel Boutique Patio del Posadero. This intriguing little hotel features bespoke rooms and a beautiful patio (as is the style in Cordoba). The outdoor swimming pool and terrace lounge are perfect for summer. Reserved parking costs extra.
Hotel Cordoba Center. A bit further from the mosque, this ultra modern hotel sits on the city's Golden Block next to the AVE Train Station. The 7th floor pool and Jacuzzi are particularly noteworthy, but it lacks the charm of some other Cordoba hotels. Non-reserved parking is located on site.
Parador de Cordoba. It's almost your last chance to stay in a Parador! Cordoba's is a fine choice – another renovated summer palace, it's located north of the centre and boasts a massive pool plus sprawling gardens (the grounds, Los Naranjos, are where the first palms brought to Europe were planted.) Rooms are extremely spacious and well-appointed. Parking is free.
Things to do in Córdoba
Join the official Mezquita tour (price includes entry) and see this incredible UNESCO mosque-cathedral up close. In the summer, cycle the waterfront on a bicycle tour, or visit seven of Cordoba's most impressive patio gardens and learn about the history of the city's courtyard tradition.
If you have an extra day, venture outside the city to see the impressive Azahara Medina.
---
Seville
An entire day can easily be spent inside Seville's Alcazar complex, another incredible palace – this time in the Andalucian style – that mirrors The Alhambra in its layout and design. GoT fans will recognise the Alcazar as the setting for the Water Gardens of Dorne.
Seville is a sun-bathed walking city, and the Plaza de Espana, Barrio Santa Cruz and Parque de Maria Luisa are all worth a wander.
I found Seville a lot grungier than other places in Spain. The streets are filled with cool vintage stores and hip cafes, and the city has a great vibe.
We returned our rental car in Seville and got around the city very easily using public transport. I recommend you do the same.
Where to stay in Seville: Hotels with parking
Hotel Las Casas de la Judería. If it's atmosphere you want, look no further. This charming hotel is set with 27 traditional houses (yes, it's big), all connected by courtyards and internal passageways. Traditional decor including antique furniture and French windows is straight from the history books, while the rooftop pool brings the property up to date. Some of the rooms are just spectacular – I couldn't imagine a better way to end your Spain road trip than with a few nights here. The location in the old Jewish Quarter means there's lots to be explored nearby, including the cathedral, which is just a 7-minute walk away. Off-site parking costs 24 Euros.
Melia Sevilla. Modern, minimal and a complete contrast to the previous property, this hotel is centrally positioned off Plaza España. Twin hot tubs and a hamman round-out the ample services. Public parking near the hotel costs 24 Euro. Staff can help you coordinate, but I recommend you return your hire car before you check in.
Hotel Rey Alfonso X. This trendy hotel features a summer pool that overlooks Seville's oldest church. Business-like rooms are smart if not a little soulless. On-site parking costs extra (enquire at the time of booking).
Things to do in Seville
The Alcazar should be top of your list for things to do in Seville. This skip-the-line ticket includes a guided tour.
Marvel at Seville's Cathedral and Giralda Tower, watch a flamenco show at Museo del Baile Flamenco (the birthplace of this Intangible Heritage icon), and walk through the gorgeous Santa Cruz Jewish Quarter (don't forget your camera!).
If you want to get even further off the beaten path in Seville, I highly recommend this alternative market and walking tour.
Seville is a great place for a Spanish cooking class. This one shows you how to prep several popular Seville-style tapas, and includes bottomless sangria.
Recommended day trips from Seville
---
Quick tips for driving in Spain
Here are a few pointers to make your Spain road trip as smooth as possible.
Things to remember when renting a car in Spain
Obtain an International Driving Permit before you leave home. Most rental car companies require an IDP by law (you also have to carry your regular driver's license).
Book your rental car well ahead of time, especially if you want an automatic transmission as they are in short supply. We could only find a few automatic cars available in Barcelona, and they were more expensive than manual. I highly recommend using Discover Cars to compare rental prices and reserve your car in advance.
Choose the smallest car possible. In between the narrow village streets and tight street parking spaces, you'll want to go with the smallest car you feel comfortable with. Driving around Spain in a small car (a Hyundai or a Corolla, for example) is perfectly safe provided you stick to the highways and don't go off-road.
Bring your own GPS (with maps for Spain and Portugal pre-loaded) to avoid the GPS rental fee. Alternatively, use your phone to navigate with Google Maps or Maps.Me – it works just fine, provided you have the map pre-downloaded for offline use or you have a Spanish sim card with plenty of data.
General driving tips & Spain road rules
Plan your route to avoid toll roads. Some tolls are very expensive – up to 20 Euros – but we managed to avoid most of these by taking indirect roads and alternate highways.
Avoid driving in the bigger cities, especially Madrid. Pick up and drop off your hire car from an office in the outer suburbs or the airport to avoid inner-city congestion.
Note the blood alcohol limit. If you plan on visiting any wineries while you're driving across Spain, remember that the blood alcohol limit in Spain is 0.05% (or 0.01% if you've had your license for 24 months or less).
Tips for parking in Spain
Look for 'Blue Zones'. If you're visiting cities and towns for the day and need a place to leave your car away from your accommodation, you'll need to get a grasp on how the street parking works in Spain. Blue Zones (portions of curb marked with a blue line) designate paid parking spots. Wherever you see Blue Zones, you'll see a meter or automatic machine nearby where you need to register your car. Take the ticket and display it prominently on the dash, with the date and times face-up.
Yellow lines designate disable parking spots. You'll need a displayed permit to park here. Other coloured zones vary from city to city but usually indicate Resident Zones. If you're not registered to a nearby address, you obviously can't park here.
Park during siesta hours. Depending on the city, metered parking is sometimes free between 2pm and 4pm Monday to Friday and after 2pm on Saturdays. If you want to save a buck, try finding a car park during siesta hours.
---
What to pack for your Spain road trip
A few of my favourite must-pack essentials to make your road trip around Spain comfortable, safe and hassle-free.
Travel insurance for Spain
The one thing I never travel without. When it comes to medical expenses, accidents, travel delays and the like, preferred partner for long-term travel insurance is SafetyWing.
When renting a car, make sure you read the PDS to see what you're already covered for. I always recommend purchasing extra insurance just in case, either via the rental agent or through a provider such as Insurance4CarHire.
Handy gadgets
Travel adapters. If you carry a universal adapter, you'll never get caught out with the wrong plug. This portable travel plug works in more than 150 countries (including Spain and the rest of the EU) and features 4 USB ports for charging multiple phones/iPads at once.
USB phone charger. Don't let your phone run flat while you're in the car. You can plug your regular charging cable directly into this Anker USB car charger. It works with most phones and iPads.
Car mount phone holder. Using a phone while driving is illegal in Spain. If you plan on using your phone to navigate around, you'll need to use a mobile phone mount. This travel-friendly phone holder fits any phone or phone case, and has a 360-degree rotating cradle.
Lightweight cooler bag. An insulated bag to keep your drinks and road trip snacks cool is especially useful in summer. This simple family-size cool bag packs down into a neat, flat little bundle that you can easily squeeze into your suitcase.
Wine Wings. Whether you're road tripping or not, these handy non-leak wine bottle protectors are one of my favourite travel items for Europe. Essential if you want to bring a few bottles of Spanish vino home with you!
Eco travel essentials
Refillable water bottle. It's crucial to stay hydrated in Spain, especially in the warmer months. Tap water in most cities and towns is potable. As you drive through the mountains around the Sierra Nevada you'll see fresh-water springs by the side of the road where you can fill up your water bottle (this was one of my favourite things about road tripping in Spain!). I highly recommend S'Well insulated bottles because they look good, stay cool for up to 12 hours, and they don't sweat.
Reusable coffee cup. You'll probably be drinking a lot of coffee in Spain. It's always a good idea to bring a reusable cup that you can take with you in the car. This gorgeous gold barista-friendly travel mug is vacuum sealed (zero chance of a spill!) and will allow you to cut down on plastic and paper waste.
What to wear in Spain
Good walking shoes. Even if you're on a Spain road trip, you're still going to be spending a lot of time pounding the pavement (and cobblestone streets!). Comfortable walking shoes are absolutely essential. To cut down on luggage, we carry 'stylish' walking shoes in Europe that we can also wear out at night.
Sunglasses. Some highways in Spain are quite exposed – I guarantee you'll be reaching for your sunglasses on the first day. Bring your favourite pair of polarized lenses, or pick up a pair of foldable travel sunglasses.
Loose, comfortable clothing. There's nothing worse than feeling uncomfortable in the car. Pack a pair of travel leggings or yoga pants plus a few comfy t-shirts for longer driving days. A comfy travel cardigan like this one is a must-pack for winter in Spain.
Essential reading
A copy of Lonely Planet Spain. This essential guidebook for Spain is the perfect Spain road trip companion. As well as planning and logistics, it includes useful Spanish phrases and detailed information about Spain's top tourist sites.
A copy of Back Roads Spain. This little book is a bit light on practical information, but it does contain some beautiful photos. Great inspiration for getting off the beaten track in Spain.
Spain paper map. Good for peace of mind if your sat nav fails you. Even if you don't use it for navigating, you can still plot out your route and hold onto the map for a nice souvenir! This map is current for this year and covers both Spain and Portugal.
---
I hope you'll agree that this is one of the best routes through Spain by car for first-time visitors who want to pack everything in. Are you planning a self drive Spain itinerary for your next road trip? Leave your questions in the comments!
---
Spanish road trip itinerary: Pin it!