ELLIOT THE LITTLEST REINDEER: Not Destined For Christmas Greatness
I generally love animated Christmas films. I've loved them since I was a kid. From the claymation Rudolph The Red-Nosed Reindeer to the more recent Arthur Christmas, most of these films trigger nostalgia and laughs, setting the mood for the holiday season. This year's smaller animated Christmas film Elliot The Littlest Reindeer, written and directed by Jennifer Westcott, unfortunately, isn't a film that does any of that.
Tis The Season of Narcissism?
Things haven't been going well in the North Pole. Santa (George Buza), is in the midst of losing a few of his reindeer due to early retirement. One has moved to Florida to start his own juice bar, while others leave for varying additional reasons. In previous Christmases, he has had to substitute his reindeer for a technologically advanced sleigh that is self-propelled, invented by his top elf Lemondrop (Martin Short). However, the new technology isn't as reliable as the reindeer and many of the Christmas Eve rides have ended in disaster.
Elliot (Josh Hutcherson) is a Shetland pony at Wittick's Witty Bitty Farm, who has no interest in becoming the goat herder he is destined to be. Instead, he aspires to be one of Santa's reindeers. He spends most of his time training with his goat friend Hazel (Samantha Bee) as his loyal trainer. Elliot is a little bit spoiled and self-absorbed in the beginning because, in this world, reindeer are narcissistic celebrities. His current job helping another pony, Peanut Butter (Jeff Dunham, playing a William Wallace knock-off with the worst Scottish accent I've ever heard attempted), herd the baby goats for the petting zoo's goat run isn't good enough for him.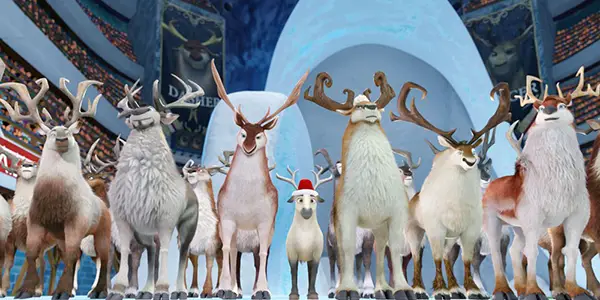 But Elliot's attitude doesn't hold a candle to one of the farms resident reindeers, DJ (Christopher Jacot), who is Donner's (John Cleese) son. DJ prances along to everything but his own theme song talking about how amazing he is and making sure that everyone knows it. DJ is bound to be Santa's next reindeer.
The farm's owner, Walter Wittick (Rob Tinkler) is up to his eyeballs in debt, so must sell some of his animals to make ends meet. He tours a strange looking woman, Ms. Ludzinken (Martin Short), who's odd carnivorous cravings motivate her buying, unbeknownst to Wittick. She gives him three days to agree on her price before she rescinds the offer. Soon after, the North Pole announces it's worldwide competition to fill a vacancy on Santa's sleigh, and Elliot sees this as his chance.
Reindeer Olympics
Elliot and Hazel stow away in Walter's flying snowmobile, intended to take DJ to the competition. When they arrive they attempt to sign up for the competition as they are, but find that Elliot must disguise himself as an "independent" reindeer entry to get in. The competition includes reindeers and trainers from around the globe, most of whom make fun of tiny Elliot.
Elliot does his best to be a jerk to Hazel and put on a sense of faux arrogance to "fit in" with the others as much as he can. He manages to keep up in the trials due to all of his training. Hazel, in the meantime, "stumbles" (several times) into finding out about a "conspiracy" to rid the North Pole of reindeer intended to be replaced by the new technology. The problem is, as a side story or "villainous" motivation, the story doesn't work, because who wouldn't want to get rid of a bunch of egotistical ingrates to begin with? Donner himself is a dead ringer in looks and character of Jason Issac's Lucius Malfoy in the Harry Potter films, so who exactly are the villains?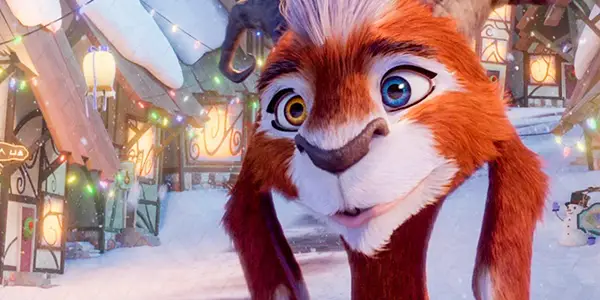 Elliot's desire to be a reindeer is less than inspiring, no matter how much the filmmakers want you to believe the film is about "the little guy realizing the impossible dream". He himself isn't a sympathetic character, so I doubt many will get any good "feels" from the film overall.
It's Just Not Finished
One of the things that struck me the most was the consistent flaws in the animation. Now I am not an animation expert, but when I see a finished film, I definitely don't want to see mistakes. That said, if the content was phenomenal, I would be willing to overlook such mistakes, but it happens far too many times to be ignored. Examples consist of Elliot having a mane in one scene to having none in the next; a character being covered in a blanket to the blanket disappearing; characters literally walking through other characters and a clear line of distinction between the characters and the background. I was so flummoxed by this I had to ask if I had gotten an unfinished film to view, but alas, this was the finished product.
The script also didn't seem complete. It felt like Westcott just wanted to push a story of some kind quickly, rather than spend the time to season and develop it. None of the characters feel cultivated or fleshed out which creates a rampant feeling of "meh" through the entirety of the film. I had no interest in any of the characters whatsoever. I found myself distracted by my phone or literally anything else around me other than the film. I didn't want to root for Elliot because he was an undeserving protagonist. He is self-serving and condescending for the most part and doesn't really do much to change by the end.
There are no clear villains nor a deep enough rationale for any of the antagonists to do what they are doing, which lessens the stakes for the heroes overall. Like the woman that wants to buy the animals to eat them. Why does she need to get them at a farm? I'm sure there are exotic meat sellers all over the place if you have enough money to spend on a farm full of live animals. It felt like a lame excuse of a story in order to drive the script's "ticking clock". But whether or not the protagonists fulfilled her order in three days or not, it still would have no bearing on the overall story.
Elliot The Littlest Reindeer: Conclusion
Which leads me to the overall conclusion that this film simply does not work. It was so disappointing to see what looked like such a darling show from the movie poster, turn out to be so mediocre.
From the shaky animation and the no point script to the anemic at best humor and no actual lessons for the viewer or the protagonist, this film simply isn't worth it. Hazel literally stumbles upon multiple answers to the "mysteries" of the stories with no impediments or consequences whatsoever. She is never put in peril due to these discoveries either. Elliot's goals are relatively easily overcome as well and ultimately, he isn't the savior of the story. There are multiple, could be villains, but none with substance, drive or competent motivations. So what was the point?
This might be something that a parent can plunk their two-year-old in front of to distract them for a few minutes when it comes out on streaming, but it certainly isn't a theatrical film for the whole family to experience and enjoy.
What are your favorite animated Christmas movies?
Elliot The Littlest Reindeer opened in select theaters in the US November 30, 2018.
Does content like this matter to you?
---
Tags
Amyana Bartley
Amyana Bartley is a screenwriter and producer. Her company, Queen B. Productions, supports filmmakers of all walks, interested in creating thought provoking, moving projects. As her company grows, she will create "real jobs" for any talented artist, in front of and behind the screen, who is passionate about making a difference using the art of film.