Every product was carefully curated by an Esquire editor. We may earn a commission from these links.
The Best Movies of 2020
These are the phenomenal films that helped us overcome a challenging year. And you can watch them right now.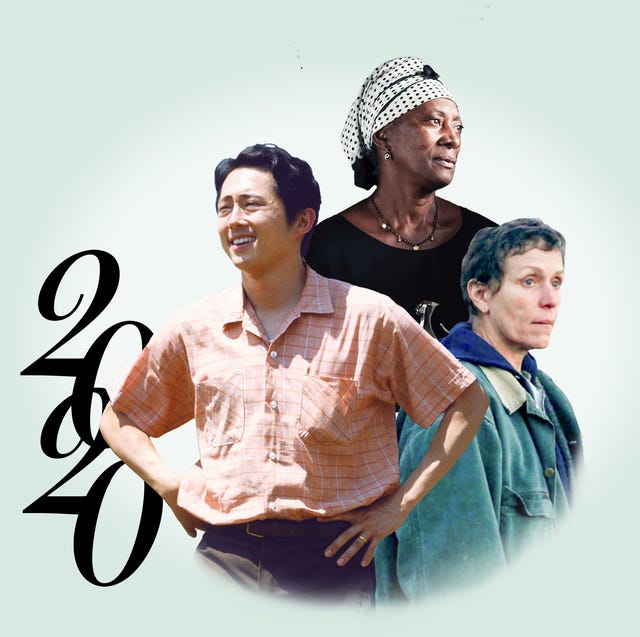 Elaine Chung
This was, in many respects, a year to forget—but not so when it came to film. Although most were viewed on inadequately small screens, the legion of fiction and non-fiction releases that helped us cope with our pandemic-wracked reality delivered welcome doses of excitement, drama, terror, and humor. Whether tapping into universal hopes and fears, or incisively reflecting our current insane circumstances, they offered insight and escape, as well as thrills of a breathtakingly varied sort. No one knows if 2021 will bring us back to theaters or have us continuing to experience new works on our TVs, tablets and phones. Yet as evidenced by the numerous gems that arrived over the course of the past twelve months, cinema remains as vital as ever. While we can't celebrate them all, this year-long rundown has certainly tried to do justice to the finest that filmmakers had to offer. Dynamic, unique and altogether triumphant, these are our selections for the best movies of 2020.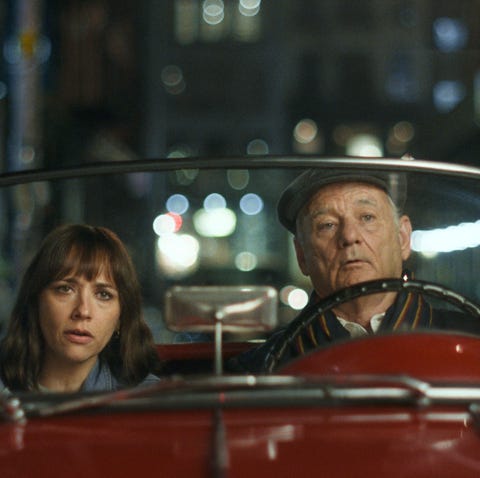 On the Rocks
With On the Rocks, Sofia Coppola reunites with her Lost in Translation star Bill Murray for another odyssey involving a young woman and an older man. Though the results aren't as dynamic as their prior collaboration, Coppola's fizzy romantic drama nonetheless finds its headliner in outstanding form as Felix, the suave ladies-man father to Laura (Rashida Jones), with whom he embarks on an investigation into the possible two-timing proclivities of her husband Dean (Marlon Wayans). Seemingly riffing on Coppola's own famous dad Francis, Murray is a charming force of nature as an incorrigible lothario at once devoted to his mother-of-two kid and wholly, hilariously consumed with himself, and his performance does much to enliven this breezy saga about Laura's mid-life crisis. A nighttime race through Manhattan in an old-school sports car is the material's comedic high point, and contributes to the warmth and affection that Coppola showers upon her metropolitan setting, here envisioned as a dreamy wonderland full of intrigue, adventure and alternately enervating and enlivening domesticity.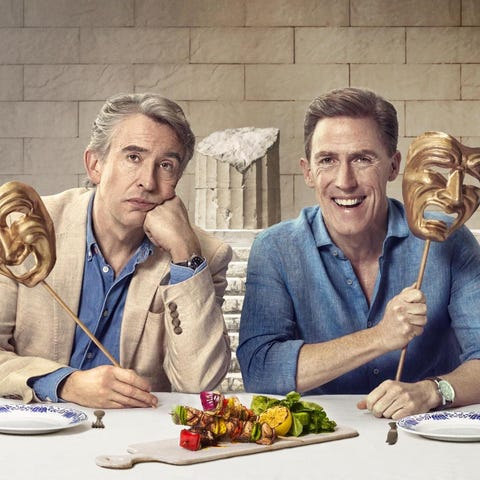 .
Steve Coogan and Rob Brydon follow the path first traversed by Odysseus in The Trip To Greece, once again engaging in the witty banter and dueling celebrity impressions that have become the hallmark of this Michael Winterbottom-stewarded comedy series. For this fourth and ostensibly final installment, the bickering couple (Coogan arrogant and condescending; Brydon cheery and patient) enjoy fine meals and show off their imitative vocal skills, here highlighted by Coogan doing a pitch-perfect Ray Winstone as King Henry VIII. In keeping with its predecessors, the duo's latest colors its humor with a strain of wistful regret rooted in their thorny feelings about transitioning into middle age. Anxiety about mortality turns out to be more pronounced than ever, particularly via Coogan's Ingmar Bergman-esque dream sequence, which is related to dismay over his father's failing health. Nonetheless, the alternately combative and chummy English pair remain in fine, funny form, and their swan song proves to be their most substantive collaboration since their maiden outing.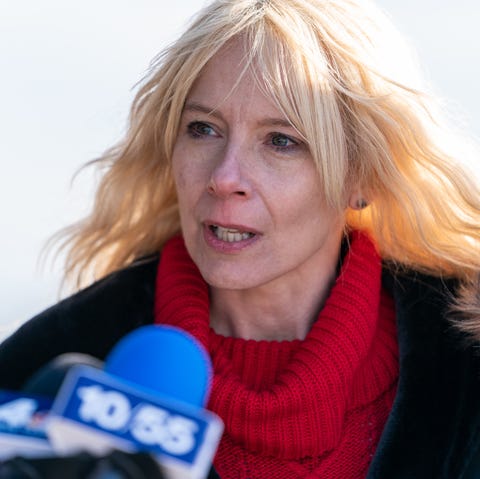 Jessica Kourkounis
The true story of a mother's search for her missing child, Netflix's Lost Girls is a clear-eyed and moving expose about the many ways in which troubled young women are let down by parents, police and society at large. Using Robert Kolker's book as her source, director Liz Garbus recounts Mari Gilbert's (Amy Ryan) efforts to find her oldest daughter Shannan, a prostitute, after she vanished following a house call in a gated Long Island community. At every turn, what Mari discovers is a lack of urgency about, if not outright indifference to, her daughter's disappearance, even after other bodies are found in the very same area. Ryan's powerhouse performance as the fiercely determined Mari is the nucleus of this dispiritingly bleak tale, in which there are few concrete answers to be found, but plenty of blame to pass around. That Garbus doesn't let Mari off the hook for her own mistakes, while nonetheless casting a reproachful gaze at the individual and systemic failings that allow such crimes to occur – and go unsolved – only strengthens her cinematic case for compassion and togetherness as the bulwark against tragedy.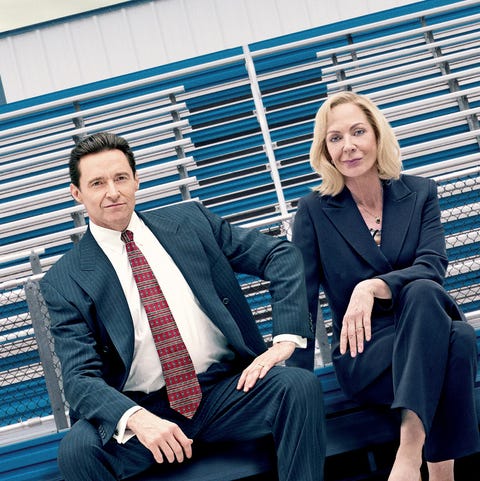 HBO
Using cheery smiles and go-getter glares to conceal profound depths of resentment, ambition and greed, Hugh Jackman gives the performance of his career as Roslyn, Long Island public school superintendent Dr. Frank Tassone in Bad Education. A dramatic account of the historic embezzlement scandal that engulfed Tassone and his colleagues – most notably, assistant superintendent Pam Gluckin (Allison Janney) – Cory Finley's film (based on Robert Kolker's New York Magazine article) is a ruthlessly efficient and even-keeled affair about the intense pressures of suburban academia, where educational-ranking achievements and college acceptance rates are intimately intertwined with real-estate prices. The director lays out the myriad forces at play in this ostensibly picture-perfect milieu in exacting detail, and his preference for longer takes means that the focus remains squarely on his performers. That, in turn, allows the HBO feature to rest on the sturdy shoulders of Jackman, who never resorts to caricature in embodying Tassone as a discontent striver whose eagerness for validation dovetailed with his lifelong deceptiveness, to disastrous ends.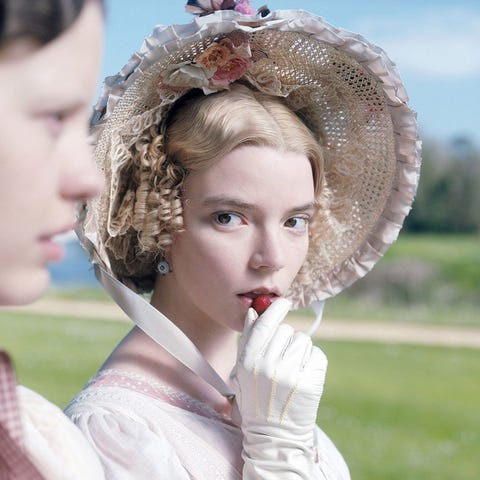 Amazon
"Handsome, clever and rich" is how Emma's tagline describes its matchmaking heroine (Anya Taylor-Joy), but it's also an apt summation of director Autumn de Wilde's Jane Austen adaptation, which is energized by meticulous style, spirited wit and passionate emotions. Hewing closely to its source material, the film charts Emma Woodhouse's efforts to find a suitor for her doting companion Harriet Smith (Mia Goth) while struggling with her own blossoming feelings for her sister's brother-in-law, George Knightley (Johnny Flynn). Round and round the romantic entanglements go, not only for these three characters but a host of others that de Wilde and screenwriter Eleanor Catton faithfully delineate in clean, bright brushstrokes. Its studied imagery suggesting a daintier variation on Wes Anderson's trademark visuals, Emma boasts an aesthetic confidence that's matched by its performers. At the head of that impressive pack (which also includes Bill Nighy) is Taylor-Joy, whose Emma exudes just the right amount of playful cockiness and ambition – qualities ultimately undercut by her realization that no amount of manipulations can change what the heart wants.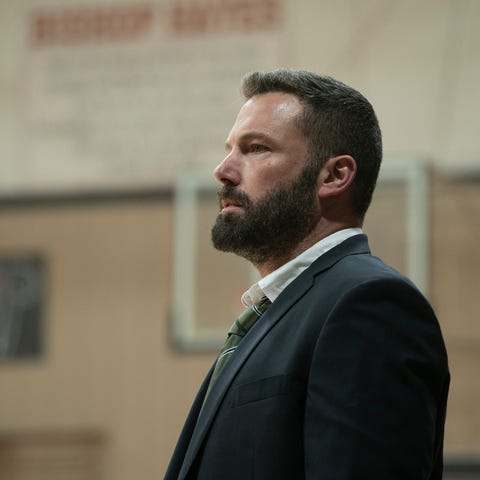 .
Gavin O'Conner (Miracle, Warrior) is modern cinema's preeminent sports-drama director, a status he maintains with The Way Back, a conventional but deeply felt story about addiction, anger and the rough road of rehabilitation. Reuniting O'Conner with his The Accountant star, the film concerns Jack Cunningham (Ben Affleck), a former high-school basketball phenom who, in the wake of multiple familial losses, gets through his construction-work days and wayward nights with a perpetual drink in hand. By means of a job coaching his Catholic alma matter's struggling team, Jack is blessed with a shot at salvation, turning around the fortunes of his players and, by extension, his own life. Subdued and melancholy, Jack's journey is a familiar one, and yet O'Conner and Affleck – the latter turning in an expertly modulated, interior turn – shrewdly locate their protagonist's alcoholism as the self-destructive byproduct of regret, resentment, fury and hopelessness. Also generating pathos from agonized father-son traumas, it's a male weepy that, courtesy of its well-calibrated empathy, earns its melodramatic tears.

Watch Now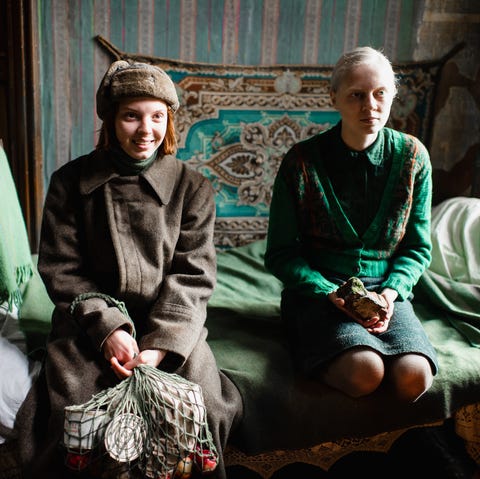 Non-Stop Production
Dramas don't come much bleaker than Beanpole, director Kantemir Balagov's wrenching story about the damage caused by war, and the exceedingly high cost of survival. In a 1945 Leningrad still recovering from the end of WWII, lanky Iya (Viktoria Miroshnichenko), aka "Beanpole," works as a nurse even though her military service has left her with a condition in which she becomes temporarily frozen. Iya cares for Pashka (Timofey Glazkov), the young son of her frontlines friend Masha (Vasilisa Perelygina), and when Masha appears to reclaim her child – only to learn of an unthinkable tragedy – their relationship buckles under the weight of grief, guilt, regret, resentment and need. Cruel blackmail soon proves to be Masha's means of coping with loss, but healing is in short supply in this ravaged milieu. Shot in alternately tremulous and composed handheld, director Balagov's long takes place a premium on close-ups, the better to convey the dizzying anguish of his subjects, who are as decimated as their environment. Overpoweringly desolate and moving, it's a vision of paralyzing individual, and national, PTSD – and, ultimately, of women banding together to forge a new future.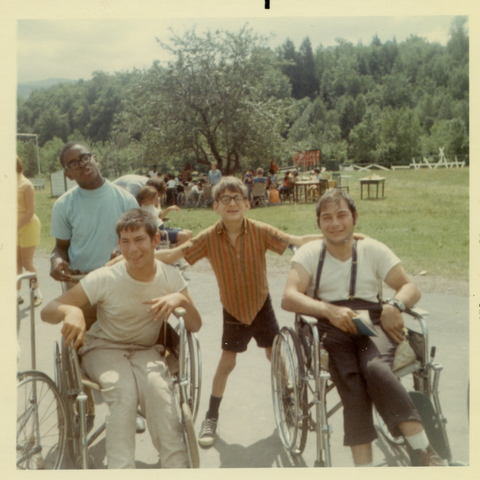 Netflix
Historical changes often have humble beginnings, as was the case with the American Disabilities Act (ADA), whose origin is Camp Jened, a 1970s summer getaway for disabled men and women in New York's Catskill mountains. James LeBrecht and Nicole Newnham's documentary is the story of that quietly revolutionary locale, where disrespected and marginalized handicapped kids were finally given an opportunity to simply be themselves, free from the judgement of those not like them. What it instilled in them was a sense of self-worth, as well as indignation at the lesser-than treatment they received from society. Led by the heroic Judy Heumann and many of her fellow Jened alums, a civil rights movement was born, resulting in the famous San Francisco sit-in to compel U.S. Secretary of Health, Education and Wellness Joseph Califano to sign Section 504 of 1973's Rehabilitation Act, and later, the ADA. Intermingling copious footage of Camp Jened and the movement it produced with heartfelt interviews with some of its tale's prime players, Crip Camp is a moving example of people fighting tooth-and-nail for the equality and respect they deserve – and, in the process, transforming the world.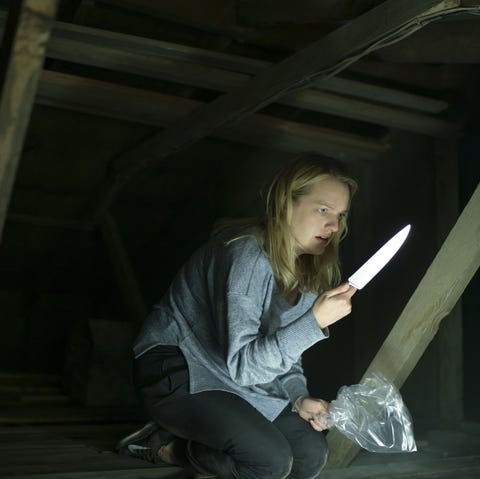 Mark Rogers/Universal/Kobal/Shutterstock
Gaslighting gets downright monstrous in The Invisible Man, a 21st-century take on Universal's classic unseen specter. Helmed with playful menace by Leigh Whannell, whose camerawork and compositions constantly tease subtle action in the corners of the frame, this slick genre effort finds Elisabeth Moss trying to convince anyone who'll listen that she's not crazy, and really is being hunted by her supposedly dead abusive boyfriend. Since said predator isn't visible to the human eye, however, that's not an easy task. Hot-button issues emerge naturally out of this basic premise, thereby letting Whannell sidestep overt preaching in favor of orchestrating a series of finely tuned set pieces in which lethal danger might materialize at any moment, from any direction. Avoiding unnecessary diversions or italicized politics, the filmmaker streamlines his tale into a ferocious game of cat-and-mouse, with Moss commanding the spotlight as a woman tormented both physically and psychologically, and determined to fight back against her misogynistic victimization.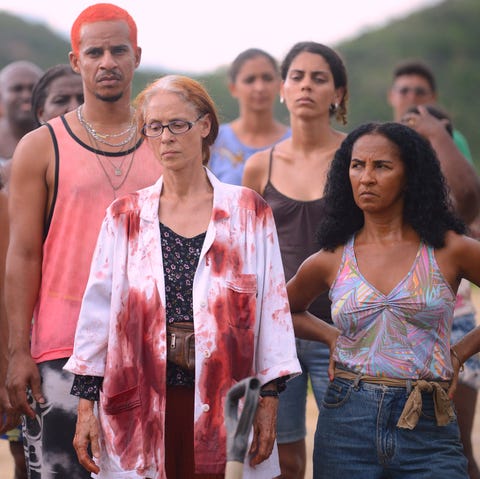 Vitrine Filmes
In the fictional northeast Brazilian town of Bacurau, residents are puzzled to discover that their home has disappeared from all GPS maps, and their cell service has ceased. Stranger still is the 1950s-style UFO zooming around the sky – perhaps a hallucination invoked by the psychotropic drugs the townsfolk have ingested? Or is it a tool of other sinister forces preparing to strike? Teaming with his former production designer Juliano Dornelles, director Kleber Mendonça Filho (Neighboring Sounds, Aquarius) delivers an allegory of zonked-out weirdness with Bacurau, which quickly has locals engaging in a do-or-die battle with a pair of interloping São Paulo bikers and a group of murderous Western tourists (led by a hilariously peculiar Udo Kier) who've traveled to South America to partake in a variation of The Most Dangerous Game. Stylistically indebted to both the Westerns of Sergio Leone and the thrillers of John Carpenter, and yet imbued with an out-there spirit all its own, Filho and Dornelles' film takes a gonzo scalpel to geopolitical dynamics.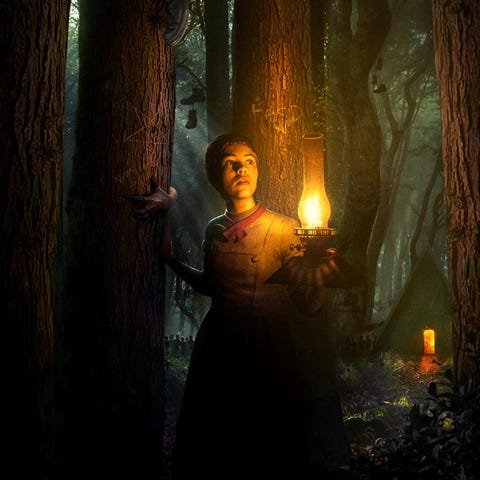 Orion Pictures
Oz Perkins is a horror lyricist fixated on grief and female agency, and both factor heavily into his atmospheric reimagining of the classic fairy tale. In a countryside beset by an unknown plague, teenage Gretel (It's Sophia Lillis) refuses to work as an old creepy man's housekeeper, and is thus thrown out by her mother, forced to take her young brother Hansel (Sam Leakey) on a journey through the dark woods to a convent she has no interest in joining. Beset by hunger, the two come upon the home of a witch (Alice Krige), whose feasts are as mouth-watering as her magic lessons for Gretel are simultaneously empowering and unnerving. Perkins sticks relatively closely to his source material's narrative while nonetheless reshaping it into a story about feminine might and autonomy, and the potential cost of acquiring both. Drenched in ageless, evil imagery (full of triangular pagan symbols, pointy-hatted silhouettes, and nocturnal mist), and boasting a trippiness that becomes hilariously literal at one point, Gretel & Hansel casts a spell that feels at once ancient and new.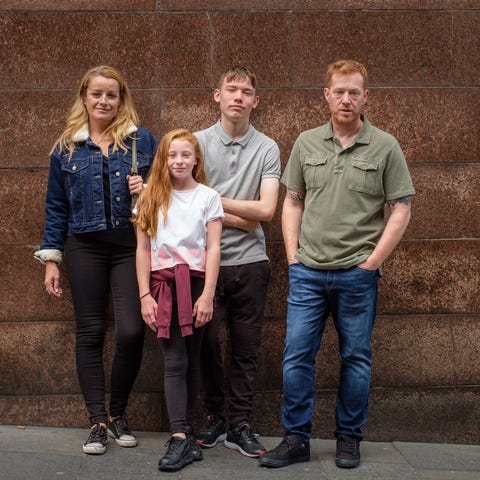 Zeitgeist Films
The modern gig economy receives a thorough thrashing by Ken Loach's Sorry We Missed You, another sober class-conscious drama from the celebrated British director. Faced with limited professional options, Ricky (Kris Hitchen) gets a job as a delivery driver for a company that doesn't technically hire him; rather, he's "self-employed," meaning the onus for everything falls on his shoulders. That proves to be an arduous state of affairs given that his wife Abbie (Debbie Honeywood) is a home care nurse who works long hours (also for "herself"), and their son Seb (Rhys Stone) is a school-skipping, graffiti-spraying teen who – having seen the incessant, back-breaking toil and anxiety that comes from his parents' chosen paths – has opted instead for delinquency. As hardships mount, Loach incisively details the major and minor ways in which this contractor-oriented paradigm is fundamentally rigged against workers. His despairing condemnation is all the more wrenching for coming via a deeply empathetic portrayal of an everyday clan buckling under the strain of unjust forces out of their control.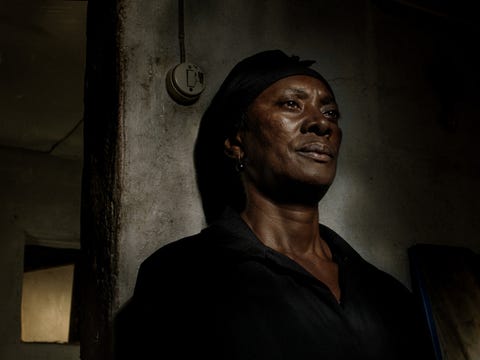 .
The darkness is all-consuming, as is despair over a lost past and future, and a purgatorial present, in Vitalina Varela, Pedro Costa's aesthetically ravishing true tale of its protagonist, a Cape Verde resident who returns to Portugal mere days after her estranged husband's death. Vitalina wanders through this dilapidated and gloomy environment, which Costa shoots almost exclusively at night, the better to conjure a sense of ghosts navigating a dreamscape of sorrow, suffering and disconnection. Each of the director's images is more ravishing than the next, and their beauty – along with an enveloping soundscape of squeaking beds, sheets blowing in the wind, and rain pattering on crumbling roofs – is enchanting. Presenting its story through fractured plotting and dreamy monologues, the Portuguese master's latest is a series of tableaus of lovelorn grief concerning not only Vitalina but also an aged priest in spiritual crisis and another young man poised to endure his own tragedy. The film's formal grandeur – its compositional precision, and painterly interplay of light and dark – is overwhelming, as is the majestic presence of Vitalina herself.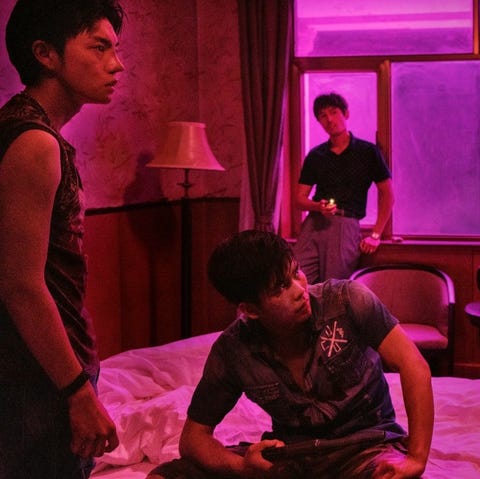 Memento Films
As with his prior Black Coal, Thin Ice, Chinese director Diao Yinan's The Wild Goose Lake has a coiled intensity that amplifies its romantic fatalism. Diao's neo-noir follows a gangster named Zhou Zenong (Hu Ge) who, after killing a cop in a criminal enterprise gone awry, partners with a "bathing beauty" prostitute named Lu Aiai (Gwei Lun Mei) in order to reunite with his estranged wife Yang Shujun (Wan Qian), all so she might collect the reward on his head. Rife with betrayals, manhunts and shootouts, the auteur's narrative is constantly taking sharp, unexpected turns, and the same is true of his breathtaking direction, which reveals unseen figures, and twists, via elegant camerawork and expressionistic flourishes that are married to a realistic depiction of rain-soaked Wuhan and its lawless lakeside communities. Hunted by police captain Liu (Liao Fan), Diao's protagonists are engaged in a deadly game that's played in silence because they all inherently know the rules, and their sense of purpose is echoed by the film itself, which orchestrates its underworld conflicts with bracing precision. Plus, it boasts 2020's most gruesomely inventive use of an umbrella.