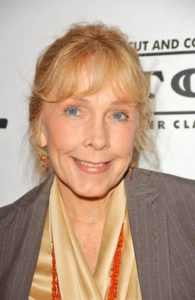 Actress, screenwriter, and producer Stella Stevens is a descendant of Zachariah Flynn, an early-day Methodist minister in the Magnolia State. 
By James Pylant
Copyright © 2006—All rights reserved
Do not post or publish without written permission
Photo: sbukley/Shutterstock
The film career of sultry blond Stella Stevens spans more than four decades, with her debut in 1959's Say One For Me. One of her most memorable roles came as brassy Linda Rogo in the timeless cult classic Poseidon Adventure in 1972. During the reign of primetime soap operas of the 1980s, Ms. Stevens landed the role of madam Lute-Mae Sanders on NBC-TV's Flamingo Road. Once a model, the actress whose talent matches her beauty is also a producer, director, and screenwriter. She was born Estelle Caro Eggleston.1
Biography Almanac says the actress was born 1 October 1938 in Hot Coffee, Mississippi, as Estelle Egglestone.2 Her surname is misspelled and her birthplace is also incorrect. "Hot Coffee is Meridian," explains the actress. "We would stop at this place that had a sign that said 'Hot Coffee,' so everybody nicknamed it Hot Coffee." Meridian is in Lauderdale County, which borders the Mississippi-Alabama state line. However, Ms. Stevens identifies Yazoo City as her birthplace.3 Yazoo City is in Yazoo County, in the west central portion of The Magnolia State, forty miles north of Jackson.
Who's Who in America, which misspells Stevens's birthplace as Pazoo City, identifies her parents as Thomas Ellett Eggleston and the former Divey Estelle Caro.4 Ms. Stevens, however, informs me that her mother's maiden name was Dovey Estelle Caro.5 Tom and Estelle Eggleston's only child left Mississippi with her parents when she was four and moved to Tennessee. She attended school in Memphis, and it was while on stage in a college production of Bus Stop that young Estelle (who became known as Stella) was discovered after a review of her performance.6
Stella's teenaged marriage to Herman Stephens gave her a new surname, but because it often mispronounced as Steffens, she altered the spelling to Stevens. "But, hell, they were both better than Eggleston," says the actress. Her brief marriage produced a son, who would follow his mother's acting footsteps and also adopted her surname spelling.7 Andrew Stevens, who enjoys a successful career in movies and television, was born in Memphis on 10 June 1955.8
The son of Trent Eggleston and Rebecca Gertrude Tyler,9 Tom Eggleston was born 31 May 1910 and died 12 April 1991.10 He and Estelle Caro were married 28 May 1938 in Jackson, Mississippi.11
A native of Marks, Mississippi,12 Estelle Caro was born 25 August 1911 and died 1 May 2002 in Los Angeles, Los Angeles County, California.13 The 1930 census shows eighteen year-old Estelle worked as a cashier at a theater. She was then living on Myrtle Street in the town of Marks in northeastern Mississippi's Quitman County. Estelle was the youngest child of 62-year-old Tennessean Edward D. Caro, a grocery salesman. His wife, Mary B., at 52 was a Mississippian by birth, and she supplemented the family's income by operating a boarding house. The couple's two older children also lived at home, daughter Lucile, 25, a law firm stenographer, and son Vernon, who at 21 labored in "public work."14
Stella Stevens tells me that her grandfather was the owner of the grocery. "His wife Mary B. (Belle) Caro might at one time have been the proprietress of a boarding house, but my mother always told me that they lived above the grocery store which her dad owned," she adds.15
Ms. Stevens provides additional information about her grandparents:16
Edward Daniel Caro was born August 4, 1867 in Memphis, Tennessee. Died April 29, 1946 in Memphis… My grandmother, Mary Belle, whose maiden name was Flynn, died one month before I was born. She was born October 3, 1877 at Sumner, Mississippi. Her nickname was Dolly, which is what most people know her by. She died September 2, 1938 at Marks, Mississippi. Mary Belle Flynn and Edward Daniel Caro were married April 23, 1898.
A decade earlier the Caro family's Marks home included Edward D., 52, a merchant in a grocery, wife Mary, age 42, Lucile, age 15; Vernon, 12; Estelle, age eight; and 73-year-old Eliza C. Flinn, who was listed as Edward D. Caro's mother-in-law.17
The actress also gives the names and vital data for her aunts and uncle — the siblings of Dovie Estelle Caro — as follows: Joe Roy Caro, born 29 September 1901 and died 19 September 1903; Annie Lucille Caro (not Lucile, as misspelled in census records), born 15 November 1903 at Sumner, Mississippi; Lois Flynn Caro, born 28 September 1906 and died 4 August 1907; and Vernon Caro, born 17 June 1908.18 The family had moved a few counties west some years earlier from Calhoun County. At the time of the 1900 Census enumeration, the Caros had been wedded two years. Edward Caro's birth data is recorded as August of 1867, while that of wife Mary was October of 1877. Mr. Caro was then farming.19 He was enumerated below his in-laws, farmer Zack Flynn, born in August of 1827 in South Carolina, and wife Eliza, born in December of 1849 in Alabama. The Flynns had been married for 24 years, and Mrs. Flynn was the mother of three children, all living.20 Listed below the Caros was John Flynn, 21 (born in May 1878 in Mississippi), a farm laborer, and his wife, Mary (born in July 1876 in Mississippi). The couple had been married eight months.21
Edward D. Caro died in 1946, surviving wife Mary B., who died in 1938. Buried beside Mary was her mother, Eliza C. Flynn, who had died in 1926. They were buried in Quitman County.22
Zachariah K. Flynn — Stella Stevens's great-great-grandfather— is found on the rolls of the 1880 Census in Tallahatchie County, which joins Quitman County on its south and west borders. At 51 he was a farm manager. Others in the household included wife Liza C., 29; Adaline C., 16 (clearly Zachariah's daughter by a previous marriage); two-year-old Mary B., age two; and John K., a one-year-old. Twenty-two year-old Liza Gordon boarded with the family.23
Z. K. Flynn and Eliza C. Cooper had married nearly five years earlier, the marriage license being issued on 31 December 1875 in Tallahatchie County.24 The license does not include the marriage date, which Stella Stevens provides from family records: 13 January 1876. The full names of Stella's great-great-grandparents were Zachariah Kelsey Flynn and Eliza Caroline Cooper. He was born 5 August 1828 in Lowndes District, South Carolina, and died 4 February 1910 at Blue Lake, Mississippi. His wife was born 20 December 1849 in Pickens, Alabama, and died 29 June (year not given) in Marks, Mississippi.25
The 1870 census for Tallahatchie shows forty-one year-old Zeachrkiah Flynn, probate clerk, with real estate valued at $600.00 and personal property valued at $700.00. Living with him were six Flynn children, all born in Mississippi: Rebecker, age 16, keeping house; Drucilla, 14, attending school; Harriet, 11; Susan, age nine, William, age five; and five month-old Mary. The youngest daughter evidently died within a few years, and (as a common custom) her name was given to her half-sister a few years later. Two other children lived in this household: Johan Moapher, 11 (attending school) and nine-year-old Mason Jenkins. Both were Mississippi natives.26
Deed records reveal that the Flynns owned land in Chickasaw County. Here, Z. K. Flynn sold the south half of the northwest quarter of Section 7, 13th Range, two lines east of the Basin Meridian of the Chicasaw cession, to A. J. Jamison for $50.27
Family genealogists identify Zachariah K. Flynn as one of the seven children of William Flynn and the former Rebecca Arnold, both South Carolinians. Rebecca was the daughter of Zachariah Arnold. The Flynns moved to Tennessee before settling in Mississippi's Monroe County, which adjoins Chickasaw County on the east.28 The tombstone inscription of Rev. Wm. Flynn in Congress (or Friendship) Cemetery, at Woodland, Mississippi, shows he was born 18 April 1807 and died 5 June 1889.29 Stella Stevens notes that Zachariah K. Flynn was a Methodist minister.30 Indeed, Z. K. Flynn, Minister of the Gospel, is named as the officiant at Chickasaw County weddings by the late 1860s.31
NOTES AND REFERENCES
Facebook Comments