Volodymyr Zelensky: Situation on front 'acute'
'The occupiers are not just storming our positions, they are deliberately and methodically destroying the towns and villages around them, with artillery, air strikes, missiles'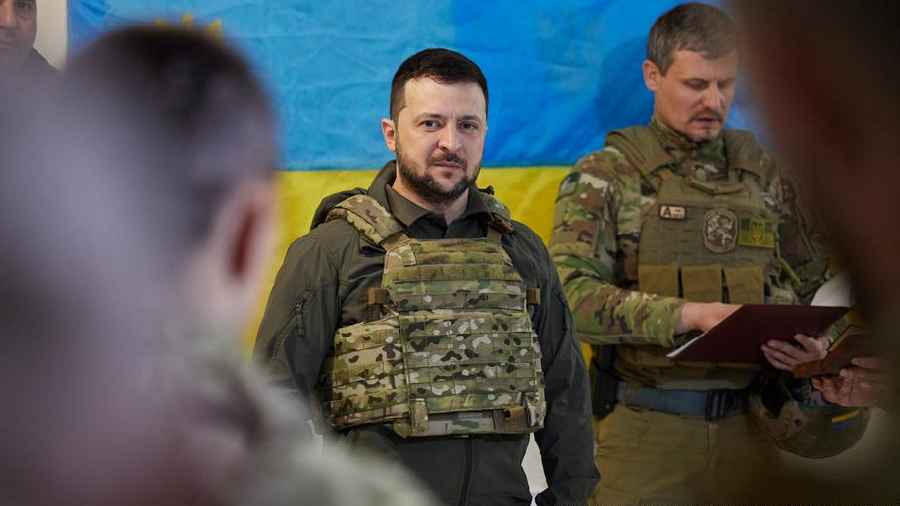 Volodymyr Zelensky.
File Photo
---
London | Published 29.01.23, 12:16 AM
|
---
Ukrainian President Volodymyr Zelensky on Friday said the situation at the front remained "extremely acute", particularly in the eastern Donetsk region where Russia is stepping up an offensive.
Zelensky reported major battles for Vuhledar, to the southwest of Donetsk, and Bakhmut, to the northeast. Bakhmut has largely been pulverised by repeated Russian attacks.
"The occupiers are not just storming our positions, they are deliberately and methodically destroying the towns and villages around them, with artillery, air strikes, missiles," he said in an evening video address. "The Russian army has no shortage of lethal means and can only be stopped by force."
The area around Bakhmut, with a pre-war population of 70,000, has seen some of the most brutal fighting of the 11-month-old war. The town has symbolic importance for both Russia and Ukraine, though western military analysts say it has little strategic significance.
Czech election
Former Czech army chief Petr Pavel, a strongly pro-western candidate who backs aid for Ukraine, was projected to win the Czech Republic's presidential election on Saturday, early results and model projections showed.
A projection model by news website www.seznamzpravy. cz using early results, released by the Czech statistical office which is managing the vote tally, showed Pavel beating billionaire businessman and former Prime Minister Andrej Babis with between 57.6 per cent and 58.8 per cent of the vote.
Broadcaster CNN Prima News, using voting models from agencies STEM and STEM/MARK, projected Pavel winning 58 per cent of the vote compared with 42 per cent for Babis.
Results from half of the country's voting districts had Pavel leading the vote count with 54.9 per cent to Babis's 45.1 per cent.