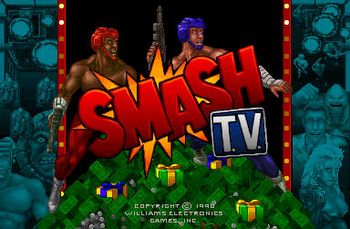 "Big money! Big prizes! I love it!"
In the far flung future of 1999, violence is the biggest draw in entertainment. The game show has become the dominant force in television. The most spectacular, gruesome, and rewarding show, topping the ratings, is Smash TV. Contestants are armed and sent into a closed arena, where they fight for cash, glory, and unforgettable prizes including (but not limited to) brand new toasters, more 2,600" televisions than you ever thought possible, and a year's supply of good meat. And if you do well enough, and find enough keys... you may just get into the Pleasure Dome.
You are the next lucky contestant!
Yep, that's the plot in a nutshell. The game is basically a graphical update of designers Eugene Jarvis' and Larry DeMar's earlier Robotron: 2084, while also borrowing heavily from The Running Man (it can be considered a Spiritual Successor to both).
From The Running Man, it borrows the Deadly Game and Blood Sport aspects, and the quite phenomenal volumes of carnage. From Robotron, it takes the Mooks, Shoot 'em Up styling, two-joystick control scheme, and - most memorably - the Nintendo Hard-ness. Co-op play makes life a bit easier, but not much.
Originally developed by Williams Electronics and released to arcades in 1990, it turned up on several home computer systems and consoles before making the jump to Xbox Live Arcade - the first version that allowed co-op online play.
Not to be confused with the Super Smash Bros. series, the Smash television show, or Smash Williams.
---
Total Tropage!:
Film at 11: Smash TV is a TV show, and lines of this type appear as the room's title as the players enter a room - including the actual "FILM AT 11".
500,000 Points and Every 1,500,000 Thereafter: And damn, will you need them!
Goofy Print Underwear: The Evil M.C. Rather than exposing his ribcage (as with Mutoid Man previously), shooting his chest reveals a pink polka dot undershirt.
Gorn: The introductory text states that TV has adapted to the more violent tendencies of mankind; the numbers of dead contestants, thousands upon thousands of grunts, hundreds of Mr. Shrapnels killed, two humanoid-tank hybrids dismembered, and millions of gallons' worth of bloodshed serve to drive that point home.
High-Pressure Blood: The red stuff gushes from Mutoid Man and Evil M.C. when they're both defeated.
Hitbox Dissonance: The player's hitbox is mercifully quite small. You'd be surprised what you can squeeze past.
Home Game: One of the prizes, probably a nod to the home game in The Running Man.
Immune to Bullets: Many bosses (e.g. Mutoid Man) can only be defeated by special weapons. Your regular bullets just bounce off them!
Kaizo Trap: Even after decapitating Mutoid Man and the Evil M.C. a second time, touching its tank during its death animation, even if stationary, turns the contestants into Pink Mist. Might be a justified design choice considering the base of the boss is undergoing a Chain Reaction Destruction.
A Lady on Each Arm: The host is always seen with two bikini clad models. (Win the game or earn a high enough score, and one of them appears - alone - in the credits, then with your character.)
Land Mine Goes "Click!": Completely averted; step on one and and your avatar's body parts go FLYING!
Losing Your Head: Mutoid Man's head gets blown off. Don't worry, he has a spare.
Ludicrous Gibs: Most enemies - and you - explode in large pools of blood and disembodied limbs.
Made of Plasticine: You explode into gibs if you step on a land mine, if you get run over by a tank, and if you get shot by certain types of enemy fire.
The Many Deaths of You: Clubbed to death, blown up, shot, electrocuted, run over...
Mercy Invincibility: A free forcefield power-up, see Ramming Always Works below.

Higher difficulty settings make this wear off almost immediately.

Mooks: Most enemies, actually.
Muscles Are Meaningless: Both contestants are shirtless muscle dudes, but since all the action is gunfire...
Nintendo Hard

"Good luck! You'll need it!"

The arcade version is nearly impossible not to die in, mostly due to slow movement speed without the speed powerup (which has a short duration). The arcade Smash TV is probably designed this way intentionally to eat up quarters. Other ports are mostly difficult for being bad ports. Despite this, one of the developers claims he can finish it in one coin. Having a second player helps a lot, since half the enemies go for the other player, so two players playing with one quarter each is a more achievable goal. If you have no extra speed and miss a powerup while playing alone, death is usually not far behind in the later levels.
That still doesn't manage to explain how evil this game is. Individual rooms in arenas 3 and 4 will run you over 10 minutes each, and later enemies will start to run much faster than you.
Home versions of the game were a lot more popular; the game was no less hard, but seeing as you got unlimited continues and didn't need to waste quarters, it helped a lot.

No Ending: As Williams thought that nobody would ever be able to finish it, original versions of the cabinet didn't have any way to reach the Pleasure Dome (despite the game still informing you that you need keys for it). Eventually, however, complaints came in from arcades that determined players were angry at the lack of any reward for beating the game. The company soon released a software revision that allowed players to access the Pleasure Dome and finish the game properly.
Noob Cave: The first stage (the aptly-named "Arena 1") is loaded with invincibility powerups and three-way shots that make it easy for even beginners to clear without issue.
One-Hit Point Wonder: Your supermuscleman is instant meatsauce if any hazard touches him.
1-Up: These randomly appear. At times, the game will appear to be rather generous with these free lives.
Palette Swap: Some of the Mooks, and the final boss - The Host - is a head swap of the first. Additionally, all the gift-wrapped prize boxes come in red, yellow, and green.
Power-Up: Standard shoot-em-up fare.
Ramming Always Works: The forcefield power-up (including the free one after you get killed) kills enemies other than bosses on contact, so you can charge into one group while shooting at another.
Schmuck Bait: EVERYWHERE. And what's worse, you have to go for it most of the time; without powerups, you quickly get chunked. Additionally, items will occasionally cover up land mines, thus making them even more dangerous to collect than sticking with what you already have!
Shout-Out: RoboCop, the Atari2600, and several more.
Shows Damage: The bosses tend to fall apart over time. Not surprising, given the number of bullets they absorb.
Smart Bomb: "BINGO!"
Snake People: Loads of them abound in the third stage.
Spam Attack: The grenade launcher.
Spiritual Successor: To Robotron2084 and The Running Man, as noted up top; also has its own Spiritual Successors, Total Carnage, The Grid, and Monday Night Combat. On a side note, Smash TV programmer Mark Turmell said in an interview that Robotron: 2084 is one of his favorite games.
Spread Shot: The 3-Way Shot.
---