watch 02:26
The Loop (Games)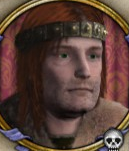 Sigurd the Crusader (1090-26 March 1130) was King of Norway from 29 August 1123 to 26 March 1130, succeeding Eystein I and preceding Magnus IV.
Biography
Sigurd Magnusson was born in 1090, a son of King Magnus Barelegs and the brother of Olav and Eystein. Sigurd accompanied his father on his expeditions to the British Isles at a young age. On the death of their father in Ireland in 1103, the brothers became co-kings of Norway. In 1107, Sigurd led the Norwegian Crusade to the Levant to support the Kingdom of Jerusalem, leading 5,000 men in 60 ships and fighting against the Moors of Lisbon and alongside King Baldwin I of Jerusalem in Palestine. In 1110, he took part in the capture of Sidon from the Saracens, and he was given a supposed splinter from the True Cross as a reward. He then met with Emperor Alexius of the Byzantine Empire in Constantinople on his return voyage to Norway, and many of his men stayed behind to join the Varangian Guard. In 1123, he took part in the Swedish Crusade against the pagans of Smaland, and he died in 1130 and was succeeded by his illegitimate son Magnus IV of Norway.
Community content is available under
CC-BY-SA
unless otherwise noted.