"You're out of focus!" I've just logged in to Zoom to talk to Belgian directors Felix van Groeningen and Charlotte Vandermeersch, and they're laughing already. "Like in Deconstructing Harry, you know that film?" says Vandermeersch I flap around, fiddling with my webcam, but nothing will correct the me-shaped smear on the screen. Like Robin Williams in the Woody Allen film, blurred outside of the cameras even when he goes home, I feel a flush of existential humiliation creeping up.
I could use a long stay in Van Groeningen and Vandermeersch's transcendentally clarifying new film The Eight Mountains. A parable of the forking paths of two childhood friends – urbanite Pietro (Lupo Barbiero) and shepherd kid Bruno (Cristiano Sassella), who meet in Italy's Aosta Valley – it rises up to an epic spiritual panorama as the pair intersect again as adults. Played respectively by Luca Marinelli and Alessandro Borghi, they shore up their relationship at the same time as they construct the mountain hideaway envisaged by Pietro's late father: it's called Barma Drola ("funny haven" in the local Valdôtain dialect). Are we destined, even duty-bound, to follow the trail made by our ancestors? What's the price of heading off-piste? The film inhales it all in – family, friendship, time and permanence – without a trace of Woody-like self-consciousness.
Strangely, The Eight Mountains is the second film this year from Ghent-based directors, after Lukas Dhont's Close, to feature a thicker-than-thieves young male friendship. "The resemblance is crazy," says Vandermeersch, "even though our story moves over 30 years. Our boys also play with each other in a way that's still innocent." But it was actually the two directors, who are married with a young son, who were brought closer together by the film. They started adapting the story, from Paolo Cognetti's novel of the same name, during lockdown when their relationship was going through a rocky patch. With "existential questions" in the air, according to Van Groeningen, focusing on characters confronting themselves was apt.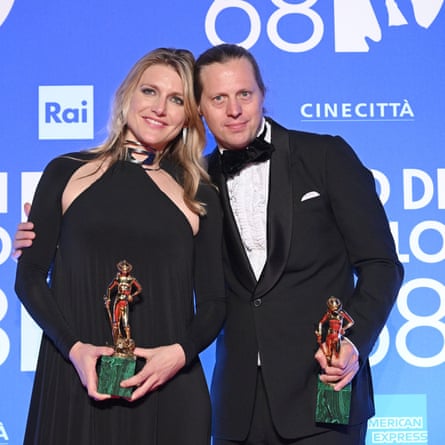 They had collaborated as writers before, on 2012's bluegrass weepie The Broken Circle Breakdown, but this time Van Groeningen asked Vandermeersch – who hadn't directed before – to join him behind the camera. "I just had the feeling she wanted me to do that, but that she never expected me to ask her," he says. "There was a need to bring her eyes and ears to this very male project. It seemed perfect but also very scary. It's a big step if you're vulnerable as a couple."
"It's kind of all or nothing," says Vandermeersch.
"What if we don't get to the other side? Is that responsible with someone else's money?" he says.
Vandermeersch felt "confident" she could add to the project, because of her upbringing in the East Flanders countryside. "It was a beautiful place to grow up, I really enjoyed being outdoors and having a safe place to run around in the fields," she says. "But though there was a lot of space, I also thought it was really claustrophobic." Now a strong-jawed, easy-smiling 39-year-old, she says she understood the rural pragmatism of Bruno and his family, which she often saw in people's attitudes towards their animals. "Horses are very fragile creatures, for example. If they hurt their feet and it costs €5,000 to fix it, then the horse has probably gotta go."
Van Groeningen, meanwhile, grew up in a more "chaotic – but very loving" environment; the child of one-time hippie parents who later divorced. His father, Jo, went on to manage Ghent nightlife institution the Charlatan bar, paid homage to by the director as "your favourite place of perdition" in his 2016 film Belgica. His mother Bea did "1,001 jobs", including film industry work that helped set him on his course. With a chestnut ponytail and sharp-nosed, slightly gnomish face, the 45-year-old has more nervous energy than his wife, often scrubbing his head with his hands.
His family life caused a tension in him: "What's a recurring theme [in my work] is a perfect family, or people striving to have one. Just for a little while, and then it falls apart. I only knew it for a short moment, and it's something I am longing to create in my own life with Charlotte and my son. But I had all these amazing experiences because of the fact that my parents split up and each chose their life, and I went back and forth, and they lived life as they saw fit."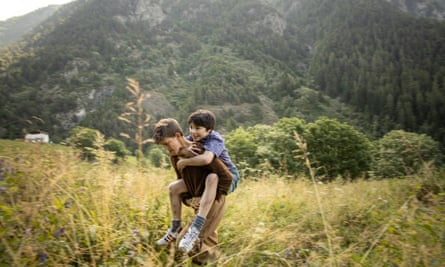 Ironically, where you'd expect Vandermeersch to naturally align with the steady Bruno and Van Groeningen the skittish Pietro, it's not so simple. Their film's titular metaphor is drawn from a Nepalese proverb reflecting on whether the man who leaves to visit the eight mountains around the world, or the one who stays to reach the summit of the peak at the centre, is the wiser. Vandermeersch turned out to be the one with the wanderlust: "I was intrigued by the world, I wanted to get out there."
Her husband is the one who gets monomaniacally focused on things and immerses himself in the world of his projects: "He's a bit of a method director," she says, tilting a wry grin at him. For his rambunctious 1980s-set family comedy The Misfortunates, he made the ultimate sacrifice: donning the same mullet hairstyle as his characters. On The Eight Mountains, Van Groeningen was trying to recapture the "grounding" feeling of childhood holidays in France's remote Auvergne (his mother dated a mason from the area after the divorce). He got up early to do an hour-and-a-half walk up to the set to get into Bruno and Pietro's headspace, and remained in the Aosta region, hiking with Cognetti, between shooting phases: "Being in those places starts to talk to you."
In one scene, Pietro's Turin friends irk Bruno with their reverence for "nature": "Here we say forest, meadow, river, rock, path. Things you can point at." Especially in the wake of people abandoning cities during the pandemic, the film touches on a European phenomenon: the line dividing traditional farmers from ecologically driven "neo-rural" newcomers. "We thought that scene was funny because of the irony of us making the film. Because we are more the Pietros, right?" says Vandermeersch. "We live our comfortable lives, those of us from the city: easy road access and restaurants and all of that. Having your own vegetables in the garden is great. But when it becomes real, it's something else. You don't necessarily want to be there in winter."
Their sojourn up in the prairies seems to have done them good. "The film didn't resolve our issues," says Vandermeersch. "We did," says Van Groeningen. She picks up: "It put something in the middle we both served and we put our personal issues aside and appreciated each other's qualities. And felt how complimentary we are. It pulled us through a very dark time." They look relaxed and happy; they often answer questions on each other's behalf. "Maybe Charlotte should direct by herself," ponders Van Groeningen when I ask if they will direct together again soon. "Working together morning to evening on every step of the film-making process is very intense," says Vandermeersch. "When we were at Cannes, everyone was asking that. And we were, like: 'Give us a minute!'"
The Eight Mountains is out on 12 May.