No sooner are we are done laughing and crying at Stan's Totally Completely Fine, another Australian dark comedy about suicide launches, this time on the ABC.
Created by Lucas Taylor (Black Snow), produced by Jennifer Cummins (whose 2016 documentary Man Up was funded by the Movember Foundation) and directed by Trent O'Donnell (No Activity), In Limbo, explores the topic through a lifelong male friendship that continues after one of the pair suddenly dies. Part ghost story, part psychological drama, In Limbo probes the terrible unknowable with gravity and humour.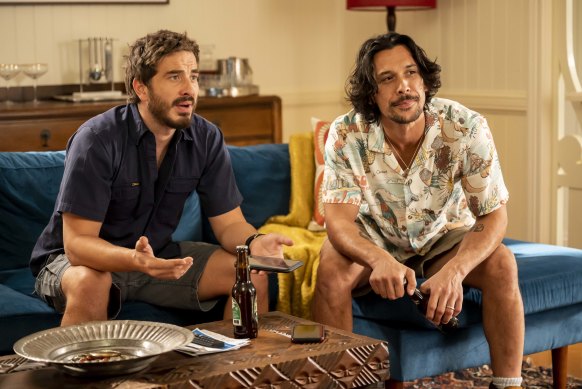 In Limbo stars Ryan Corr (left) and Bob Morley, who play best mates whose friendship takes an unexpected turn when one of them suddenly dies.Credit: ABC
"It's rare to get scripts that you're so affected by," says Ryan Corr, who plays crane driver Charlie opposite Love Me's Bob Morley as the more outgoing Nate. "I found it really punchy. The way it deals with heavy content was with a light touch, and it has a real energy."
Over the course of Corr's 20-year career, which started when he was 13 with The Sleepover Club (where, incidentally, he appeared with Eliza Taylor, who is now married to Morley) and continued through Packed to the Rafters, Holding the Man, and more recently, HBO's House of the Dragon, In Limbo marks the first time Corr has tackled a storyline about suicide.
"What I like about it is it doesn't give you any of the cliched answers," he says of the six-part series. "It speaks to the question and the ambiguity of [suicide] and the fact there probably aren't answers. Charlie, in the pursuit of trying to find answers, learns he has to look within himself. He discovers a huge amount about his own life and where he's at in his own mental health."
Loading
Corr considers himself "one of those lucky people" who is still mates with his primary school gang. Aspects of his best friend Jared (now a plumber, and alive and well), informed Corr's characterisation of Charlie, and some were even incorporated into the script.
"When Charlie talks about how he met Nate, who was trying to teach him to fly, that came from Jared, who I met when I was four years old.," says Corr. "He was teaching me how to fly on the steps, and I was completely convinced, until I had a go. He's been more than a friend to me, Jared.
"I've actually got a wonderful group of friends that are more like family. They're like brothers, and together we've lost people in the friendship group, and family members, and we've really bound together. So I could really relate to that in Charlie with Nate, to having that friend that naturally crosses boundaries into something more than friendship. It's a love of a very different kind."
Because of the subject, the cast (which includes Emma Harvie, Jane Harber, Aaron Fa'aoso, Lena Cruz and Russell Dykstra), rehearsed for three weeks before shooting, a luxury of time not often afforded local productions.
"Everyone, through the rehearsal period, opened up about their experiences [of loss] in a pretty intimate setting," says Corr. "We sat down with psychologists a number of times and really shared a trust with each other so that we could carry that over into telling the story that was fully realised, and that was coming from somewhere true."
Corr hopes In Limbo will start conversations around grief and mental health, especially between Australian men.
"It's still a cultural thing with Australian males, that 'stiff upper lip, everything will be OK, I'll deal with it myself', sort of mentality," he says. "There's help out there that's easily accessible. It's actually the height of masculinity to share your emotional life and to have those bonds with your family and your brothers and sisters.
"The subject [of suicide] is much bigger than the show. I hope that it will move an audience, as well as make them laugh, and they will be able to deal with some of the harder stuff because of that. And I hope they can reflect on their own family and friends."
In Limbo premieres on May 24 at 9pm on the ABC.
If you or anyone you know needs support call Lifeline 131 114, or beyondblue 1800 512 348.
Find out the next TV, streaming series and movies to add to your must-sees. Get The Watchlist delivered every Thursday.
Bridget McManus is a television writer and critic for Green Guide. She was deputy editor of Green Guide from 2006 to 2010 and now also writes features and interviews for Life & Style in The Saturday Age and M magazine in The Sunday Age.
Loading